Over 25 of the best healthy game day recipes to serve or bring to your next game day party! All of these recipes are healthier real food versions of your favorites and will leave you feeling great.
If you have been looking for some new recipes to add to your big game day party or just want to add a few things to your personal game day spread, I am sure you will find a recipe you love on this list!
Big game days are the perfect opportunity to try a new recipe and enjoy food with family and friends. While game day and party food is usually notorious for being greasy, unhealthy, and leaving you feeling not so great. The good news is that there are plenty of healthier versions of your favorite game day foods out there for you to enjoy!
This list of over twenty-five of the best healthy game day recipes has you covered with everything from satisfying appetizers to healthy desserts. I know you'll find a few favorites that everyone will love!
The Best Healthy Game Day Recipes
Satisfying Appetizers
Mini Philly Cheesesteak Stuffed Pepper Nachos from Confessions of a Fit Foodie
The perfect low carb appetizer for the big game, these Mini Philly Cheesesteak Stuffed Pepper Nachos have all the flavors of our favorite sandwich without all the extra calories!
Gluten-Free Garlic Herb Crackers from The Fit Cookie
Homemade crackers are great for healthier appetizers and snacks! Our Gluten Free Garlic Herb Crackers are whole grain, dairy free, and peanut free too
There's nothing like fresh corn on the cobb and this Mexican Style Street Corn with Lime Crema takes traditional sweet corn to the next level. Tender corn, bold spices, lime cream, fresh herbs, and salty cheese all come together to make a flavorful spin on everyone's favorite veggie.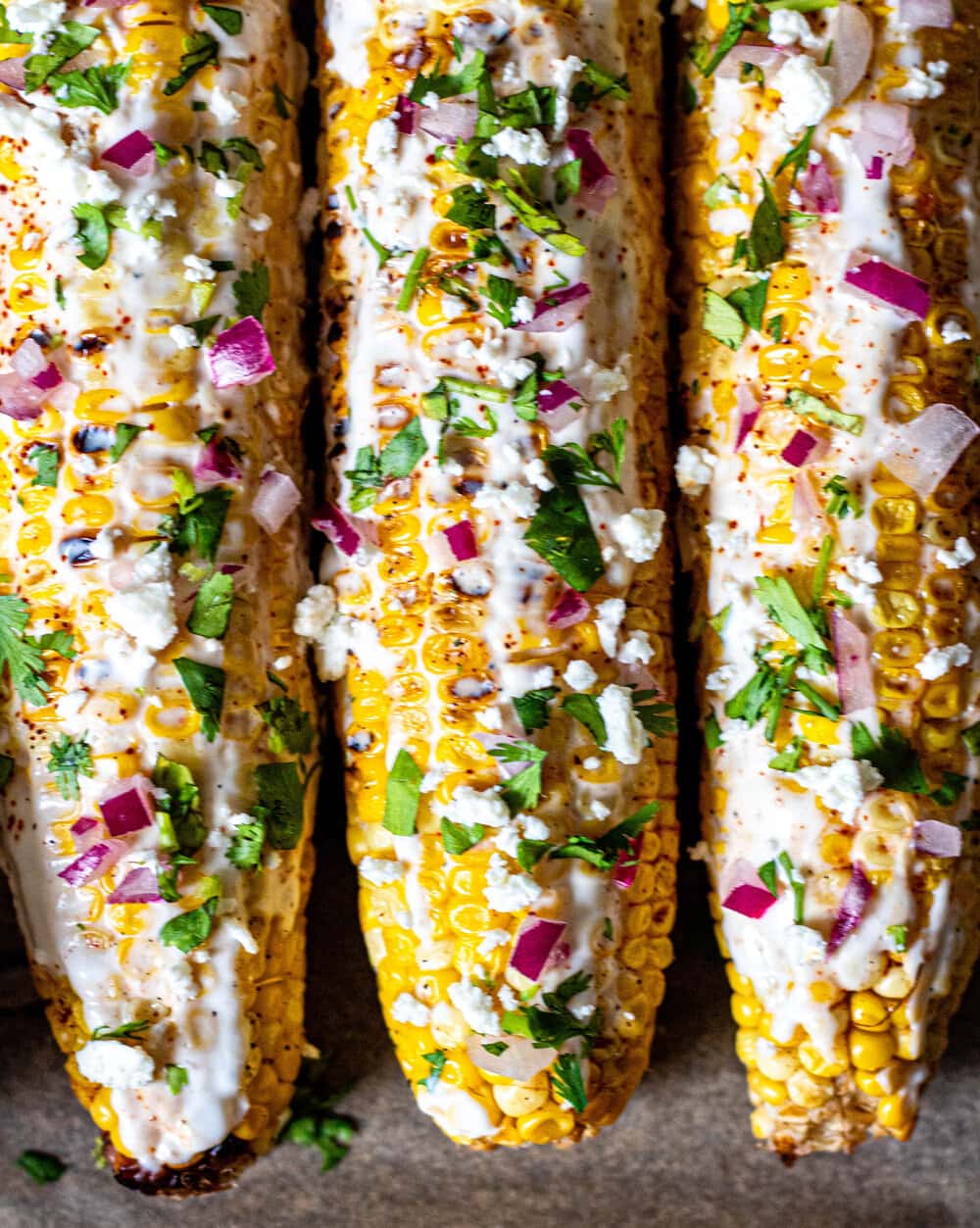 Roasted Sweet Potato Rounds with Guacamole and Bacon from The Roasted Root
Roasted sweet potato rounds with guacamole and bacon are the perfect healthy appetizer for serving guests!
Sheet Pan Chicken Nachos from Krolls Korner
Sheet Pan Chicken Nachos loaded with guacamole are the perfect appetizer for game day or hosting guests!
Savory Rosemary Spiced Nuts from The Rising Spoon
An easy recipe for savory rosemary spiced nuts you can prep & bake in less than 30 minutes. Each bite has an addicting blend of salty, herbaceous, and slightly spicy + sweet flavors. (gluten-free with paleo & vegan option)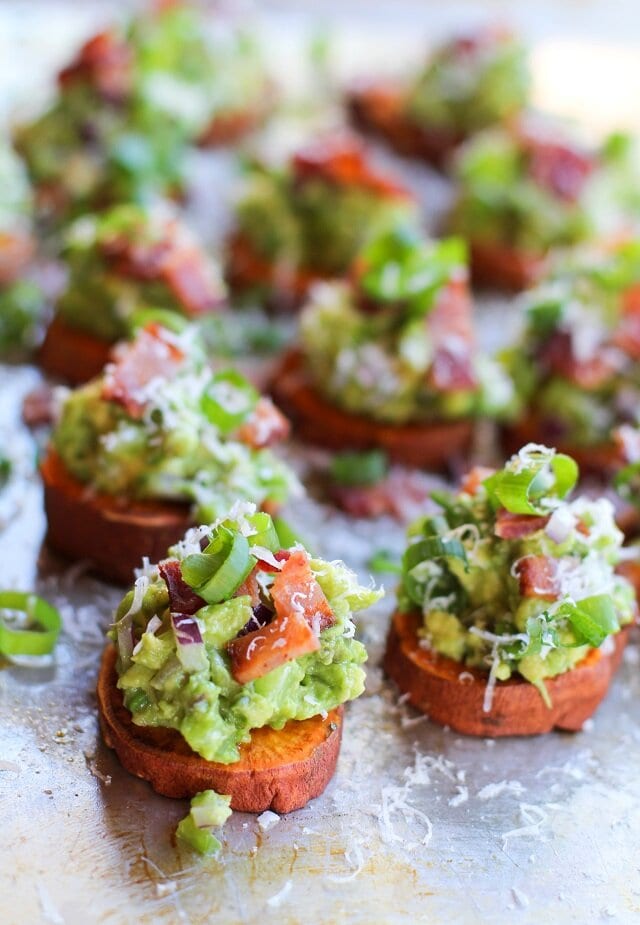 ---
Healthy Chicken Wings
Whole30 Crispy Buffalo Chicken Wings
These easy baked buffalo chicken wings are the perfect crowd-pleasing wing recipe for game day or any day of the week. They're crispy and delicious without any deep frying and you they're Whole30 friendly if you use a compliant buffalo sauce. Make this easy recipe for your next party or wing night!
Crispy Lemon Pepper Baked Chicken Wings
The classic chicken wing that everyone loves made healthier! These wings are baked not fried and absolutely delicious!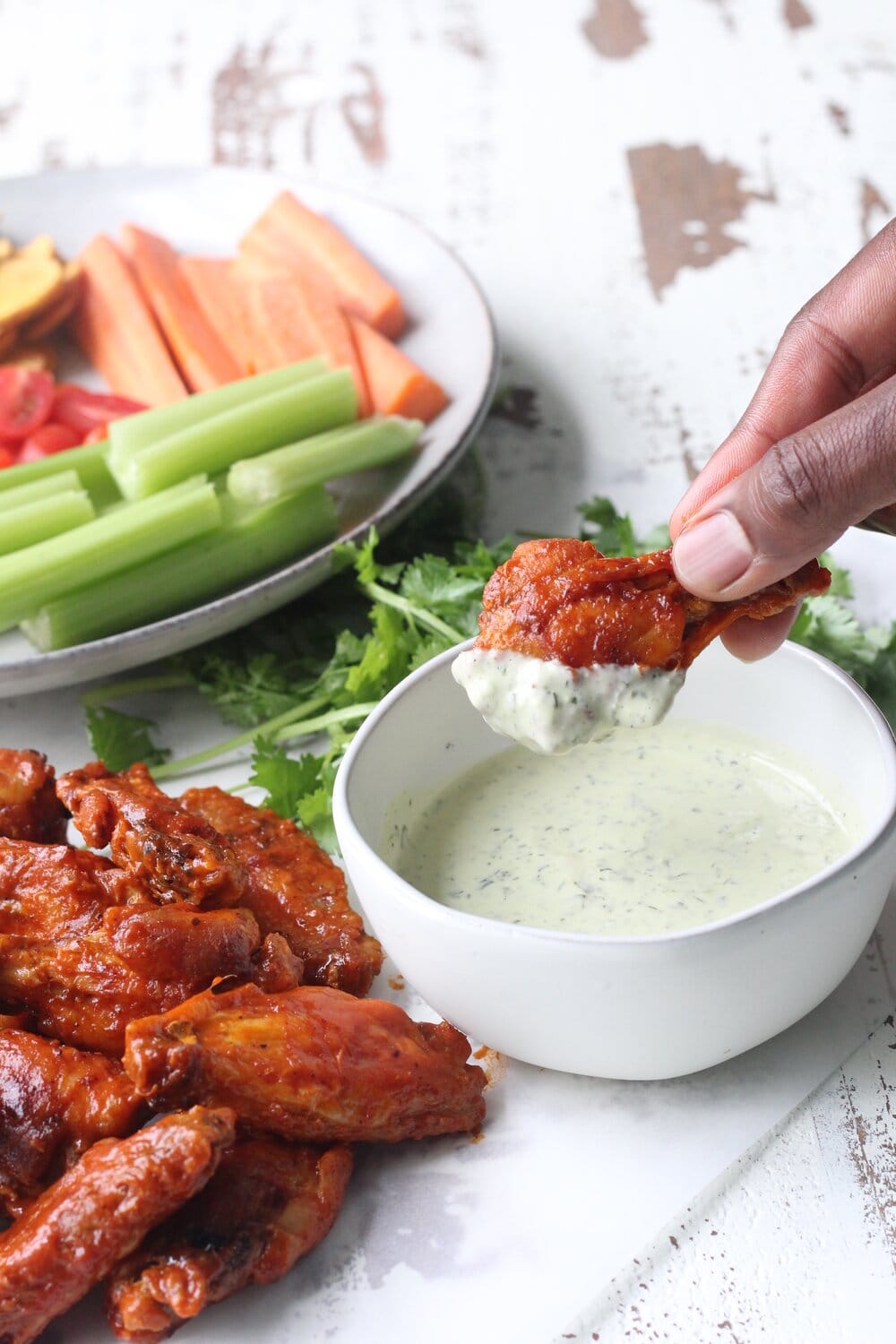 Oven Fried Crispy Chicken Wings from Dr. Davinah's Eats
Oven Fried Crispy Chicken Wings are an easy, dinner idea that is perfect for keto. Besides keto, they're generally a healthier option if you want the taste and crunch of fried chicken without having to put your chicken wings in a deep fryer.
Sweet and Sticky Raspberry Chicken Wings
The perfect combination of sweet and sticky, these healthier wings are always a huge hit!
Whole30 Hawaiian Chicken Wings
These Hawaiian chicken wings are crispy, sticky, and Whole30 compliant. They're baked in the oven until crispy and then finished with a delicious sauce that you'll want to put on everything.
Crispy Lemon Garlic Chicken Wings
These lemon garlic wings have so much flavor! They are baked until perfectly crispy and then tossed in a delicious garlicky sauce at the end.
These crispy Jerk chicken wings are baked in the oven and full of flavor. Pair them with the peach salsa for the ultimate game day snack!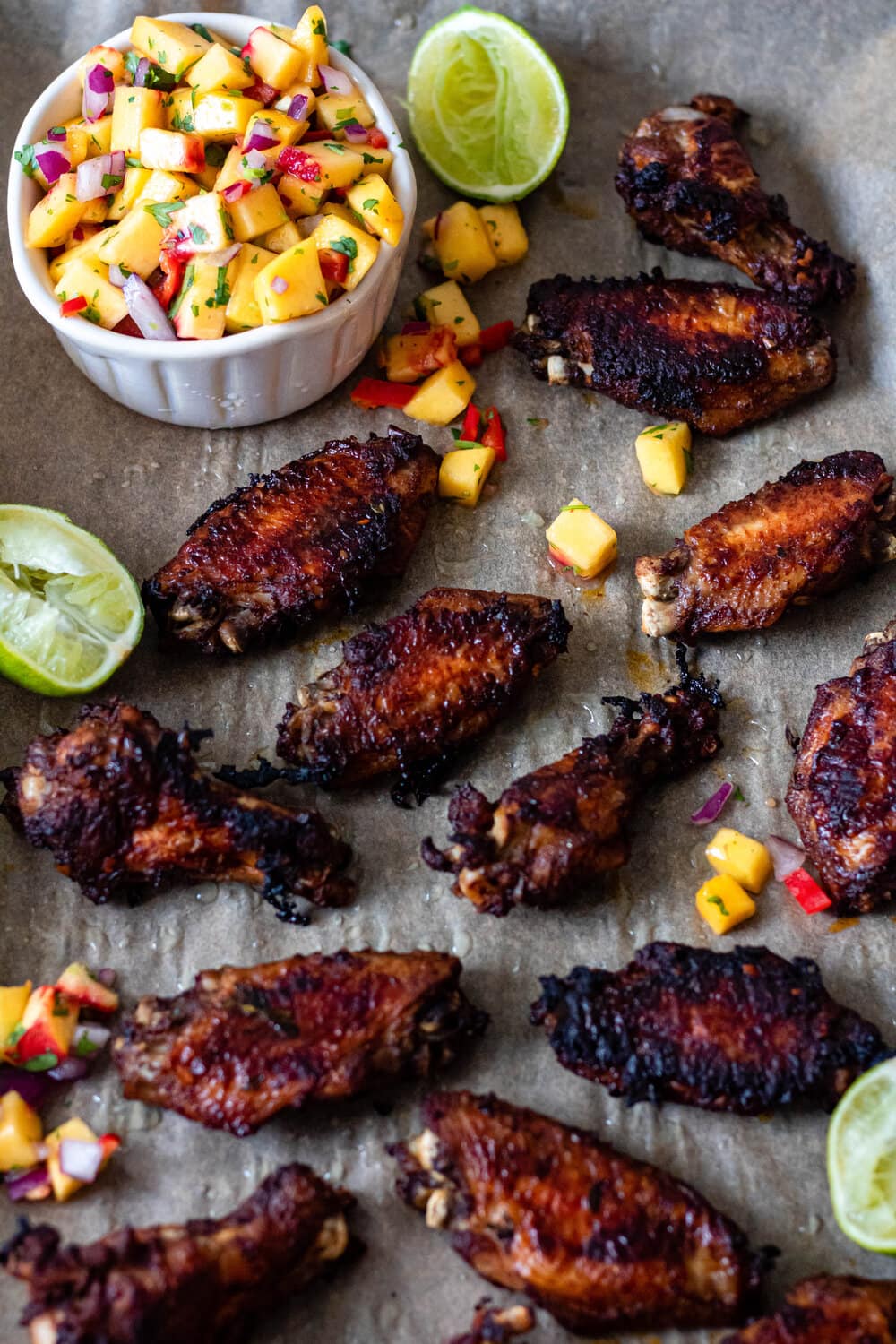 ---
Hearty Soups and Chilies
This incredibly easy slow cooker chili is the perfect weeknight meal. Make this recipe the next time you need an easy dinner that doesn't take a lot of work!
This easy Salsa Verde Chicken Soup is warm, comforting, and the perfect easy weeknight dinner meal. Shredded chicken, flavorful salsa verde, and hearty white beans all come together to create a soup that the whole family will love.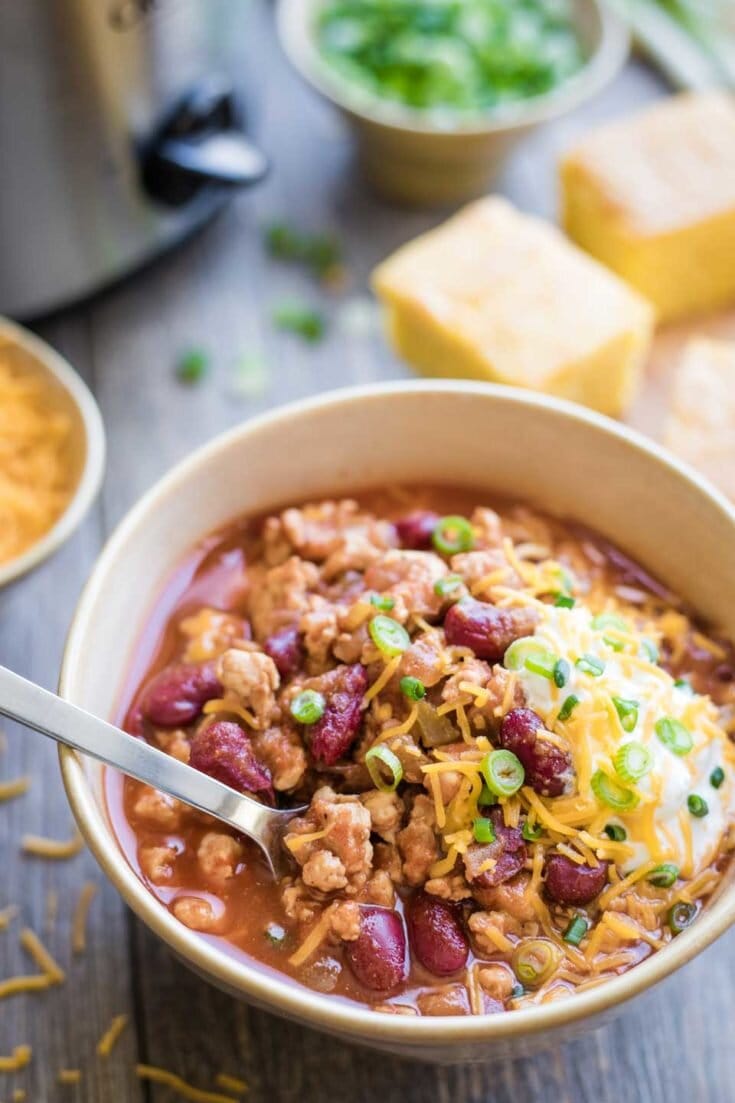 Classic, Healthy Crock-Pot Turkey Chili from Two Healthy Kitchens
A fun riff on the always-popular baked party sandwiches, these cute Spiral Hawaiian Roll Sliders are easy to make, super adaptable, and so much healthier, too! They're a perfect, hearty finger food for football parties!
This easy Southwest chicken chili is full of flavor and a quick weeknight dinner.
This healthy chicken taco soup gives you all the flavor of a taco in a quick and easy soup! Chicken breast, fresh veggies, and warming spices all come together to make a filling meal that only takes around thirty minutes to make.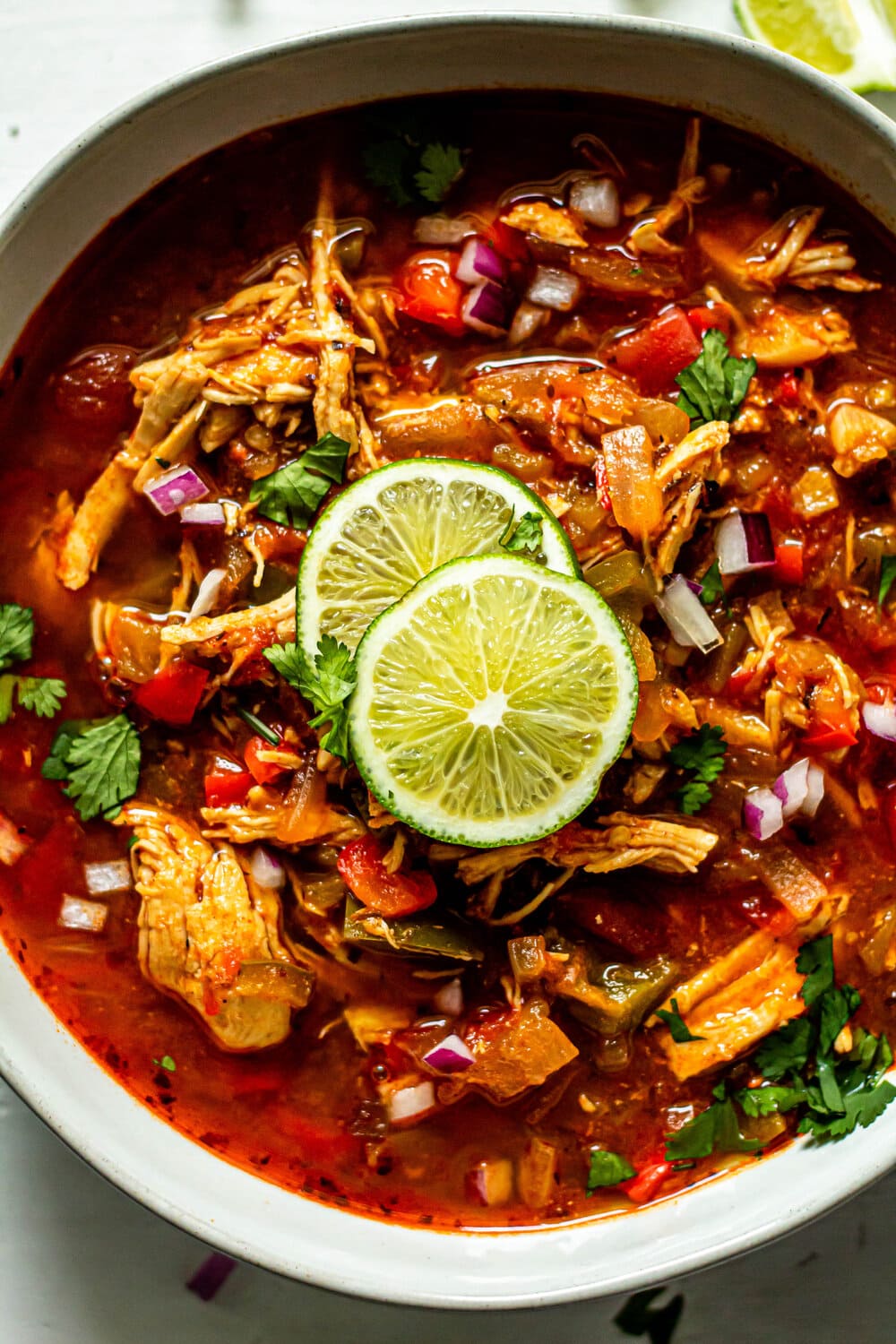 ---
Flavorful Meatballs
These Buffalo Chicken Meatballs are so easy and the perfect snack to serve at your next game day party! They use lean ground chicken and buffalo sauce to create a delicious bite-sized snack.
These sweet and sticky pork meatballs make the perfect appetizer or weeknight dinner. The ground pork meatballs are seasoned with fresh herbs, ginger, and garlic and then tossed in a delicious sweet and sticky sauce. Not only are they delicious, these healthy meatballs are also refined sugar free, gluten-free and Whole30 compliant. They make a flavorful dish that everyone will love!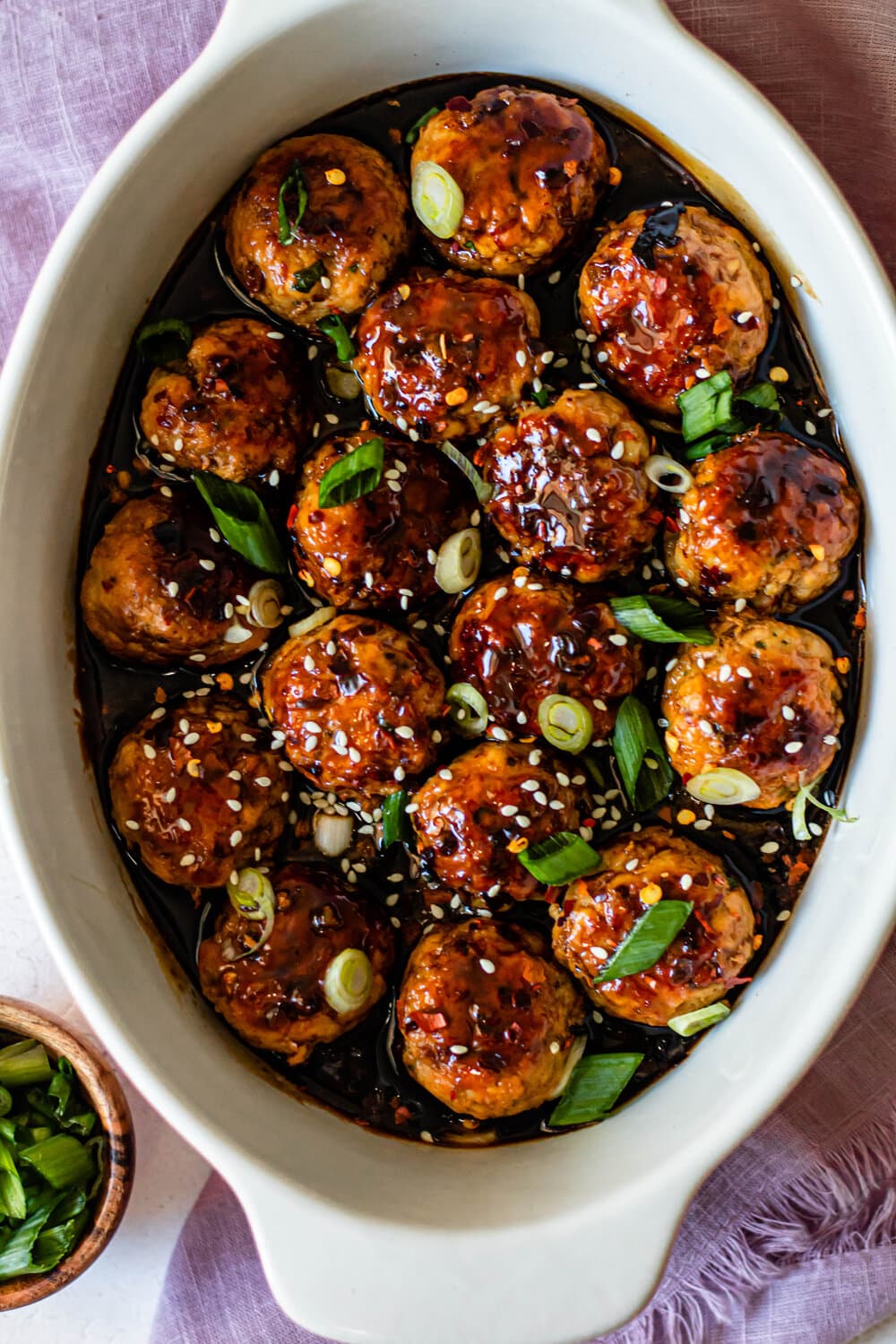 Buffalo Chickpea Meatballs from Watch Learn Eat
These gluten-free and vegan Buffalo Chickpea Meatballs are the perfect party appetizer! And, they're oven baked instead of pan-fried.
These barbecue chicken meatballs are a little sweet, sticky, and perfectly flavorful. You'll love them!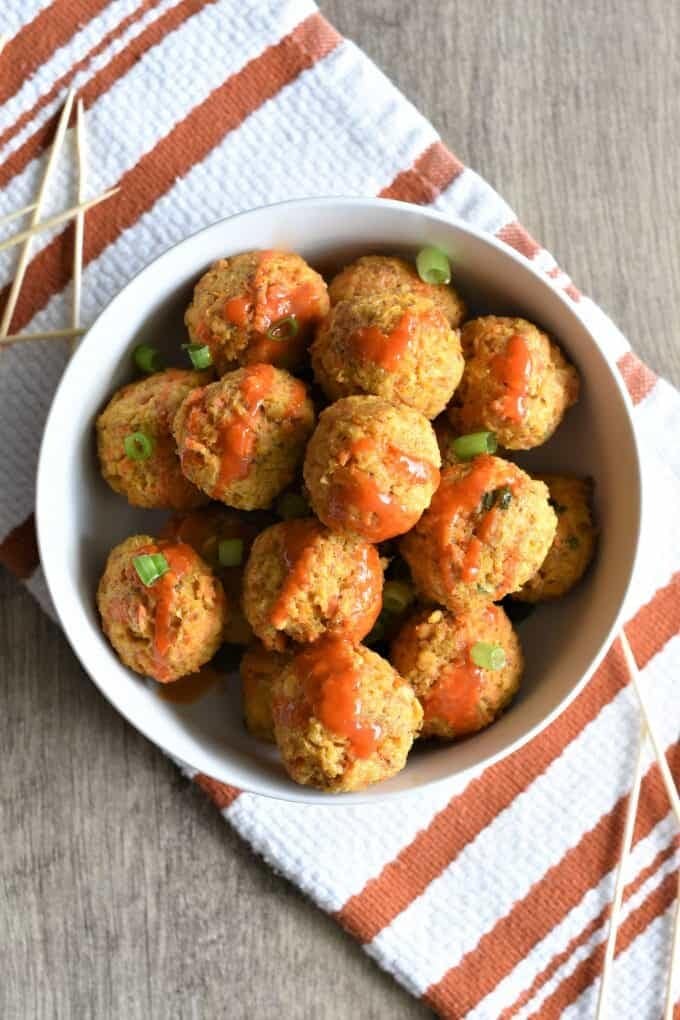 ---
Filling Main Dishes
This Gluten-Free Chicken Enchilada Casserole is the perfect easy weeknight dinner. Tender shredded chicken in enchilada sauce, layered between tortillas, makes for delicious and easy meal that's perfect for meal prep or to feed a crowd!
Slow Cooker Chipotle Beef Burrito Bowls
These easy Slow Cooker Chipotle Beef Burrito Bowls are a weeknight dinner dream. Tender shredded beef that's been braised in the slow cooker for hours, fresh veggies, and all your favorite burrito toppings in one bowl.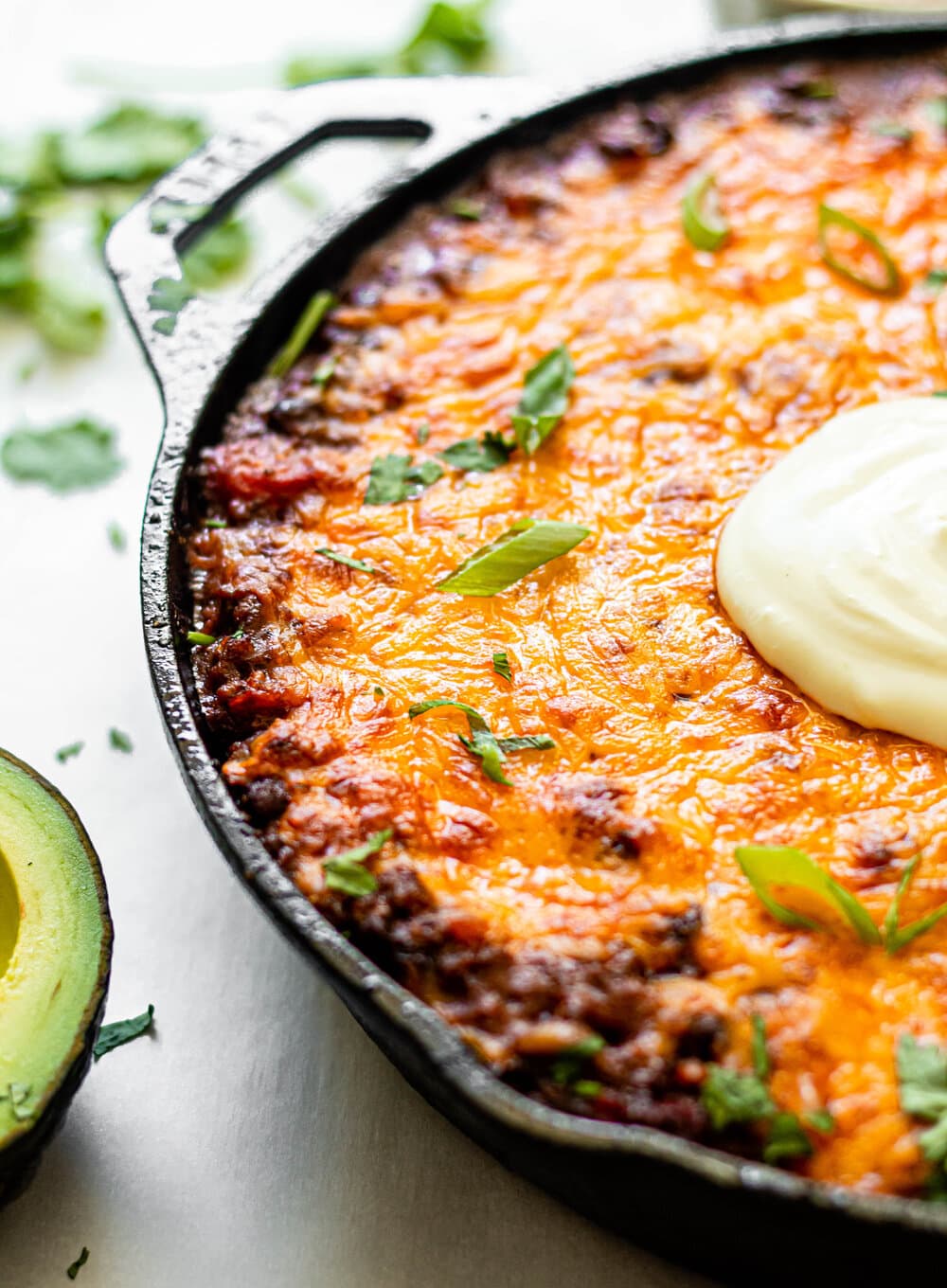 BBQ Chicken Stuffed Sweet Potatoes
These hearty bbq chicken stuffed sweet potatoes are an easy weeknight dinner or game day snack, and a delicious way to get your sweet potato fix. Tender pulled chicken with barbecue sauce is stuffed into baked sweet potatoes and topped with a slightly tangy and fresh coleslaw. This recipe is also Whole30 compliant, Paleo-friendly, and gluten-free.
Skillet Gluten-Free Beef Enchilada Casserole
This Gluten-Free Beef Enchilada Casserole is the perfect easy weeknight dinner and comfort food. It's packed with protein from ground beef and black beans, and has all of that delicious enchilada flavor you love without any of the messy stuffing and rolling process.
These easy and delicious crispy slow cooker carnitas are absolutely delicious! Made with just a few simple ingredients, and in the slow cooker, this is the perfect recipe to make when you need to hit the easy button on dinner.
These easy slow cooker beef enchilada stuffed sweet potatoes are perfect game day food! They are filled with tender beef and all your favorite toppings and make a hearty dish to serve at a party.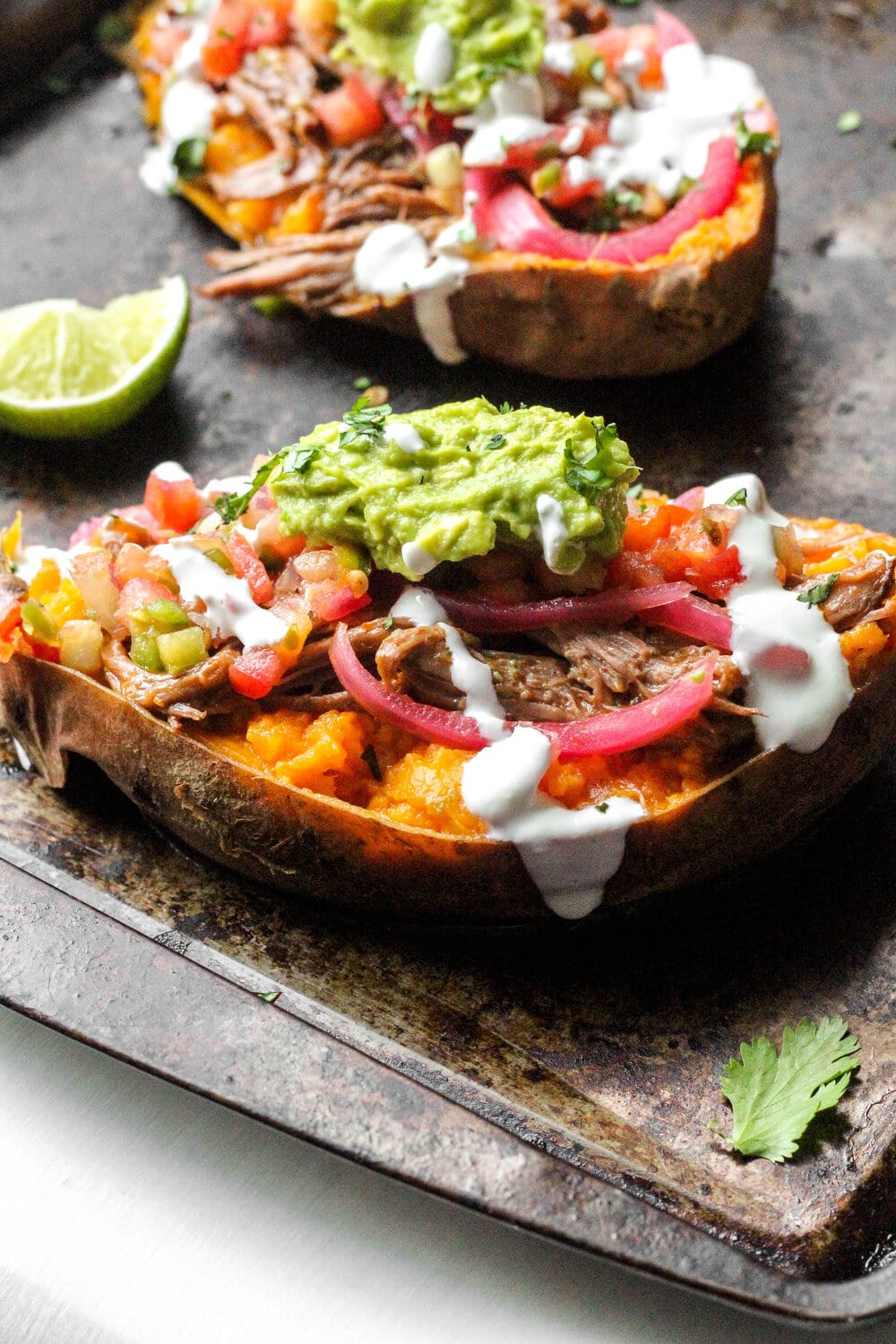 ---
Healthier Desserts
These Coconut Chocolate Chip Cookie Dough Bites are so easy and the perfect treat or after school snack! They're made with simple ingredients like almond butter and gluten-free oats and sweetened with your choice of honey or maple syrup!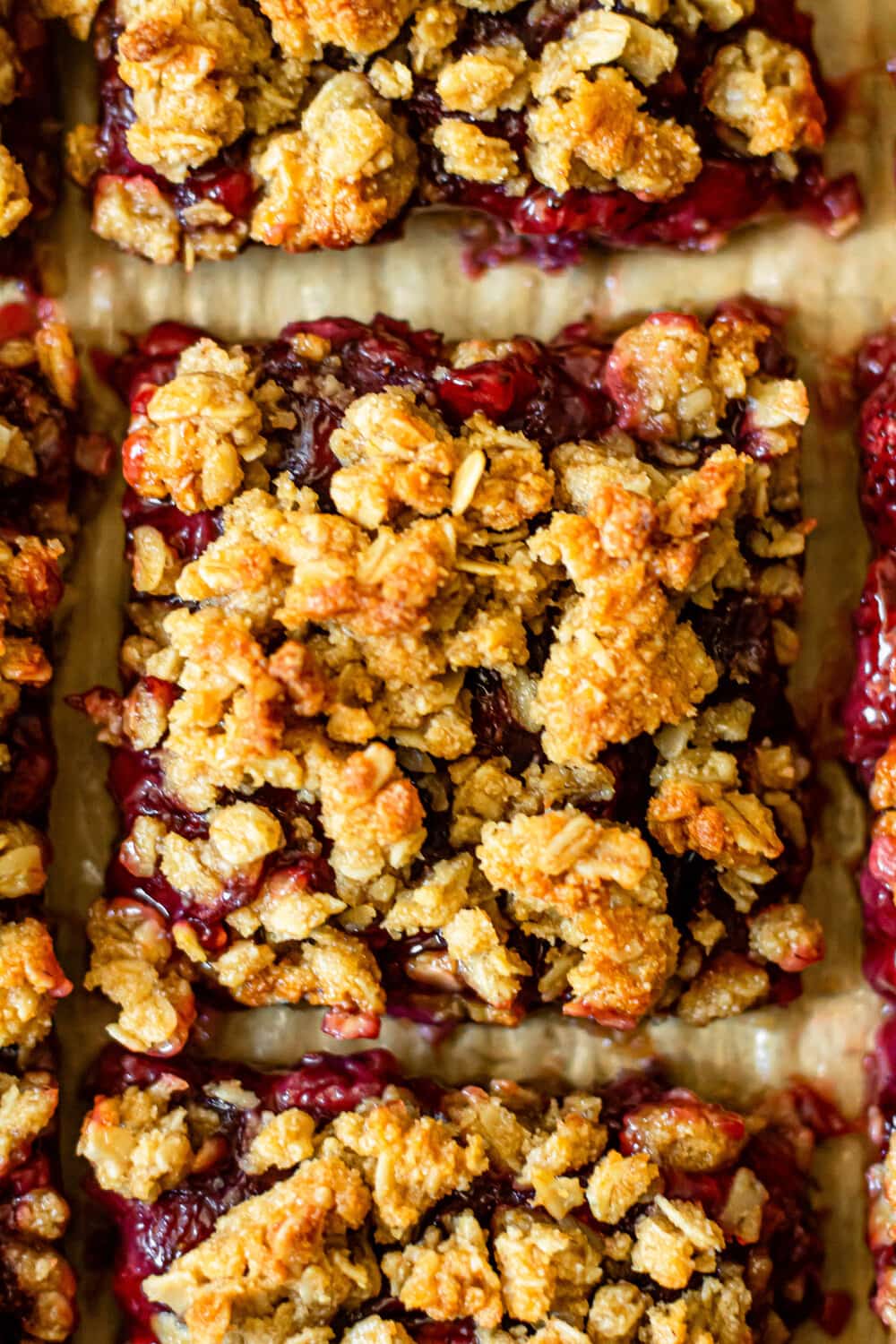 You won't be able to get enough of these fresh and easy to make strawberry crumb bars. This summery dessert has a sweet and tart strawberry jam, sandwiched in between the perfect oat crust and crumble topping, that's made with fresh strawberries, lemon juice, and a touch of maple syrup.
Healthy Chocolate Hummus from Joy Food Sunshine
This healthy chocolate hummus is a fun sweet appetizer that's healthy and kid-friendly!