These Paleo buffalo chicken meatballs are perfect for a game day party or a fun weeknight dinner. They are made with a few simple ingredients, baked, and so easy to make. This recipe is Whole30 compliant, low carb, and keto friendly.
The Best Baked Buffalo Chicken Meatballs
If you have never tried buffalo chicken meatballs, here is your invitation to try the best baked buffalo chicken meatballs out there. Yes, I know that is a bold claim and I am probably a bit biased but hey, I am claiming it. There is no turning back now.
These buffalo chicken meatballs are packed with so much flavor, thanks to plenty of herbs and spices, and then coated in tangy buffalo sauce. One of the best sauces/condiments out there.
You might think buffalo chicken meatballs have to be saved for a special occasion like game day or a party but let me tell you, they work just as well for a quick lunch or dinner.
These juicy meatballs only take twenty minutes to make and pair perfectly with your favorite dipping sauce and fresh veggies.
The best part? This recipe is Whole30 compliant (just use a compliant buffalo sauce), Paleo friendly, low carb, gluten free, and keto friendly. They check all the boxes, taste great, and I know you'll love them!
The Tools You'll Need to Make This Recipe
This recipe is not complicated and there are a few simple kitchen tools that you will need to successfully make it. Here is what you need:
Ingredients For the Most Flavorful Meatballs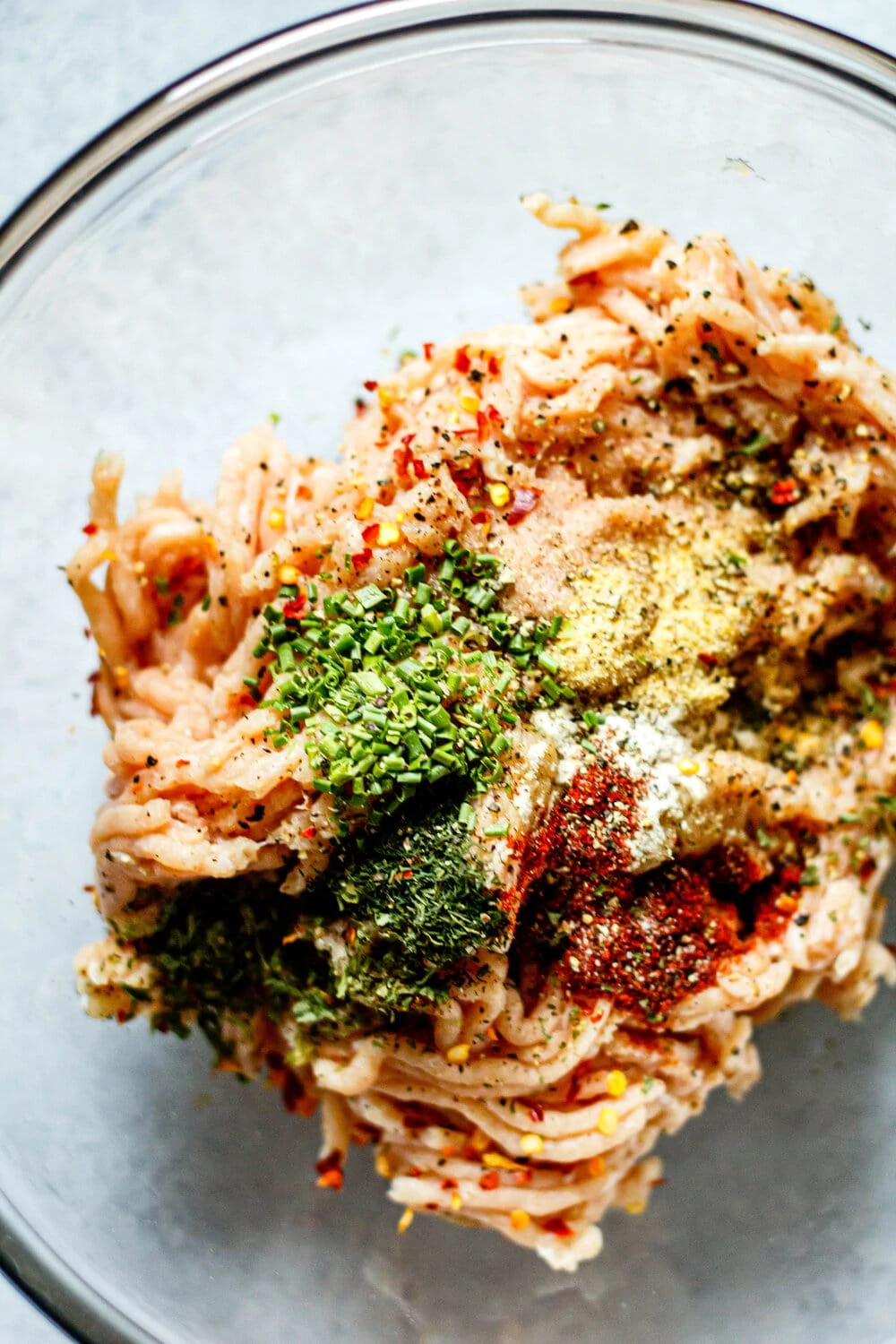 These meatballs are made with just a few simple ingredients that you probably already have in your pantry or fridge.
The key to getting really flavorful meatballs is to use a variety of dried herbs and spices.
You want the meatballs to be well seasoned before they are coated in buffalo sauce for the best results.
Ground Chicken: Ground chicken is lean, cooks quickly, and works perfectly in these meatballs. It also has a neutral flavor so the spices and seasonings can really shine through.
Herbs and Spices: The majority of the ingredients in this recipe are dried spices and herbs. Using a variety of spices helps to add extra flavor to the meatballs.
Buffalo Sauce: Use your favorite buffalo sauce but be sure to pick one that is Whole30 compliant if you are concerned about keeping this recipe Whole30 compliant.
How to Make Buffalo Chicken Meatballs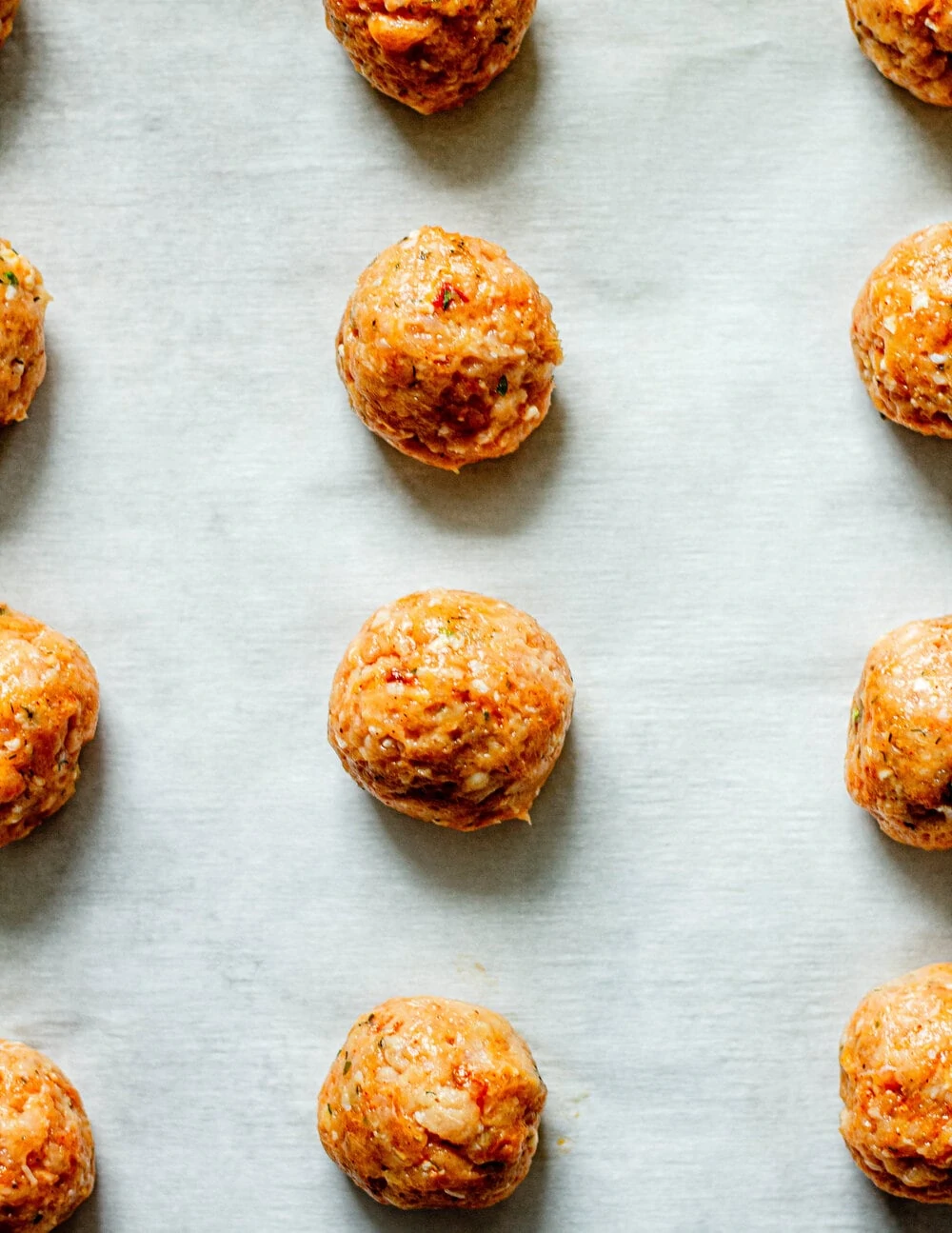 Step One: The first step is to make the chicken meatball mixture. To do this, add the ground chicken, herbs, spices, salt and pepper to a mixing bowl. Use a spoon to stir the mixture until well combined.
Step Two: Next, it's time to form the meatballs. The easiest way to do this is by using a cookie dough scoop or a tablespoon measure to scoop the ground chicken into meatballs. Scoop the ground chicken and then use your hands to gently roll into balls.
Step Three: Place the meatballs on a sheet pan lined with parchment paper. The parchment paper will ensure that the meatballs do not stick the sheet pan and make clean up easier.
To help the meatballs get cooking, drizzle a little avocado oil over the meatballs before placing them in the oven.
Step Four: Bake the meatballs at 425 degrees for 20-25 minutes until they cooked fully and browned.
While the meatballs are cooking, heat your buffalo sauce in a small saucepan. You do not want to pour cold buffalo sauce over hot meatballs so warming the buffalo sauce pan helps prevent that.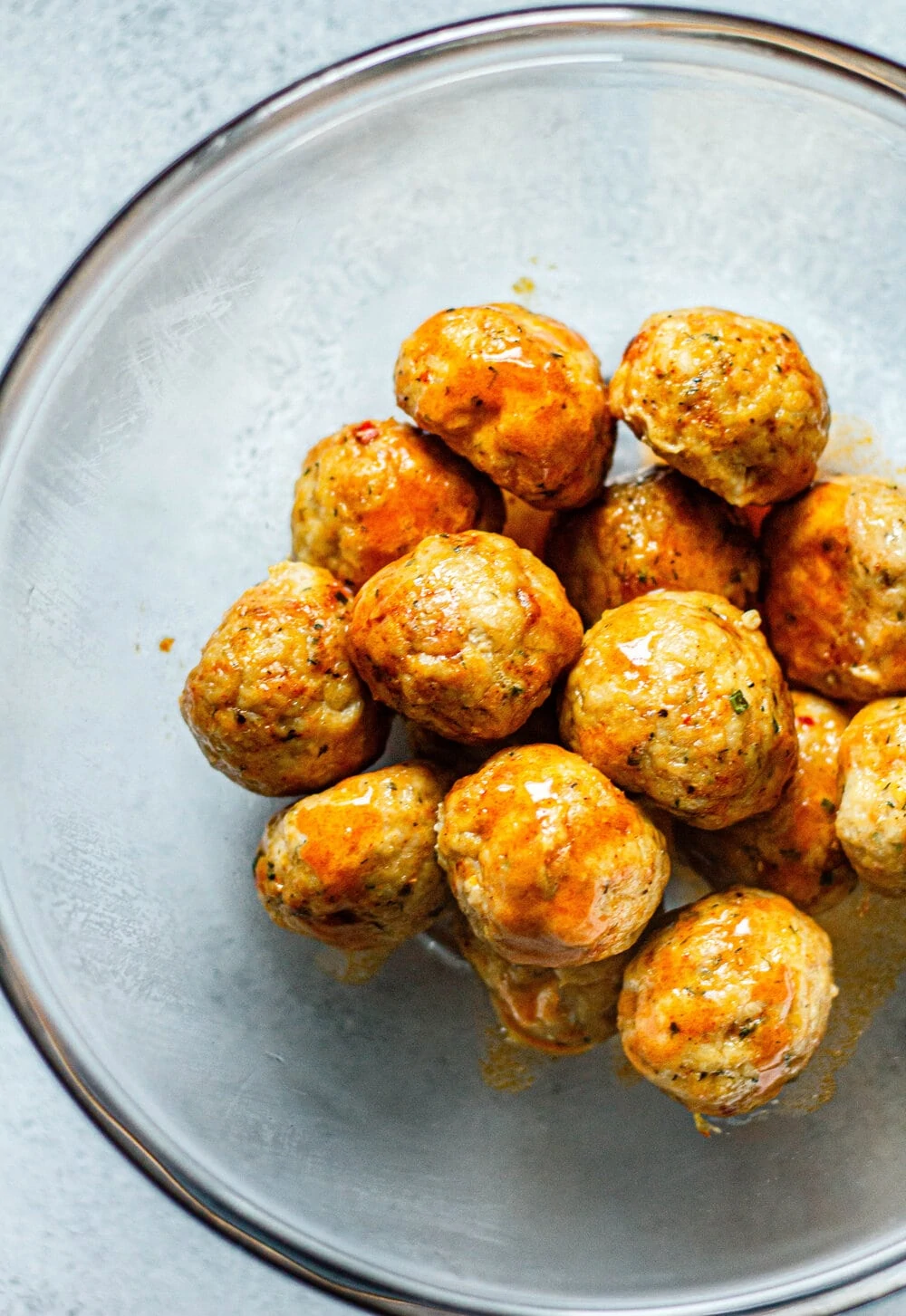 Step Five: Once the meatballs are done cooking, remove them from the oven and transfer them to a mixing bowl or dish.
Drizzle the warm buffalo sauce over the meatballs and gently toss them until they are well coated in the sauce.
You can garnish the meatballs with green onion, feta cheese, or blue cheese and then serve with your favorite dipping sauce and sliced veggies.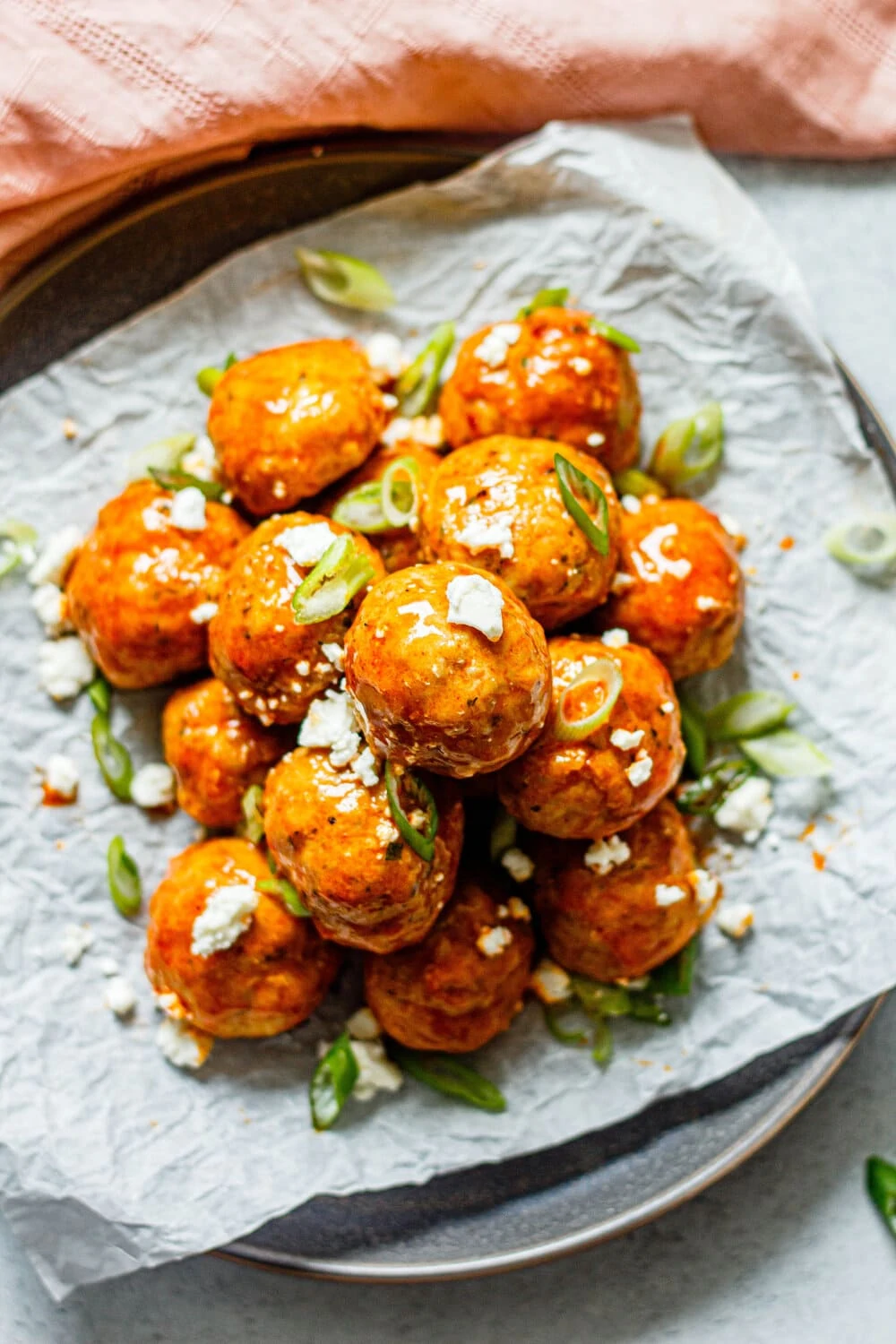 Can I Make These Meatballs in the Air Fryer?
Yes! If you have an air fryer, you can whip these meatballs up even more quickly. Instead of baking them in the oven, you'll just let cook your meatballs in your air fryer.
Just place them in your air fryer basket and cook at 400 degrees for 10-12 minutes until fully cooked and browned.
You can give them a shake halfway through if you would like to ensure that they cook evenly.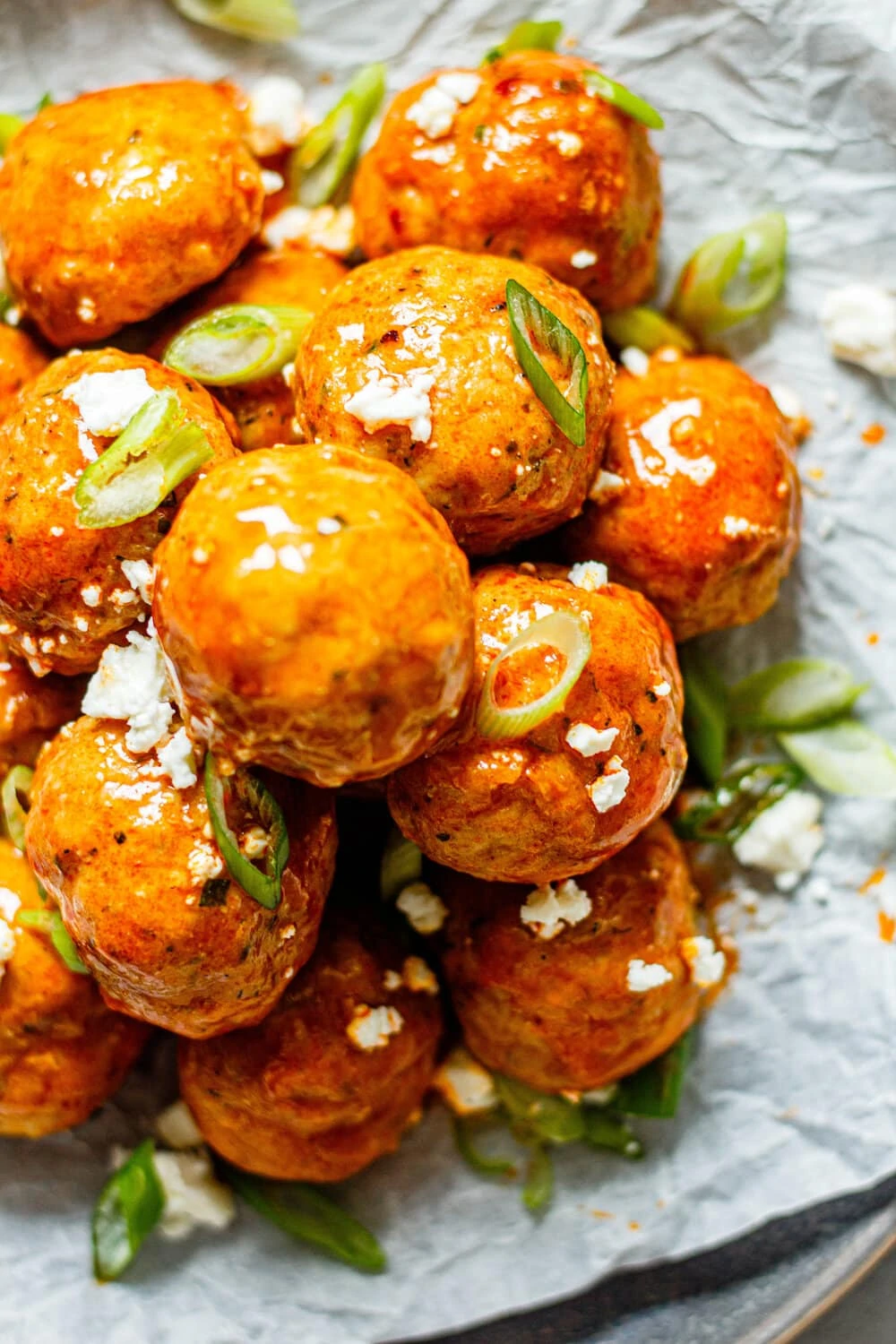 IF YOU LOVE THESE BUFFALO CHICKEN MEATBALLS, HERE ARE A FEW OTHER DELICIOUS RECIPES YOU HAVE TO TRY!
Whole 30 Buffalo Chicken Wings
Whole30 Hawaiian Chicken Wings
Crispy Baked Ranch Chicken Wings
LOOKING FOR MORE FREE RECIPES?
Subscribe to my newsletter and follow along on Facebook, Pinterest, and Instagram for all of the latest updates.
---
Buffalo Chicken Meatballs
Servings: 6-8
Prep Time: 10 minutes
Cook Time: 30 minutes
Ingredients:
Method:
Preheat oven to 425 degrees.

Add the ground chicken to a mixing bowl and add the salt, pepper, herbs, and spices. Stir until well combined.

Use a cookie dough scoop to scoop the ground chicken and then use your hands to roll the chicken into small meatballs.

Place the meatballs on a parchment lined baking sheet and drizzle them with a half a tablespoon of avocado oil.

Bake the meatballs for 20-25 minutes until fully cooked through. While the meatballs are cooking, heat the buffalo sauce in a small saucepan until warm.

Transfer the meatballs to a bowl and pour the buffalo sauce over the meatballs. Gently toss the meatballs until they are completely coated in the sauce. Garnish with green onions, blue cheese, or feta cheese, and enjoy!