Learn more about cooking with ground turkey and get a list of reader favorite ground turkey recipes in this post!
Why I Love Cooking with Ground Turkey
Ground Turkey is a protein packed, budget friendly, versatile protein that can be used in so many different dishes. Here's why I love it:
It's versatile – ground turkey has a mild flavor that easily takes on the flavor of whatever you're cooking, which I love. Not only are there so many recipes with ground turkey, it can also be swapped for ground beef in almost any recipe that calls for ground beef!
Budget friendly – in comparison to other cuts of meat, like chicken breast or steak, ground turkey is often a less expensive budget friendly option. The average cost of ground turkey can range from anywhere from $3 to $7 per pound.
High in protein and nutrients – ground turkey is naturally high in protein as well as iron, zinc, and vitamin B12 which makes it a great lean protein source to add to meals.

Is Ground Turkey Healthier Than Ground Beef?
When you're comparing ground turkey to ground beef you first have to account for the ratio of fat to protein. Both ground beef and ground turkey are sold with different protein to fat percentages, for example 80/20 (80% protein to 20% fat), 93/7, etc.
Once you're comparing the ground beef and ground turkey with the same percentages you may be surprised to find that both ground turkey and beef have similar nutrient profiles. The main difference however, is in the amount of saturated fat! Ground turkey has less saturated fat than ground beef which, depending on your personal needs, may be a better choice.
Remember, the foods you choose to eat are highly dependent upon your personal nutrition needs, accessibility, and what you actually enjoy!

Different Types of Ground Turkey
White Meat Ground Turkey: Ground turkey labeled as "white ground turkey" is usually made from the turkey breast meat. You might also see it labeled as "ground turkey breast". If you see ground turkey that is labeled as 99% fat free then that is a good indication that it is made from ground turkey breast.
White meat ground turkey is usually leaner and lower in fat than both ground beef or dark meat ground turkey. Because of the lower fat content it's great for things like quick cooking stir-fries or burgers!
Regular Ground Turkey: Regular ground turkey is usually a combination of both dark meat and white meat. It usually has a protein to fat ratio of 93/7 and is my personal choice when cooking. The higher fat content than ground turkey breast makes it a great option for things like a slow cooking chili or pasta sauce.

Can You Swap Ground Turkey for Ground Beef in Recipes?
Yes! This is a very common swap that works well. You can easily swap ground turkey for beef in quite a few different recipes.
Here are a few ground beef recipes that also work well with ground turkey:

Can You Substitute Ground Turkey for Ground Pork or Chicken?
Yes! If a recipe calls for ground pork or ground chicken, you can easily substitute it with ground turkey with great results. If the recipe calls for ground pork, try swapping it for ground dark turkey meat and white meat for ground chicken.
I commonly make my egg roll in a bowl recipe (calls for ground pork) with ground turkey or substitute ground turkey for ground chicken in my Healthy Italian Wedding Soup recipe. Because ground turkey has a pretty mild flavor, it can easily take on the flavor of whatever herbs and spices you add.
How to Avoid Overcooking Ground Turkey
When you're cooking ground turkey in a sauce or soup, overcooking becomes less of a worry. However, when you're making something like a ground turkey burger, you want to ensure that it stays nice and juicy which means you want to avoid overcooking.
The best way to do this is to use a meat thermometer. Ground turkey is safe to eat at 165 degrees Fahrenheit. Once it hits that temperature, remove it from the pan to prevent any dried out turkey burgers.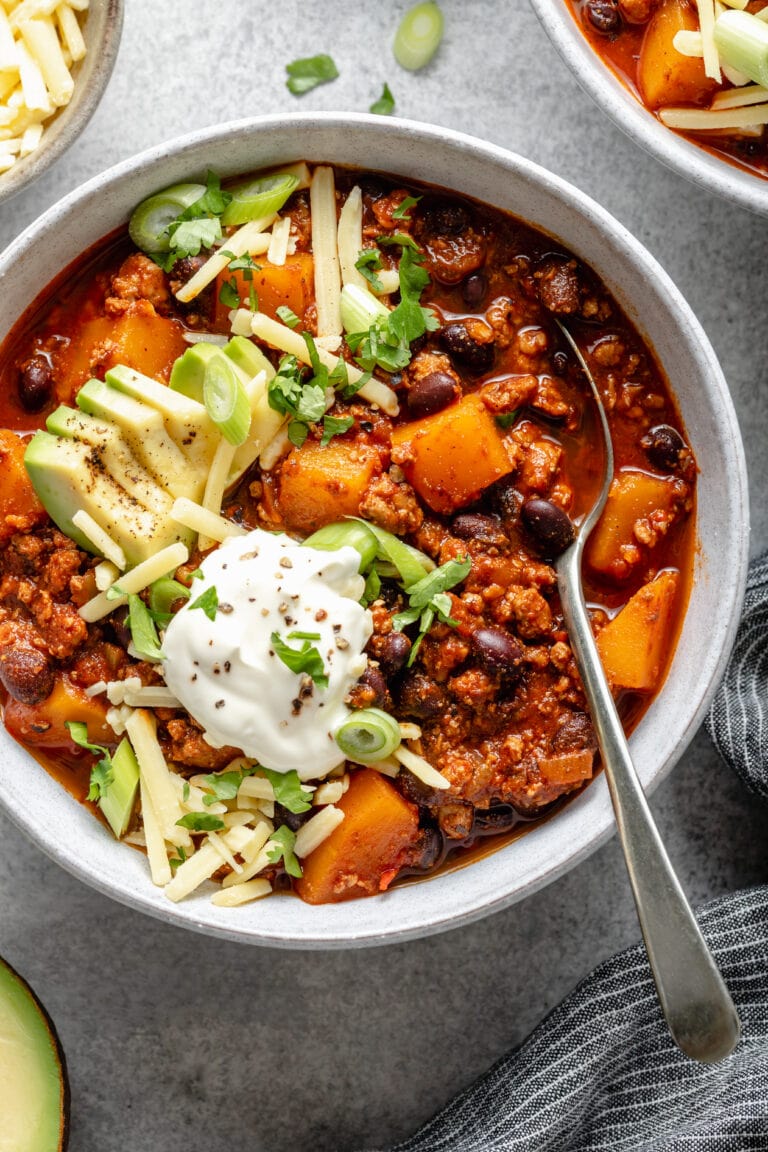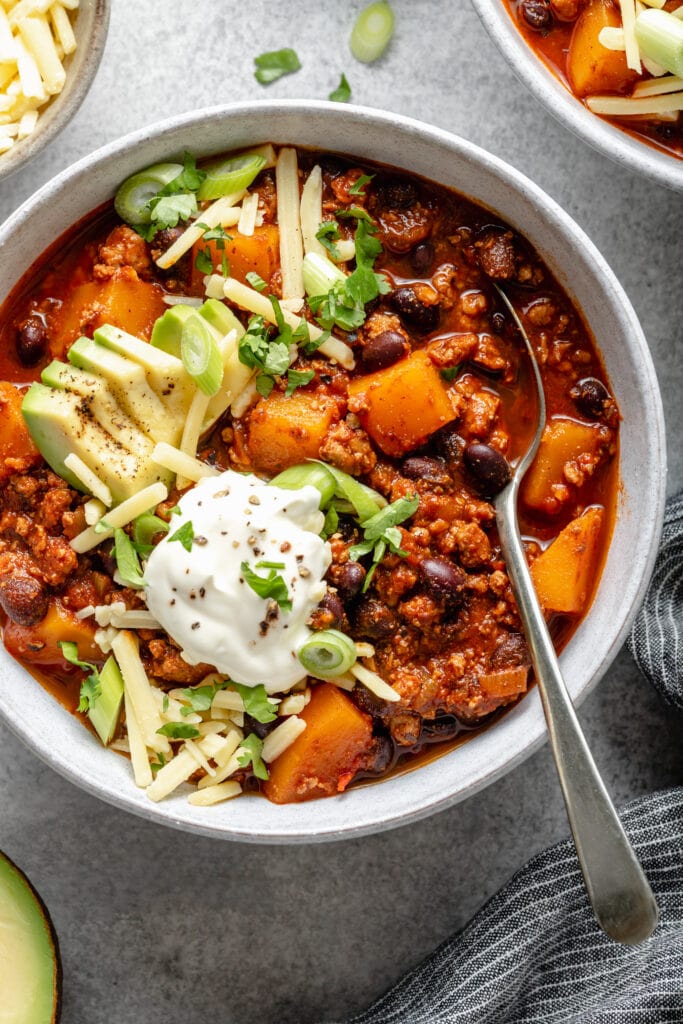 The Best Healthy Ground Turkey Recipes
Black Bean Butternut Squash Turkey Chili
Avocado Turkey Burgers with Chipotle Aioli
Healthy White Bean Turkey Chili
Slow Cooker Cranberry BBQ Meatballs
I hope you give these Ground Turkey recipes a try! They are full of flavor, delicious, and a great way to use a versatile protein.
Leave a comment with a star rating below. You can also snap a photo & tag @allthehealthythings on INSTAGRAM. Your reviews and ratings help support All the Healthy Things and make it possible for me to continue to create the recipes you trust and love.
Photography by: Eat Love Eat