This post contains affiliate links
This sweet potato and black bean chili checks all the boxes – hearty, full of flavor, and so easy to make. If you're looking for a delicious weeknight dinner recipe, this is the recipe you need. Not only does it taste great, it's also naturally gluten, grain, and dairy-free!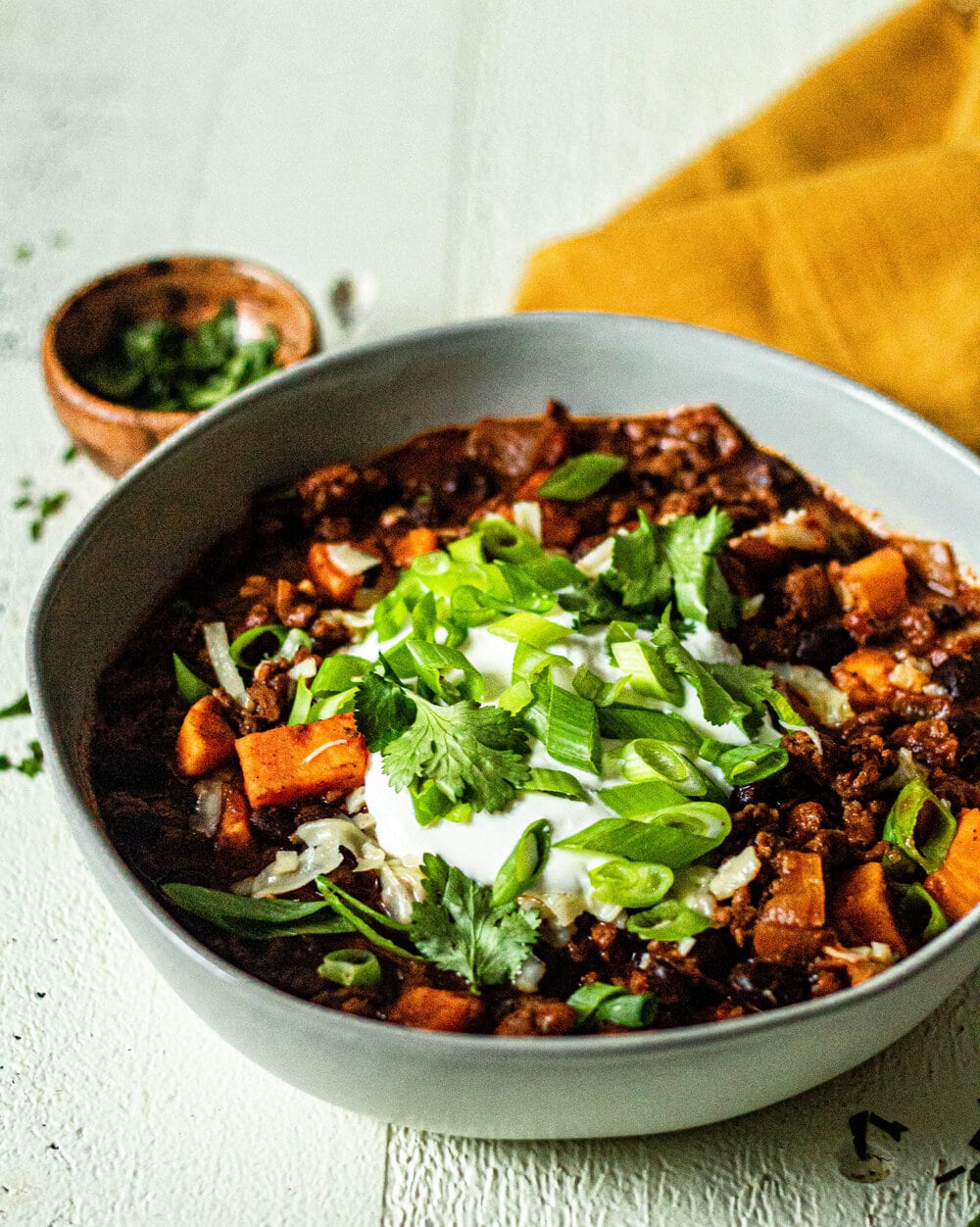 A Healthy Recipe with with Ground Beef and Sweet Potatoes: Smoky Black Bean and Sweet Potato Chili 
Sweet potato and black bean chili! Are you even ready?!
There is nothing like a warm bowl of hearty chili and this one has it all:
This recipe is a unique spin on chili and I love that! Instead of kidney beans, we're using black beans and throwing cubed sweet potatoes in the mix to switch things up. The flavor of chili powder works really well with sweet potatoes (I use it all the time in this recipe), plus sweet potatoes have all kinds of good-for-you vitamins that really pack a nutritious punch. This chili recipe is  a win-win-win, ok?!
What Spices Go in Chili?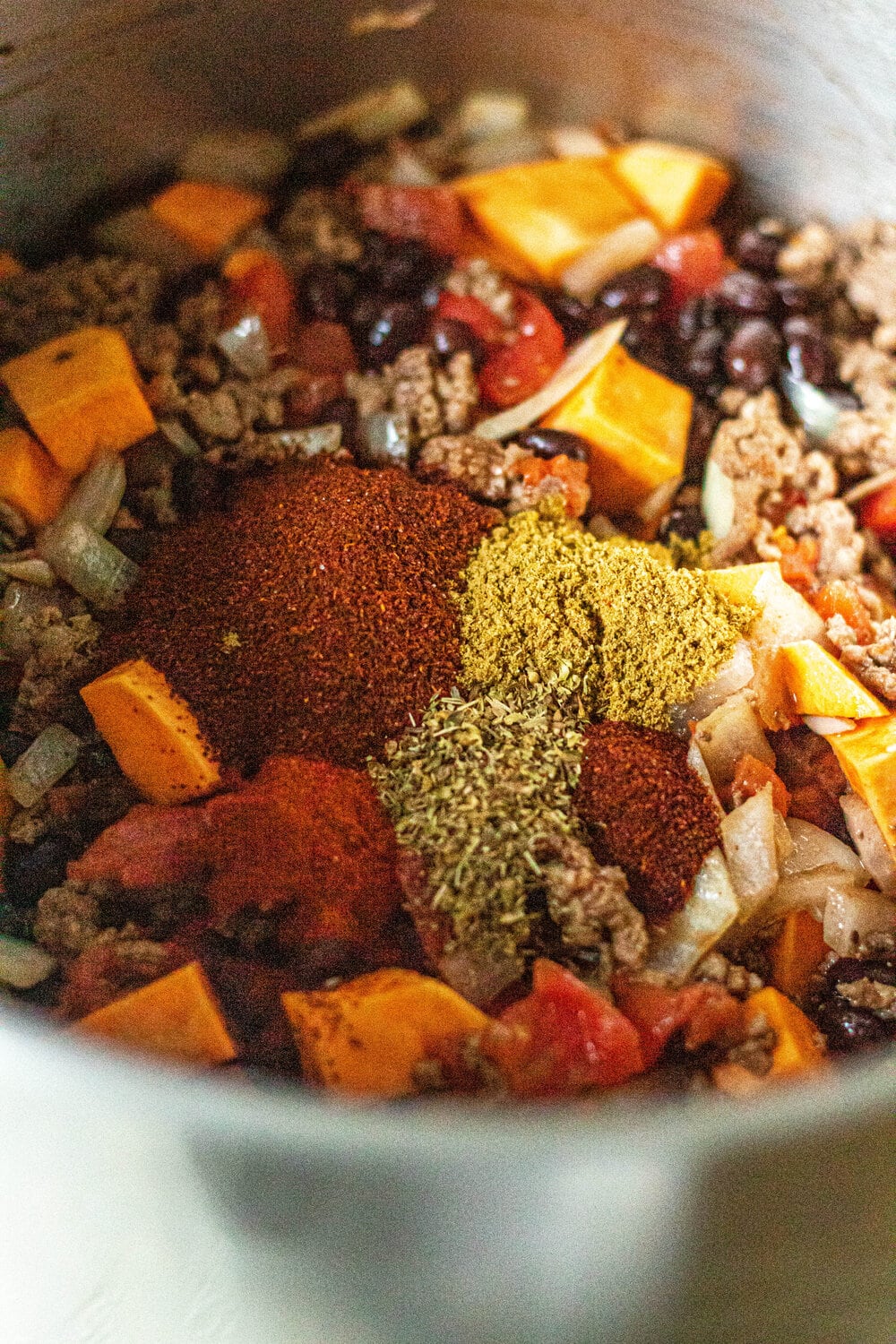 You may be surprised to know that you can make your very own chili seasoning from scratch. There is no need to buy a pre-made chili seasoning packet or sauce. You can use the spices you have in your pantry to make a flavorful chili without any pre-prepped ingredients.
My Go-To Spices for Homemade Chili Seasoning
Chili Powder: this is an obvious must have and one of the ingredients that really gives chili it's signature flavor. This is one of my favorite chili powder brands.
Cumin: this is the second important ingredient that really makes the chili taste like the chili you know and love. This recipe calls for a full tablespoon of cumin and it's important to use the full tablespoon.
Paprika: paprika is another must have spice in this chili that really helps to round out the flavor. I prefer to use smoked paprika in chili to add to that smoky delicious flavor.
Oregano: this herb is very common in hispanic and tex-mex dishes. If you have never tried using dried oregano in your chili, a little goes a long way to add great flavor.
Chipotle Powder: chipotle powder is optional in this recipe, but I really think it adds great flavor. Chipotle powder is ground smoked red jalapeno peppers. It adds a little kick, which is why I only suggest a small amount, but feel free to add more if you like a little heat. Chipotle powder adds a smoky and slightly spicy flavor to dishes that really comes through.
How to Make a Whole30 Sweet Potato Chili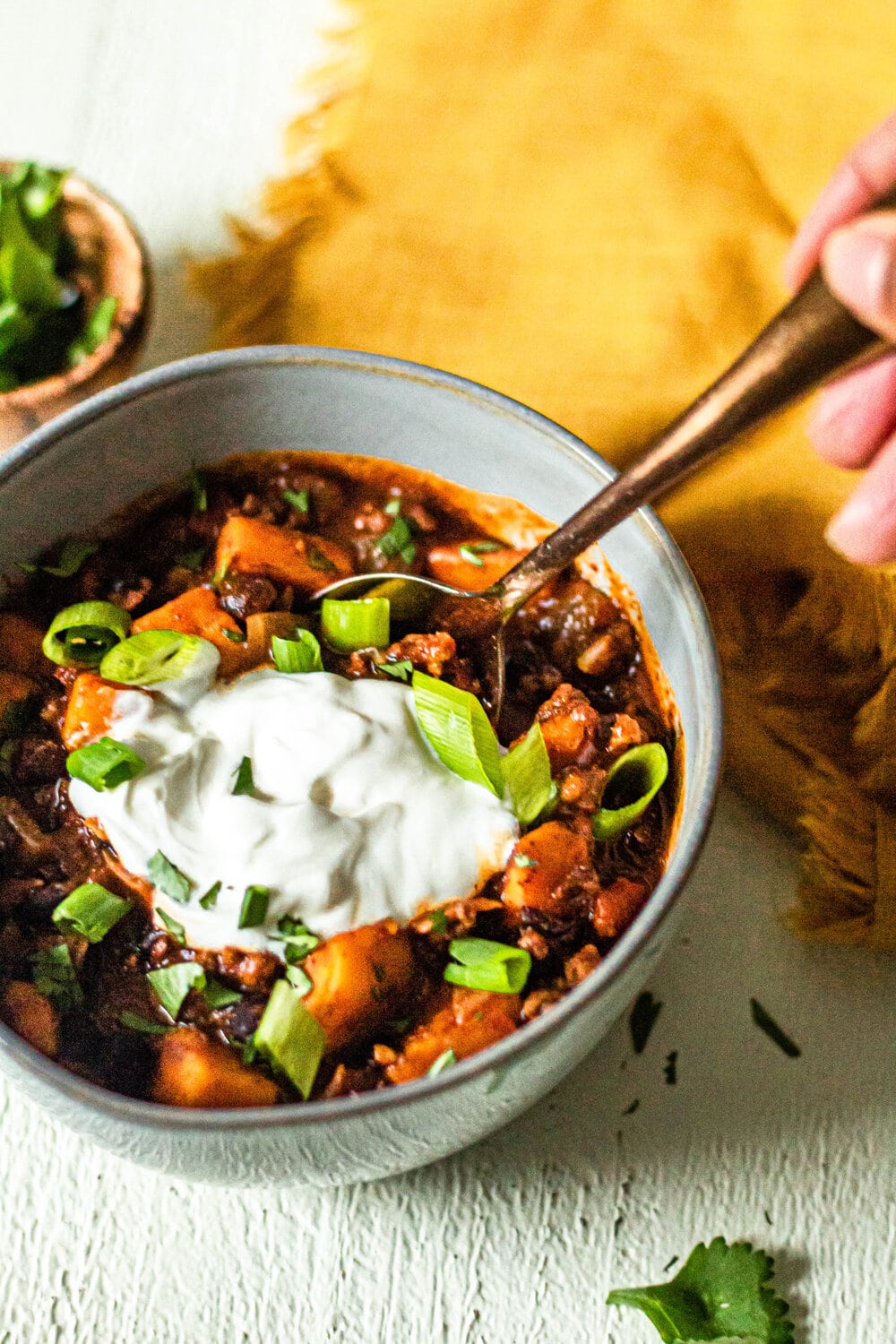 It is totally possible to make a Whole30 version of this chili if you prefer! The diced sweet potatoes are pretty heart all on their own and you could easily leave out the black beans if you would like to make a Whole30 compliant chili.
Instead of topping the chili with sour cream or cheese, to keep this Whole30 compliant, finish the chili off with plenty of green onions, fresh cilantro, and avocado.
IF YOU LOVE THIS SWEET POTATO AND BLACK BEAN CHILI RECIPE, HERE ARE A FEW OTHER DELICIOUS RECIPES YOU HAVE TO TRY!
LOOKING FOR MORE FREE RECIPES?
Subscribe to my newsletter and follow along on Facebook, Pinterest, and Instagram for all of the latest updates.
---
Sweet Potato and Black Bean Chili (Gluten-Free + Whole30 Option)
Servings: 4-6
Prep Time: 10 minutes
Cook Time: 30 minutes
Total Time: 40 minutes
Ingredients
1 tbsp avocado oil

1 pound lean ground beef

½ onion, diced

2 cloves garlic, minced

1 ½ cups beef broth

1 tbsp cumin

1 tbsp chili powder

2 ½ tsp salt (plus more to taste)

1 tsp paprika

½ tsp oregano

¼ tsp chipotle powder

2 cups diced sweet potatoes

1-15 oz can fire roasted diced tomatoes

1 can black beans
Method
Heat the avocado oil in a heavy bottomed pot over medium heat. Once the oil is hot, add the garlic and onion and cook for a few minutes until they become fragrant.

Next, add the ground beef, salt, and spices, breaking the beef up as it cooks. Next, add the tomatoes, beans, diced sweet potato, and beef broth. Stir until well combined.

Bring the chili to a boil and then reduce the heat to low. Let the chili simmer for 30 minutes, until the sweet potatoes are tender.

Serve with your favorite toppings like green onion onion, sour cream, and cilantro.