Post contains affiliate links
These Honey Mustard Roasted Brussels Sprouts are full of delicious flavor and so easy to make. If you've never roasted your Brussels sprouts before you are really missing out. Roasted Brussels sprouts can not even compare to the steamed baby cabbages you may know from your childhood.
They are crisp on the outside, tender on the inside, and this honey mustard version is packed with sweet, smoky, and salty flavor. If you're looking for a delicious and simple side dish to add to your weeknight dinner menu, this is the recipe you need!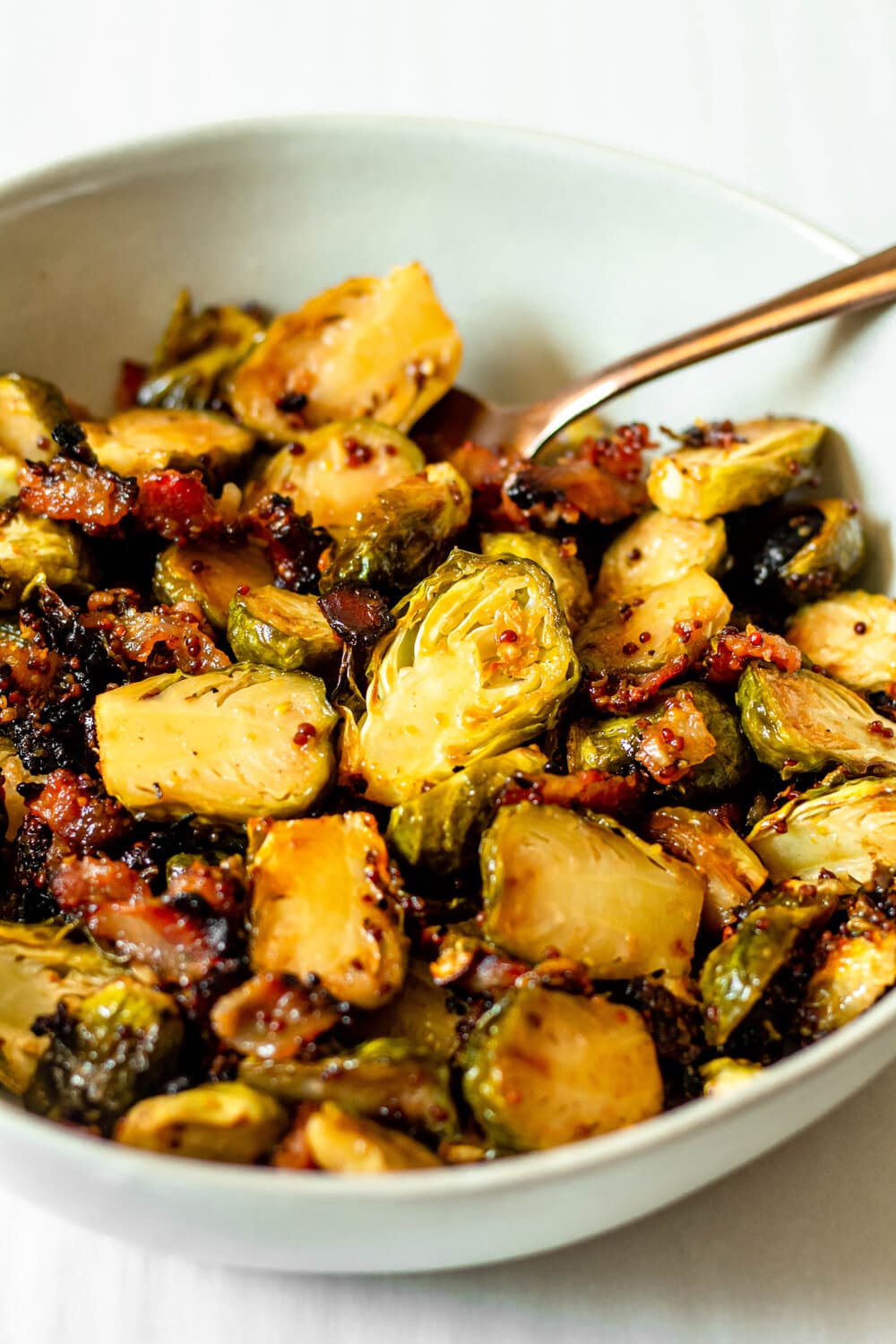 Perfect Honey Mustard Roasted Brussels Sprouts
Roasted Brussels sprouts are absolutely delicious and I'm so glad that Brussels sprouts are making a comeback thanks to the magic of roasting. To this day, my dad still doesn't love Brussels sprouts and I'm convinced it's because he had to eat his sprouts steamed or boiled as a child.
Let's face it, boiled Brussels sprouts are no one's idea of a good time.
But, here is the good news – a few simple, and flavorful, ingredients plus a hot oven can go a LONG way in giving you Brussels sprouts you actually want to eat. Roasting Brussels sprouts with just oil, salt, and pepper at 425 degrees can make a huge difference in their taste.
They suddenly go from being boring and sad, to full of crisp yet tender deliciousness that I know you'll actually enjoy.
a few simple ingredients for the perfect honey mustard brussels sprouts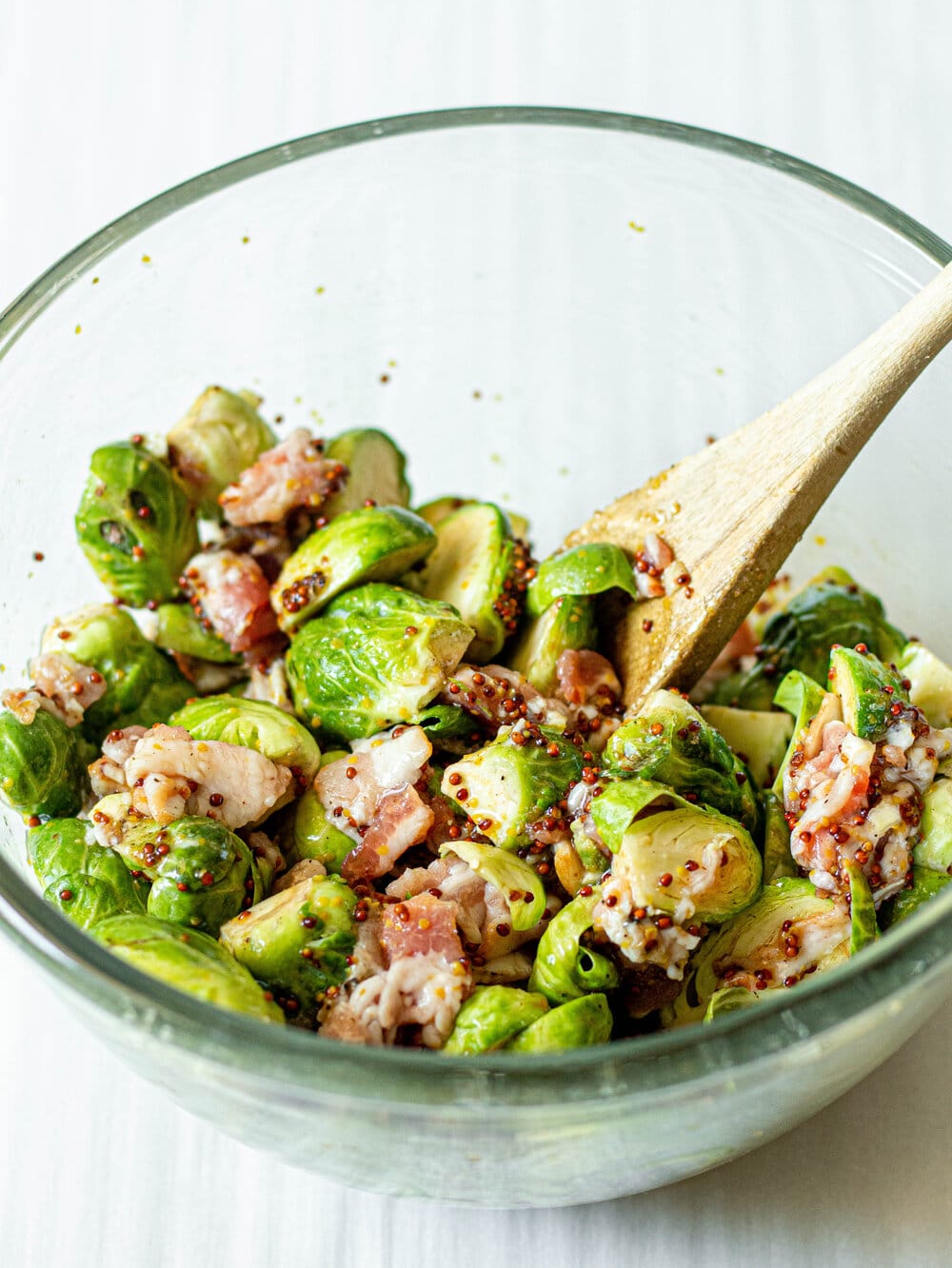 You really don't need much to make your Brussels sprouts come to life, but if you want to take them to the next level, adding in a few simple ingredients can make a huge difference. These honey mustard roasted Brussels sprouts combine the best of sweet honey, tangy mustard, and salty bacon to give them a huge punch of flavor that is really unique.
To make these honey mustard roasted brussels sprouts here's what you need:
fresh Brussels sprouts

a little oil

honey

dijon mustard

bacon

garlic

salt + pepper
the best mustard to use for mustard roasted brussels sprouts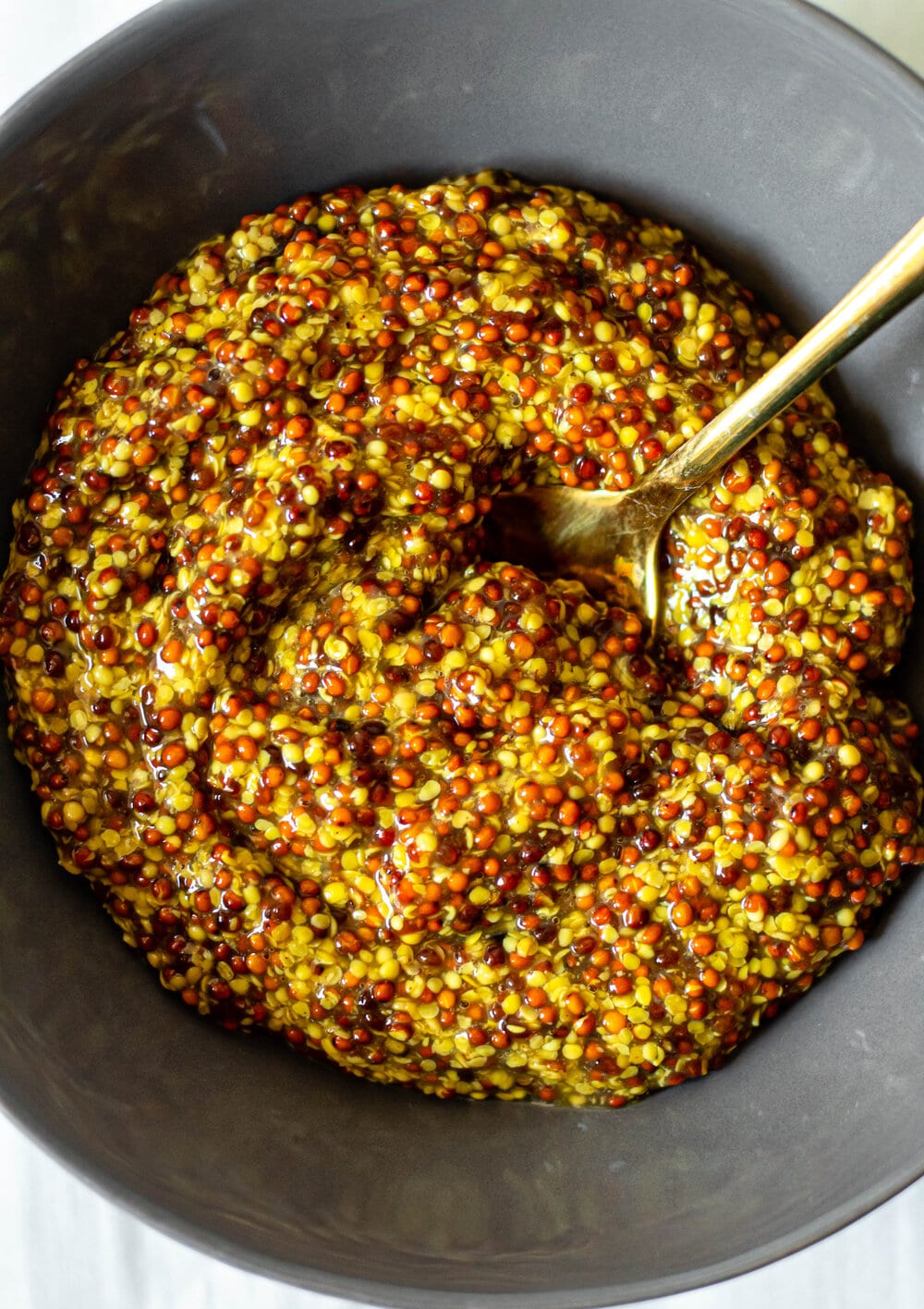 For this particular recipe, I love using whole grain dijon mustard. Dijon mustard is strong so a little of this variety of mustard goes a long way and adds such a delicious flavor to your Brussels sprouts.
The whole grain mustard seeds mellow out to a milder flavor after roasting. And, when the whole grain mustard is combined with sweet honey, they grains begin to caramelize a bit which gives the Brussels sprouts even more delicious flavor and texture.
tips for roasting brussels sprouts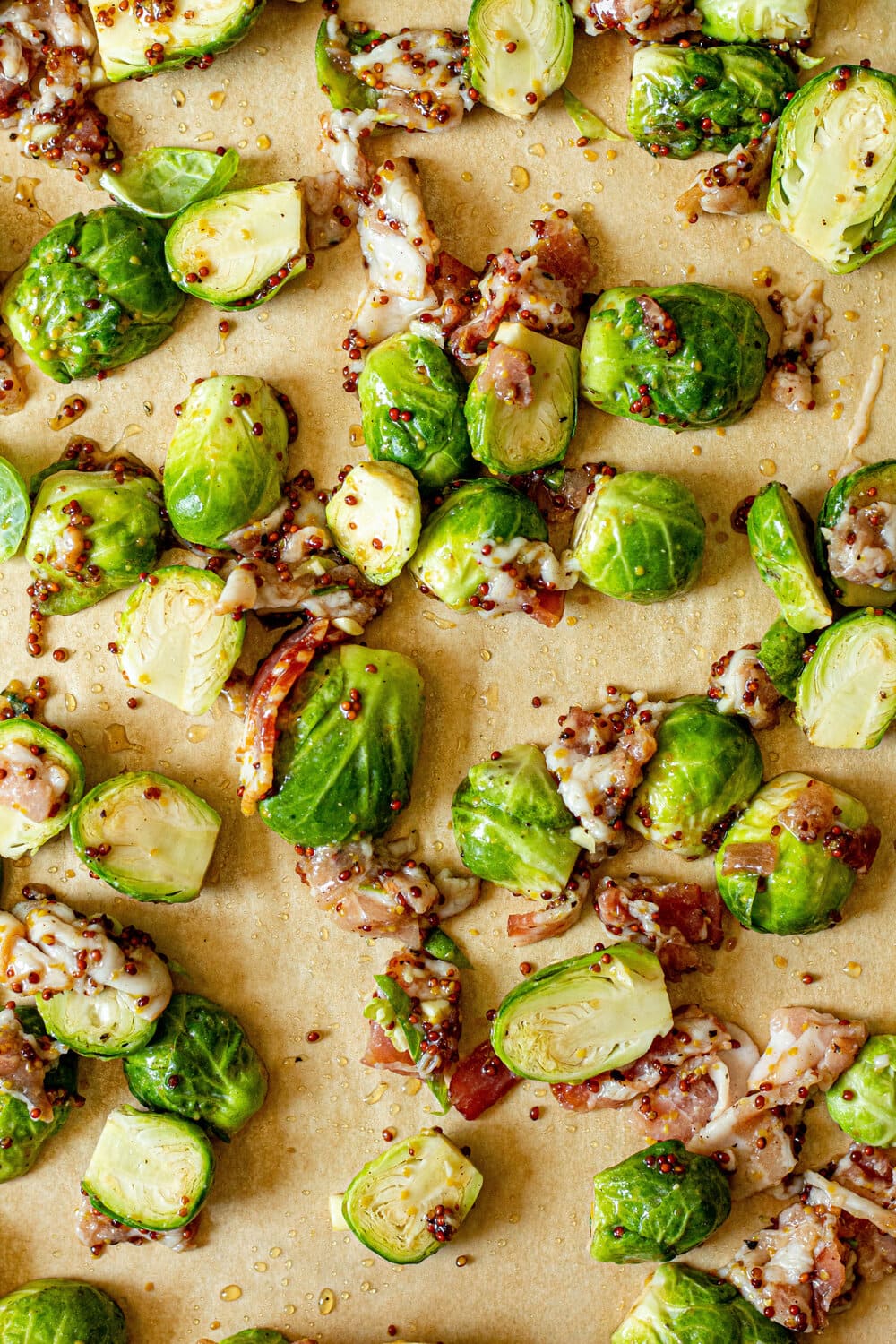 While this recipe is incredibly easy, I do have a few tips to make your Brussels sprouts roasting experience even better:
Line your sheet pan with parchment paper to avoid any mess. This will make clean up a breeze. Who doesn't want that?

Don't be afraid of a little heat! If you're scared to roast your veggies at 425 degrees, don't be! The high heat helps to make the crispy on the outside yet tender on the inside.

Double up! Ok, this isn't really a roasting tip, but it's super helpful so I have to share. Go ahead and double this recipe for amazing leftovers that you can serve for a couple more meals throughout the week!
how to serve honey mustard brussels sprouts
These honey mustard roasted brussels sprouts makes the most delicious and perfect side dish for any occasion. Try serving them with roasted chicken, fish, or steak for a more complete meal.
Want to impress your family and friends at Thanksgiving? Bring these Brussels sprouts as a unique spin on a classic side dish that everyone will enjoy!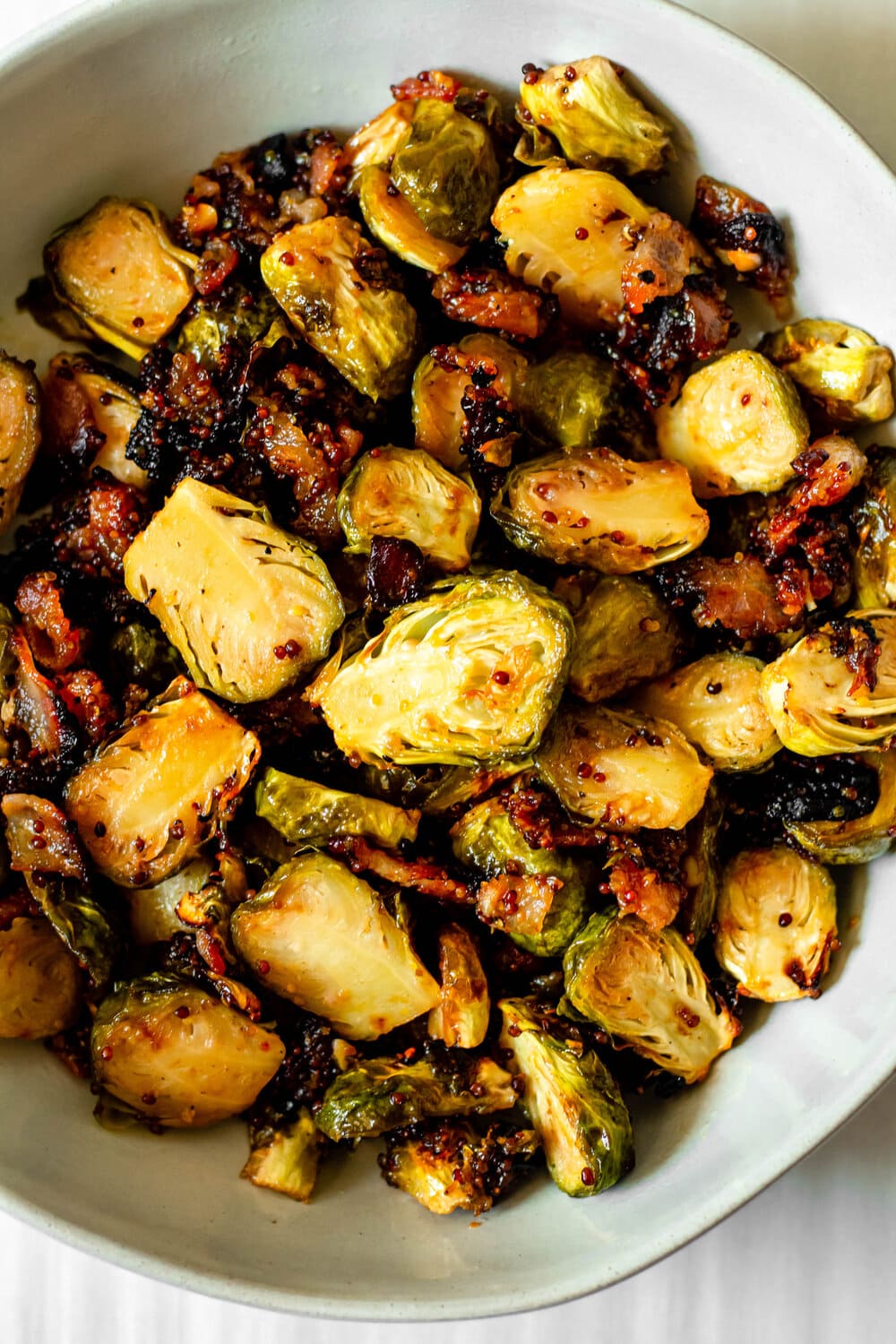 IF YOU LOVE THIS HONEY MUSTARD BRUSSELS SPROUTS RECIPE, HERE ARE FEW OTHER DELICIOUS RECIPES YOU HAVE TO TRY!
LOOKING FOR MORE FREE RECIPES?
Subscribe to my newsletter and follow along on Facebook, Pinterest, and Instagram for all of the latest updates.
---
Honey Mustard Roasted Brussels Sprouts
Serves: 3-4
Prep Time: 10 minutes
Cook Time: 25 minutes
Ingredients:
Method:
Add all of the ingredients to a small mixing bowl and stir until well combined.

Pour the Brussels sprouts out onto a baking sheet lined with parchment paper.

Roast the Brussels sprouts at 425 degrees fro 20-25 minutes or until the outside has begun to brown and become crispy and the inside of the sprouts is tender.

Serve immediately and enjoy!