This hearty fall harvest salad is the perfect combination of flavors. Smoky bacon, salty feta, tender butternut squash, crisp apple, and crunchy candied pecans all come together in the perfect salad that works as a main dish or side.
The best part is the quick and easy maple mustard vinaigrette that is drizzled all over. This salad is naturally gluten-free, made from real food ingredients, and will leave you feeling great. You can also easily modify this recipe to make it dairy-free.
Keep reading to learn how to make this delicious fall harvest salad that the whole family will love!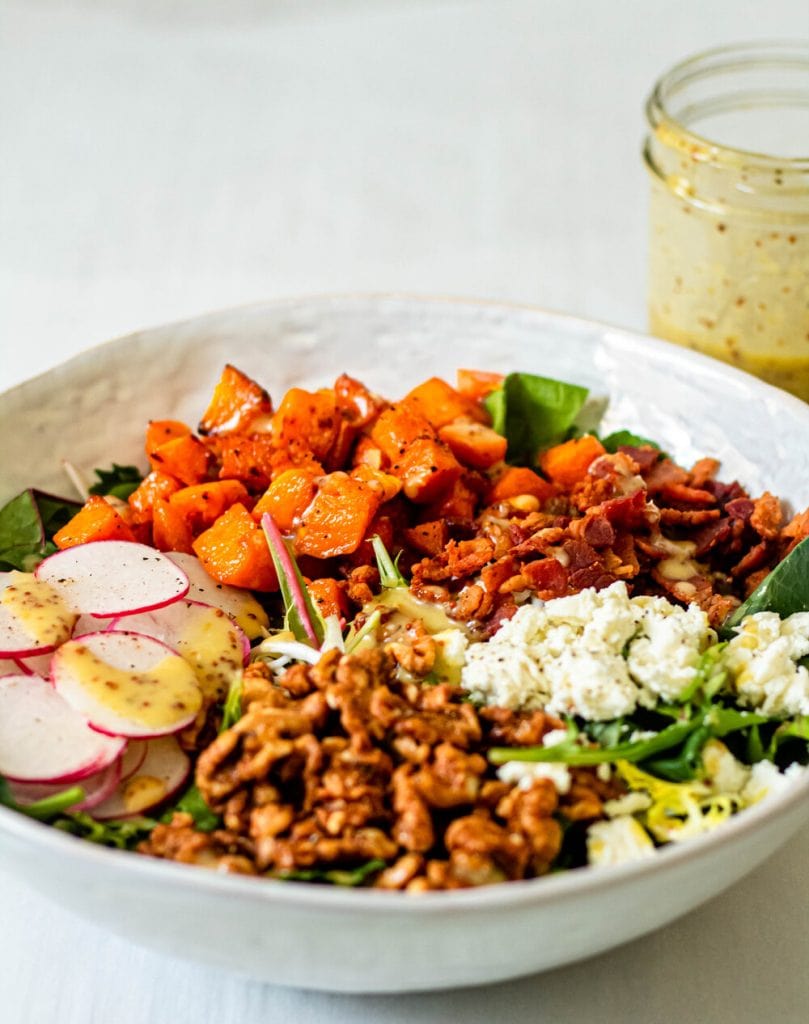 THE PERFECT WAY TO EAT YOUR VEGGIES IN THE FALL AND WINTER: FALL HARVEST SALAD WITH MAPLE MUSTARD DRESSING
We held our wedding reception at a farm to table restaurant in Asheville, NC and while you may think that the star of the show was the cake, it was surprisingly the first course salad. It was combination of tender greens, roasted butternut squash, feta cheese, smoky bacon, crisp apples, candied pecans, and a delicious and tangy dressing.
Absolutely everyone, even the pickiest eaters, loved the combination of flavors and how hearty the salad was. I knew that when we got home, I was going to try and recreate it. It took me eight months, but I finally got around to making a version of that salad myself, and y'all it is absolutely delicious.
It has all of the best flavors with a slightly sweet and tangy dressing that you will want to eat right off the spoon. This salad is great all on it's own as a main dish for a light lunch or dinner, or as a side with chicken or fish.
what makes this salad hearty: roasted butternut squash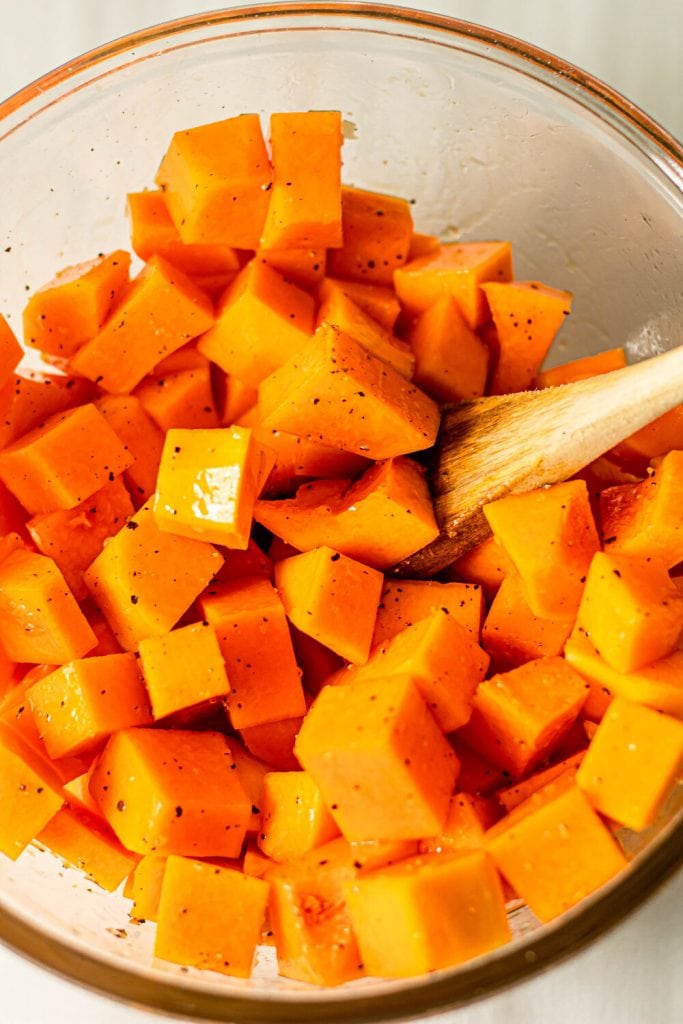 What I love about this salad is how hearty it is. The reason for that is addition of roasted butternut squash to bulk things up a bit.
Thankfully, roasting butternut squash for this salad is simple and easy. All you need is a little oil, salt, pepper, and a large sheet pan. Before you begin to prep the salad, just roast the squash for 25-30 minutes at 425 degrees until slightly browned and tender.
You can read this post for a full how-to on roasting butternut squash, including how to peel, deseed, and dice the squash. Once your squash has been roasted, let it cool while you make the maple mustard vinaigrette and assemble the rest of the salad.
the best maple mustard vinaigrette (that you will be obsessed with)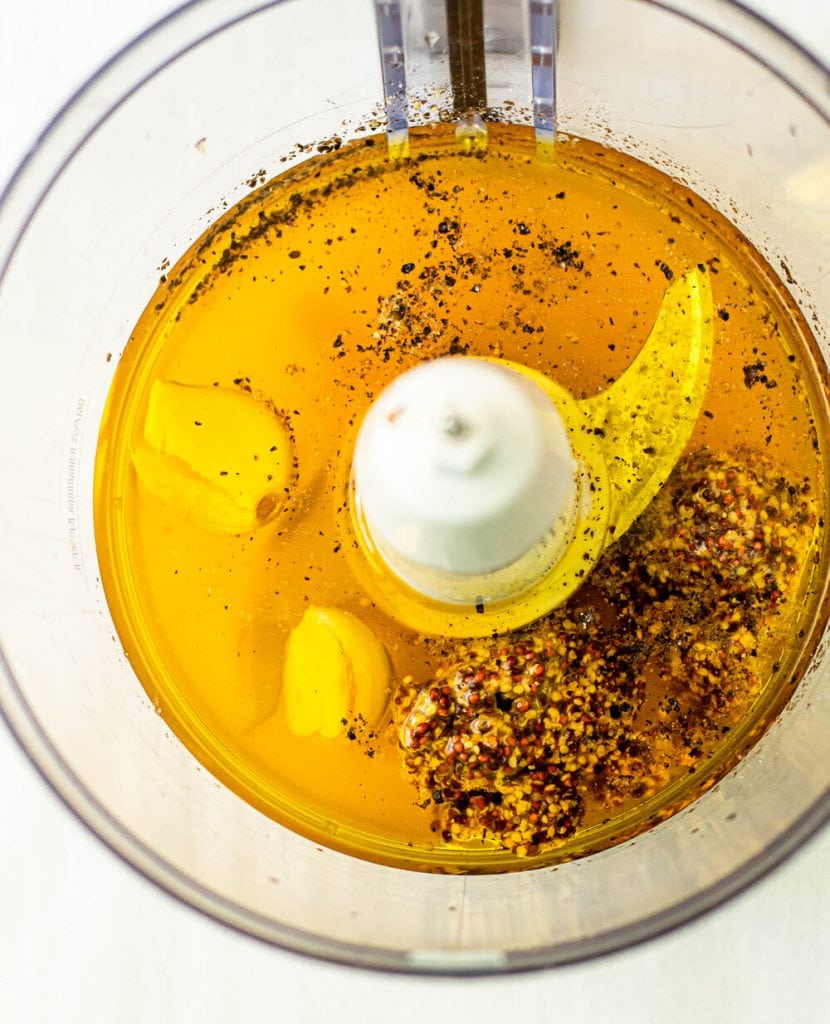 This harvest salad really comes to life because of the maple mustard vinaigrette. The vinaigrette has just the right amount of sweet and tang that works perfectly with all of the ingredients in the salad. The best part is that this recipe makes extra dressing, which means that you can use it for another salad or even as a marinade for chicken.
This vinaigrette is incredibly easy to make in a high powered blender or food processor.
Here's what you need to make this easy maple mustard vinaigrette:
Once you have all of the ingredients you need, just throw them in your food processor and blend until smooth and creamy. I love the flavor of maple syrup in this dressing, but you could also use honey if you prefer.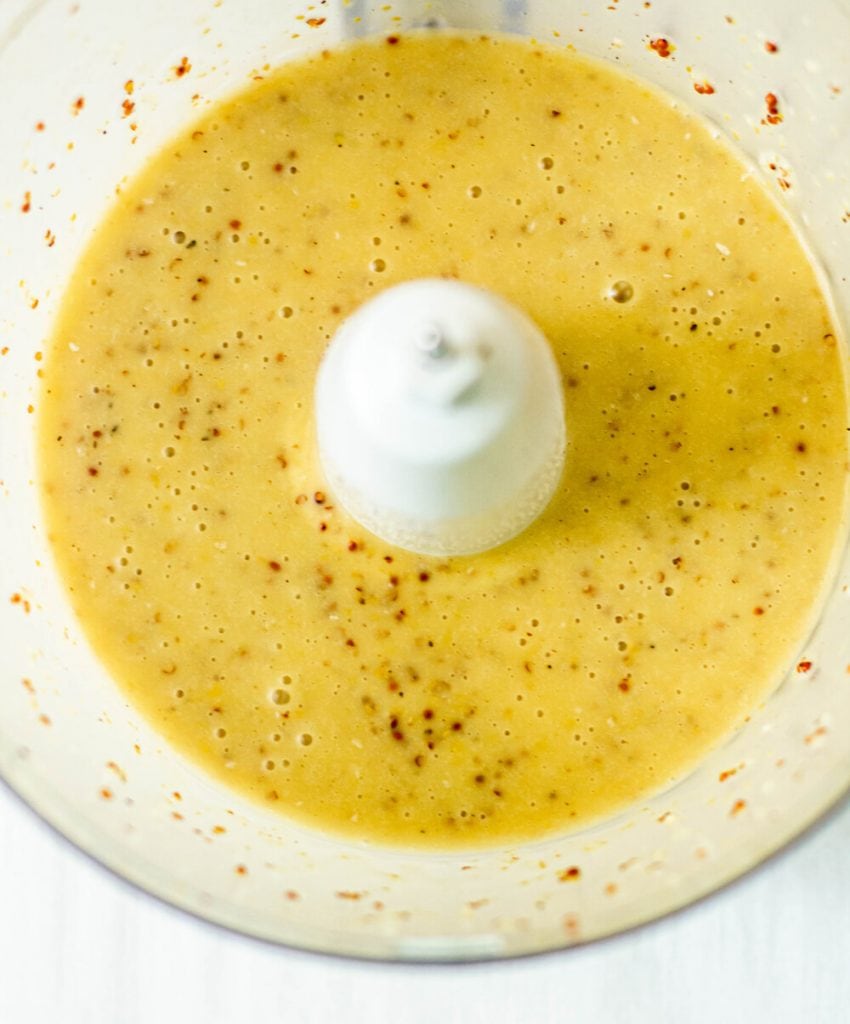 You will most likely have a bit of extra vinaigrette leftover after dressing your salad which is great because then you can pour it over all of your salads. You can store the leftover vinaigrette in an air-tight container, like a mason jar, in the refrigerator until you are ready to use it. Just be sure to give it a shake or a stir before serving.
alright, now let's assemble the salad
Once you have made the maple mustard vinaigrette it is time to assemble your beautiful fall harvest salad. Let's go through all of the ingredients you need.
Greens: the best thing about this salad is that it works well with a variety of different greens. Here, I used a mix of baby kale, spring mix, and spinach. You could also use butter lettuce, crisp romaine lettuce, arugula or a mix of all three. I would not recommend iceberg lettuce in this salad, because it won't really add to the flavor and will likely make the salad a bit too watery.
Bacon: While your butternut squash is roasting, it is the perfect time to crisp up some bacon. Just slice four slices of bacon into small strips and add to a skillet to cook. Once it is finished, be sure to let your bacon drain on paper towels so you don't have a greasy salad. I prefer to use a thick cut bacon for this salad.
Radishes: The radish adds even more crunch and texture to this hearty salad. If you have never added radishes to your salad, you are really missing out. They add such a great flavor. I recommend you slice them thinly so you don't have a huge hunk of radish in your salad.
Apple: I like to use fresh green apple in this salad because it has just the right amount of tang and crunch, but you could also you your favorite variety like honey crisp or pink lady.
Candied pecans: do I even need to say anything else? I love these candied pecans from Trader Joe's!
Feta: This is optional, but feta cheese really does add just the right amount of creamy tang to this salad. If you can't tolerate dairy, you could leave it out altogether, or replace it with your favorite dairy-free cheese or avocado.
Once you have assembled all of the salad ingredients in your serving bowl, drizzle the maple mustard vinaigrette over everything right before you are ready to serve. To ensure that your salad does not become soggy, I recommend not adding the dressing to the salad until right before you are ready to serve for the best results. Then it's time to serve, enjoy, and watch everyone at the table gobble it up!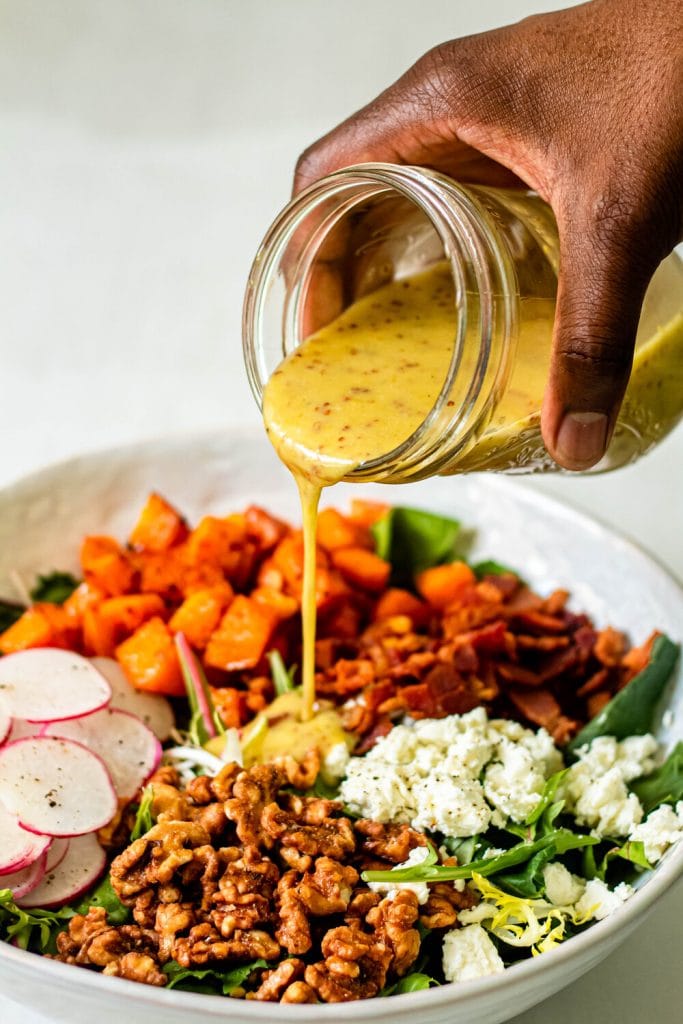 if you love this fall harvest salad recipe, here are few other delicious recipes you have to try!
Fall Harvest Salad with Maple Mustard Vinaigrette

Ashlea Adams | November 5, 2019

prep time:15 minutes
cook time:5 minutes
total time: 20 minutes

Servings: 4-6

Ingredients:

For the salad:

5 oz greens
1/2 cup roasted butternut squash
1/2 cup sliced green apple
1/4 cup crumbled feta cheese
1/4 cup thinly sliced radish
1/4 cup chopped candied pecans
4 strips bacon, sliced and cooked

For the maple mustard vinaigrette:

1/2 cup olive oil
1/4 cup apple cider vinegar
1/4 cup maple syrup
2 cloves garlic
2 tbsp whole grain dijon mustard
1 1/2 tbsp lemon juice
1/2 tsp salt (plus more to taste)
pepper to taste

Instructions:

Add all of the salad ingredients to a large serving bowl.
Add all of the vinaigrette ingredients to a high-powered blender or food processor. Blend or pulse until smooth and creamy.
Drizzle the vinaigrette over the salad, toss, and then serve. Enjoy!

Recipe Notes:

You can sub honey for maple syrup if you prefer
If you need to make this dairy-free, you can leave out the feta cheese or sub avocado
What I Used to Make This Recipe: