This post is sponsored by Cabot Creamery. All opinions are my own. Thank you so much for supporting All the Healthy Things!
These are your new favorite mashed potatoes! Creamy, infused with rosemary, garlicky, and perfectly cheesy thanks to Cabot's Farmhouse Reserve white cheddar. Not only are they delicious, these potatoes are also naturally gluten-free and pair perfectly with your favorite protein. They make a stellar side dish that everyone will love!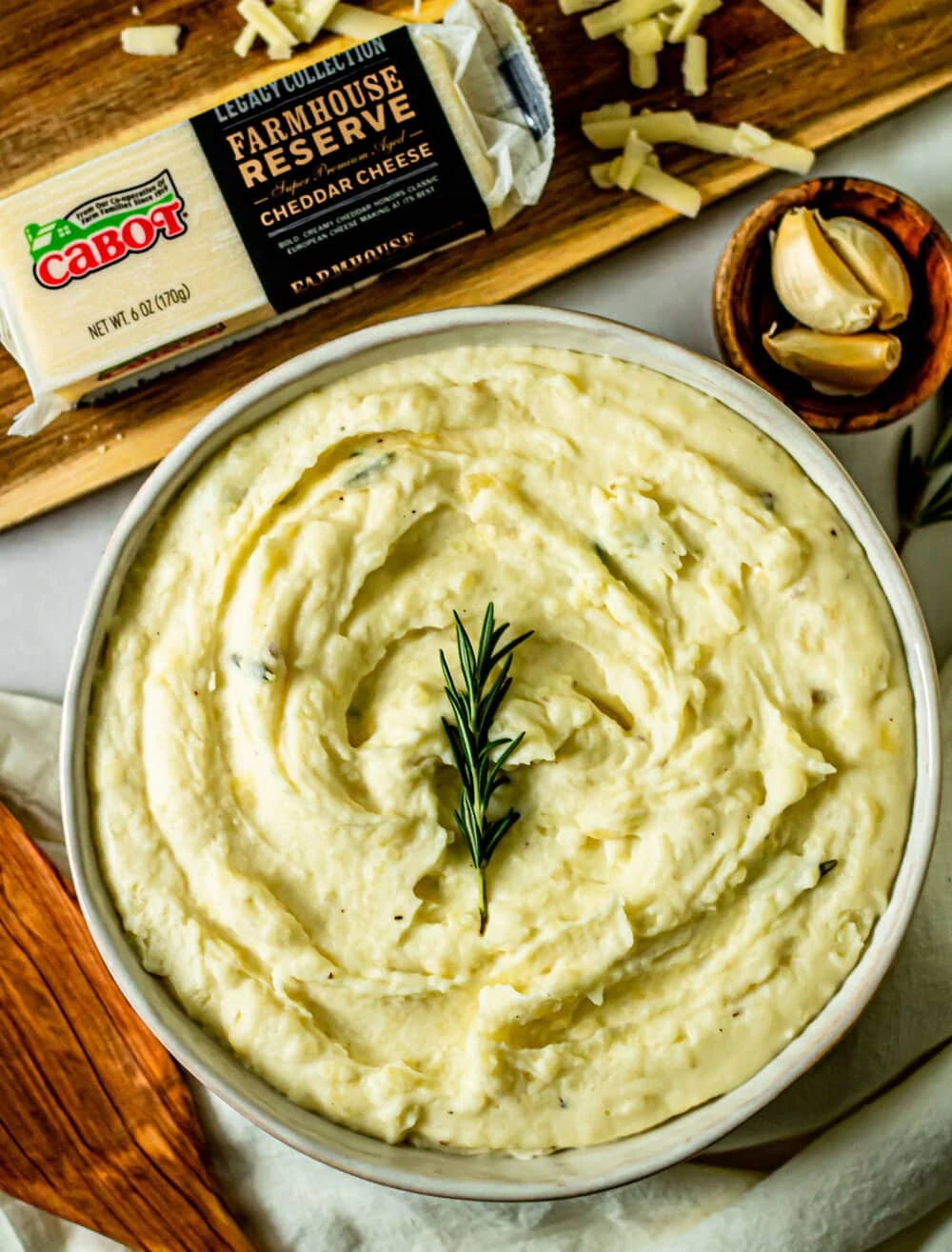 Cheesy Creamy Rosemary Mashed Potatoes
Let's talk about mashed potatoes, shall we? They are creamy, and hearty, and soak up gravy oh so well. They're just perfect. I have a lot of favorite side dishes, but there is just something so delicious about a perfectly fluffy bowl of mashed potatoes that I will never get tired of. 
These rosemary and white cheddar mashed potatoes are perfect for a delicious weeknight meal or as the side dish showstopper at your next holiday dinner. They are infused with fresh rosemary flavor and made even better thanks to Cabot Creamery white cheddar cheese. 
If you have been looking for a new mashed potato recipe to try, I know you will love this one!
How to Get Delicious Rosemary Infused Mashed Potatoes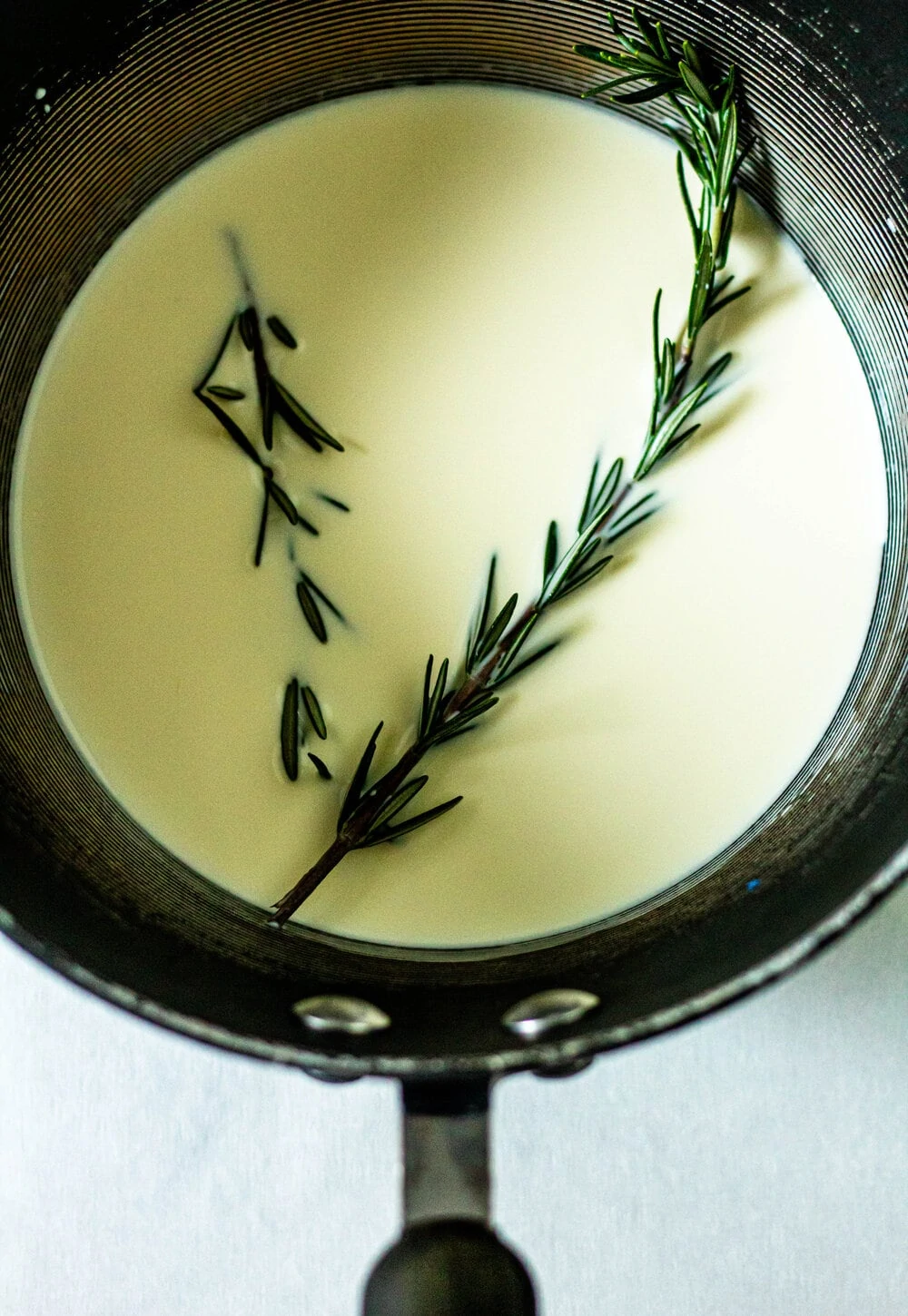 These delicious mashed potatoes have a delicious, subtle rosemary flavor in the background thanks to infusing the cream with fresh rosemary. To do this, add the cream and a few sprigs of fresh rosemary to a small saucepan over low heat. 
While the potatoes are boiling, let the rosemary steep in the cream for twenty to twenty-five minutes. This will allow the  rosemary flavor to infuse into the cream while also softening the rosemary so that it is easier to incorporate into the mashed potatoes. Once the potatoes are soft and ready to mash, you can remove the cream from the heat and then use it when finishing your potatoes.
Mashed Potato Tips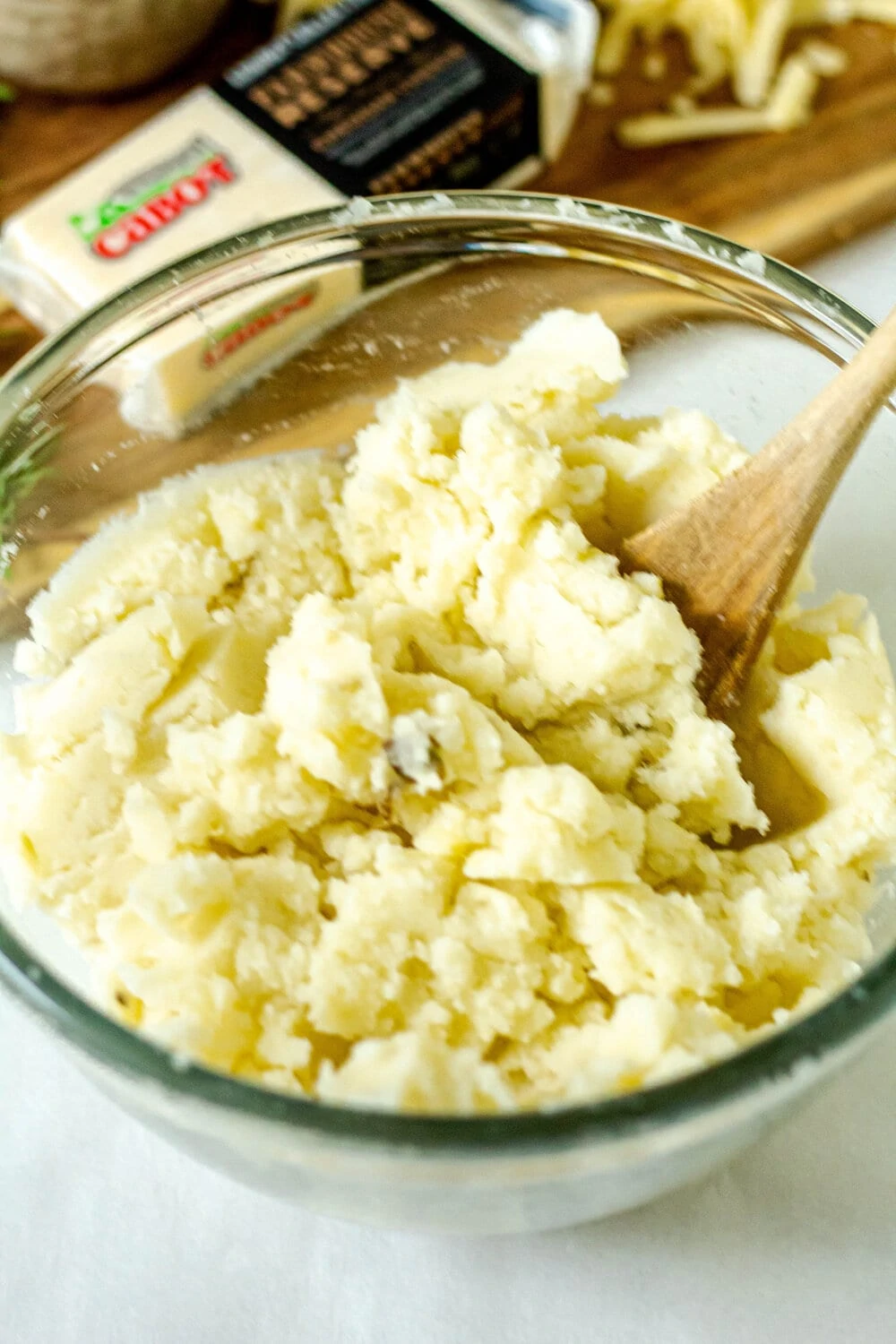 Everyone's goal is always perfectly creamy mashed potatoes, so I wanted to share a few of my favorite tips to getting perfectly creamy potatoes every single time. Of course, you may have some of your own tried and true tips, so be sure to leave a comment with what works for you!
Here are my favorite tips:
Use russet potatoes. They really do make some of the fluffiest, creamiest mashed potatoes in my opinion. If you don't prefer russet potatoes, yukon gold are my next favorite. I love their golden yellow color!

Mash your potatoes BEFORE adding the cream or other ingredients. I find that getting the potatoes as mashed as possible before adding any cream, butter, or cheese ensures that they turn out delicious and creamy. My favorite way to mash potatoes is by using a potato masher. 

Boil fresh garlic with the potatoes. If you want that delicious garlicky flavor in your potatoes, but don't feel like roasting garlic, try throwing a couple of smashed garlic cloves into the water when boiling the potatoes.

Try using plain Greek yogurt. Don't have sour cream? No worries! Plain Greek yogurt works as a great substitute and helps make the potatoes creamy while also giving them a bit of tang.
The Secret Ingredient for Cheesy Mashed Potatoes: Cabot White Cheddar Cheese
The key to these perfectly creamy and cheesy mashed potatoes is white cheddar cheese from Cabot Creamery. All of Cabot Creamery's white cheddar cheese varieties are full of flavor and work so well with potatoes.
If you have never heard of Cabot Creamery, or their cheese, I'm so excited to introduce you to them today. Cabot is a co-operative owned by over 800 farm families throughout New England & New York. 100% of Cabot's profits go back to the farmers and they are the first dairy co-operative to achieve B Corp Certification. Cabot is a company that I can truly stand behind and I am thrilled to be partnering with them to bring you this recipe. 
Ready to grab some Cabot Creamery cheese for snacking or your next recipe? You can click here to find Cabot products near you. 
Cabot Legacy Collection: Farmhouse Reserve Cheddar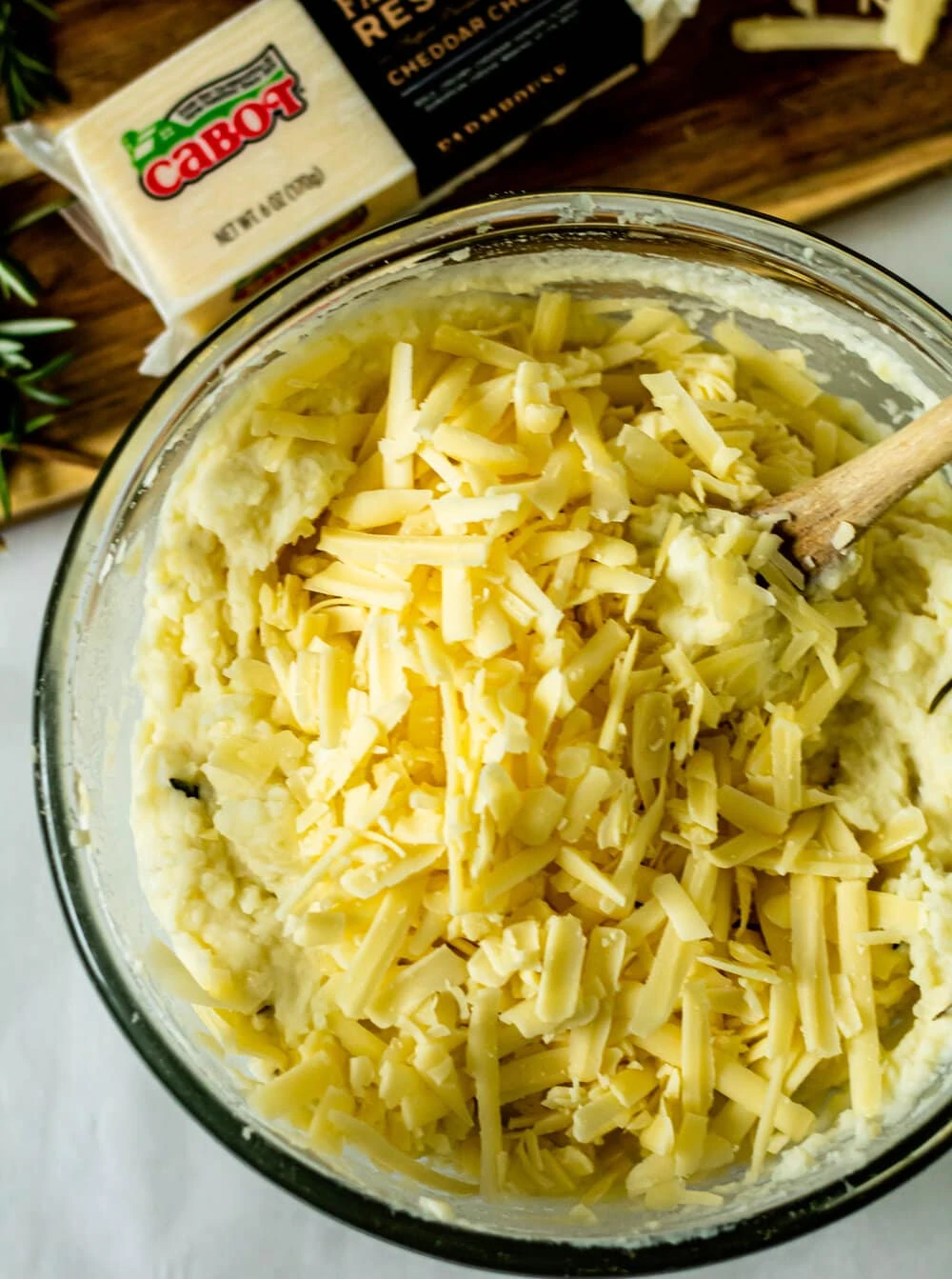 Not only does Cabot truly care about their farm families, they also care deeply about producing high quality products. All of Cabot's cheddars are 100% naturally lactose-free, gluten-free, and naturally aged. Cabot Creamery cheddars are the perfect cheeses to both cook with and add to your holiday cheese board. 
For this recipe, I used Cabot's Farmhouse Reserve Cheddar from their special legacy collection. This extra sharp cheddar cheese has a deliciously bold yet balanced flavor. This special variety of cheddar really shines through and brings these potatoes to life. 
If you can't find Cabot's legacy collection cheddar at a store near you, feel free to use one of their other sharp white cheddar cheeses in this recipe instead!
How to Serve Your Mashed Potatoes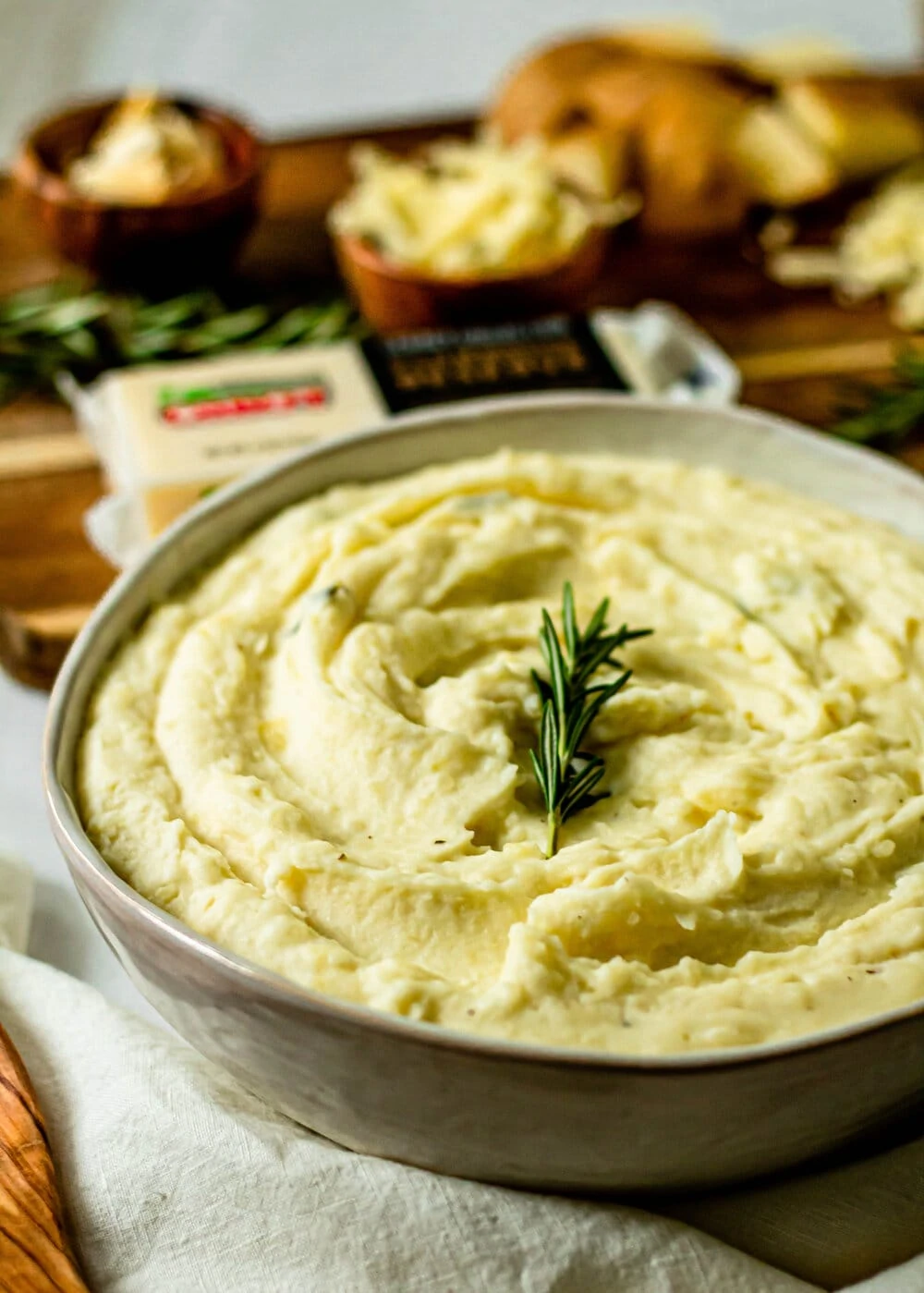 Because these mashed potatoes are already full of flavor, there really is no need for gravy, but of course a little gravy never hurt anything. My favorite way to serve these potatoes is on the side of a tender steak. 
The rosemary flavor in the mashed potatoes works really well with the flavor of red meat. Of course, these creamy potatoes are also perfect with chicken, seafood, or pork. I just know you'll love them!
IF YOU LOVE THIS MASHED POTATO RECIPE RECIPE, HERE ARE A FEW OTHER DELICIOUS RECIPES YOU HAVE TO TRY!
LOOKING FOR MORE FREE RECIPES?
Subscribe to my newsletter and follow along on Facebook, Pinterest, and Instagram for all of the latest updates.
---
Rosemary and White Cheddar Mashed Potatoes (Gluten-Free)
Servings: 6-8
Prep Time: 10 minutes
Cook Time: 30 minutes
Ingredients
2 pounds of russet potatoes, peeled and cut into large chunks

3 cloves of garlic, smashed

2 tsp salt, divided (plus more to taste)

1 cup half & half

2 sprigs fresh rosemary

½ cup sour cream or Greek yogurt

2 tbsp butter

4 oz shredded Cabot Farmhouse Reserve cheddar cheese

¼ tsp black pepper (plus more to taste)
Method
Add the potatoes, garlic, and one teaspoon salt to a large pot and cover with cold water. Bring the potatoes and garlic to a boil and let them cook until fork tender, roughly 25-30 minutes. Once tender, turn of the heat and then drain the potatoes and garlic. Next, add them back to the pot.

While the potatoes are cooking, add the half & half and fresh rosemary to small pot. Heat the half & half over low heat and allow the rosemary to steep in the liquid for 20 minutes and then remove from the heat.

Use a potato masher to mash the potatoes and garlic. Next, add the rosemary infused half and half (along with the rosemary sprigs), sour cream, butter, black pepper, one teaspoon salt, and shredded cheddar cheese to the potatoes. Use a wooden spoon to stir the potatoes until everything is well combined, smooth, and creamy.

Serve immediately and enjoy!
Recipe Notes: