Butternut squash is an incredibly versatile squash with a delicious mild flavor. This particular winter squash works well as a dinner side dish or it can be added to a soup or salad.
One of the easiest ways to enjoy butternut squash is roasted. With just a little salt, pepper, and oil you can get perfectly roasted butternut squash every single time. Keep reading to learn everything you need to know about roasting butternut squash.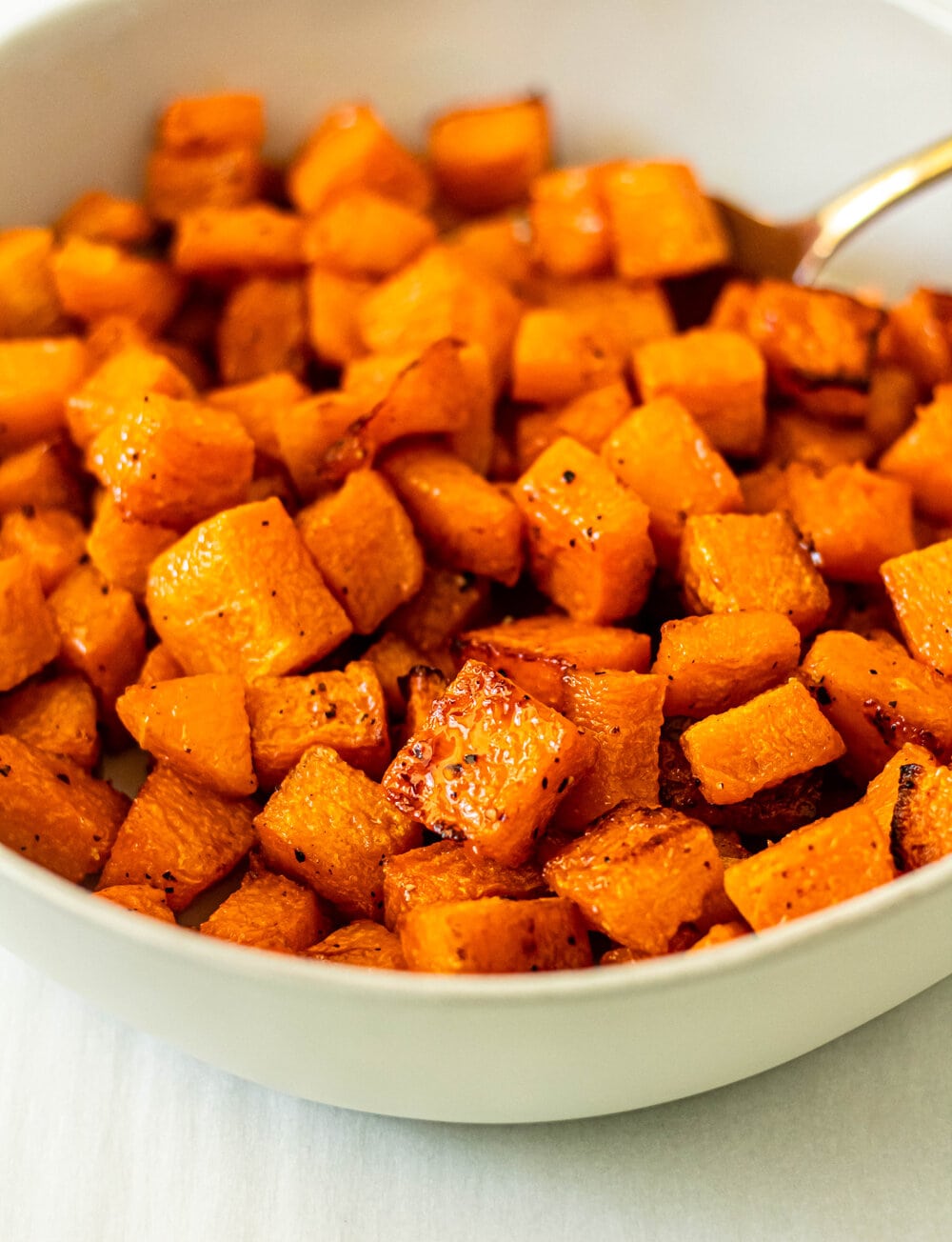 the perfect fall side dish: roasted butter nut squash
Whether you're eating chicken, beef, pork, or fish, roasted butternut squash makes for the perfect side dish. This hearty winter squash has a subtle flavor that tastes absolutely delicious with just a little salt and pepper, but it really comes to life when you add more robust seasonings to the mix.
Not only does butternut squash taste great, like any vegetable, it's packed with vitamin C, vitamin A, magnesium and potassium. Butternut squash is also lower in carbohydrates than potatoes, which makes it a great lower carb starch if you are needing to cut back on carbs or simply tired of potatoes or rice.
how to peel butternut squash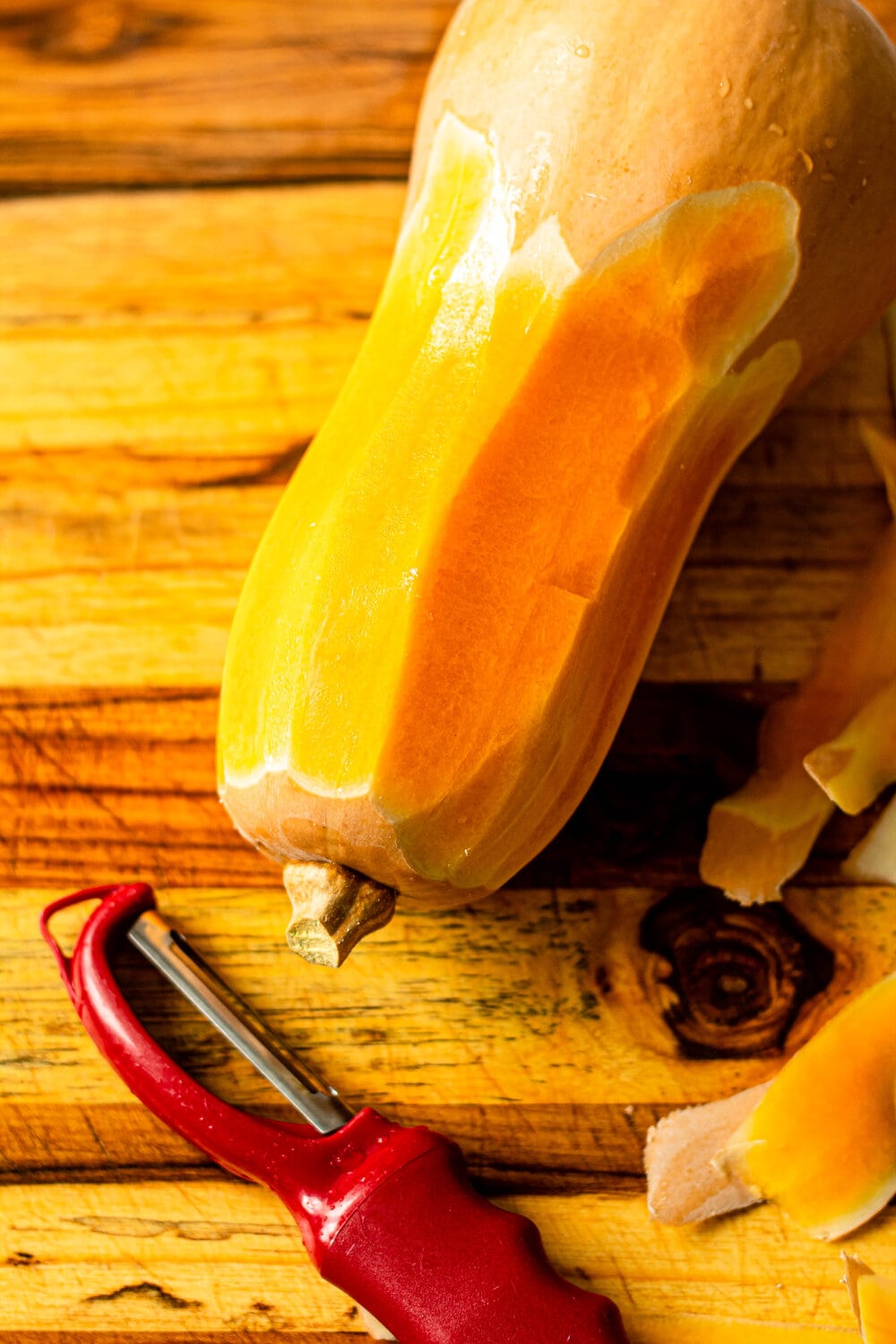 While butternut squash is delicious, it has a reputation for being a bit of a pain to prep. But, with just a few simple tools, peeling, dicing and roasting butternut squash can be quite easy.
The easiest and fastest way to peel butternut squash is with a vegetable peeler. A good vegetable peeler makes peeling the squash a breeze.
This is the vegetable peeler that I use and love. When peeling butternut squash, be sure to continue to peel until you see the bright orange flesh underneath the skin of the squash.
It may take a few passes of the vegetable peeler, but getting off all of the white skin on the squash ensures you will have the best results.
the best way to remove the seeds from butternut squash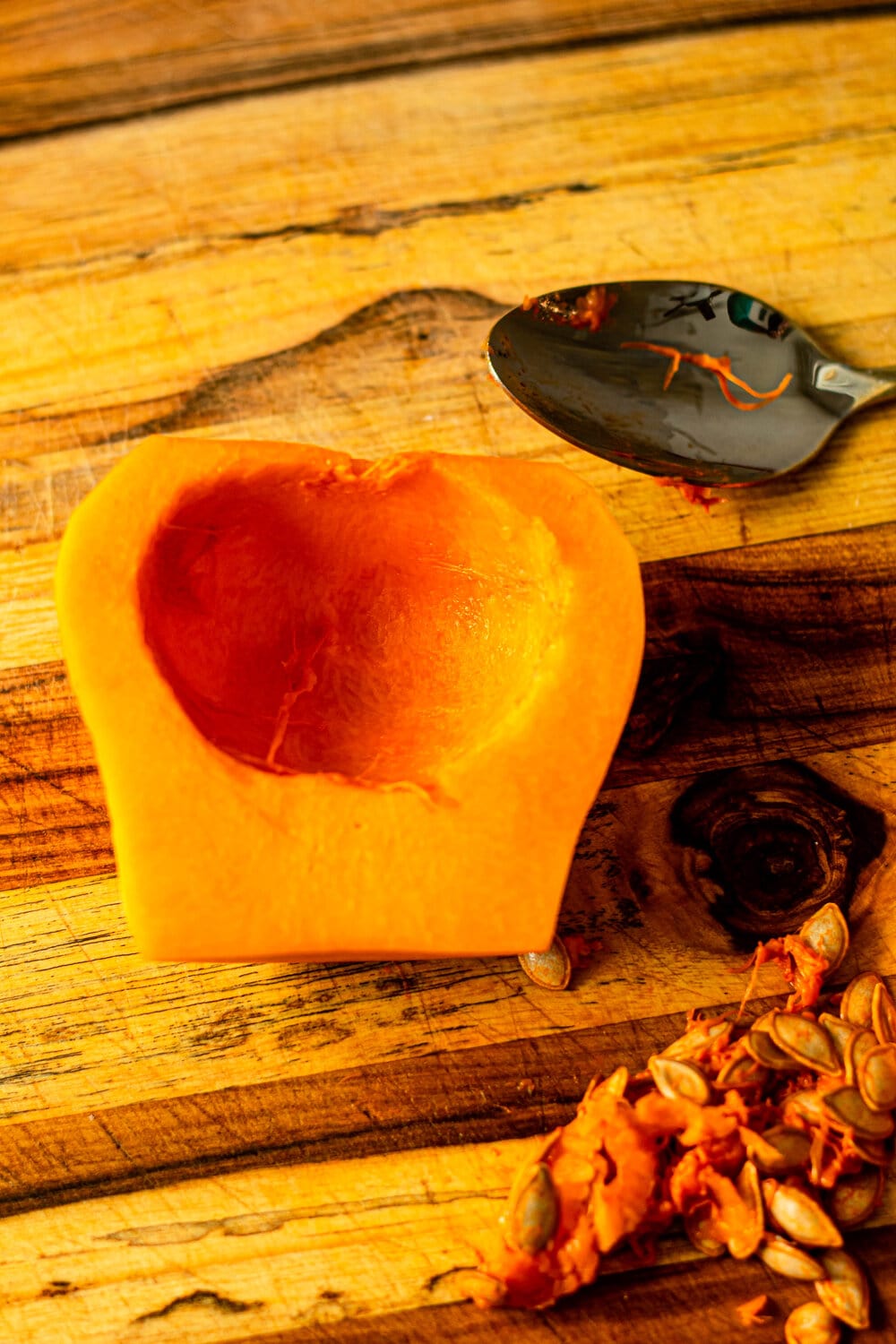 Once you have peeled the squash, it is time to remove the seeds. I have found that the easiest way to do this is by cutting off the long top "neck" of the squash first.
Then, with a sharp knife, cut the bottom round portion of the squash in half. Use a large spoon to scoop out the seeds and scrape the sides of the squash to remove any lingering seeds or tough fibers.
Speaking of a sharp knife, peeling and dicing butternut squash is 1000 times easier when you are using sharp knife. Using a dull knife will be much harder and is potentially dangerous, so be sure that your knife has been properly sharpened before starting.
what are the best spices and seasonings to use on butternut squash?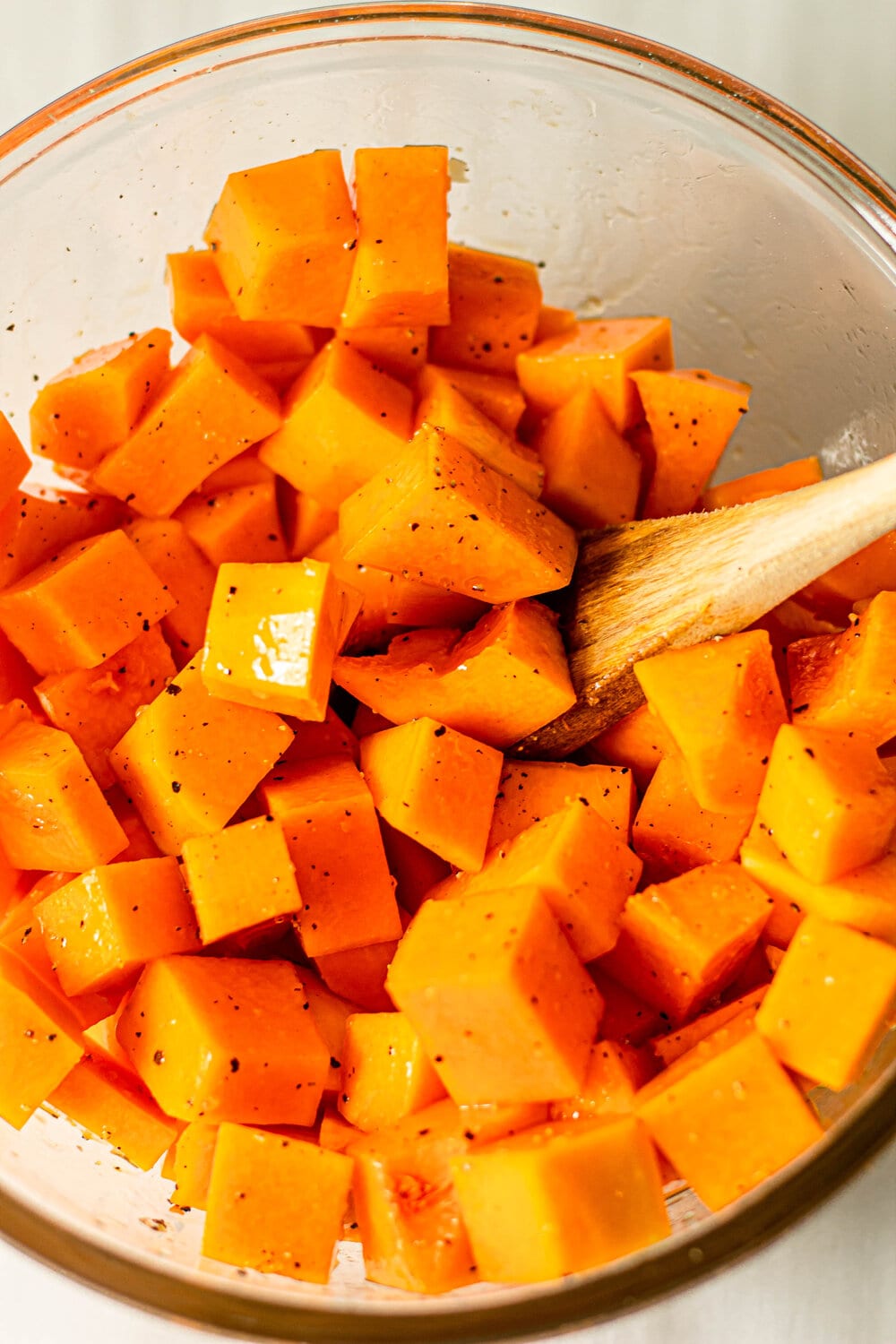 Alright, now it's time for the fun part! Once you have peeled and removed the seeds from your squash, just give it a dice into roughly 1 inch cubes and add it to a mixing bowl.
Next, decide on what seasonings you would like to use. A little salt and pepper is great if you want to use the squash later in a different dish like a soup or salad. The salt and pepper will season the squash without adding a very specific flavor which makes it a great blank canvas to use later.
If you are going to be serving the butternut squash as a side dish, you can get a little more creative with your seasonings. Here are a few of my favorite combinations that I know you will enjoy:
a drizzle of maple syrup and cinnamon for maple cinnamon roasted squash

chili powder, cinnamon, and salt for a slightly sweet and smoky flavor

a sprinkle of cinnamon and a drizzle of honey for a honey cinnamon version

salt, garlic powder, onion powder, and bacon for a more savory side dish
You can also experiment by adding fresh herbs and other seasoning blends to your squash. Do not be afraid to try something new!
which cooking fat is best to use for roasting butternut squash?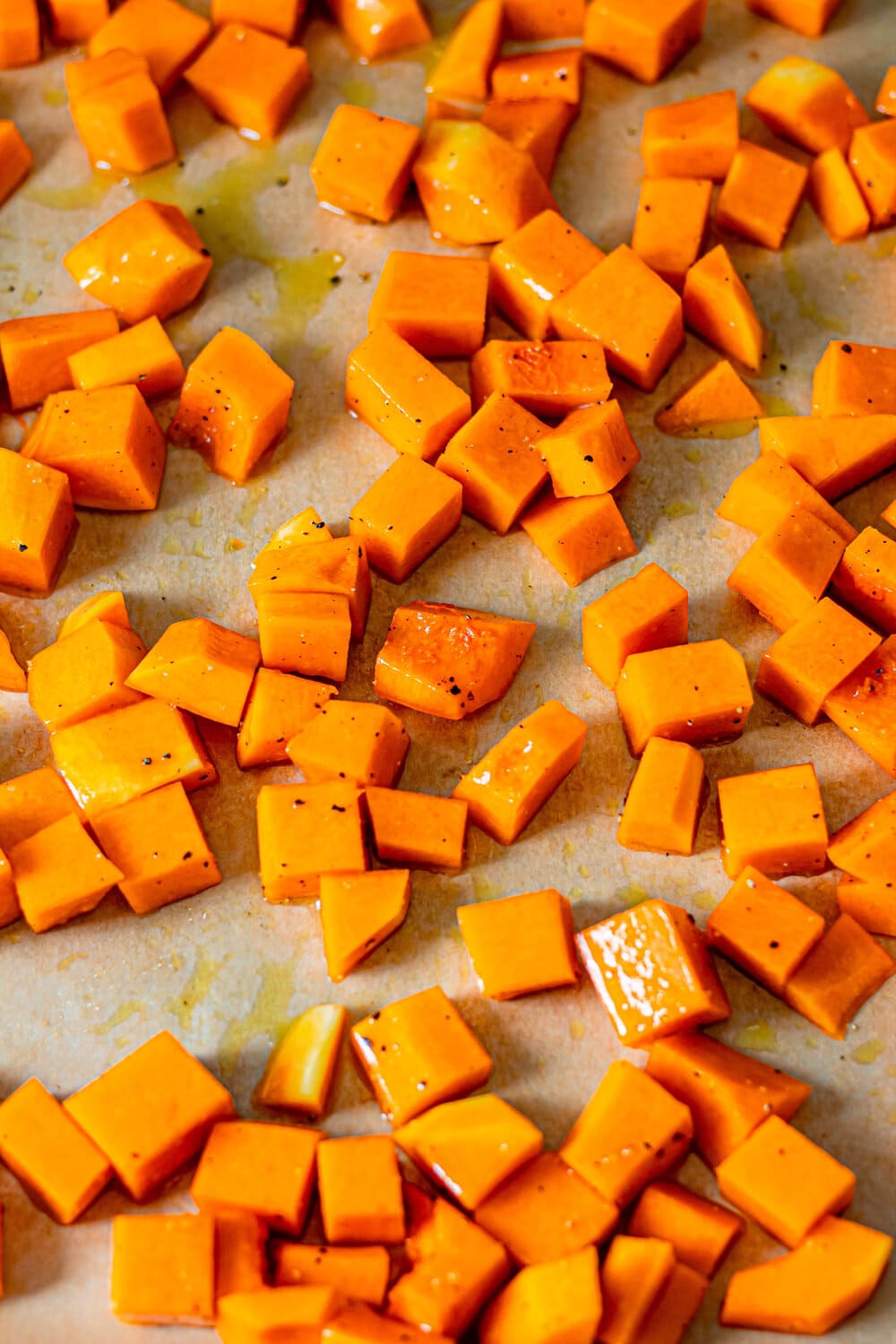 When roasting butternut squash, you will need a little cooking fat to get things going in the oven and thankfully there a few great ones for you to choose from.
the best cooking fats to use when roasting:
tips for roasting butternut squash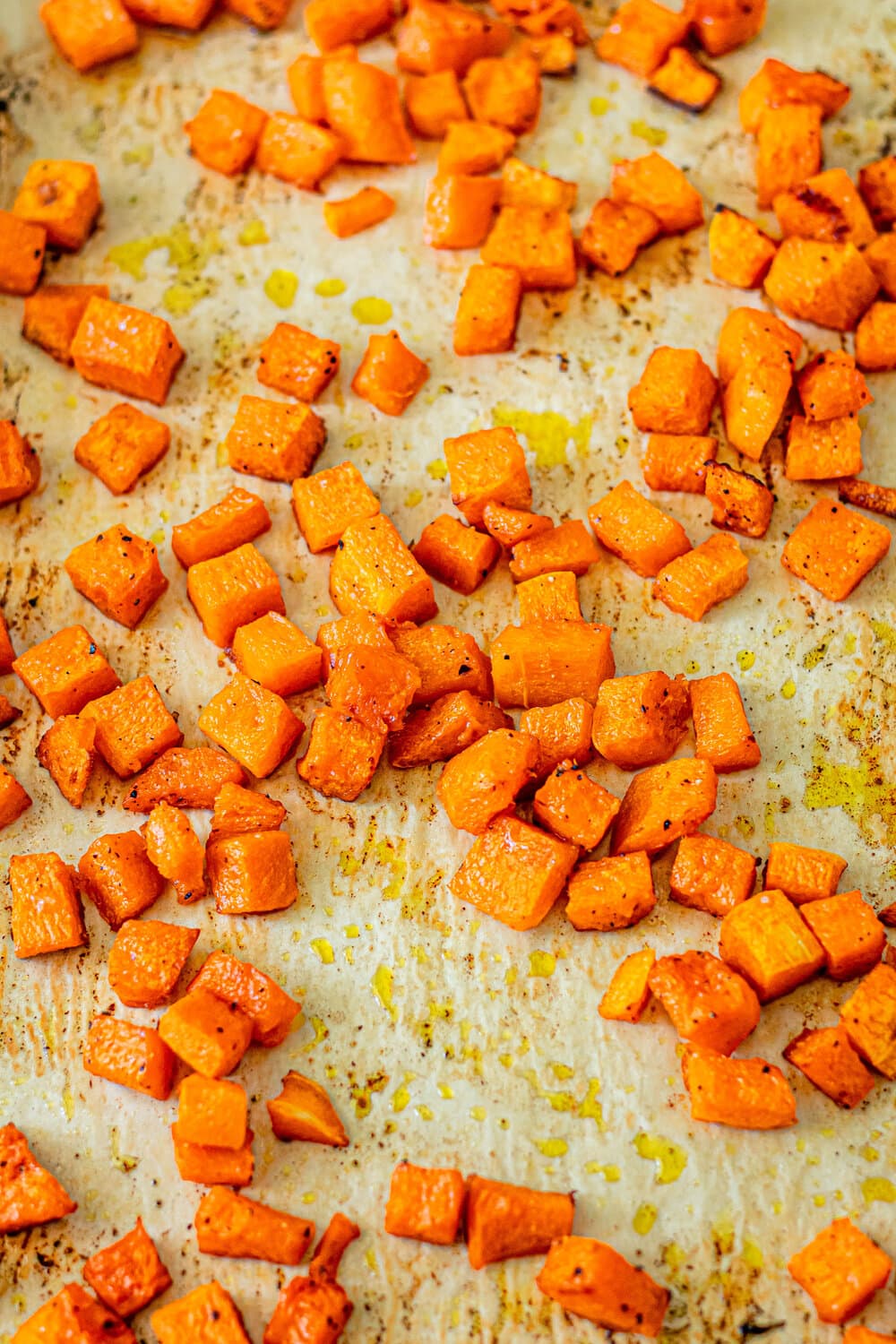 Once you have seasoned your squash and given it a drizzle of oil, it is time to roast. For the best results, I recommend roasting the squash at 425 degrees for 25-30 minutes or until the squash is tender on the inside and slightly browned on the outside.
Before adding the squash to the oven, be sure that the pieces are in a single layer on the sheet pan. This will ensure that the squash roasts evenly and doesn't steam. I also highly suggest lining your baking sheet with parchment paper to cut down on mess and make cleaning up a breeze!
ways to use serve and use butternut squash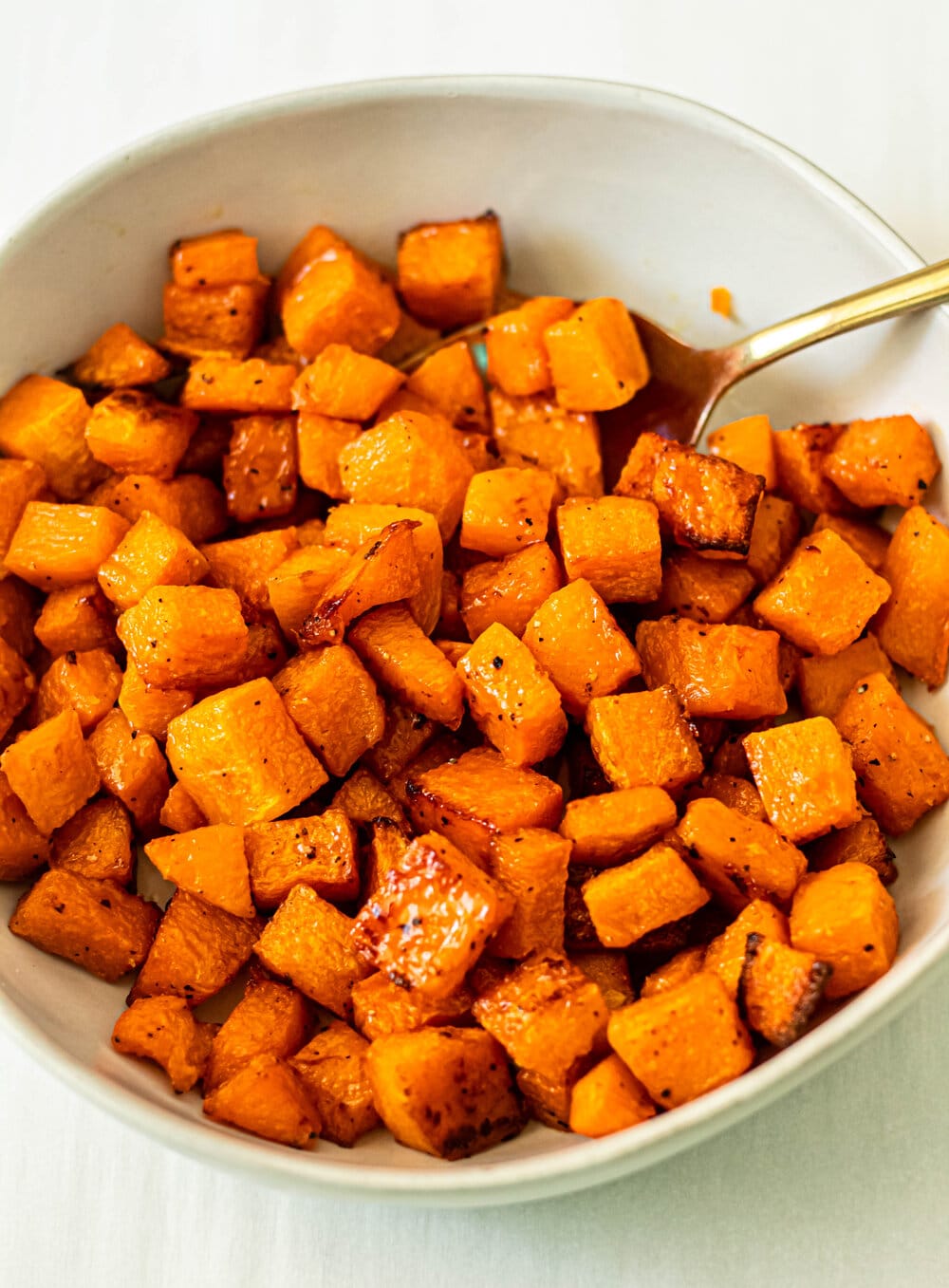 Once your butternut squash is done, it is time to serve!
Here are a few of my favorite ways to serve roasted butternut squash:
As a side dish! Serve your roasted squash with your favorite protein and green veggie

Over a salad! Top your salad with freshly roasted cubes of butternut squash, dried fruit, and nuts

In a soup! You can add a batch of roasted squash to your favorite chili or soup for even more goodness!
if you love this how-to on roasted butternut squash, here are few other delicious recipes you have to try!
LOOKING FOR MORE FREE RECIPES?
Subscribe to my newsletter and follow along on Facebook, Pinterest, and Instagram for all of the latest updates.
---
How to Roast Butternut Squash
Ingredients:
Method:
Preheat oven to 425 degrees.

Peel and remove the seeds from your butternut squash and then dice into roughly 1 inch chunks. Toss the squash in the cooking fat of your choice and a generous sprinkle of salt and pepper (or the seasoning of your liking).

Place the squash in a single layer on a baking sheet and bake at 425 degrees for 25-30 minutes or until tender.
---
none individual-animation-none individual-text-animation-none " data-test="image-block-inline-outer-wrapper">