This post contains affiliate links.
This healthy beef stew recipe is filled with hearty vegetables, tender beef, and packed with flavor. It is the perfect Whole30 beef recipe if you are looking to switch things up same old chicken recipe for dinner. Not only is it delicious, this Paleo beef stew is dairy-free, gluten-free, and made with only real food ingredients, making it a filling option that will also leave you feeling great!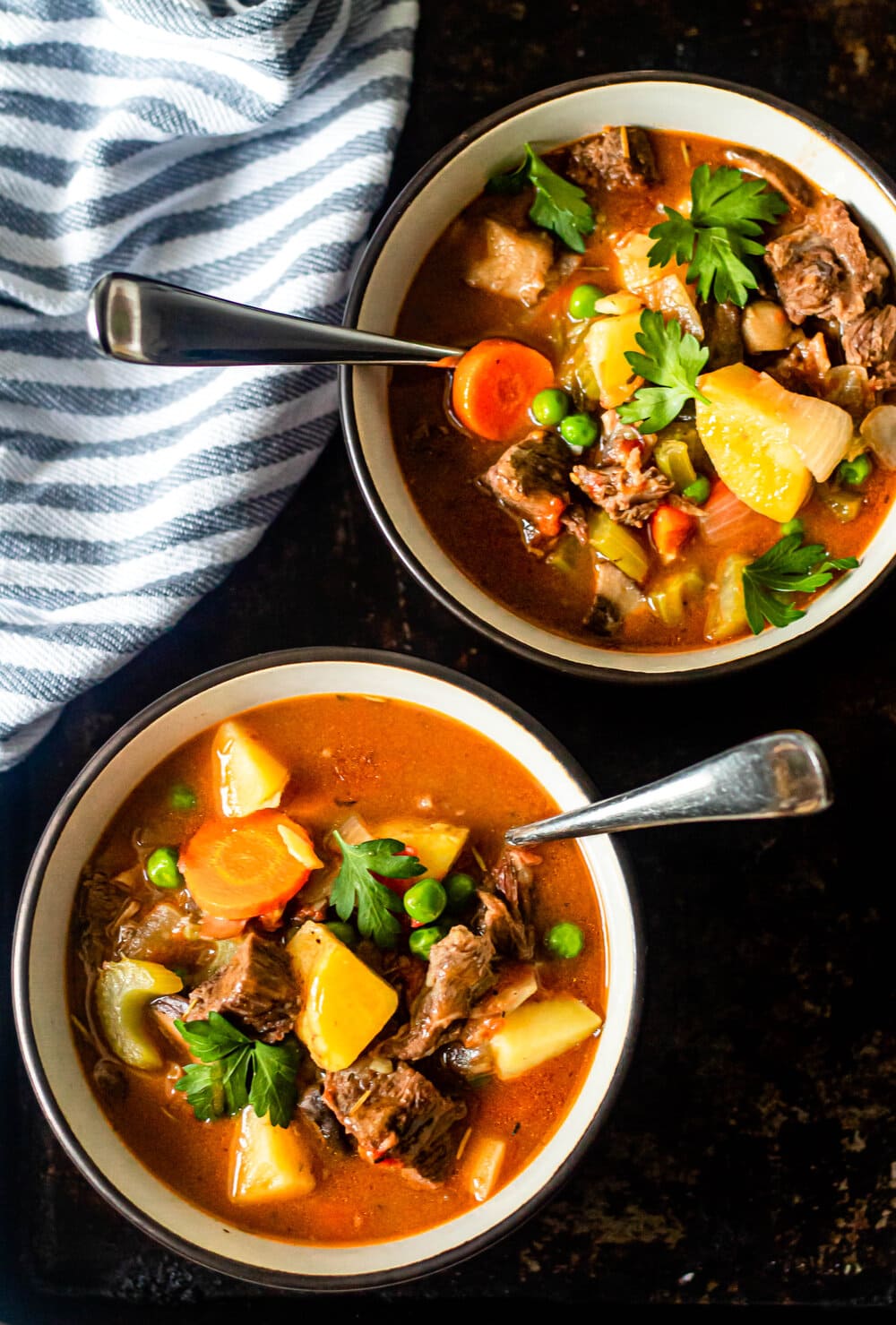 Hearty and Cozy Whole30 Beef Stew
There is just something so comforting about a hearty and cozy beef stew. Tender beef, root veggies, a rich and flavorful broth; beef stew is classic comfort food.
There are so many things to absolutely love about beef stew, but here are a few of my favorite reasons why you should add this recipe to your menu:
You can make it in one pot. Seriously, who doesn't love a one pot meal? All you need is one large stock pot or dutch oven to make this easy recipe.

It is packed with veggies. I know that beef stew gets its name for the tender pieces of beef, but don't forget about the veggies. This recipe is a great way to load up on several different hearty root veggies.

It is full of flavor. Beef, veggies, and plenty of herbs give this beef stew a deep rich flavor that will keep you coming back for more.
Not only is this easy one-pot beef stew packed with veggies and full of flavor, it is also Whole30 compliant, Paleo, gluten and dairy-free. Keep reading to learn how to make a Whole30 version of this classic dish.
The Secret Ingredient for Perfect Gluten Free Beef Stew
Classic beef stew traditionally uses flour or cornstarch to create a slightly thick and flavorful broth. Because all grains and glutens are avoided when doing the Whole30, this recipe uses arrowroot starch to thicken the broth and create a rich stew.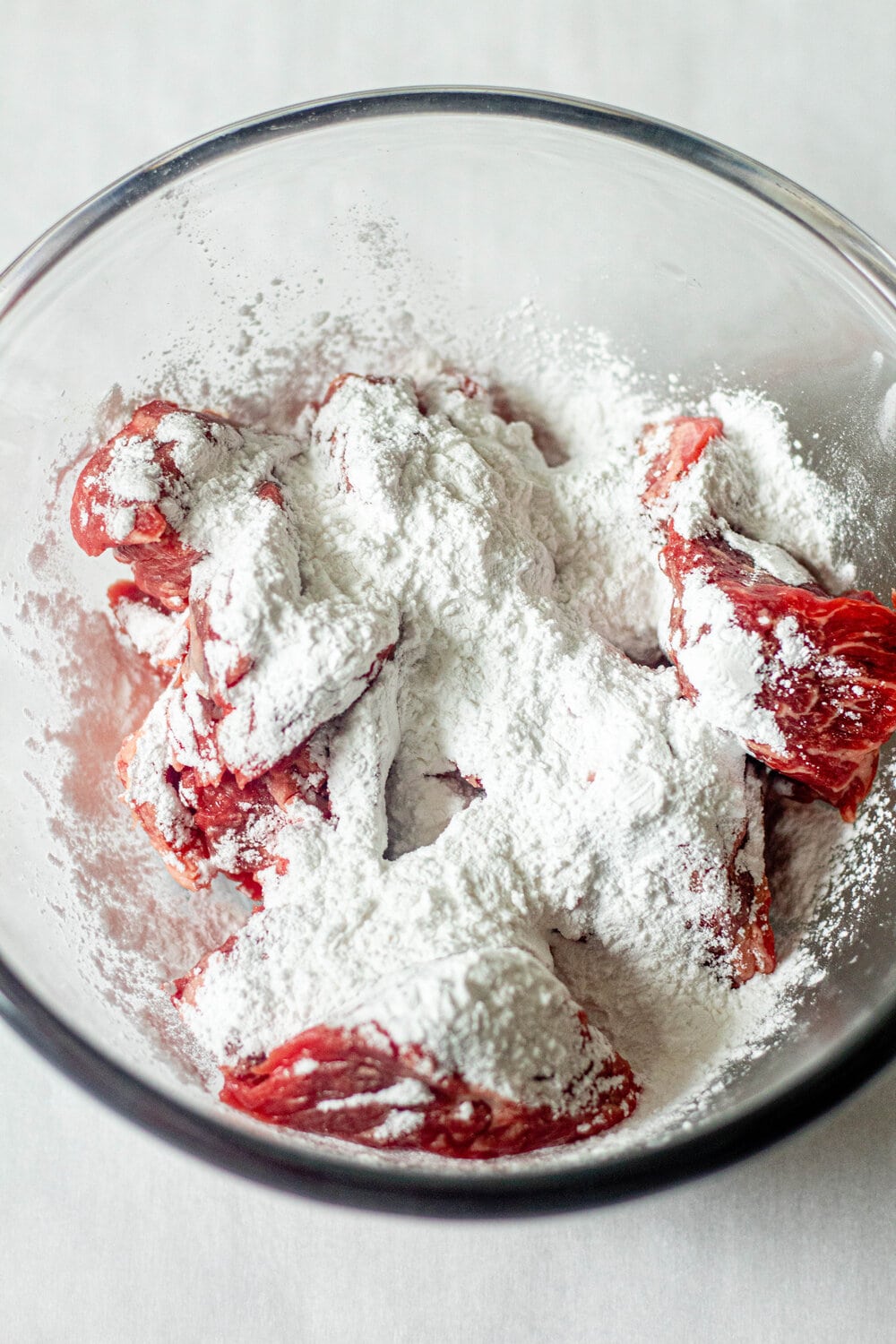 What is Arrowroot Starch?
Arrowroot starch is a gluten free thickener that is grain-free, Paleo-friendly, and Whole30 compliant. Arrowroot starch comes from the arrowroot plant which is actually a large herb. It looks and feels almost exactly like cornstarch!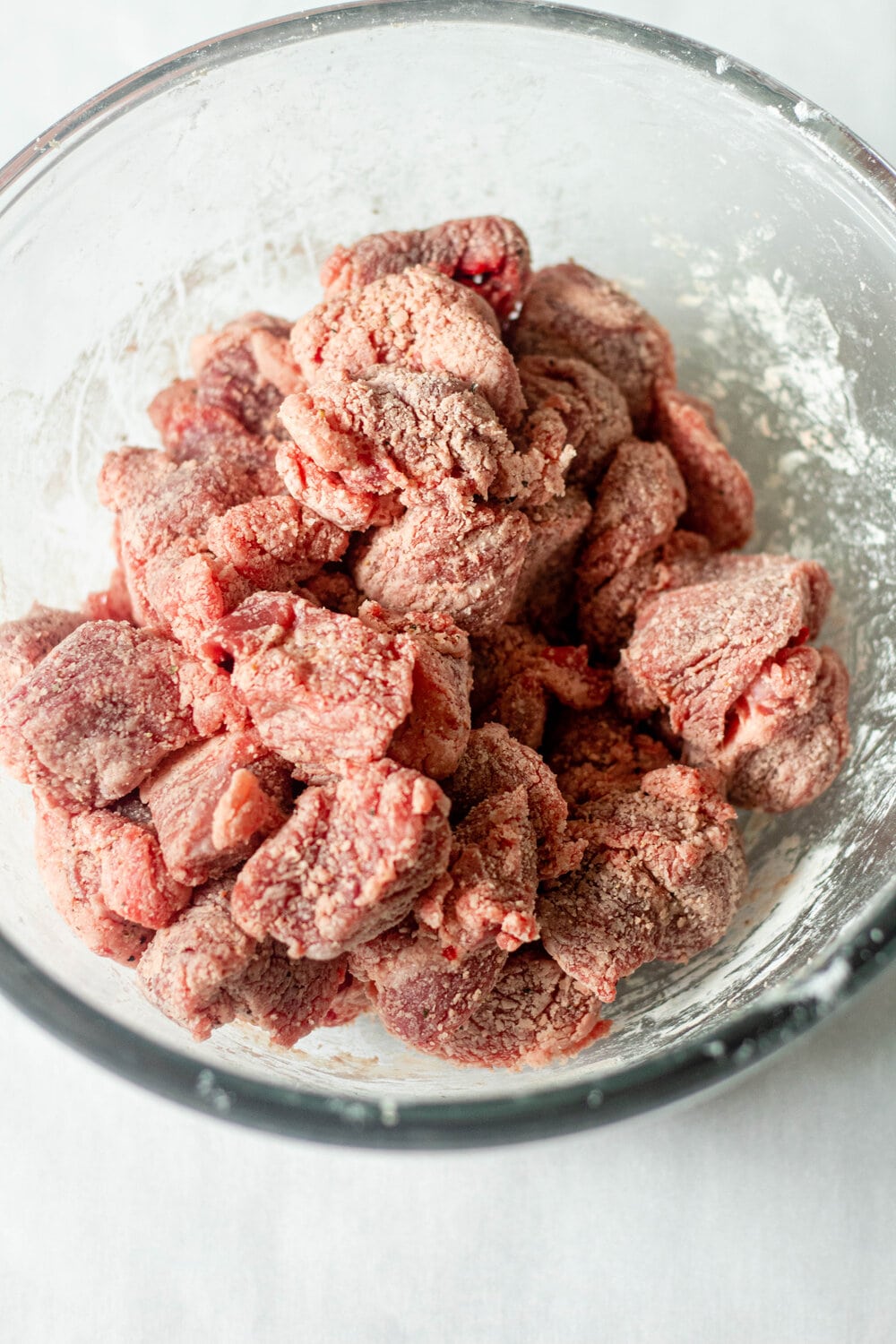 How to Use Arrowroot Starch?
You can use arrowroot starch as a 1-to-1 replacement in recipes that call for cornstarch. For this beef stew recipe, you coat the stew meat pieces in arrowroot starch before browning them. As the stew cooks, the arrowroot starch will slightly thicken the broth.
Let's Chat About the Best Veggies to Use for a Hearty Stew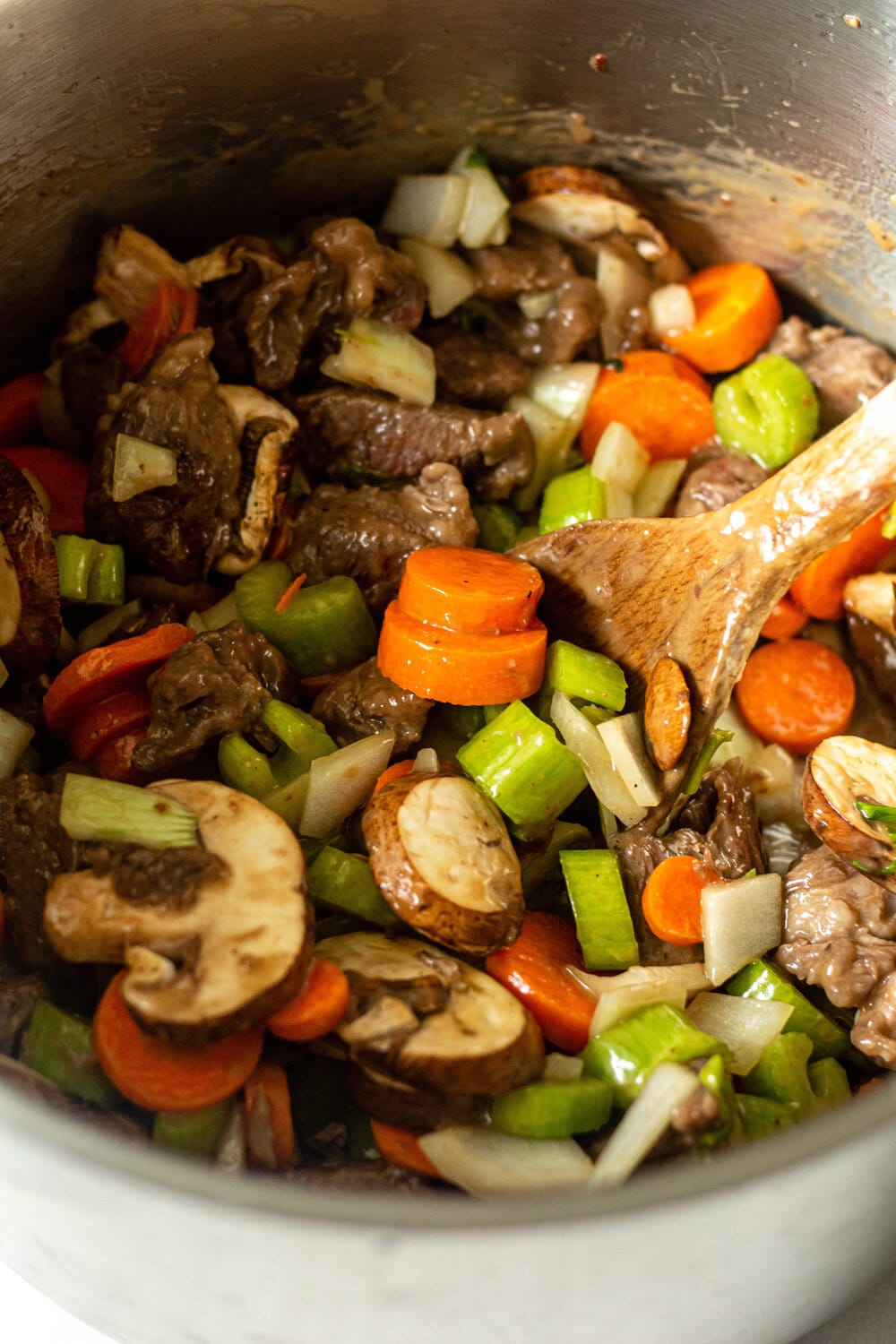 This stew uses a variety of classic veggies to keep things satisfying, nutrient dense, and hearty. You can feel free to add your own favorite vegetables and aromatics to this recipe or swap things out based on your preferences.
Celery, carrots, and onion: these are the must have base of any good beef stew and help to create a solid foundation of flavor.
Garlic: fresh garlic is another must for any good stew in my personal opinion. I know it may be easier to use pre-minced garlic, but if you can I highly recommend freshly minced garlic in this recipe. It adds so much more incredible flavor to this dish.
Mushrooms: mushrooms may not be a staple in classic beef stew, but I really think that they add so much hearty flavor to this recipe. Mushrooms are also so good for you, so I'm always looking for a way to incorporate them a bit more into my recipes.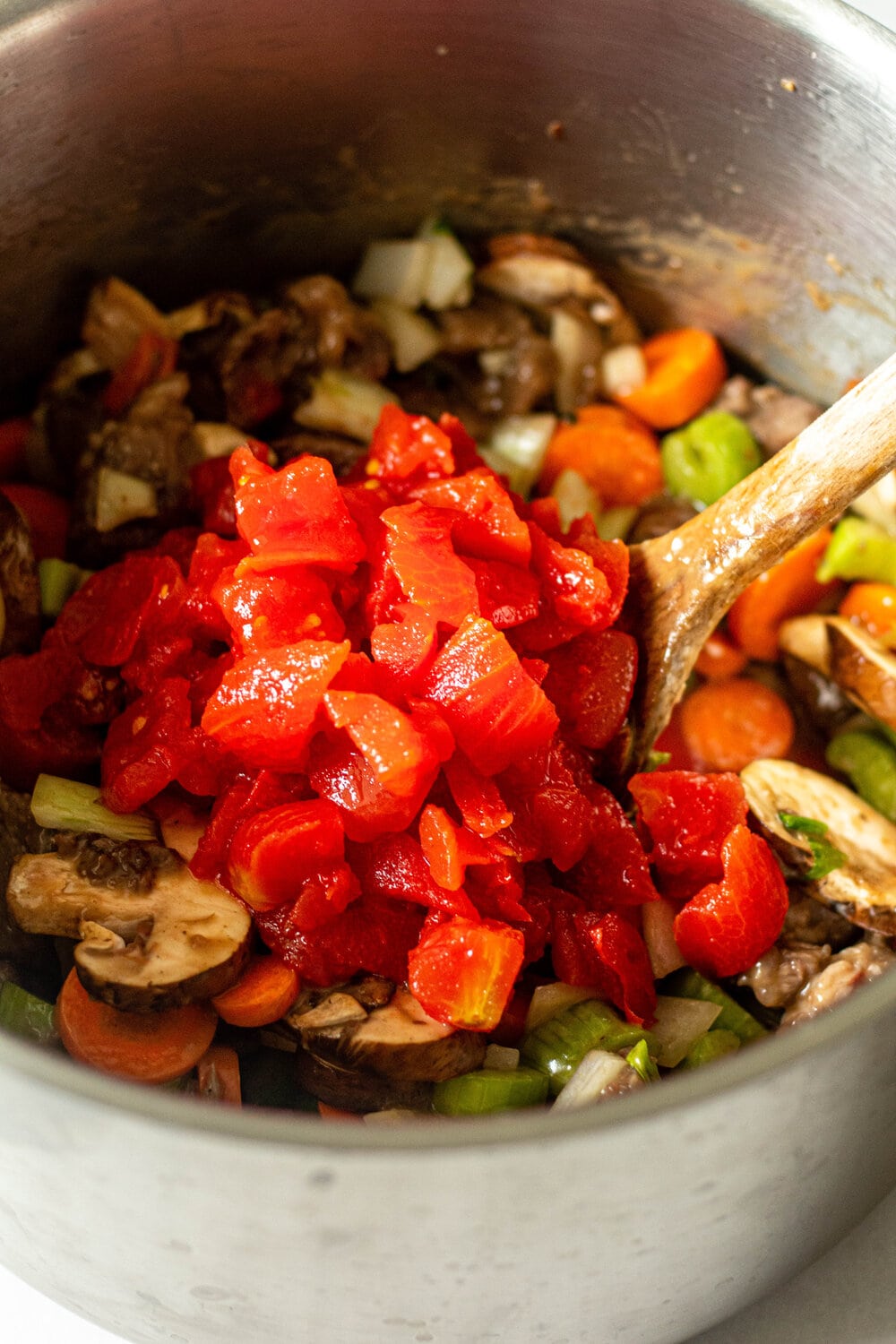 Peas: they add such a bright fresh color and flavor to the stew!
Tomatoes: these are another maybe not so classic addition, but canned diced tomatoes also add another level of complexity and flavor to this stew that works so well.
Potatoes: it wouldn't be a beef stew without a few delicious hearty spuds in the mix.
Simple Gluten Free Beef Stew Seasonings
The veggies and garlic help build a lot of flavor in this stew, but so do the dried herbs. This recipe calls for dried thyme, rosemary, and bay leaves.
It may not sound like a lot, but these dried herbs with just simple salt, pepper, and garlic go a long way. You can also feel free to add any of your favorite herbs that you love to the mix as well.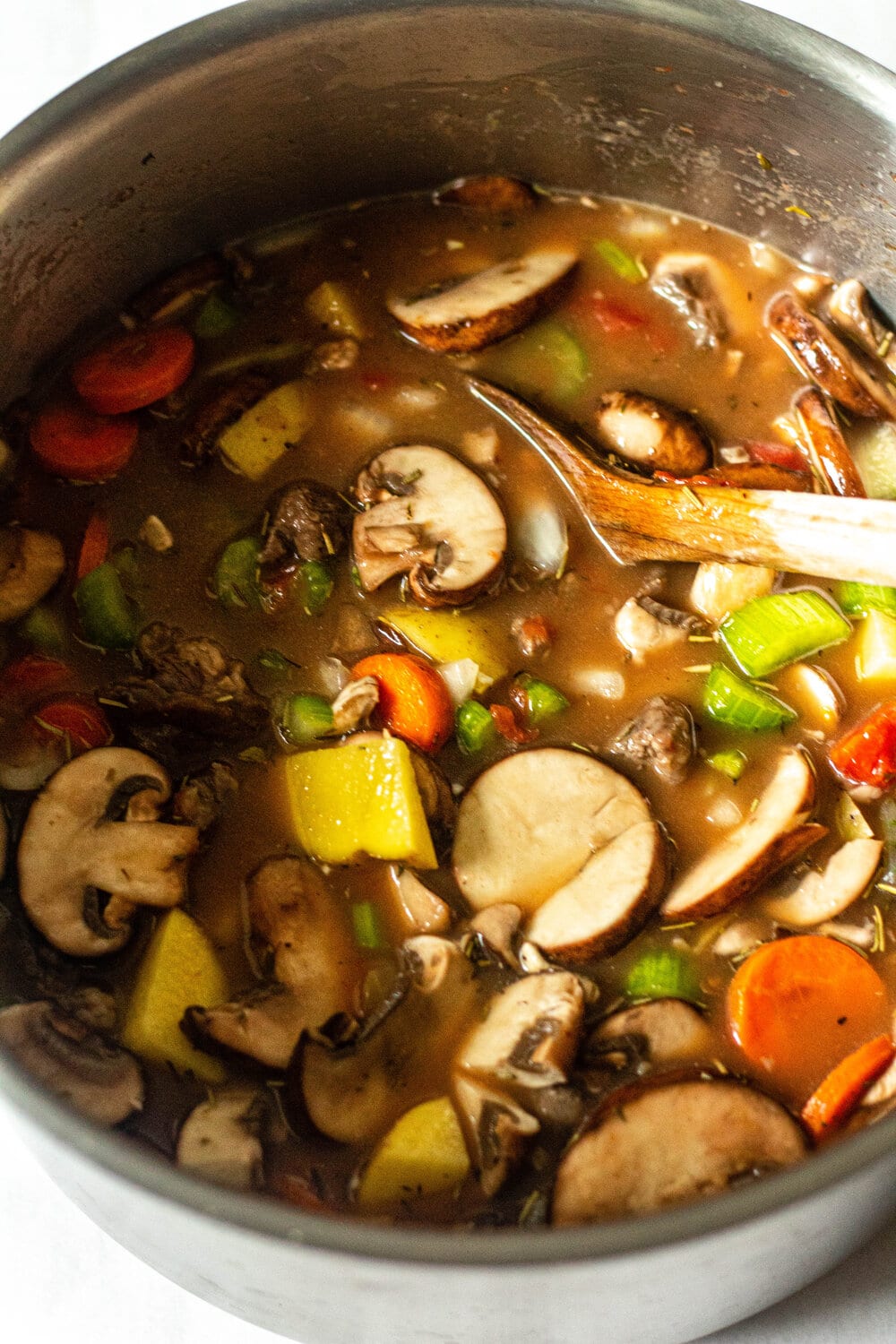 Need a Lower Carb Option?
If you are following a lower carb approach or serving this recipe to someone watching their carb intake, there are a few options for you to make this beef stew a bit lower carb.
Tips to Make a Low Carb Beef Stew
Replace the potatoes with a lower carbohydrate root veggie like parsnips or rutabaga. You could also swap the russet potatoes with peeled sweet potatoes if you prefer.

Swap the potatoes for cauliflower. After the beef stew has simmered for 30-40 minutes, add in large chopped cauliflower florets to the stew and let simmer until they are tender.

Leave out the potatoes altogether! This stew will still be delicious without the.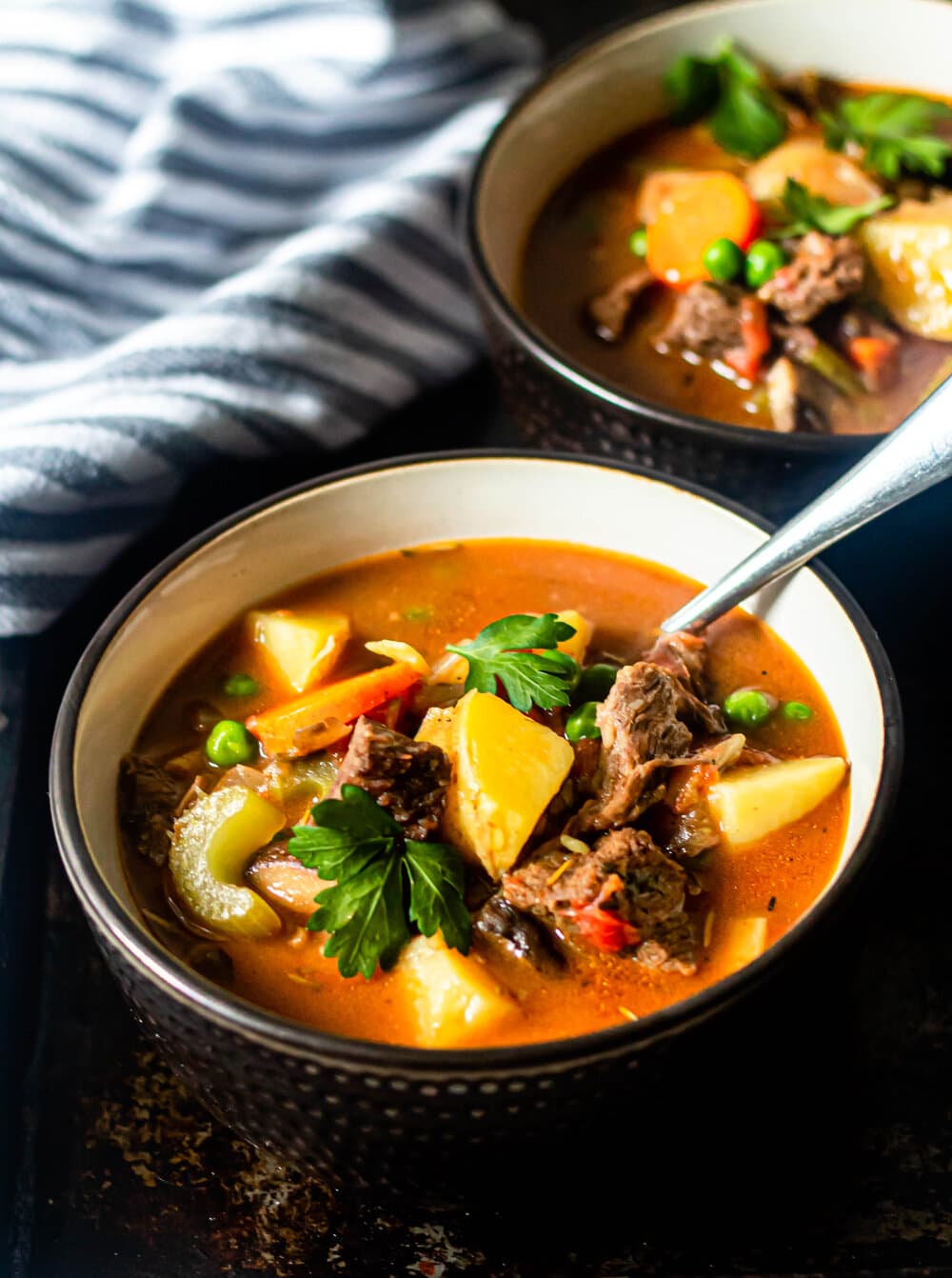 An Easy Slow Cooker Option
This stew beef is also easy to make in the slow cooker! I give you slow cooker instructions in the instructions below, but essentially you start by developing the flavor on the stove top and then transfer everything to the slow cooker. You'll have a hearty and delicious meal waiting for you when you get home!
I hope you absolutely love this Whole30 Beef Stew recipe. If you make it, can you do me a favor? Snap a picture and tag me on social media so that I can see and share! I love seeing what y'all are creating in your kitchens!
IF YOU LOVE THIS WHOLE30 BEEF STEW RECIPE, HERE ARE FEW OTHER DELICIOUS RECIPES YOU HAVE TO TRY!
LOOKING FOR MORE FREE RECIPES?
Subscribe to my newsletter and follow along on Facebook, Pinterest, and Instagram for all of the latest updates.
---
Whole30 Beef Stew (Slow Cooker + Stove Top)
Servings: 6-8
Time: 45 min – 1 hour

Ingredients
Stove Top Instructions
Toss the stew beef meat in the arrowroot starch, salt, and pepper until completely coated.

Heat heavy bottomed pot over medium high heat. Once hot, add in the coconut oil. When the oil has melted, add in the stew beef meat. Cook the beef for five to six minutes on each side until browned.

Once all of the beef is brown, lower the heat and then add the balsamic vinegar to deglaze the pot. Use a wooden spoon to scrape any of the brown bits off the bottom of the pot.

Next, add the garlic, onion, and herbs to the pot. Cook for another 5 minutes, until the garlic, herbs, and onions become fragrant.

Next add the veggies and stir until well combined. Lastly, add the beef broth.

Bring the stew to a rolling boil and then reduce the heat to a simmer. Let the stew simmer for 30-45 minutes or until the potatoes are fork tender. Lastly, add the frozen peas and let simmer for another five minutes until they are warmed through. Serve and enjoy!
Slow Cooker Instructions
Follow steps 1-4 from the stove top instructions above.

Transfer the beef, garlic, onion, and herb mixture to your slow cooker. Add the veggies and broth, then stir until well combined.

Cook on high for 4-5 hours or until the beef and potatoes are tender.

When the potatoes are tender, add in the peas and stir. Let the stew cook for 10-15 more minutes until the peas are warmed through. Serve immediately and enjoy!