This post contains affiliate links
This Gluten-Free Beef Enchilada Casserole is the perfect easy weeknight dinner and comfort food. It's packed with protein from ground beef and black beans, and has all of that delicious enchilada flavor you love without any of the messy stuffing and rolling process. This hearty casserole is also made with simple real food ingredients and uses gluten-free tortillas to ensure that the entire dish is gluten-free. It's the perfect dish to serve if you need to feed a crowd or have a large family, and the leftovers are even better the next day, so it's a great option to meal prep, too!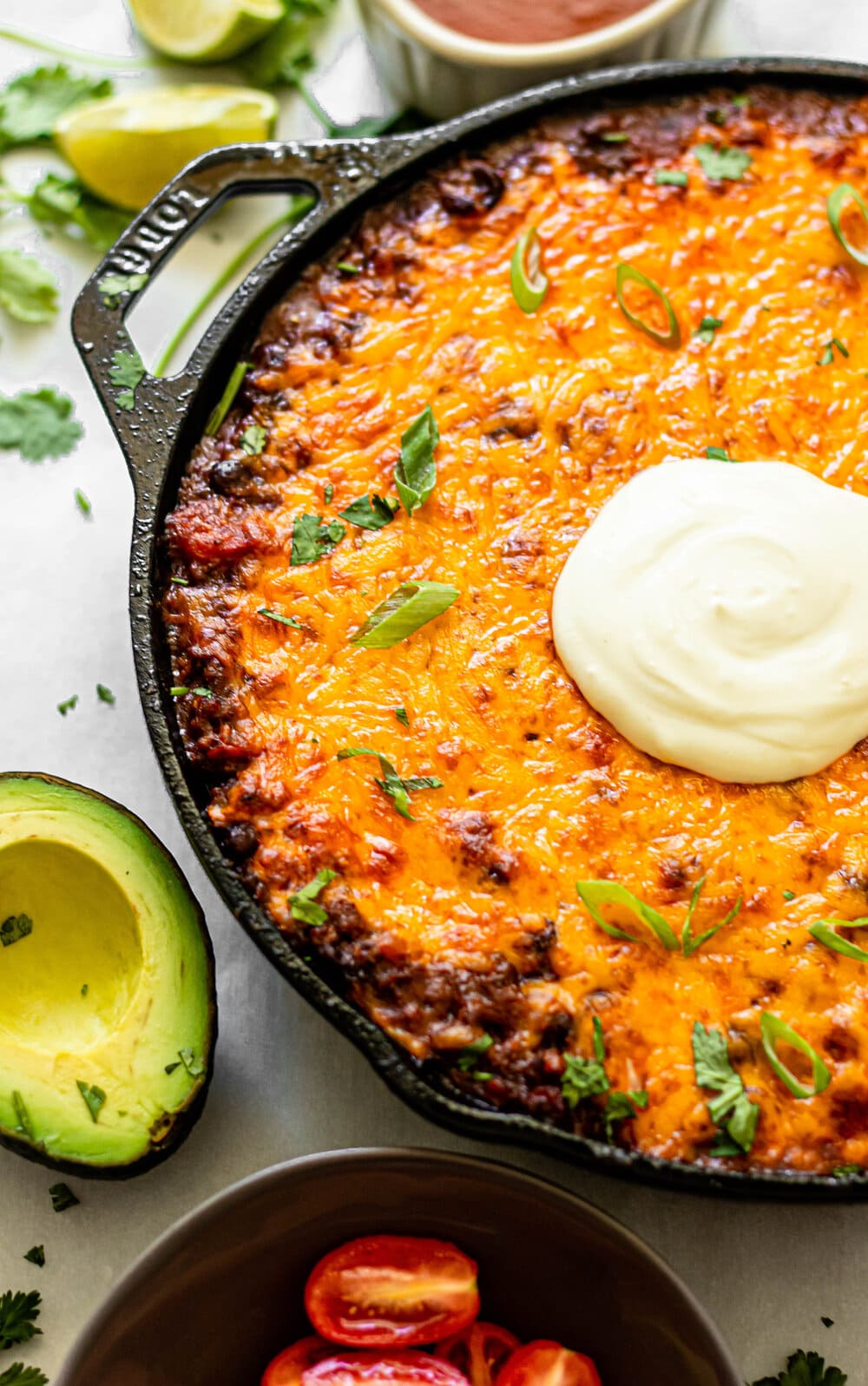 hearty and delicious gluten-free skillet enchilada casserole
I love enchiladas, but I really hate the process of stuffing and rolling them before baking. If you're anything like me, you may feel the same way. On a busy weeknight, you probably don't feel like you have enough time for the tedious process of making enchiladas, but you still want to enjoy them. Well, I have the perfect solution for you – let me introduce you to the beef enchilada casserole!
This hearty and delicious gluten-free beef enchilada casserole is packed with ground beef, black beans, green chilis, and enchilada sauce to tie it all together. Then, instead of rolling and stuffing, you just layer tortillas, the beef enchilada mixture, and cheese for the ultimate casserole.
This recipe is comforting, hearty, and the perfect quick and easy weeknight dinner recipe that I know you'll love!
how to make the beef enchilada sauce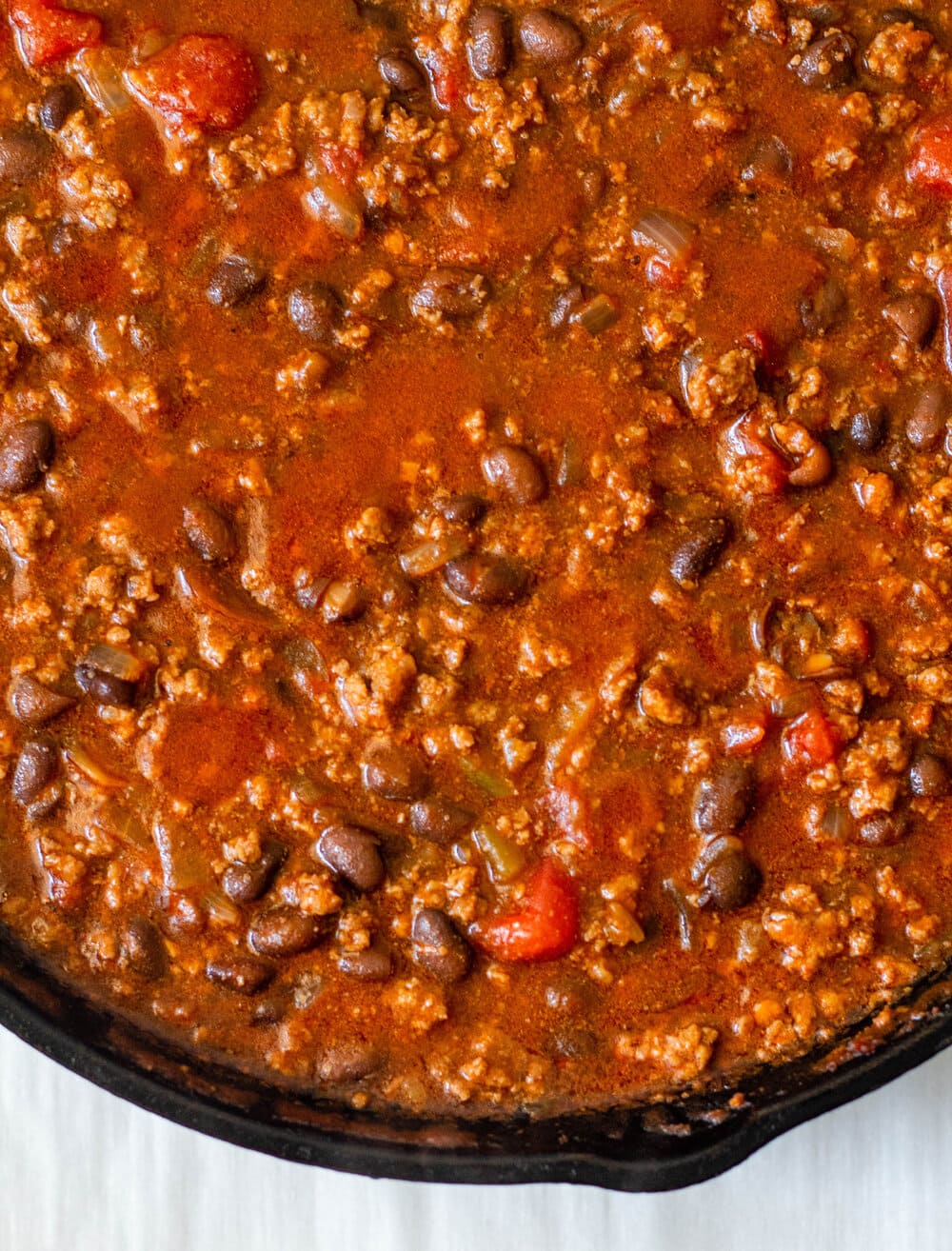 The star of this hearty casserole is an easy beef enchilada mixture that only takes twenty minutes to whip up. You can make the beef enchilada mixture in your favorite skillet or large pot. Just use something that has a lid because the sauce will need to simmer a bit.
To make this beef enchilada sauce you'll need: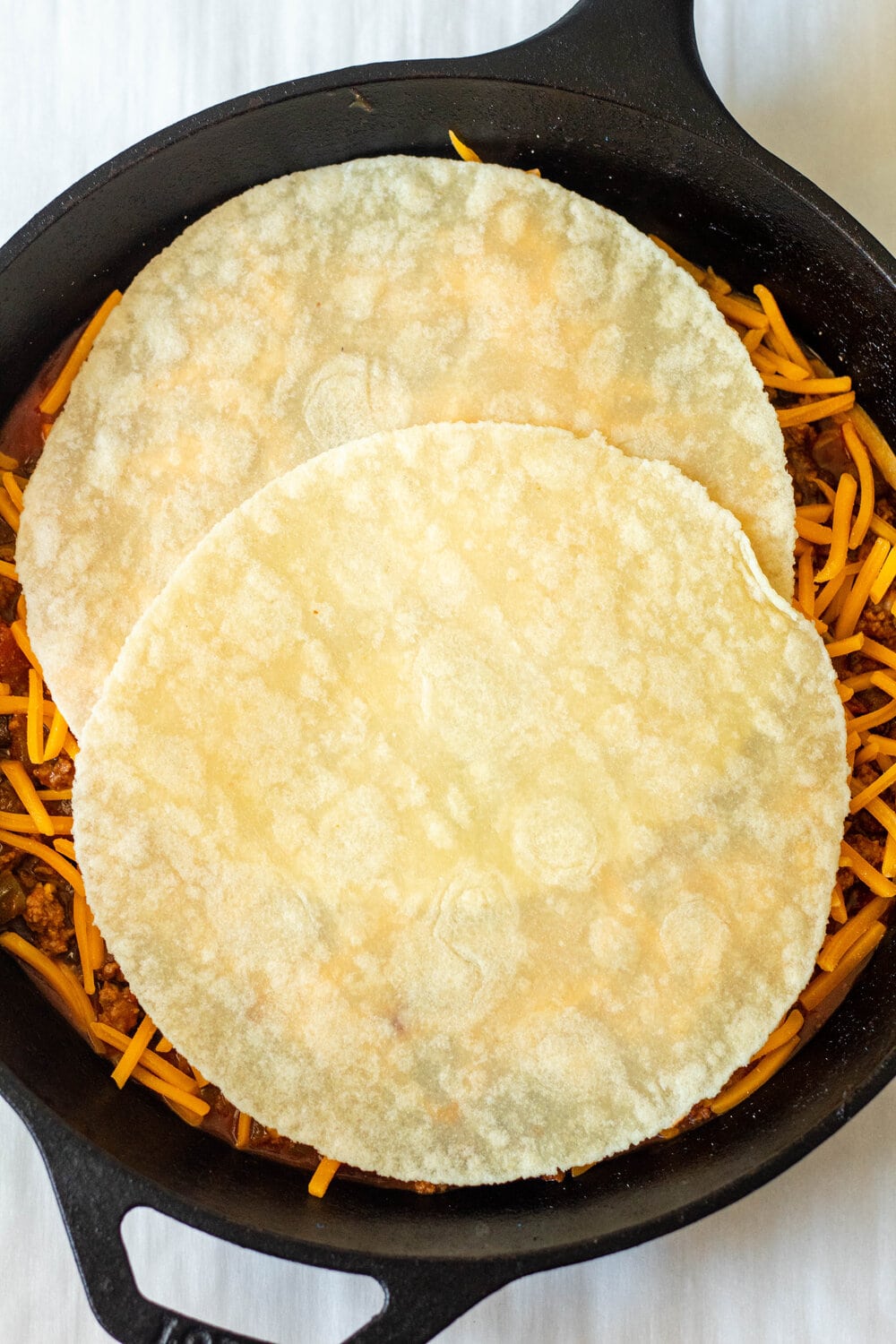 The enchilada mixture simmers for 20-25 minutes to help develop the flavor. Simmering the sauce ensures that the flavor is top notch and that everything melds together nicely.
Once the beef enchilada mixture is finished, it's time to layer. Just start with a little bit of beef enchilada sauce, then cheese, the tortillas, and repeat until you use up six of your tortillas.
Then, to finish the casserole, top off the mixture with the remaining cheese and bake until melty and golden brown. If you like your cheese to be a bit more brown, you can always place the casserole under the broiler for a few minutes before serving.
how to meal prep beef enchilada casserole
If you need to prep this recipe in advance here are a few of my favorite tips:
Make the beef enchilada mixture in advance. You can make the beef enchilada sauce a day or two in advance or if you need an easy freezer meal, make the sauce and freeze it. When you're ready, you can thaw the sauce and then assemble the casserole.

Make the casserole and then portion it out for easy lunches! You can easily reheat the enchilada casserole in the microwave.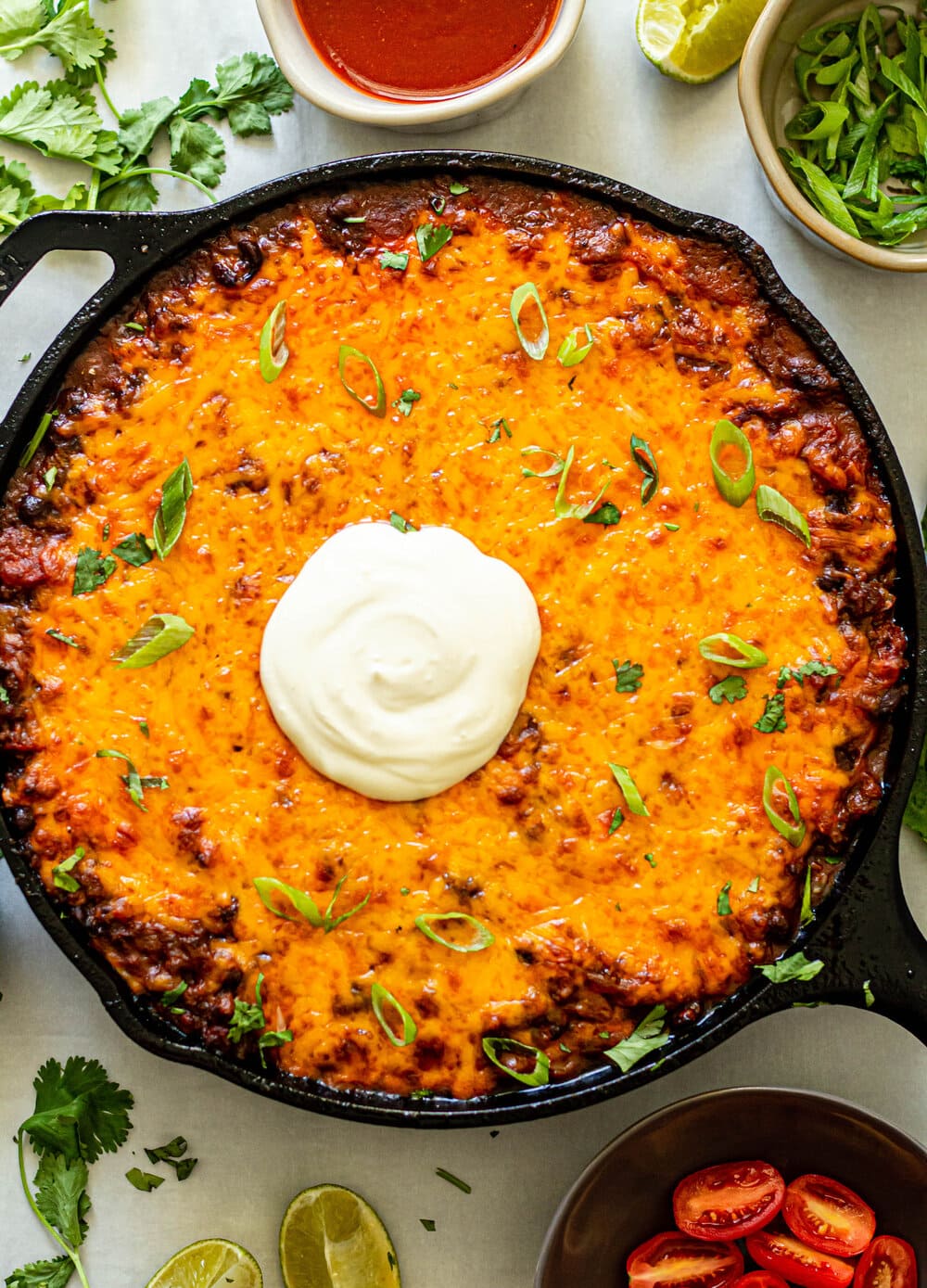 if you love this gluten free beef enchilada recipe, here are few other delicious recipes you have to try!
LOOKING FOR MORE FREE RECIPES?
Subscribe to my newsletter and follow along on Facebook, Pinterest, and Instagram for all of the latest updates.
---
Gluten Free Beef Enchilada Casserole
Ingredients:
1 pound ground beef

1/2 tbsp avocado oil

juice of 1 lime

1 tsp garlic powder

1 tsp onion powder

1 tsp paprika

1 tsp salt

1 tsp cumin

1/2 tsp oregano

1/2 tsp chili powder or chipotle powder

1 cup enchilada sauce

1 can diced tomatoes

1 can black beans

1 can green chilis

6 gluten-free tortillas (I like these)

2 1/2 cups shredded monterey-jack or cheddar cheese

cilantro for garnish, green onion, and sour cream for garnish
Instructions:
Preheat your oven to 350 degrees.

Add the avocado oil to a hot skillet or pot and then add the ground beef and brown the meat. Next, add in the juice of one lime, spices, green chilis, black beans, and diced tomatoes. Stir and then let simmer for 20 minutes, stirring occasionally.

When the beef enchilada mixture is done, remove it from the heat and prepare to assemble your casserole.

Next, assemble your casserole. Start with a few spoonfuls of beef enchilada sauce, cheese, then two tortillas, and repeat. Pour any remaining beef enchilada sauce over the casserole. Then finish by sprinkling the remaining shredded cheese on top.

Bake uncovered for 25-30 minutes until the cheese has melted and begins to turn golden brown. Enjoy!
---