This healthy chicken taco soup gives you all the flavor of a taco in a quick and easy soup! Chicken breast, fresh veggies, and warming spices all come together to make a filling meal that only takes around thirty minutes to make. This delicious taco soup is perfect to meal prep for an easy lunch throughout the week or fast weeknight dinner. This soup is Whole30 compliant, Paleo-friendly, and naturally gluten-free. It's a hearty meal the entire family will love.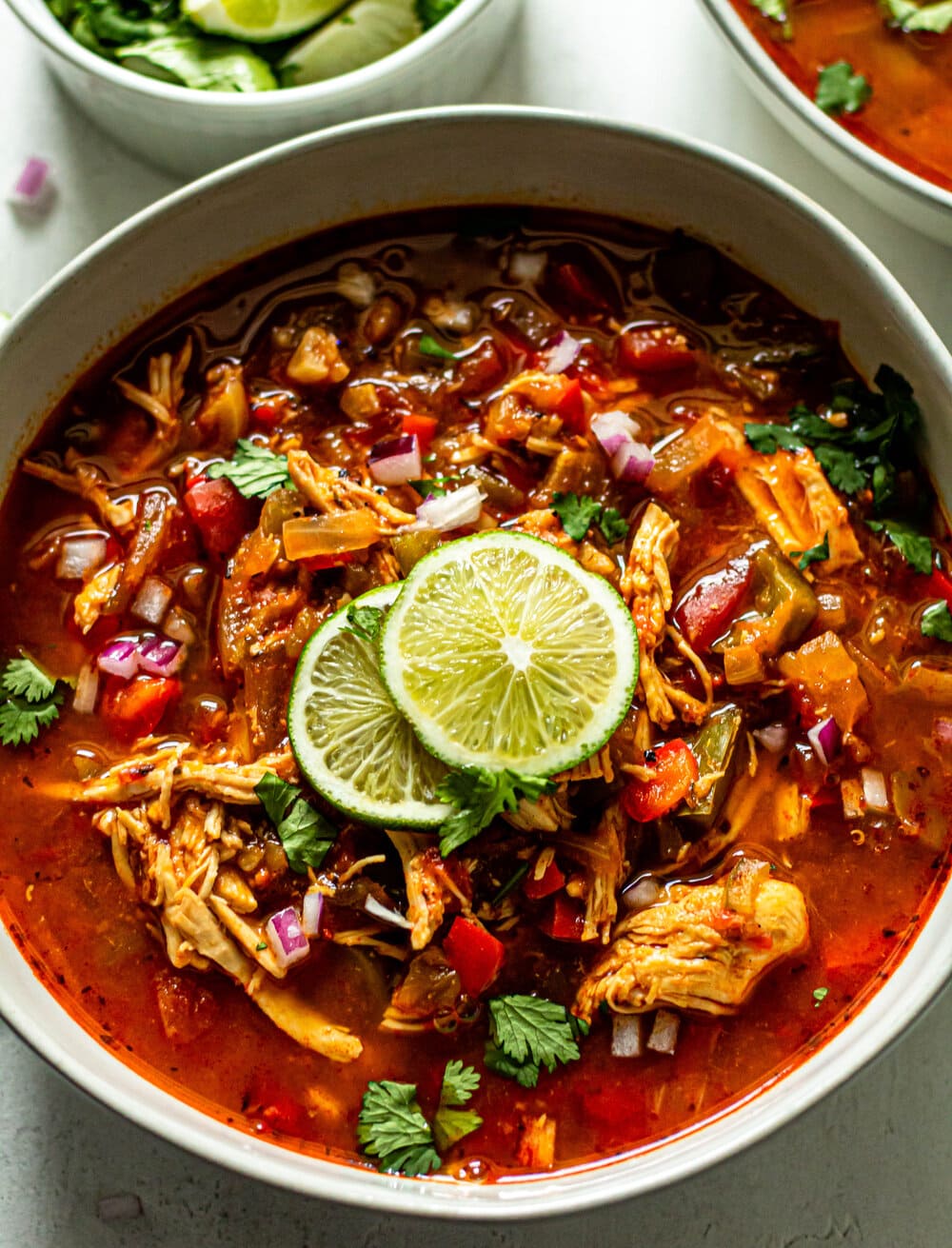 A Healthy Weeknight Meal: Quick and Easy Chicken Taco Soup
It's my opinion that we need all the easy weeknight dinners we can get and this easy chicken taco soup is a recipe that you need in your life, ok?
It is simple, quick (I'm talking thirty minutes of simmering and you're done!), and absolutely packed with flavor from spices, garlic, and fresh veggies.
I love tacos, but let's be honest, they are not always the easiest thing to pack for lunch the next day. Thankfully, this soup is a great way to get your taco fix for lunch. It is perfect for meal prep and you'll love the leftovers.
Not only is this recipe delicious, it is also Whole30 compliant, Paleo-friendly, and naturally gluten free!
What Ingredients Do You Need for Taco Soup?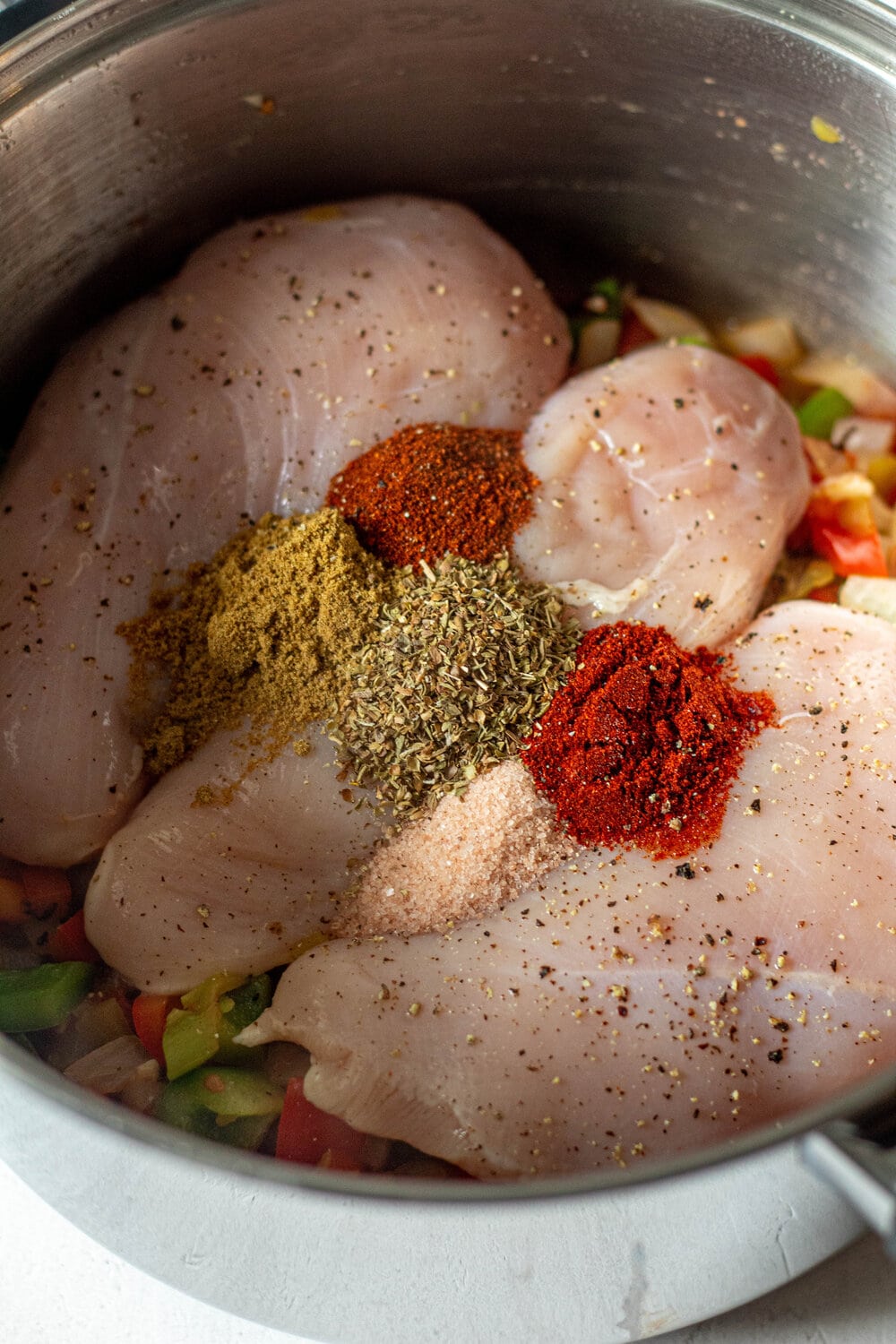 While simple and easy, this chicken taco soup is packed with flavor thanks to a few key spices and herbs.
Here's What You Need to Make This Taco Soup:
Chicken breast (you could also use boneless skinless chicken thighs)

Red and green bell peppers

Onion

Fire roasted diced tomatoes (roasted tomatoes pack a little extra smoky flavor)

Green chilies

Chipotle powder and cumin (these gives the soup a little kick and that taco flavor)

Chicken broth
This soup also uses plenty of fresh garlic, dried herbs, and lime juice to kick up the flavor even more. The end result is a soup that tastes like it has been cooked all day when, in reality, it only takes around thirty minutes!
How to Make Chicken Taco Soup?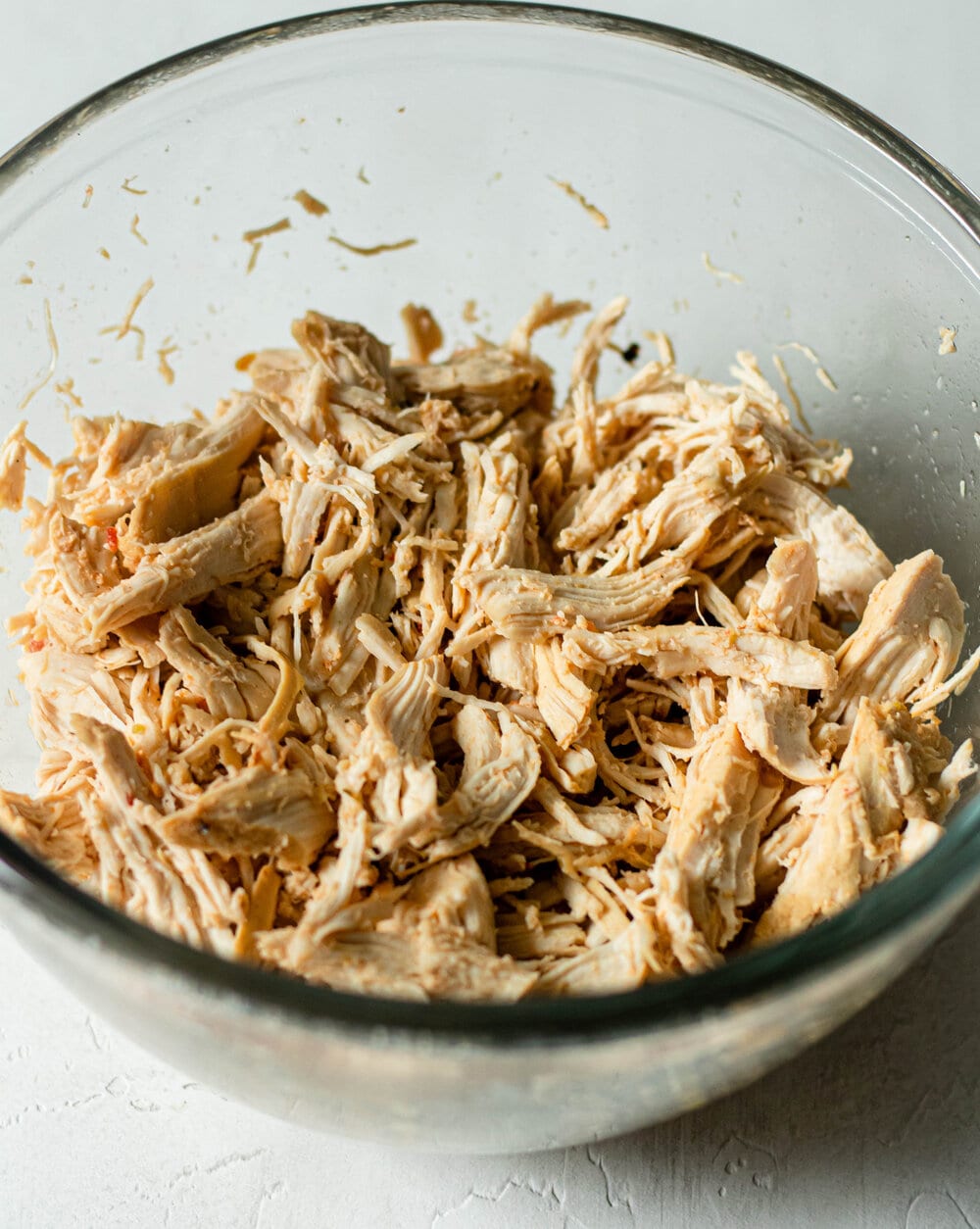 This chicken taco soup recipe can be broken down into three steps and really could not be easier.
Step 1: Saute the veggies and garlic in a large pot for a few minutes until they start to become tender.
Step 2: Next, add the rest of the ingredients to the pot. This includes the canned tomatoes and chilies, spices, and your chicken breast. No need to dice the chicken before adding it to the soup. Just add the whole chicken breast to the soup to cook for around thirty minutes until it is cooked through and tender and ready to shred.
Step 3: The last step is to transfer the chicken from the pot to a small bowl. Use two forks to shred the chicken breast and then add the meat back to the pot. Give the soup a stir until well combined and then, it's time to serve it up with plenty of fresh herbs and your favorite toppings.
Can You Make This Soup in the Crockpot?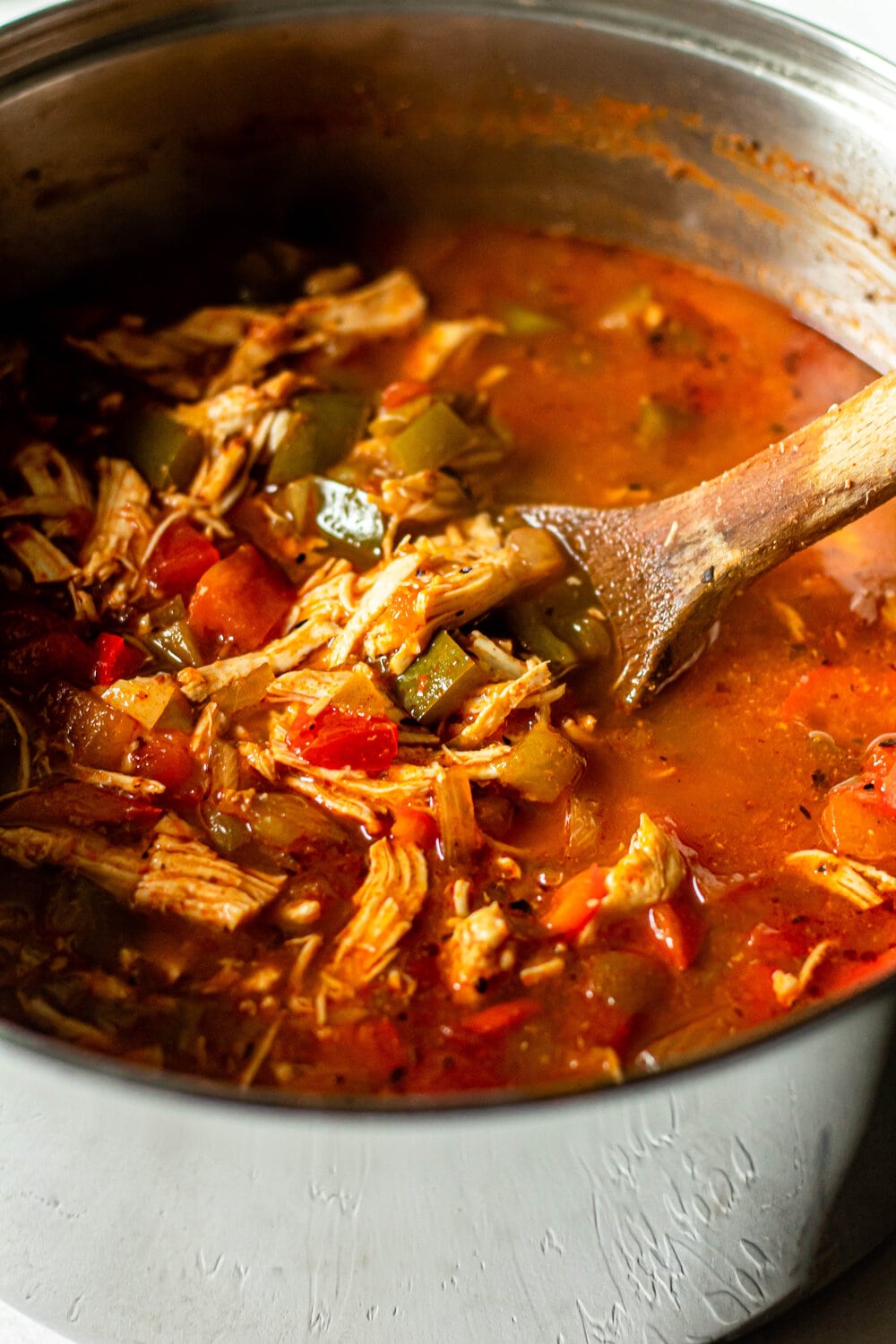 Yes! This chicken taco soup recipe is a great one to make in your slow cooker. Just add all of the ingredients to your slow cooker base and cook on high for 3-4 hours until the chicken is tender and ready to shred.
Once the chicken is done, remove it from the slow cooker, shred, and add it back to the soup. Then just serve it up with all of your favorite toppings.
The Best Toppings for Taco Soup
The topping ideas for this soup are really endless! You can really top the taco soup with whatever toppings you would use on your regular tacos.
Favorite Taco Soup Topping Ideas:
Cilantro

Green onion

Avocado

Sour cream

Shredded cheddar cheese

Tortilla chips

Lime wedges or slices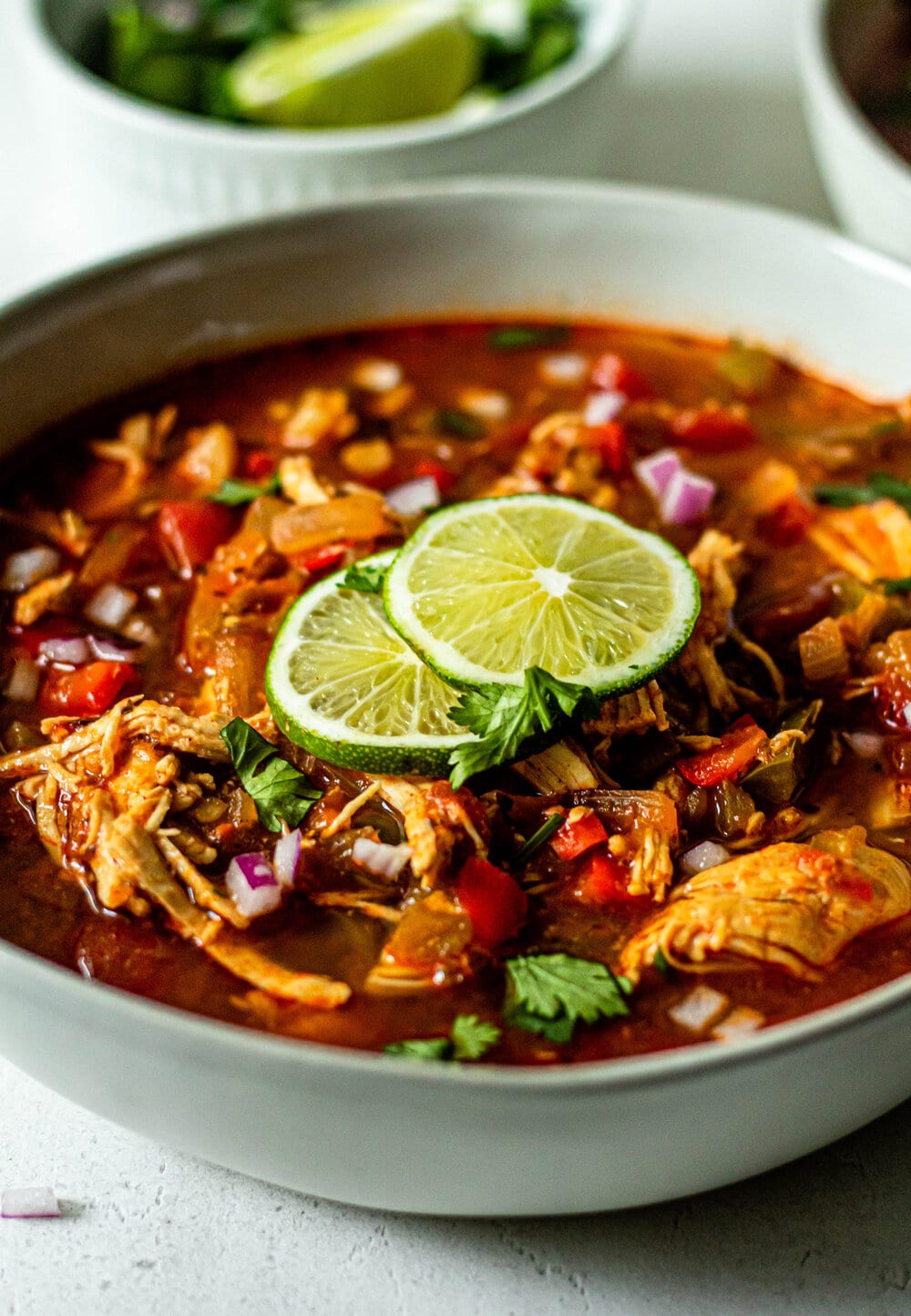 IF YOU LOVE THIS HEALTHY CHICKEN TACO SOUP RECIPE, HERE ARE A FEW OTHER DELICIOUS RECIPES YOU HAVE TO TRY!
LOOKING FOR MORE FREE RECIPES?
Subscribe to my newsletter and follow along on Facebook, Pinterest, and Instagram for all of the latest updates.
---
Healthy Chicken Taco Soup (Whole30, Paleo, Gluten-Free)
Servings: 4-6
Prep Time: 10 minutes
Cook Time: 30 minutes
Ingredients
½ tbsp avocado or coconut oil

1 small yellow onion, diced

1 small red bell pepper, diced

1 small green bell pepper, diced

5 cloves garlic, minced

1 pound boneless, skinless chicken breast

1 1/2 tsp salt (plus more to taste)

1 tsp dried oregano

1 tsp chipotle powder

1 tsp paprika

2 tsp cumin

¼ tsp black pepper

1 – 15oz can fire roasted diced tomatoes

2 – 4.5 oz cans green chilies

¼ cup fresh lime juice

32 oz chicken broth

Cilantro, for serving

Diced red onion, for serving

Lime wedges, for serving
Method
Heat a large pot over medium-high heat. Once hot, add in the avocado or coconut oil. Next, add the peppers, onion, and garlic to the pot. Saute for 3-4 minutes until the onions start to become translucent.

Add the chicken breast, canned tomatoes, canned green chilies, spices, lime juice, and chicken broth to the pot. Stir until well combined. Bring the soup to a rolling boil and then reduce the heat to a simmer. Allow the soup to simmer for 30 minutes or until the chicken is tender and easy to shred.

Transfer the chicken breast from the soup to a small bowl. Use two forks to shred the meat. Add the chicken back to the soup and stir until well combined. Serve the soup with fresh cilantro, diced red onion, and fresh lime wedges. Enjoy!