This Bacon Sweet Potato Chili is the perfect Whole30 comfort food!
Do you have a list of quick "go-to" meals for busy nights?
There are some recipes I always have in my dinner arsenal for those nights that are crazy busy and I don't feel like I have the time too cook. It's in these busy moments that I'm always tempted to grab take out but, I know that's not usually the best option for my wallet or my health.
Instead, I like keeping a few simple recipes in my back pocket that don't take too much time to whip up. Chili is one of the recipes I turn to on the nights I just need to get dinner on the table. I've got a couple of different chili recipes on the blog:
All of these recipes take minimal prep work and you essentially just throw all of your ingredients into a pot, let them simmer for 30 minutes, and boom! – Dinner.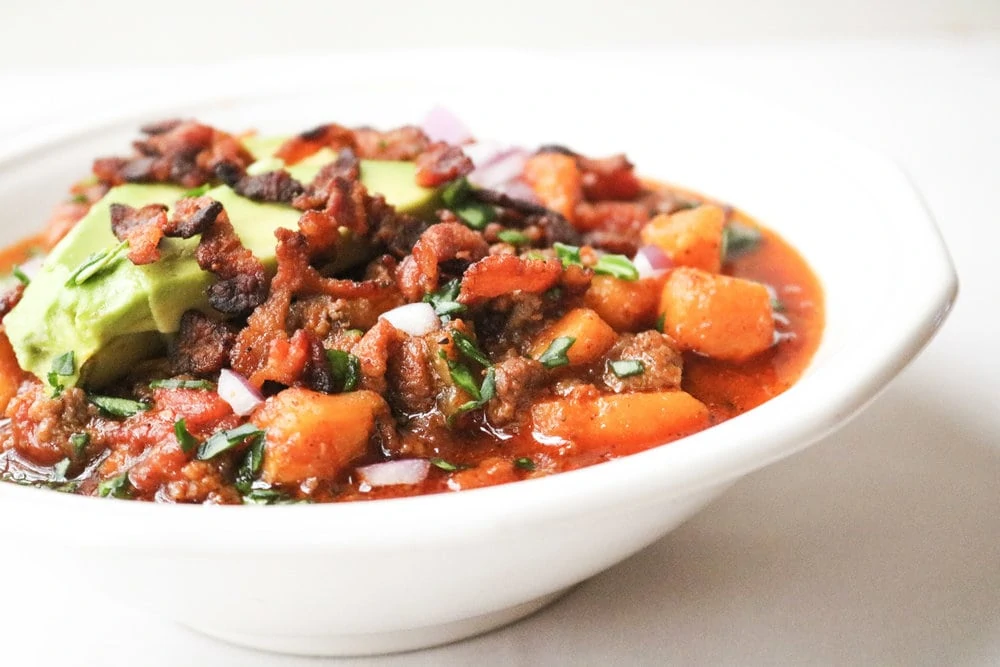 This Bacon Sweet Potato Chili uses sweet potatoes instead of kidney or black beans as a fun twist on a more traditional recipe. If you're doing a Whole30, following a Paleo-style diet, or just don't care for beans this recipe is a great alternative for you.
If you've made the Perfectly Roasted Sweet Potatoes, you know how just well sweet potatoes pair with chili spices and this recipe is no exception. The sweet potatoes help make this chili feel hearty and satisfying, and work wonderfully with all of the spices in the dish.
The cherry on top for this recipe is the crumbled bacon. Just a little bacon goes a long way to give this chili a rich smokey flavor that I think you'll love!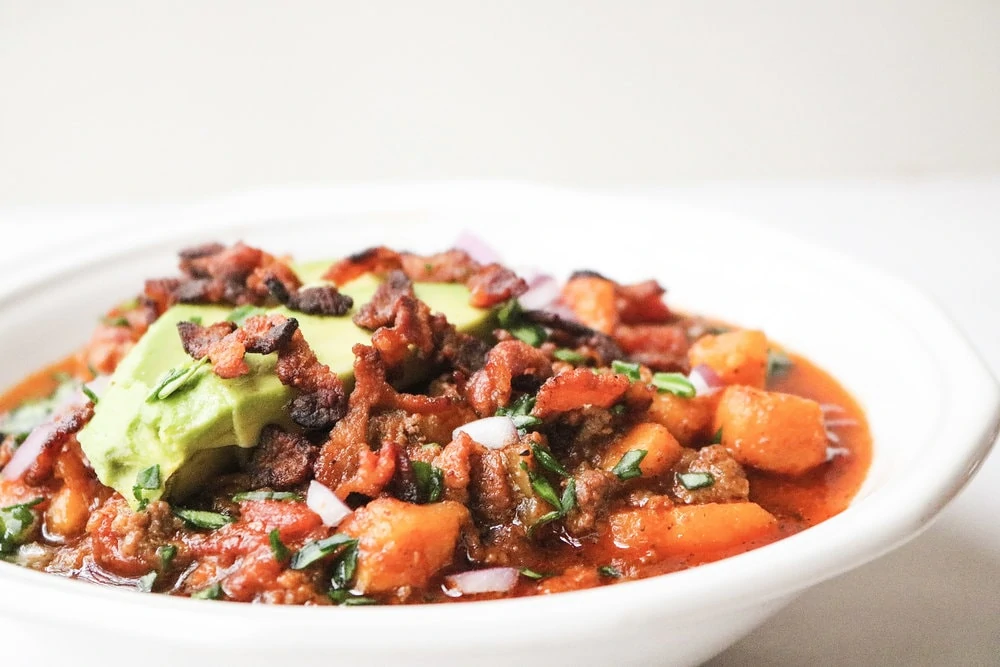 ---
Smokey Sweet Potato Chili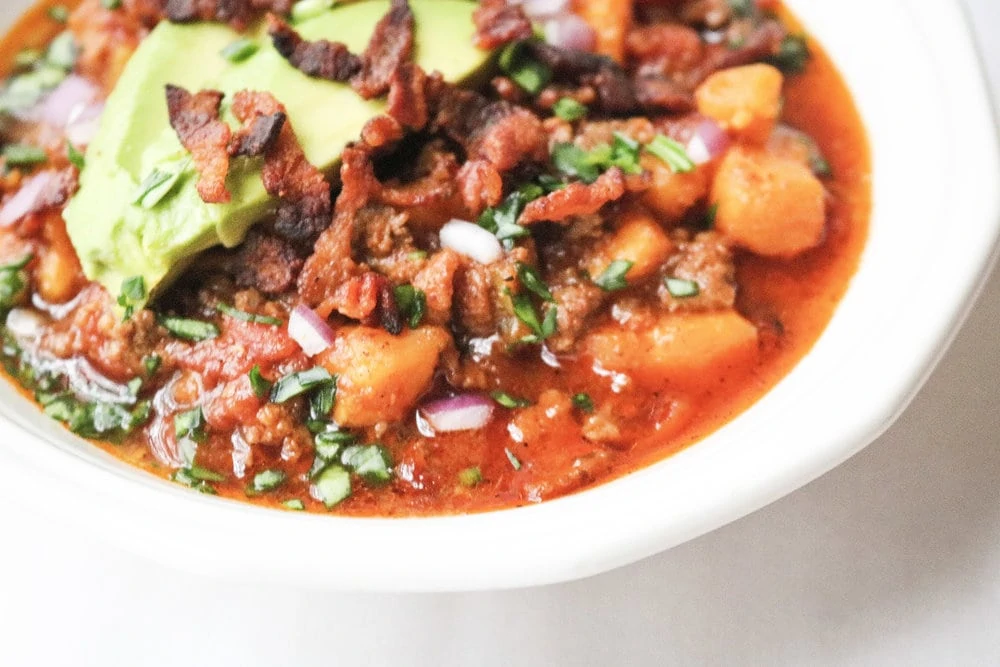 Ingredients:
4 strips of bacon

1 tbsp coconut oil

1 pound ground beef

1/2 medium white onion, diced

1 1/2 cups garnet/orange sweet potato, peeled and diced

1 – 14.5oz can fire roasted diced tomatoes (regular canned diced tomatoes will work too)

1 cup beef broth

Toppings: crumbled bacon, avocado, cilantro, and red onion
Spices:
Method:
Start by cooking the bacon over medium-high heat in a heavy bottomed pot. When the bacon is crisp, remove it from the pot.

Add 1/2 tablespoon of oil to the pot. Add the ground beef to the hot oil and break the meat up into small pieces as it cooks.

When the meat has begun to brown, add in the diced onion, sweet potato, and spices to the pot and continue to cook.

When the meat is cooked through add in the broth and tomatoes and bring the chili to a boil. Reduce the heat and let the chili simmer until the sweet potatoes are tender.

Top with crumbled bacon, fresh cilantro, your favorite toppings and enjoy!