This post contains affiliate links
This easy Salsa Verde Chicken Soup is warm, comforting, and the perfect easy weeknight dinner meal. Shredded chicken, flavorful salsa verde, and hearty white beans all come together to create a soup that the whole family will love. Not only is it delicious, this chicken soup is incredibly easy to make. Make it in the evening for a quick 30 minute weeknight dinner or throw the ingredients in the slow cooker and have a hot meal ready and waiting for you when you get home!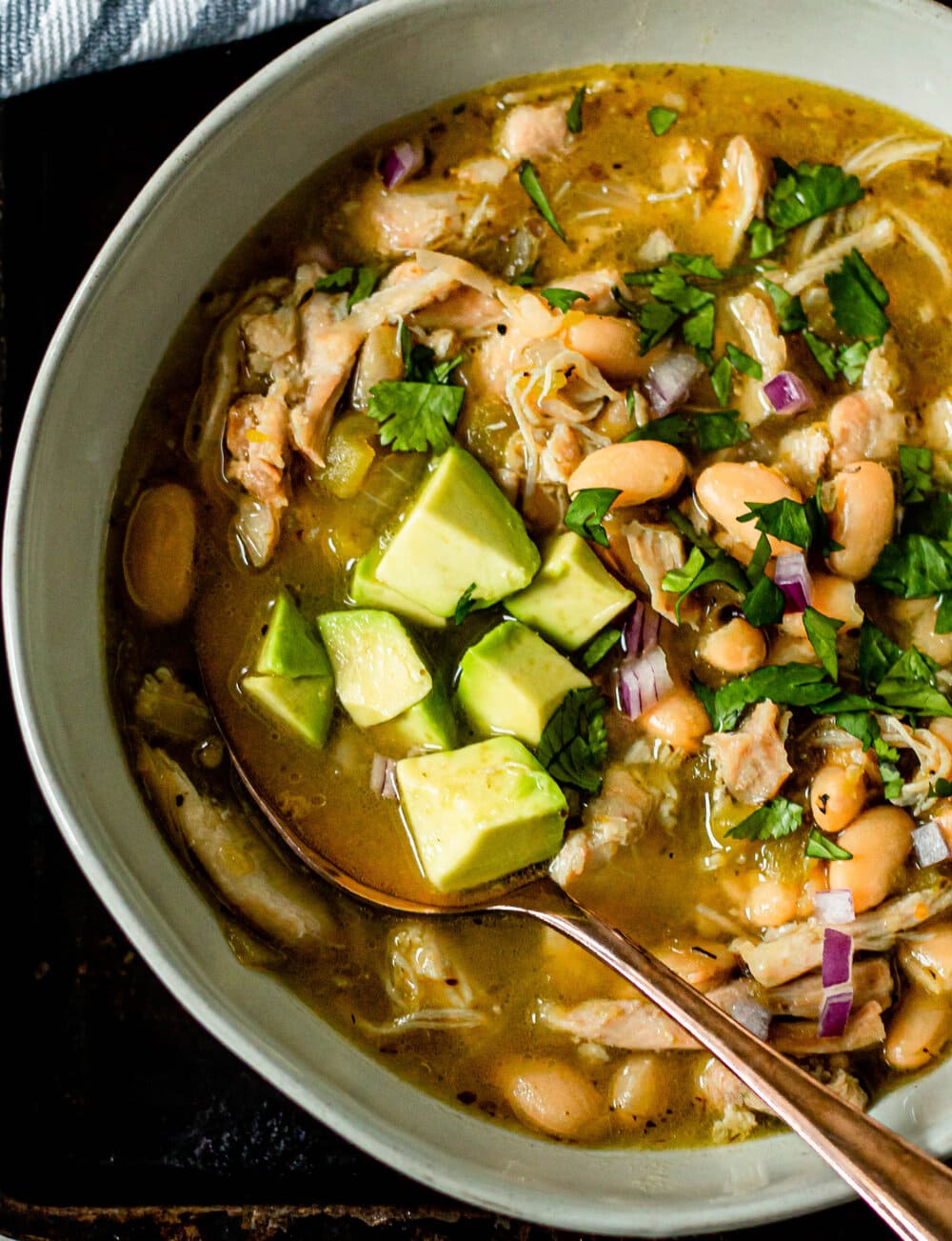 Easy and Full of Flavor: Salsa Verde Chicken Soup
Isn't there something so warm and comforting about chicken soup? It's the perfect little bit of cozy all year long and is everyone's favorite when they're feeling a bit under the weather.
While I'm a huge fan of traditional chicken soup, sometimes you just need to switch things up a bit. Adding new flavors and ingredients to an old stand-by, like chicken soup, keeps things interesting and a bit more fun.
This flavorful Salsa Verde Chicken Soup is your new favorite chicken soup. It is packed with tangy flavor from salsa verde, spices, and plenty of fresh garlic. This soup isn't just delicious, it's also incredibly easy and comes together in just around 30-45 minutes on the stove top.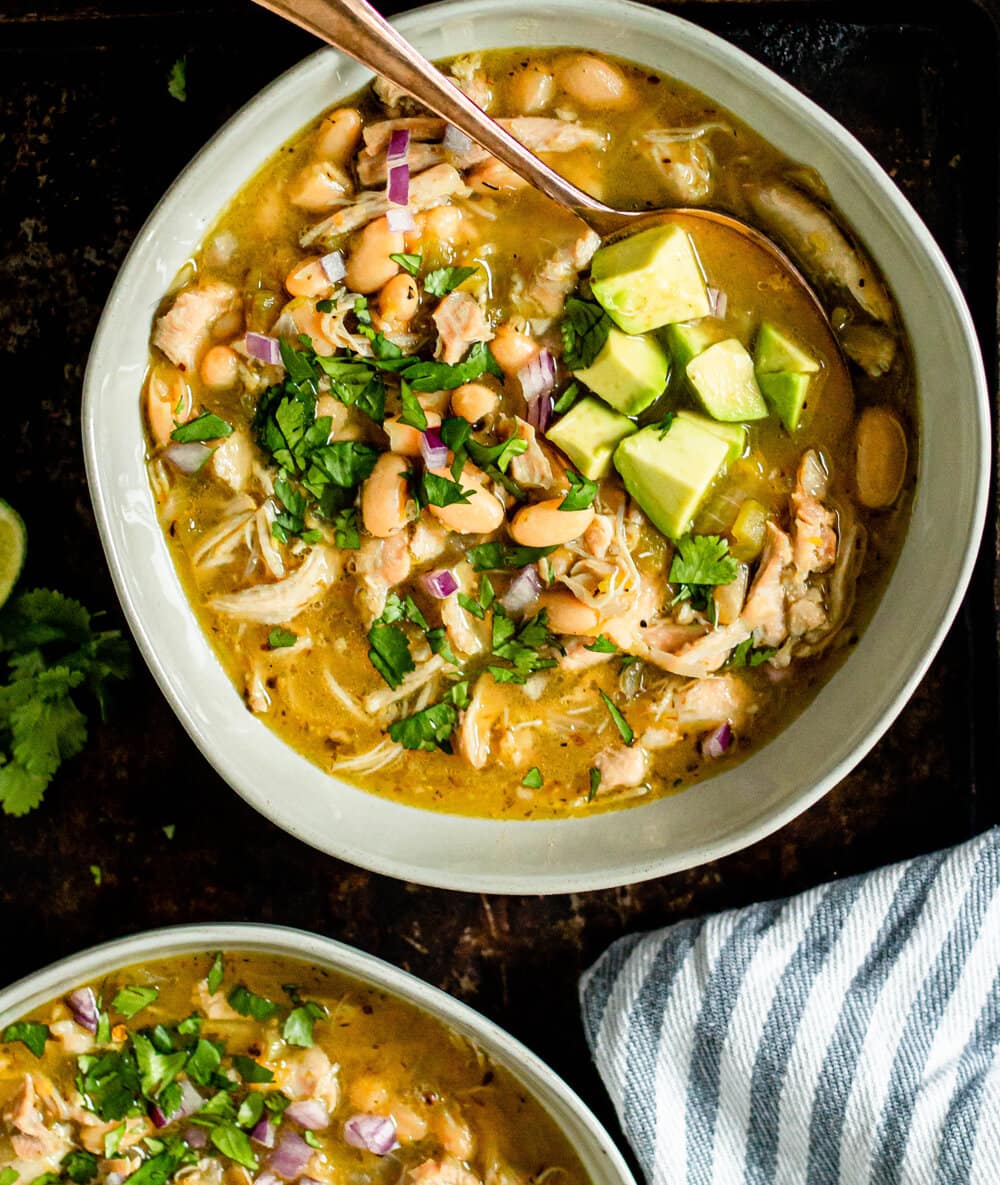 What is Authentic Salsa Verde?
If you have never had salsa verde, you are in for a treat. Unlike regular salsa, Mexican salsa verde uses tomatillos instead of red tomatoes along with roasted chiles, onion, and cilantro.
Tomatillos give salsa verde a tangy, zesty flavor. They are also known as a 'Mexican husk tomato' and give a bright vibrant color to dishes.
This recipe calls for an entire jar of salsa verde which works as the base of this soup. It gives the soup a delicious flavor that I know you will absolutely love.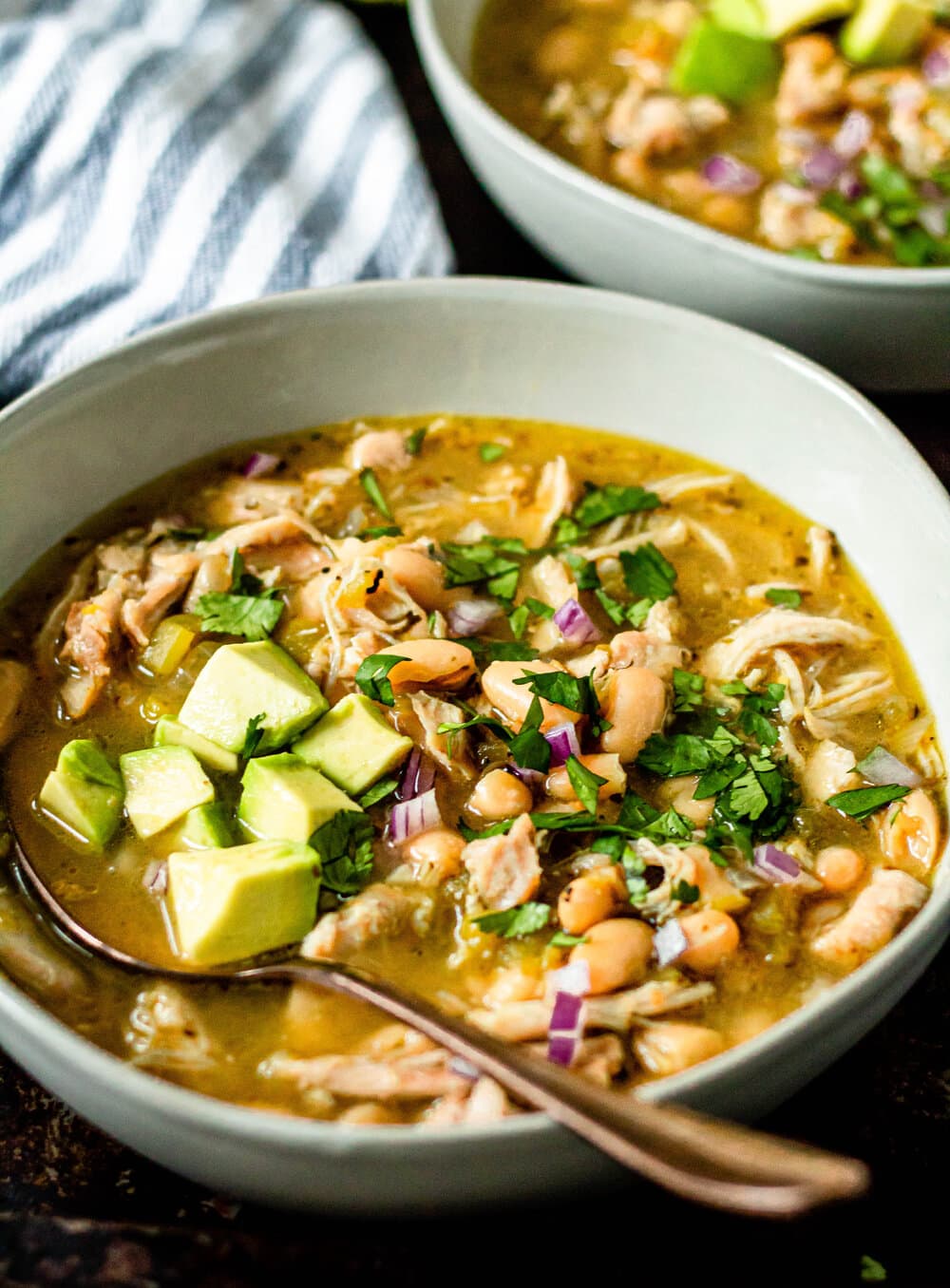 Let's Talk About the Ingredients You Need to Make This Recipe
Chicken thighs: you could use chicken breasts for this recipe but in my opinion, it tastes much better with chicken thighs. Chicken thighs tend to have more flavor and are more tender than breasts in soup.
Salsa verde: this wouldn't be salsa verde chicken soup without the salsa verde. This is my favorite brand of salsa verde and the one I use for this recipe every time.
Green chiles: these add such a delicious flavor to this soup. This recipe calls for hot green chiles, however, if you aren't a fan of spice feel free to use mild chiles instead.
Bay leaves, herbs, and spices: because the salsa verde is so flavorful, you don't need a ton of extra spices and herbs in this recipe but there are a few that really add to this dish. Bay leaves are a must, as well as dried oregano and cumin.
White beans: to make sure this soup is hearty and filling, the recipe calls for two cans of white beans.
How to Make This Salsa Verde Chicken Soup in the Slow Cooker
This salsa verde chicken soup is a great option for the slow cooker as well as the stove top.
There are two ways you can go about making this soup in the slow cooker:
Just throw everything in: this is the easiest method. Just add all of your ingredients to the slow cooker and cook on high for 4-5 hours or until the chicken thighs are tender and ready to be shredded.

Start things on the stovetop: this my preferred method for making this soup in the slow cooker. I start by searing my chicken thighs on the stovetop and then add them to the slow cooker. Next, I like to cook my garlic and onions for a bit on the stove top before adding to the slow cooker as well, along with all of the other ingredients. Cook the soup until the chicken is tender and then enjoy!
IF YOU LOVE THIS SALSA VERDE CHICKEN SOUP RECIPE, HERE ARE FEW OTHER DELICIOUS RECIPES YOU HAVE TO TRY!
LOOKING FOR MORE FREE RECIPES?
Subscribe to my newsletter and follow along on Facebook, Pinterest, and Instagram for all of the latest updates.
---
Salsa Verde Chicken Soup (Stove Top + Slow Cooker)

Ashlea Adams | November 22, 2019

prep time: 10 minutes
cook time: 35 minutes
total time: 45 minutes

Servings: 6-8

Ingredients:

1 tbsp coconut oil

1 tbsp salt (plus more to taste)

1.5 pounds boneless skinless chicken thighs

1 cup diced onion

4 cloves garlic, minced

2 tsp cumin

1 tsp oregano

2 dried bay leaves

2-4oz cans hot green chiles

16 oz salsa verde

2 15oz cans white beans

32 oz chicken broth

Juice of one lime

For garnish: lime wedges, cilantro, avocado

Instructions:

Heat a large pot over medium-high heat.

While the pot is heating, season the chicken thighs on both sides with 1 tablespoon of salt.

When the pot is hot, add the coconut oil and then the chicken thighs. Sear the chicken thighs on both sides for 3-4 minutes until golden brown and then remove them from the pot.

Next, add the diced onion and garlic to the pot and cook for 2-3 minutes until they start to become tender.

Next, add the cumin, oregano, bay leaves, green chilis, salsa verde, white beans, chicken broth, and lime juice. Stir until well combined and then add the chicken thighs back to the pot and bring to a boil. Reduce the heat to a simmer and let the soup simmer for 30-45 more minutes until the chicken is tender.

Once tender, remove the chicken thighs from the pot and use two forks to shred the meat. Once shredded, remove the chicken to the soup and stir until well combined. Serve the soup with an extra squeeze of fresh lime juice, cilantro, and avocado. Enjoy!
What I Used to Make This Recipe: