This post contains affiliate links.
This healthier gluten-free Italian Baked Penne Pasta Casserole is the perfect weeknight dinner. A hearty flavorful meat sauce, gluten-free pasta, fresh spinach, and bubbly brown cheese to finish everything off. This yummy pasta bake is something the whole family is sure to enjoy!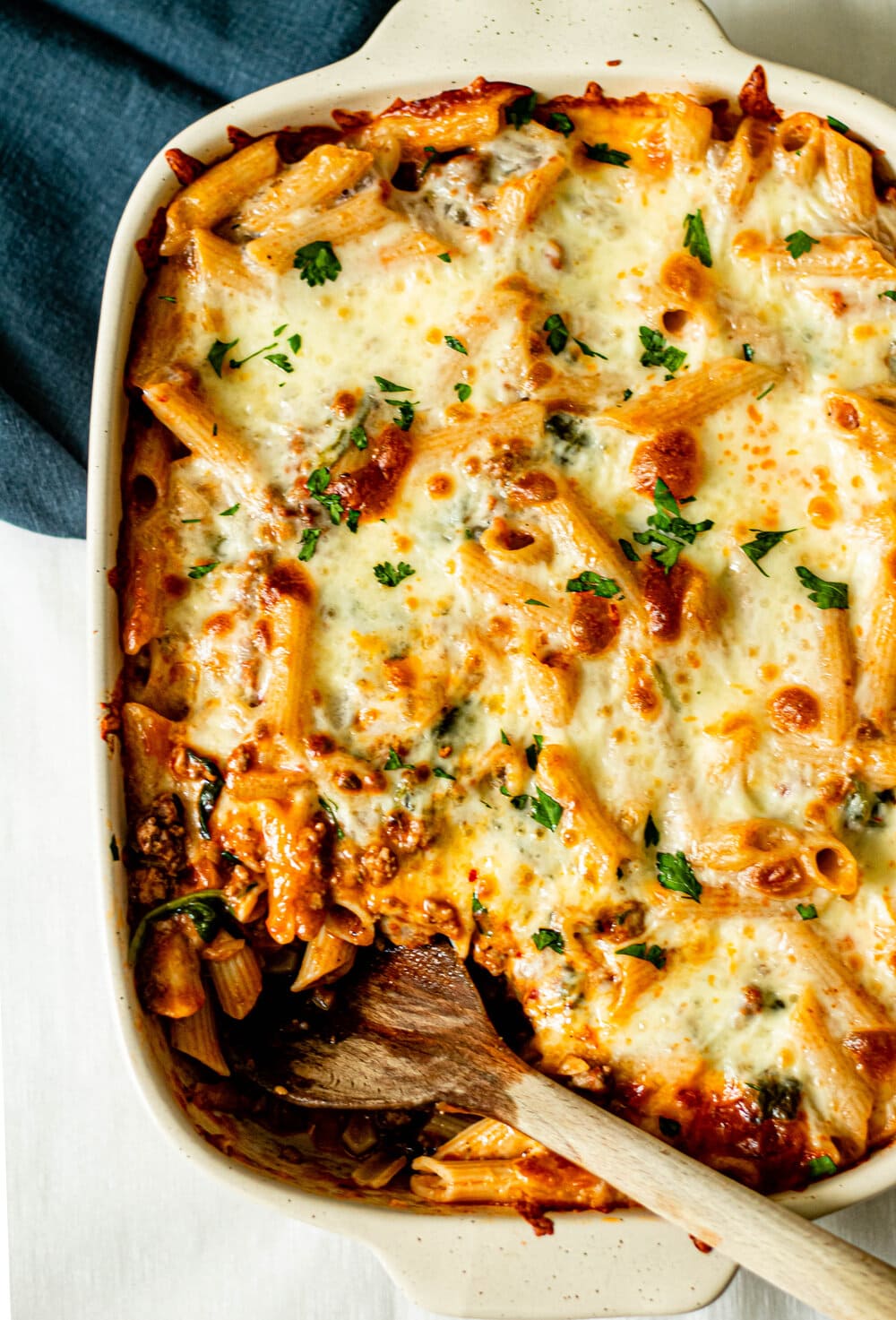 A Healthier Pasta Casserole: Baked Penne Pasta with Ground Beef and Sausage
We are big fans of baked pasta dishes in this house. They are hearty, comforting, and such an easy option for a quick dinner when you need something filling but don't have a ton of time.
This healthier baked penne pasta with ground beef and sausage is a classic staple that is perfect for feeding a large crowd or providing you with a few extra leftovers throughout the week. To keep it on the healthy side, I use gluten-free brown rice noodles, fresh spinach, and pasta sauce with no added sugars or preservatives.
There is nothing but real food ingredients in this pasta casserole. The base of the dish is a flavorful meat sauce that is full of fresh onion, garlic, and herbs. Next is plenty of fresh spinach, the addition of gluten free pasta, and lastly it is finished off with shredded mozzarella cheese before it heads into a hot oven to bake.
Once the casserole is all browned and bubbly, it is perfect on it's own or served with a fresh salad or roasted veggies. Everyone will love this simple and delicious recipe. Keep reading to learn how to make it!
How to Make the Sauce for this Recipe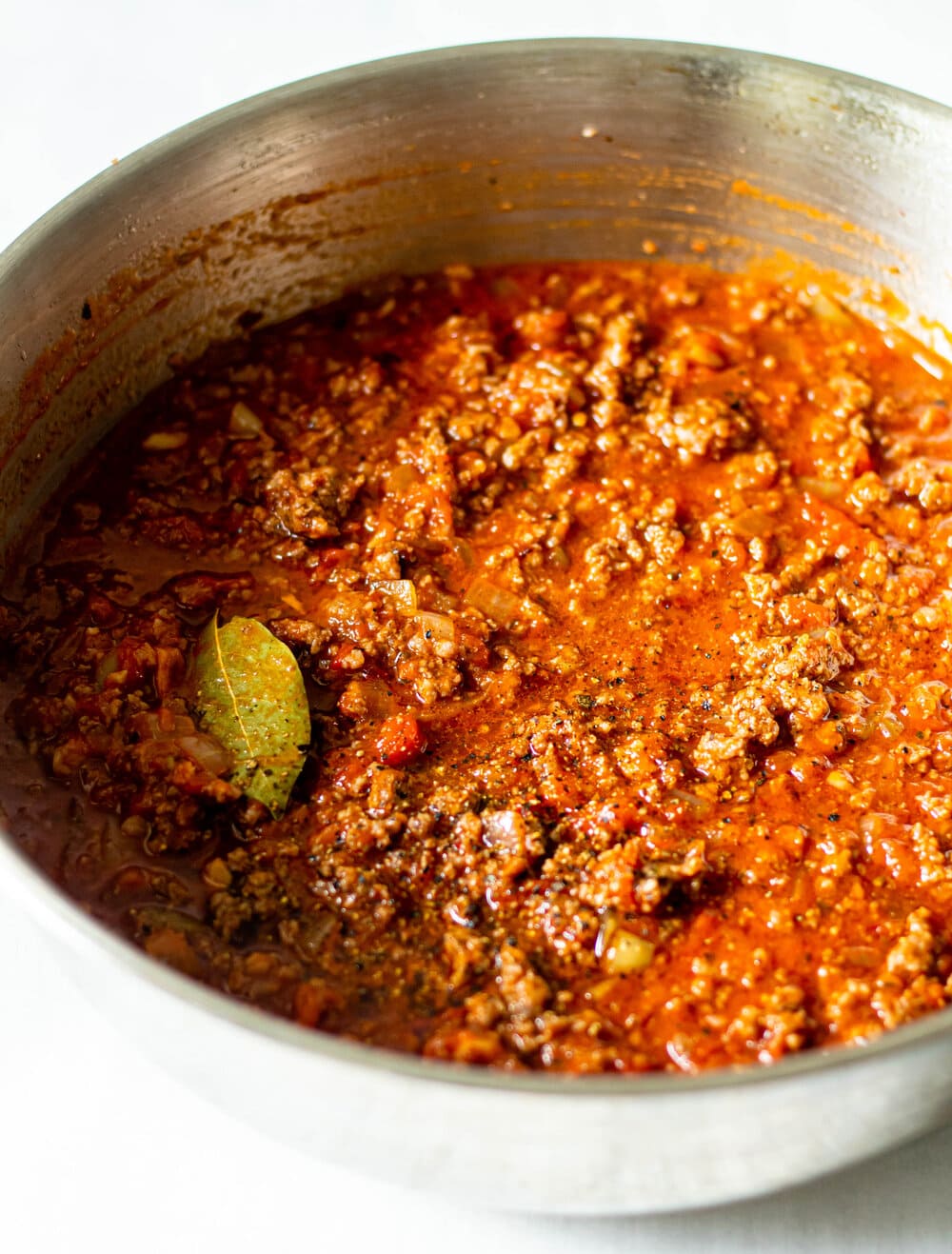 The base of the sauce for this recipe is ground beef and flavorful Italian sausage. If you prefer, you could leave out the Italian sausage altogether and replace it with extra ground beef. However, I really think that the combination of both ground beef and Italian sausage gives the sauce more flavor than if you were to use just ground beef.
The sauce is flavor also due to the diced onion, fresh garlic, spices, and dried herbs. A simple combination of Italian seasoning, salt, pepper, and red pepper flakes really do the trick to take the flavor of the jarred sauce to the next level.
Speaking of jarred pasta sauce, to keep this recipe simple and easy, a pre-prepared jar of pasta sauce is my go-to. If you have the time, to make homemade sauce, that is a great option as well, but jarred sauces save me so much time.
Whenever I'm purchasing a jarred pasta or marina sauce, I always check the ingredients label carefully. You would be surprised at how often sauces can contain unnecessary added sugar. Instead, I look for one made with simple real-food ingredients that I can easily pronounce, and no added sugar.
I linked my all-time favorite no-sugar added pasta sauce in the recipe information below, but if you have a favorite that you use and love, feel free to use it in this recipe as well!
Use This Dish as a Simple Way to Pack in Some Extra Greens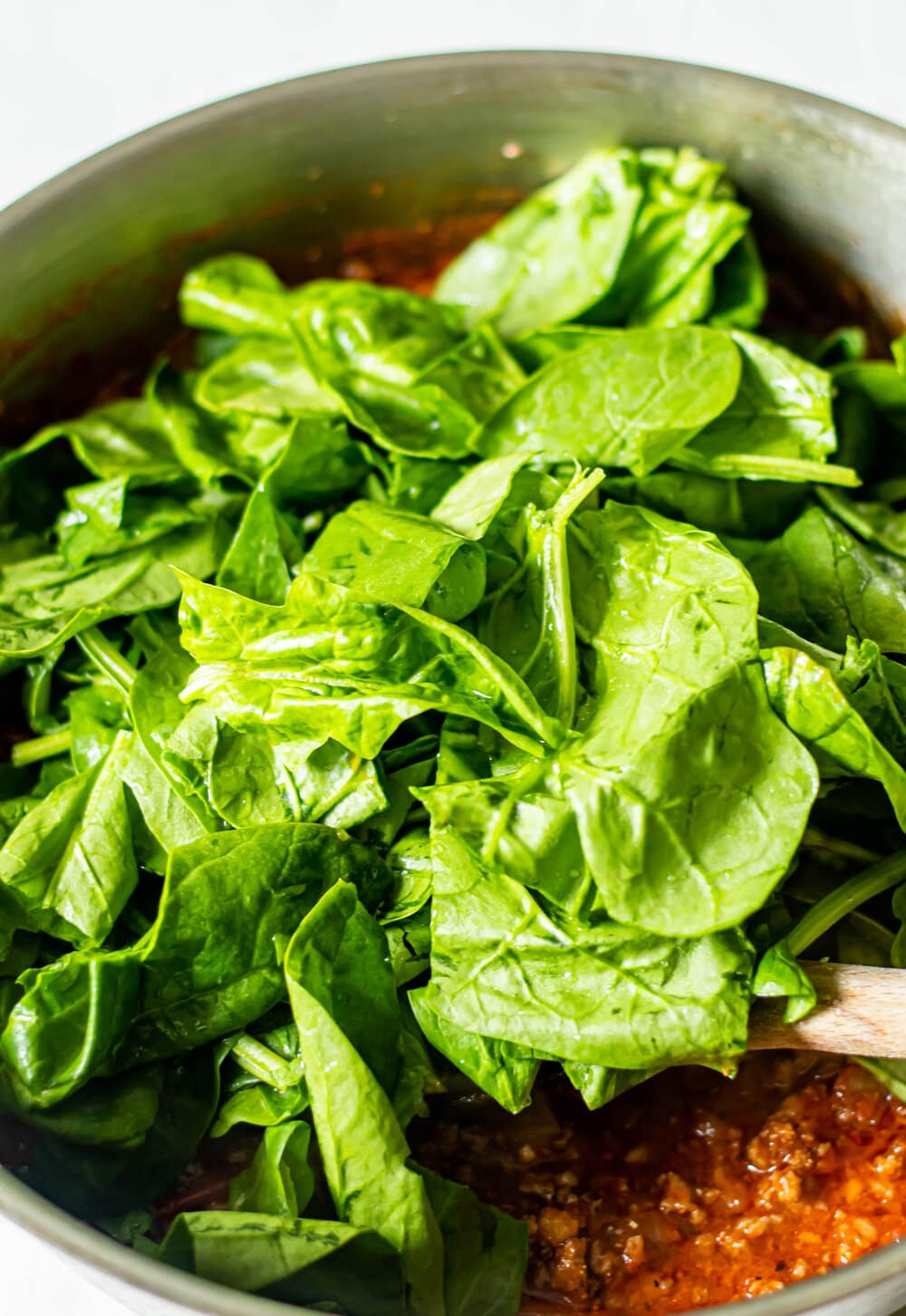 One of the things about this baked pasta, that I personally love, is that it works as a great way to get in some extra greens.
After the sauce has simmered for around twenty minutes, you can remove the sauce from the heat and then add in roughly chopped fresh spinach. After a few minutes of stirring, the spinach will meld and wilt perfectly into the sauce.
What to Serve with this Easy Pasta Bake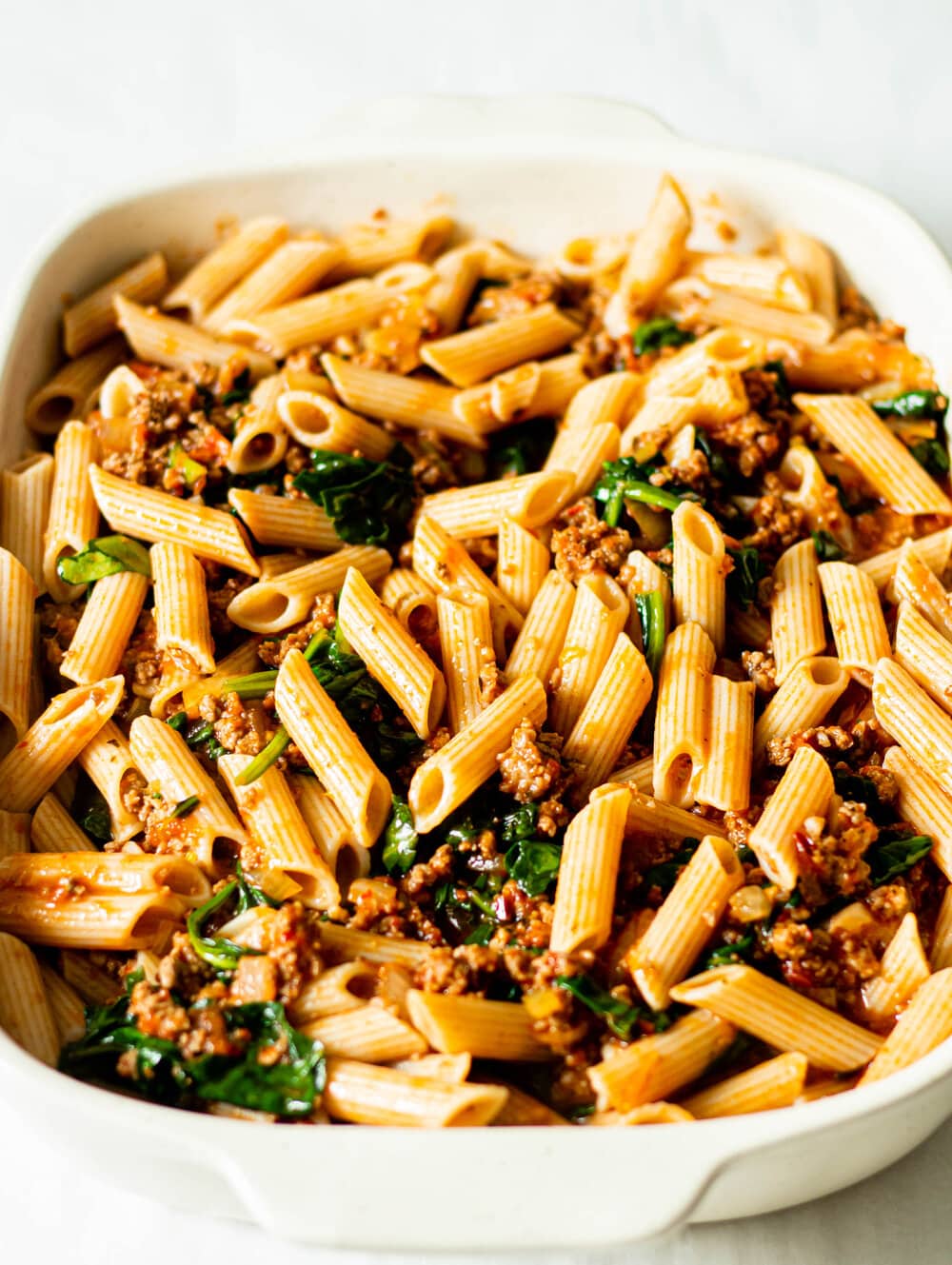 This hearty casserole is a perfect stand alone dish, but I love serving it with sides, too! Here are a few of my favorite side dishes to serve with this casserole.
Roasted broccoli with olive oil, salt, pepper, lemon juice, and garlic.
I hope you love this easy baked pasta casserole as much as we do! It's the perfect dish to make at the beginning of the week and then heat up the leftovers for an easy lunch or a quick dinner!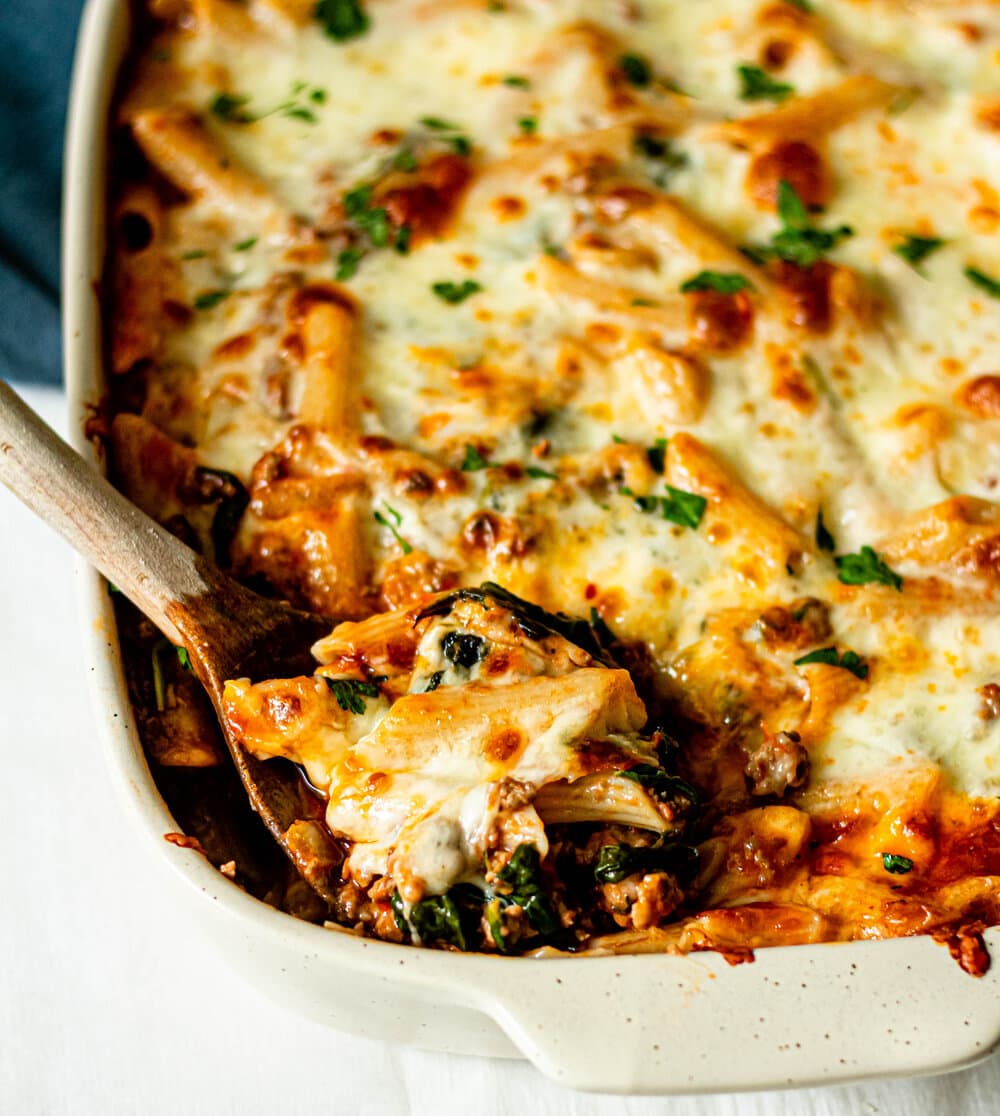 IF YOU LOVE THIS ITALIAN BAKED PENNE PASTA CASSEROLE RECIPE, HERE ARE FEW OTHER DELICIOUS RECIPES YOU HAVE TO TRY!
LOOKING FOR MORE FREE RECIPES?
Subscribe to my newsletter and follow along on Facebook, Pinterest, and Instagram for all of the latest updates.
---
Italian Baked Penne Pasta Casserole (Gluten-Free)

Ashlea Adams | November 24, 2019

prep time: 30 minutes
cook time: 30 minutes
total time: 1 hour

Servings: 6-8

Ingredients:

1 tablespoon olive oil

1 pound ground beef

¼ pound ground Italian sausage

3 cloves garlic, minced

½ yellow onion, diced

1 tsp Italian seasoning

¼ tsp red pepper flakes

1 tsp salt (plus more to taste)

32 oz pasta sauce

1 bay leaf

12 oz gluten-free penne pasta

3 fresh roughly chopped spinach

3 cups shredded mozzarella cheese

Instructions:

Preheat an oven to 350 degrees.

Heat a large pot over medium-high heat. When the pot is hot, add the olive oil, and then add the ground beef. Brown the beef, breaking it up as it cooks.

When the beef has browned, add in the minced garlic, diced onion, salt, and spices. Cook until the onion starts to become tender.

Next, add the pasta sauce and bay leaf to the pot and stir until well combined. Lower the heat and let the sauce simmer for 15-20 minutes. After the sauce has simmered, turn off the heat and add in the chopped spinach. Stir until wilted.

While the pasta sauce is simmering, prepare the pasta and the drain.

Next, add the cooked pasta to the sauce and stir until well combined. Transfer the pasta to a large casserole dish and top with shredded cheese.

Bake the casserole at 350 degrees for 25-30 minutes until the cheese is bubbly and golden brown. Serve and enjoy!
What I Used to Make This Recipe: