This post contains affiliate links.
The best Loaded Baked Potato Soup! This healthy soup is hearty, warm, and comforting without any cream or cheese.
It is completely dairy-free, thick and creamy, and filled with tender potatoes, crisp bacon, and green onions. It gives you all of the flavor of a loaded steakhouse baked potato while also being incredibly simple and easy to make. Not only is it delicious, this soup is also Whole30 compliant, Paleo-friendly and gluten-free!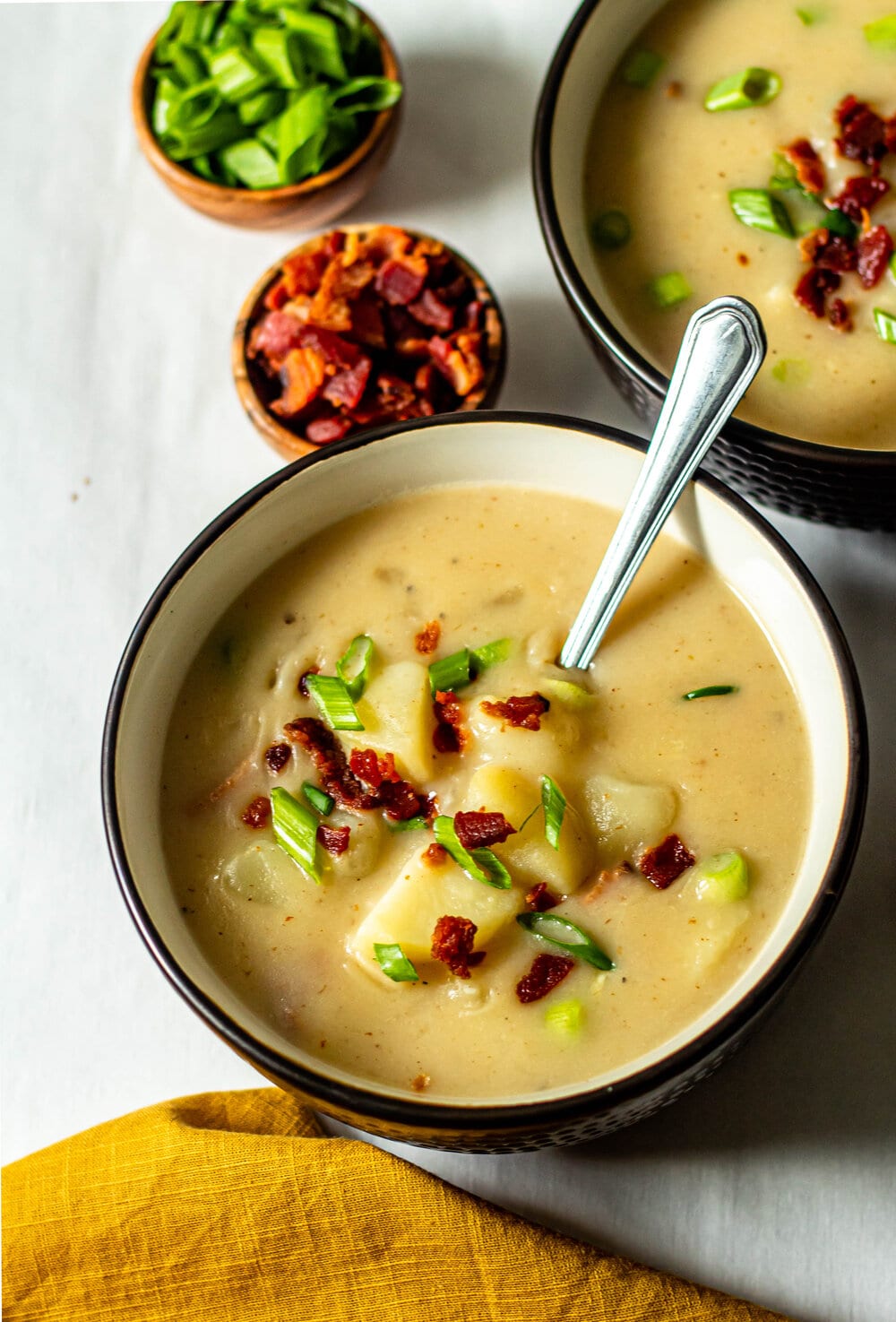 A Perfect Healthy Lunch Recipe: The Best Loaded Baked Potato Soup
Loaded Baked Potato Soup! Loaded Baked Potato Soup! Loaded Baked Potato Soup!
Anyone else grow up eating this stuff or was it just me? Potato soup was actually one of the first recipes I ever learned to make and I used that classic recipe as the base for this new, improved, and much healthier version.
This healthy loaded baked potato soup still has everything that makes a potato soup good – bacon, green onions, tender potatoes, and creamy goodness. But, it is made without cream or cheese and completely dairy-free. Don't be alarmed though, this soup is still thick, creamy, and delicious!
Creamy Potato Soup Without Flour or Cream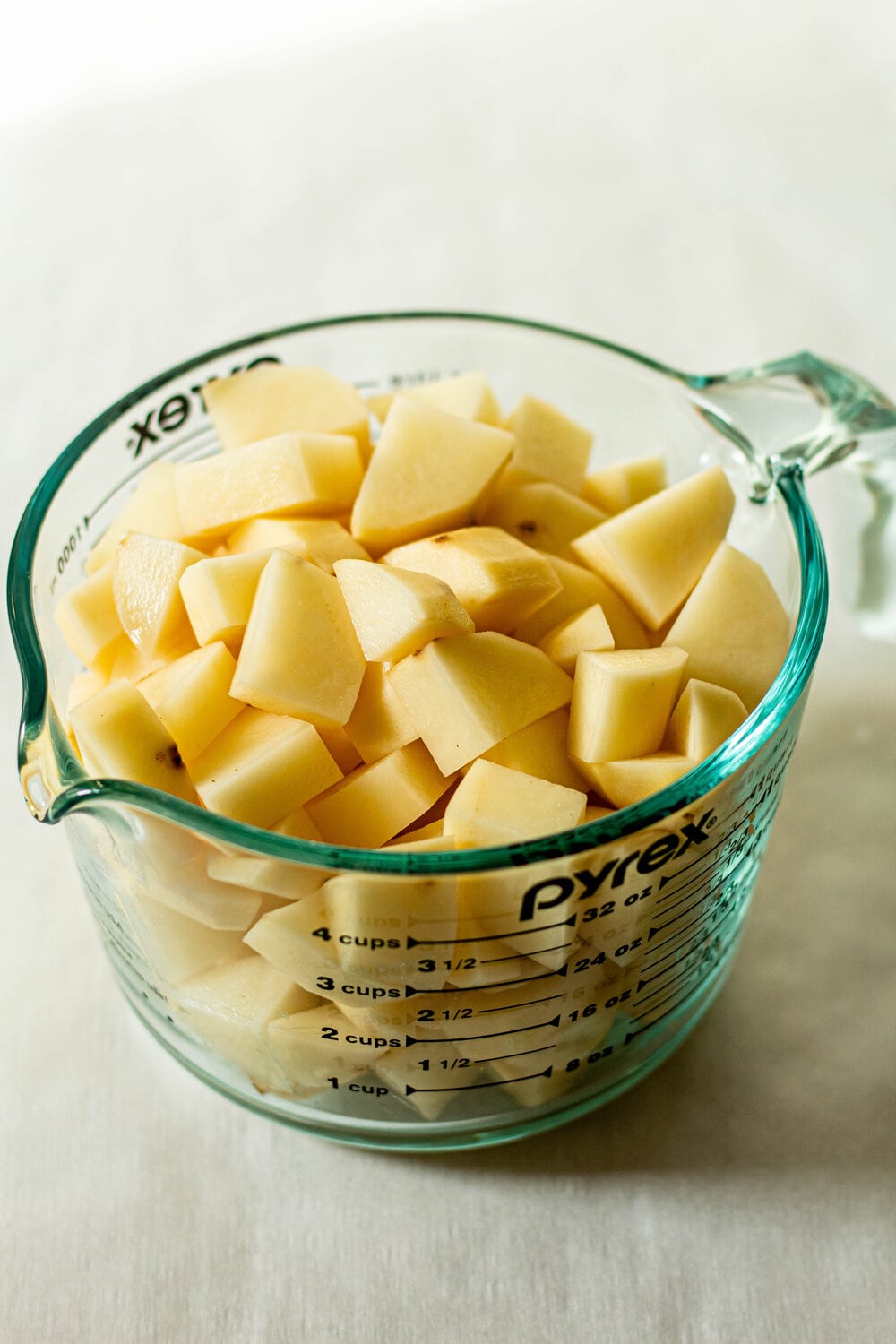 Thanks to a few key ingredients, and a special trick, this potato soup is still nice and creamy without any flour or cream. One of those key ingredients is arrowroot starch. Arrowroot starch works like cornstarch to thicken soups and stews. It is gluten and grain free and can be used one to one in recipes that traditionally call for corn starch.
Another trick to making this soup creamy is blending a ladle full or so of the soup until it is mostly smooth and then adding it back to the pot. The blended potatoes and broth, plus the arrowroot starch, help to thicken this soup and gives it the creamy texture we all love.
The Key Ingredients for Loaded Baked Potato Flavor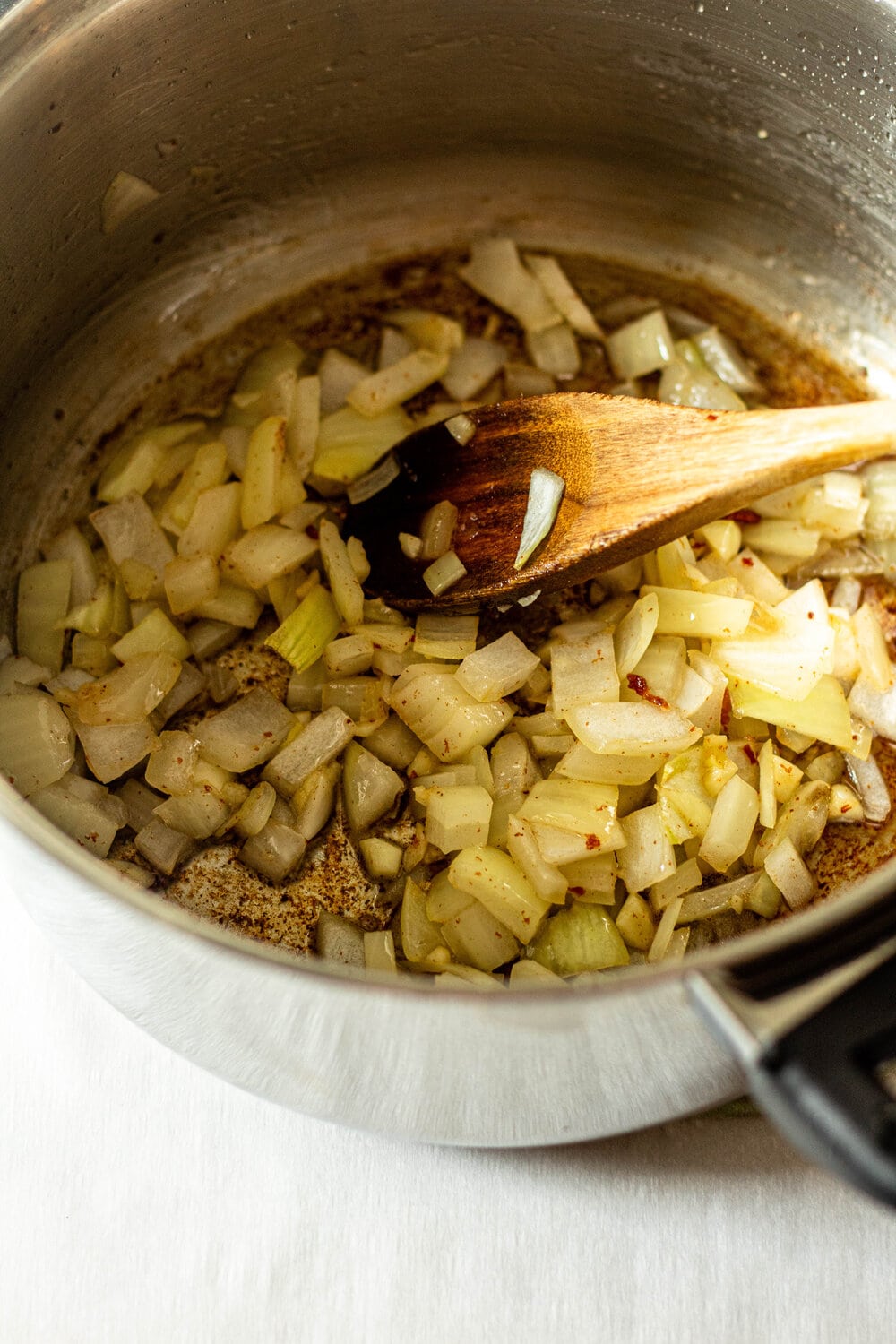 Whole30 Compliant Chicken Broth: I love making my own homemade compliant chicken broth and keeping a container in the freezer to use whenever I want to make a batch of soup. If you are all out of homemade broth and don't have time to make a batch, there are a few great Whole30 compliant shelf-stable options available. Just make sure to check the ingredients label before purchasing. You want to make sure that the broth does not have any sugar, yeast extract, or non-compliant oils.
Full-Fat Coconut Milk or Cream: Coconut milk and coconut cream are common ingredients used frequently when making dairy-free versions of traditional recipes. Full-fat coconut milk is rich, creamy, and entirely plant-based which makes it a great alternative in recipes that usually call for half and half or heavy cream. When you are purchasing coconut milk for this recipe, make sure it is full-fat (not light) and that it comes in a shelf-stable can. The ingredients should be coconut and water.
Ghee: This ingredient is optional, but it gives the soup that rich buttery flavor that we all love in traditional baked potato soup. I have made this soup with and without ghee and both versions taste great!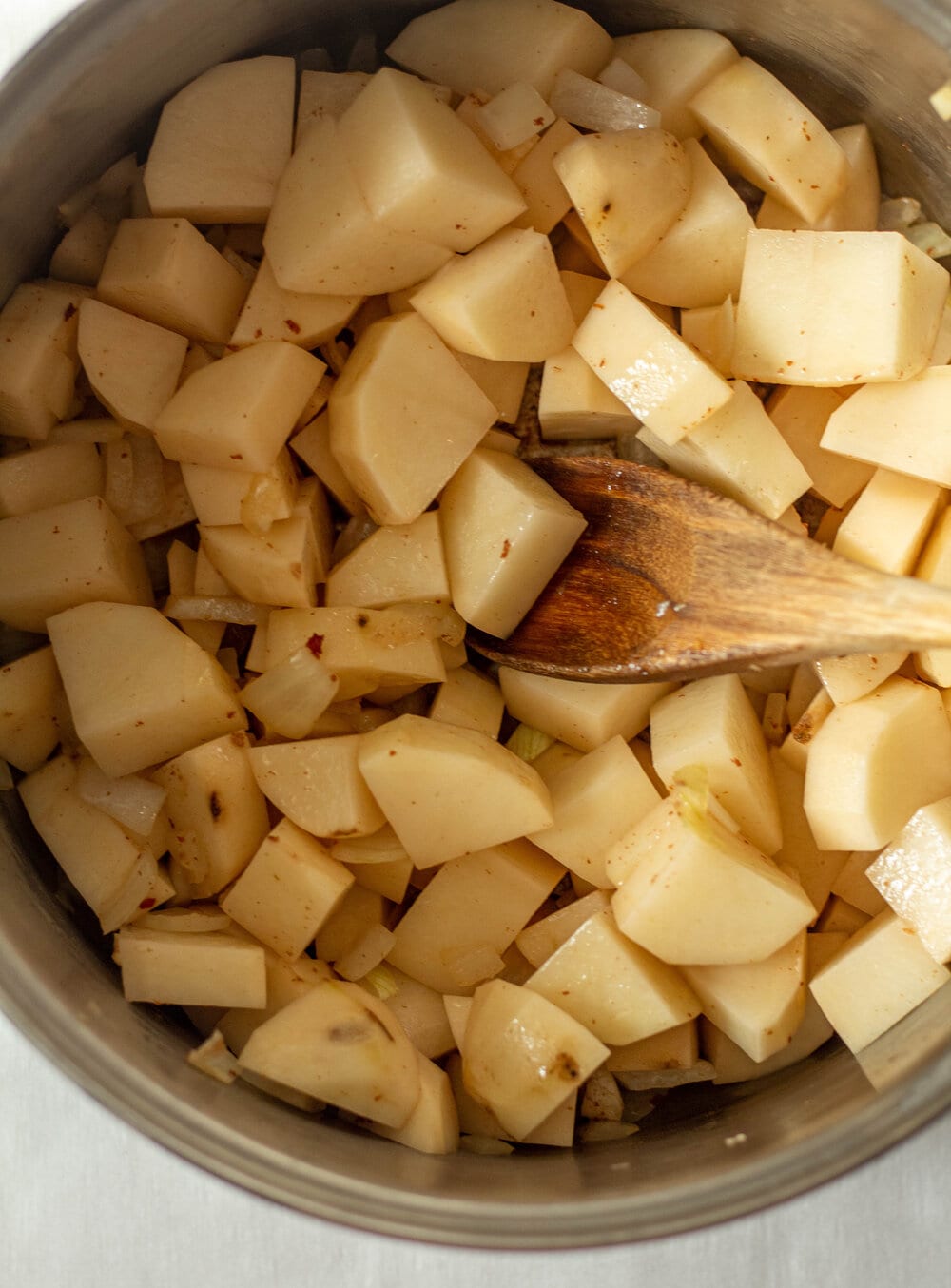 Whole30 Compliant Bacon: loaded baked potato soup would not be what it is without a bit of crispy bacon. This is another Whole30 compliant ingredient that is becoming easier and easier to find, thankfully. Similar to the broth, be sure to check the bacon label and specifically look for added sugars like cane sugar or maple syrup.
Green Onions: last but certainly not least are green onions. You can use sliced green onions simply for garnish, or if you really love the flavor, stir a good amount directly into the soup before serving.
How to Serve Your Soup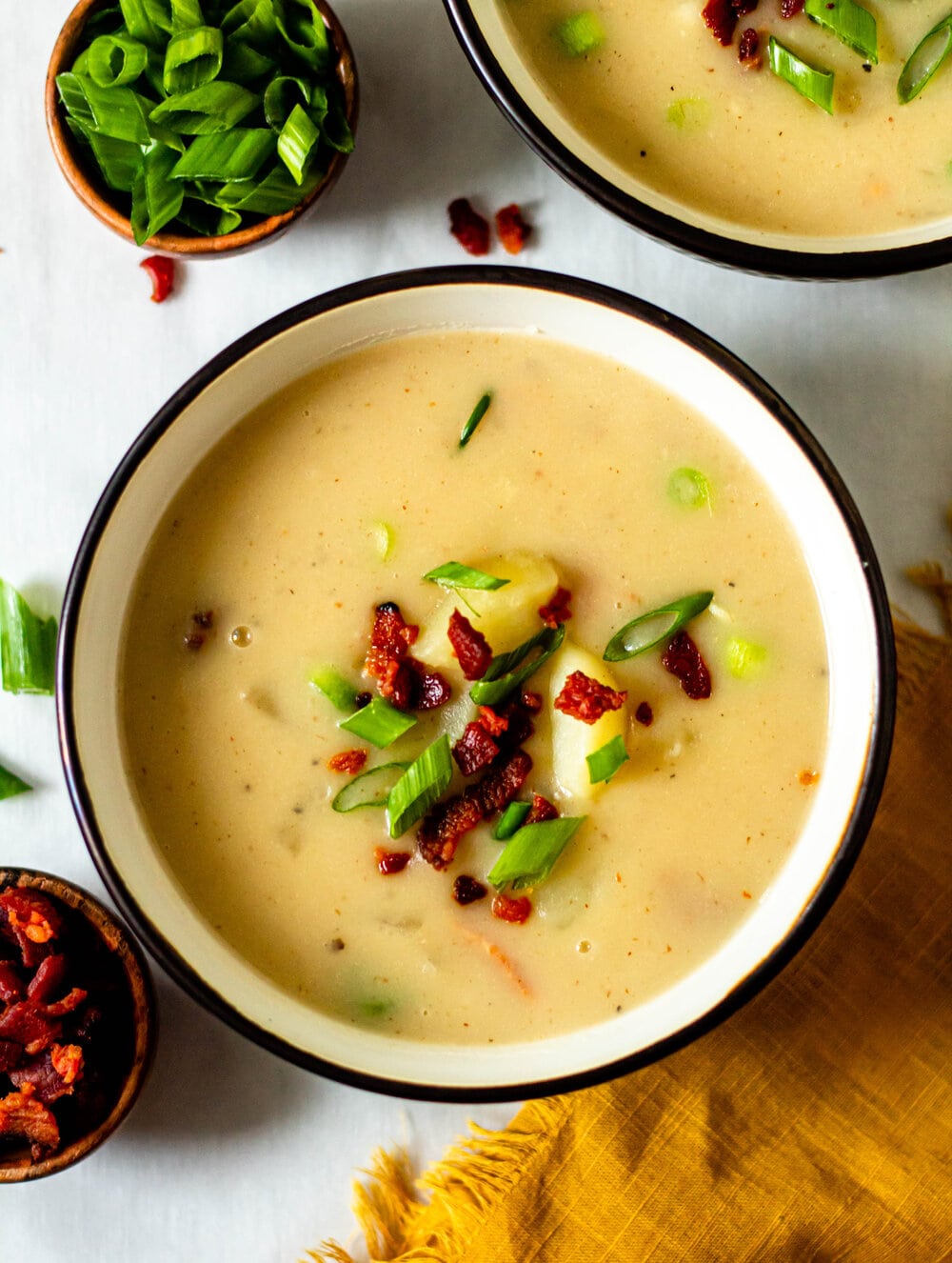 Serving this loaded baked potato soup is as simple as ladling some into a bowl and topping it with sliced green onion, crispy bacon, and fresh cracked black pepper (if that's your thing!). This entire soup is completely dairy-free, which makes it great if you are trying to avoid dairy or completing a Whole30, but you can also feel free to add a little shredded cheddar on top for yourself or others if you do want a bit of cheese!
IF YOU LOVE THIS EASY LOADED BAKED POTATO SOUP RECIPE, HERE ARE A FEW OTHER DELICIOUS RECIPES YOU HAVE TO TRY!
LOOKING FOR MORE FREE RECIPES?
Subscribe to my newsletter and follow along on Facebook, Pinterest, and Instagram for all of the latest updates.
---
Easy Loaded Baked Potato Soup (Paleo, Dairy-Free, Whole30)
Servings: 4-6
Prep Time: 10 minutes
Cook Time: 30 minutes
Ingredients
4 strips Whole30 compliant bacon, sliced into lardons

1 yellow onion, diced

4 cloves garlic, minced

1 tbsp ghee

2.5 pounds russet potatoes, peeled and diced (roughly 5-6 cups)

2 tsp salt (plus more to taste)

¼ tsp black pepper

1 cup full fat coconut milk or cream

1-2 tbsp arrowroot starch

¼ cup green onion, chopped (plus more for topping)
Method
Heat a large pot over medium-high heat. When the pot is hot, add the bacon to the pan and cook until crispy. Once the bacon is done remove it from the pan and allow it to drain on paper towels.

Next, add the diced onion, garlic, and ghee (if using) to the pot. Cook for a few minutes until the onion becomes translucent.

Next, add the potatoes, chicken broth, salt, and pepper to the pot. Bring the soup to a boil and then lower the heat. Let the soup simmer for 25-30 minutes or until the potatoes are tender.

When the potatoes are tender, add the coconut milk. Next, add one cup of soup to a blender and blend until mostly smooth. Pour the soup back into the pot. Then, stir in one tablespoon of arrowroot starch to the soup. Add another tablespoon if you would like the soup to be thicker.

Stir in half of the crisped bacon and green onions. Serve the soup with crispy bacon and green onions on top and enjoy!