The All the Healthy Things Cooking Club is a monthly community cooking club that everyone can join! Keep reading to learn about this month's recipe and why I love it, how to enter, the organization we are supporting this month, and all of the important dates and deadlines you need to know to join the club. 
Welcome to the All the Healthy Things Cooking Club!
It's the start of a new month which means we're back with a new round of the All the HealthyThings Cooking Club! This month we're making one of my favorite recipes that I know you are going to LOVE.
If you're new to the Cooking Club, here's a quick overview: the ATHT Cooking Club is a monthly chance to make and share an ATHT recipe for a chance to win a $100 gift card. This month we'll also be adding a giving component, which I'm so excited about.
This our 3rd official month of hosting the ATHT Cooking Club and I am so excited that it's been such a success. You all seem to love making a new recipe each month which is why we started this! Seeing all of your posts just makes my heart so happy. Thankfully, we're just getting started and there are so many more delicious recipes to come!
Past ATHT Cooking Clubs Recipes

April's Cooking Club Recipe: Cheesy Green Chicken Enchiladas
This month we're making one of my (and my husband's) favorite recipes – Cheesy Green Chicken Enchiladas! They're cheesy, and sauce-y, and just one of those recipes that you'll want to make again and again. This is personally one of my favorite recipes, too, and here's why: 
I can use leftover or store-bought rotisserie chicken for a quick shortcut!
The enchiladas actually come together pretty quickly! Just make the filling, roll your enchiladas, and bake! 
I always have leftovers for the next day which seriously saves time!
What People Are Saying About This Month's Recipe
These chicken enchiladas have quickly become a reader favorite recipe! Here's what people are saying: 
"These were such a crowd-pleaser! Not hard to make and absolutely delicious!!" – Rebecca
"I made these for dinner for my family of 5 and they were delicious!! So flavorful and much easier to make than I would have thought." – Emma
"This was delicious and highly successful. Make this, you won't regret it!" – L
Ways to Customize Your Chicken Enchiladas
These cheesy enchiladas are perfect as is, but if you need to customize them for any reason, go for it! I've included a few common ingredient swaps that may be helpful as you make this recipe, below. Be sure to read the entire recipe blog post for all of my favorite tips, tricks, and substitutions!
Make a Vegetarian version – swap the shredded chicken for one to two cans of black beans instead!
Keep them gluten free – swap the flour tortillas for gluten free corn tortillas or your favorite glute or grain free tortillas.
Add extra veggies –  use up some extra veggies you may have in the fridge. Bell peppers, mushrooms, and fresh spinach could all work.
Save some time – grab a grocery store, pre-cooked, rotisserie chicken and pull the meat from the bones to save even more time when making your enchiladas. This is my favorite hack!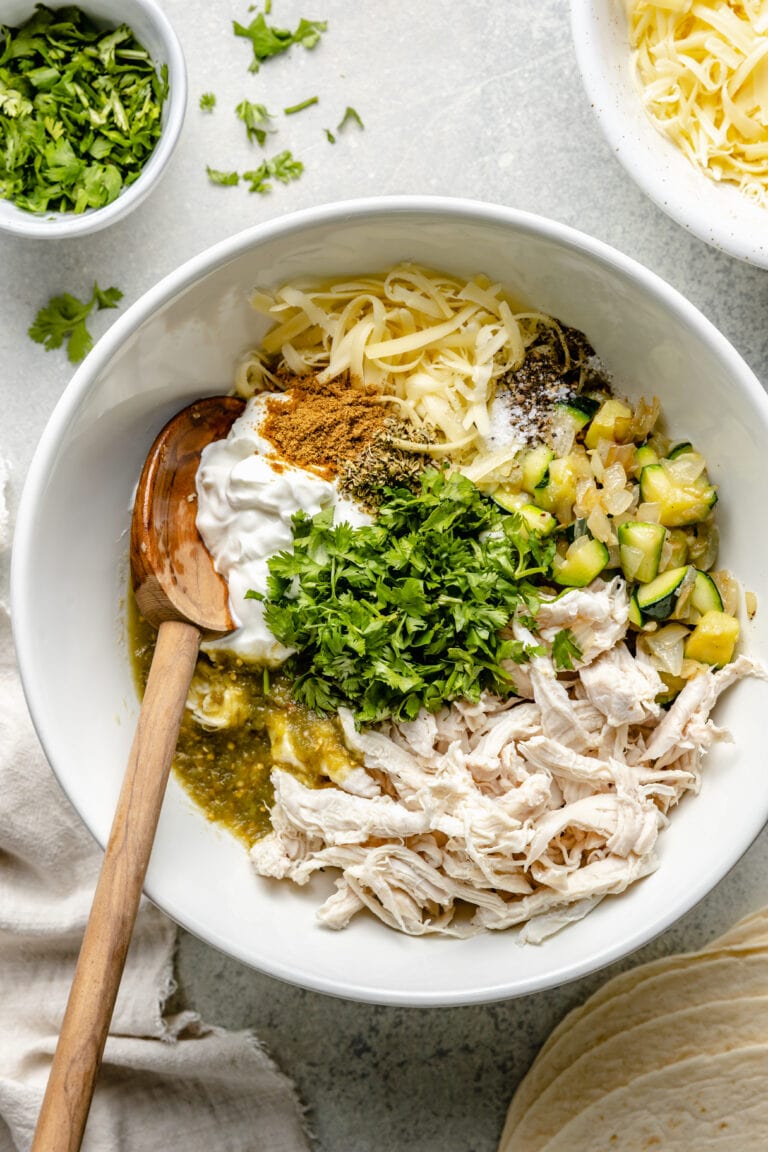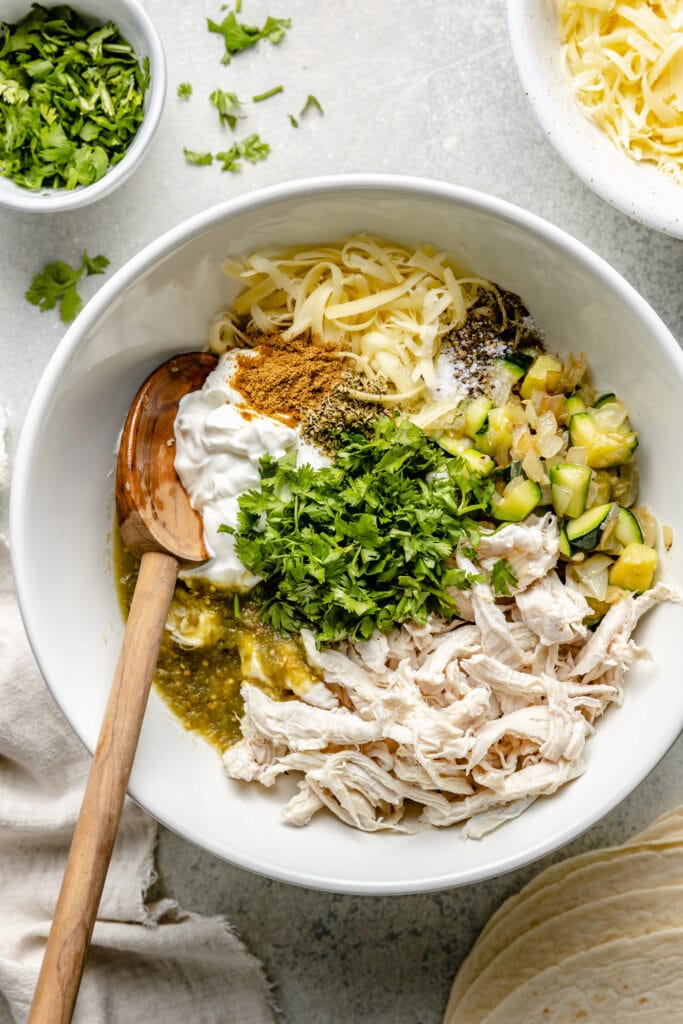 How to Enter this Month's Cooking Club
There are three different ways you can enter this month's cooking club. Doing at least one of these things will get you entered for a chance to win this month's prize!
Make the recipe and tag @allthehealthythings & #ATHTCookingClub on Instagram. Be sure that your account is public and not private so that we can see actually see your post!
Leave a review on the recipe post with the hashtag #ATHTCookingClub! This is a great way to get involved with the Cooking Club even if you have a private social media account.
Join the All the Healthy Things Facebook Group and post a picture! The ATHT Facebook Community is full of fellow foodies and we love sharing what we're making with everyone.
Want an even better chance of winning? Then enter multiple ways! Enter all 3 ways for the very best chance!
What You'll Have a Chance to Win
This month's prize is a $100 Visa Gift Card! Once the winner is notified, we'll gather all the contact information we need to send the gift card electronically to the winner's email address.
Giving Back
This month we're adding a new giving component to the ATHT Cooking Club! Every month ATHT will donate $100 plus an additional $1 for every entry to an organization doing meaningful work.
This month we'll be supporting Everytown and the work they do to end gun violence. ATHT will be donating $100 plus $1 for every entry to the Everytown for Gun Safety Action Fund. Everytown is the largest gun violence prevent organization in America and they take a multi-faceted approach to ending gun violence. You can read more about their work, here!
The Dates to Add to Your Calendar
Start: April's ATHT Cooking Club starts on April 1st!
End: We'll end the Cooking Club on April 30th! That means you'll have until the end of April to make the recipe and enter the club. 
Winner Selection: April's ATHT Cooking Club Winner will be notified on May 1st! We'll notify you via email or DM, depending on how you entered!
Next Month: Each ATHT Cooking Club announcement drops on the 1st of each month so be on the lookout for May's recipe – it's going to be a good one! If you want to be notified as soon as the Cooking Club goes live be sure to sign up for our email list!
I can't wait to see y'all make this month's recipe! Remember, if you have any questions feel free to leave a comment on this post and we'll make sure you have everything you need. Happy cooking, my friends!