These gluten-free healthy peanut butter banana oat muffins are absolutely delicious. Few combinations are better than peanut butter and banana. These muffins are full of creamy peanut butter, sweet mashed banana, and just the right amount of chocolate chips.
They are also naturally gluten-free and can easily be made dairy-free by using your favorite dairy-free Greek yogurt. This recipe is simple and easy, and the muffins can be frozen and reheated which makes them a great option to make in advance. I know you will enjoy having a batch of these healthy and delicious muffins in your freezer for busy mornings or an afternoon snack!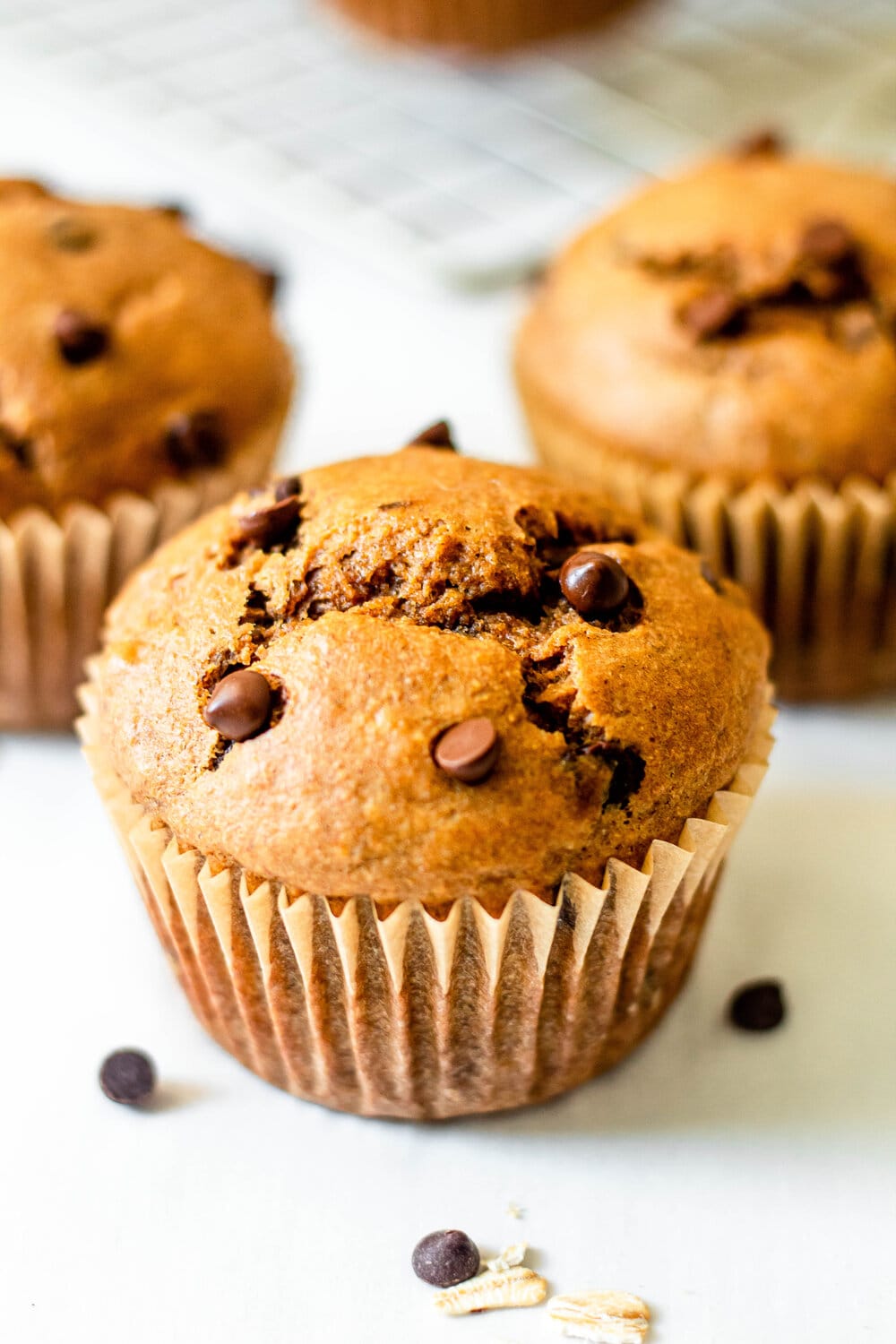 healthy and delicious peanut butter banana oat muffins
These healthy and delicious peanut butter banana muffins are full of peanut butter and banana flavor, moist, and use only real food ingredients. Unlike store bought muffins or treats, these healthy muffins are packed with whole grains from oat flour, all-natural creamy peanut butter, and minimally sweetened with coconut sugar.
Not only are they made from only real food ingredients, these muffins are also incredibly easy to make. All you need is one bowl and thirty minutes to whip these up. Plus, they freeze and reheat well which makes them a perfect make-ahead option.
Keep reading to learn how to make, store, freeze, and reheat these perfect peanut butter banana muffins.
how to make oat flour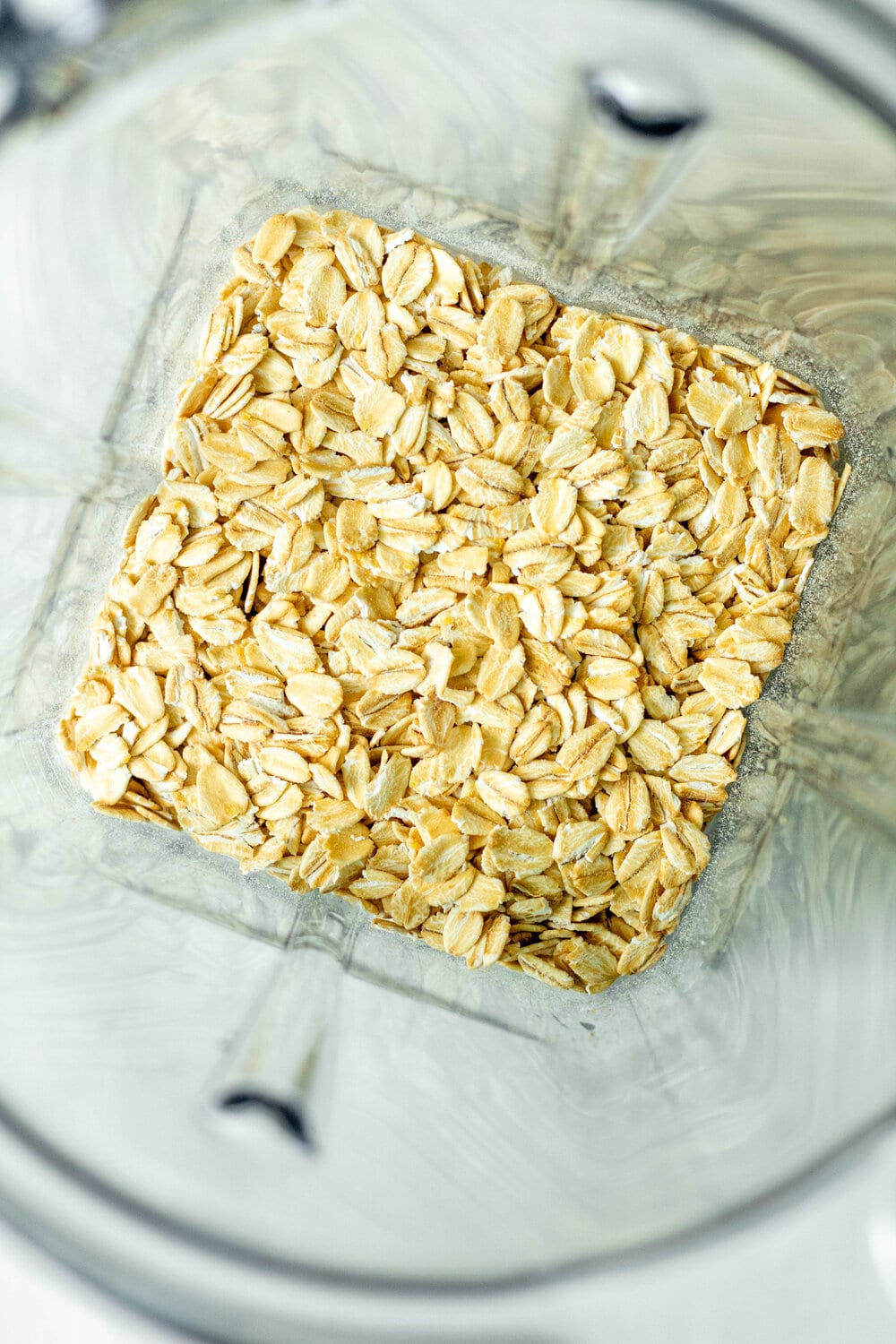 These peanut butter banana muffins are naturally gluten-free thanks to one of my all-time favorite gluten-free flours to use when baking – oat flour. Gluten-free baking can be a little tricky and I've had my fair share of baking fails when experimenting with almond flour or coconut flour.
Gluten-free flour blends can also be a great option when you have a complex recipe that's traditionally made with gluten and you want to ensure that the texture comes out right. This blend is one of my favorites.
While I don't mind using gluten-free flours like almond, cassava, or coconut flour, or a gluten-free flour blend on occasion, when I just want to whip up a quick batch of muffins, oat flour is my go-to. Oat flour is also much less expensive than gluten-free flour blends which are often made up of several different kinds of flours and stabilizers to replace the gluten.
As long as you have gluten-free oats in your pantry, you can make a large batch of oat flour yourself, for pennies on the dollar, with a high-powered blender or food processor.
To make oat flour, just add a few cups of gluten-free oats to your food processor or blender. Pulse or blend until the oats completely break down and become the consistency of traditional flour. This process only takes a minute or so in my high-powered Vitamix and a few minutes in my food processor.
You can also watch this quick video for a step-by-step tutorial on how to make oat flour and all of my best tips.
The best oats to use to make oat flour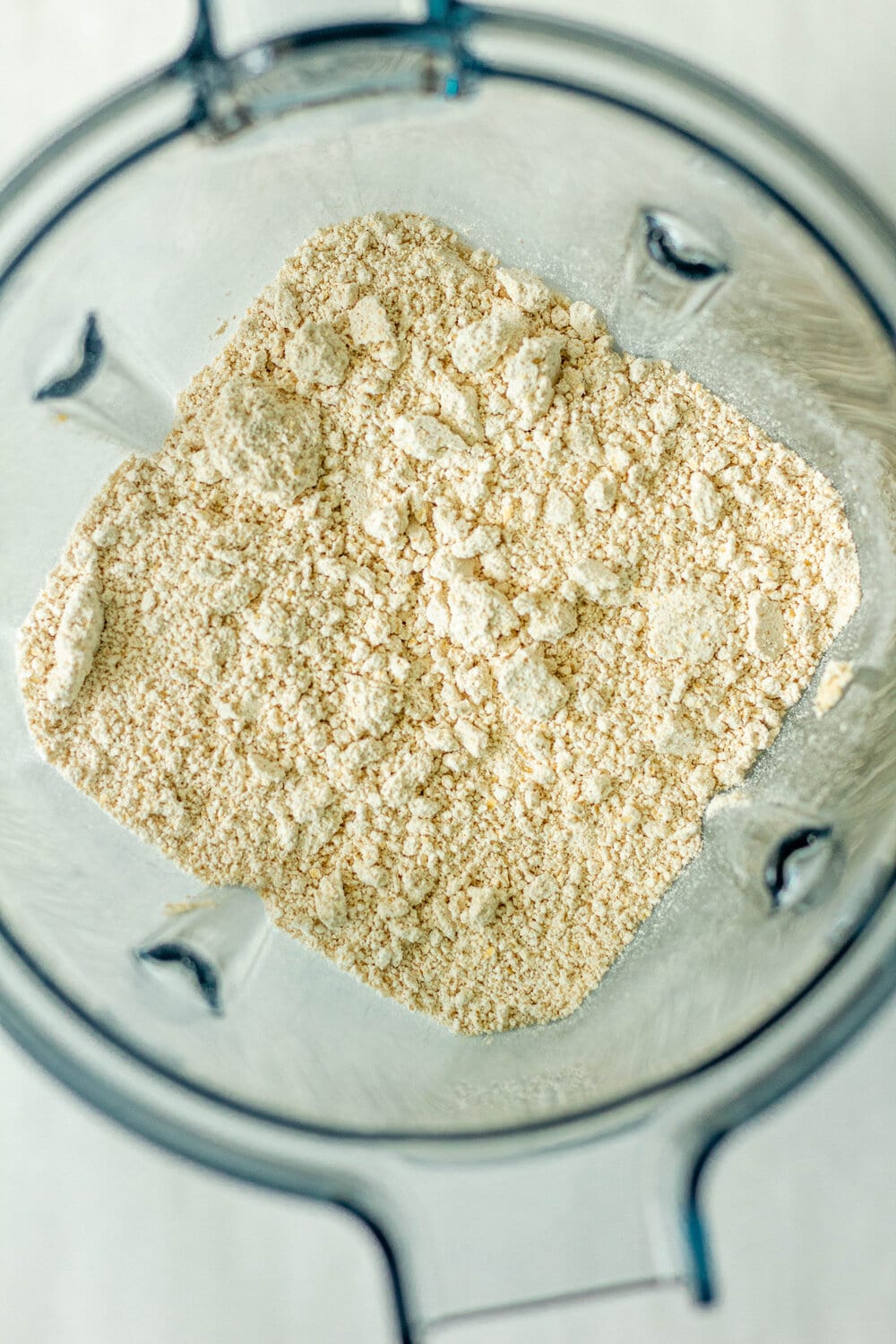 I've found that the best oats to use when making oat flour are rolled oats. You can easily find these in the cereal section of your local grocery store.
Make sure you grab rolled oats instead of steel cut oats or quick oats. Using different oats may change the consistency of the muffins. I also like to make sure that the rolled oats are labeled as "gluten-free" to ensure that I'm actually getting a gluten-free version.
the dry ingredients you need for healthy peanut butter banana oat muffins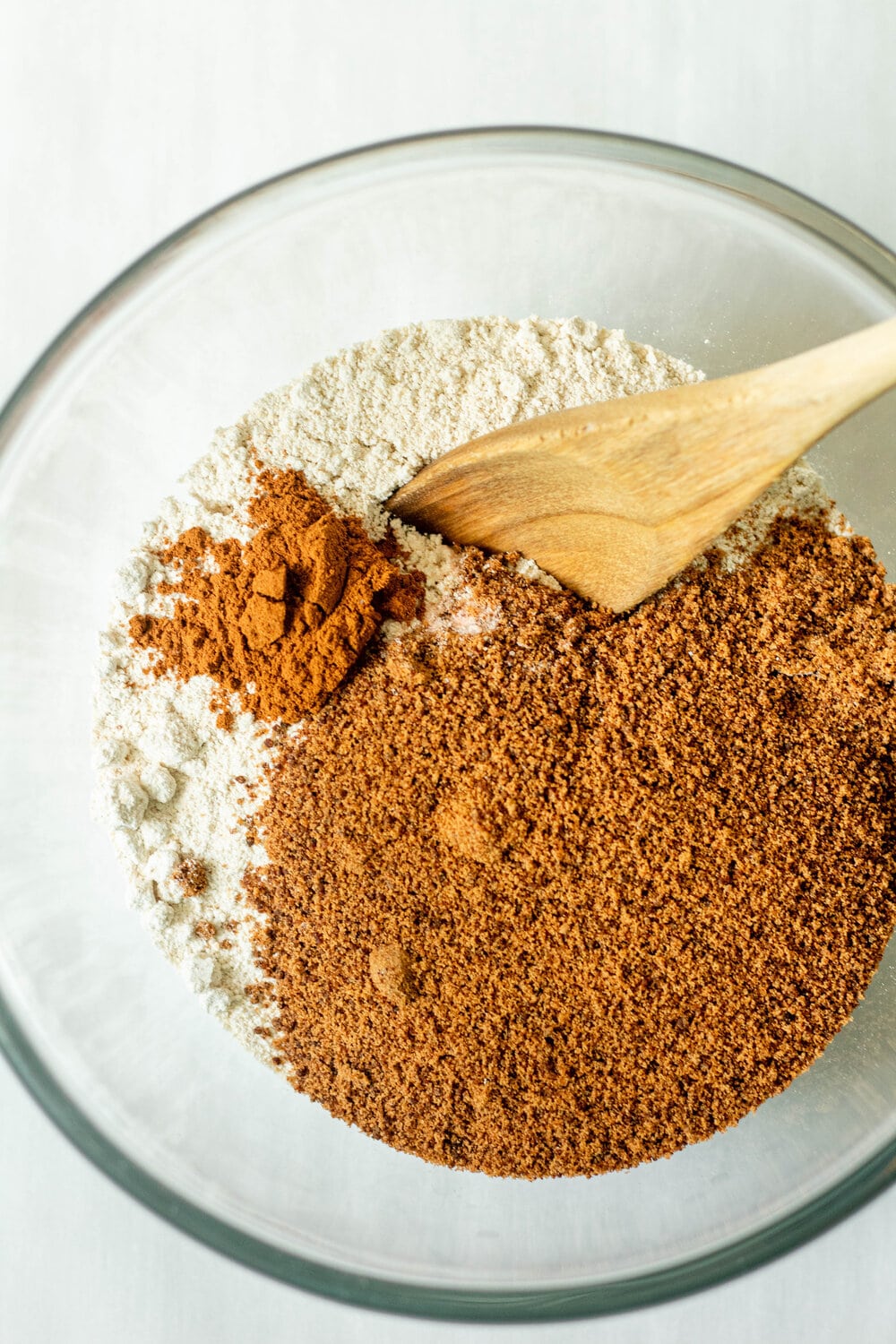 Once you've made the oat flour, there are only a few more dry ingredients you need to make these muffins. Baking powder and baking soda, a touch of cinnamon for a little cozy spice that works really well with the banana and peanut butter, and last but not least – coconut sugar.
Because these muffins also have chocolate chips, I prefer to use coconut sugar as a natural unrefined sweetener. Coconut sugar has a lower glycemic index than regular sugar and is made from the sap of the coconut palm tree.
The texture of coconut sugar is very similar to brown sugar, however, I find that it's not as sweet as traditional brown sugar. If you don't plan on using chocolate chips or just want a sweeter muffin, you could substitute brown sugar for the coconut sugar.
the wet ingredients you need for healthy peanut butter banana oat muffins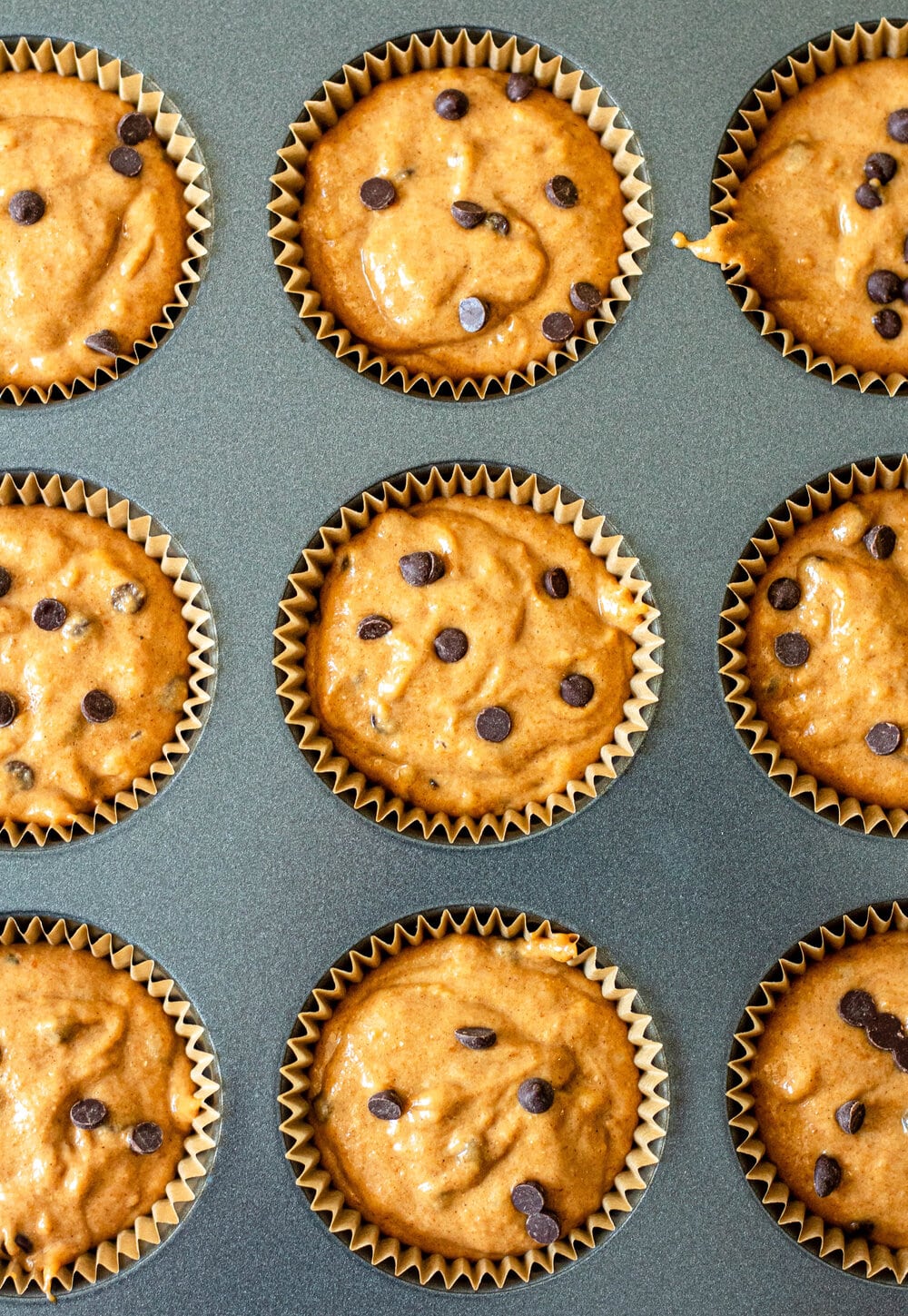 Next up for these peanut butter banana muffins are the wet ingredients. The muffins use a combination of eggs, vanilla extract, Greek yogurt, creamy peanut butter, and mashed banana.
The Greek yogurt keeps these muffins moist and also adds a bit of protein which is great, especially if you're eating these muffins for breakfast.
Be sure to use brown and spotty bananas for this recipe. The more ripe the banana, the sweeter and more flavorful it will be and the better your muffins will taste.
my favorite peanut butter to use for peanut butter banana oat muffins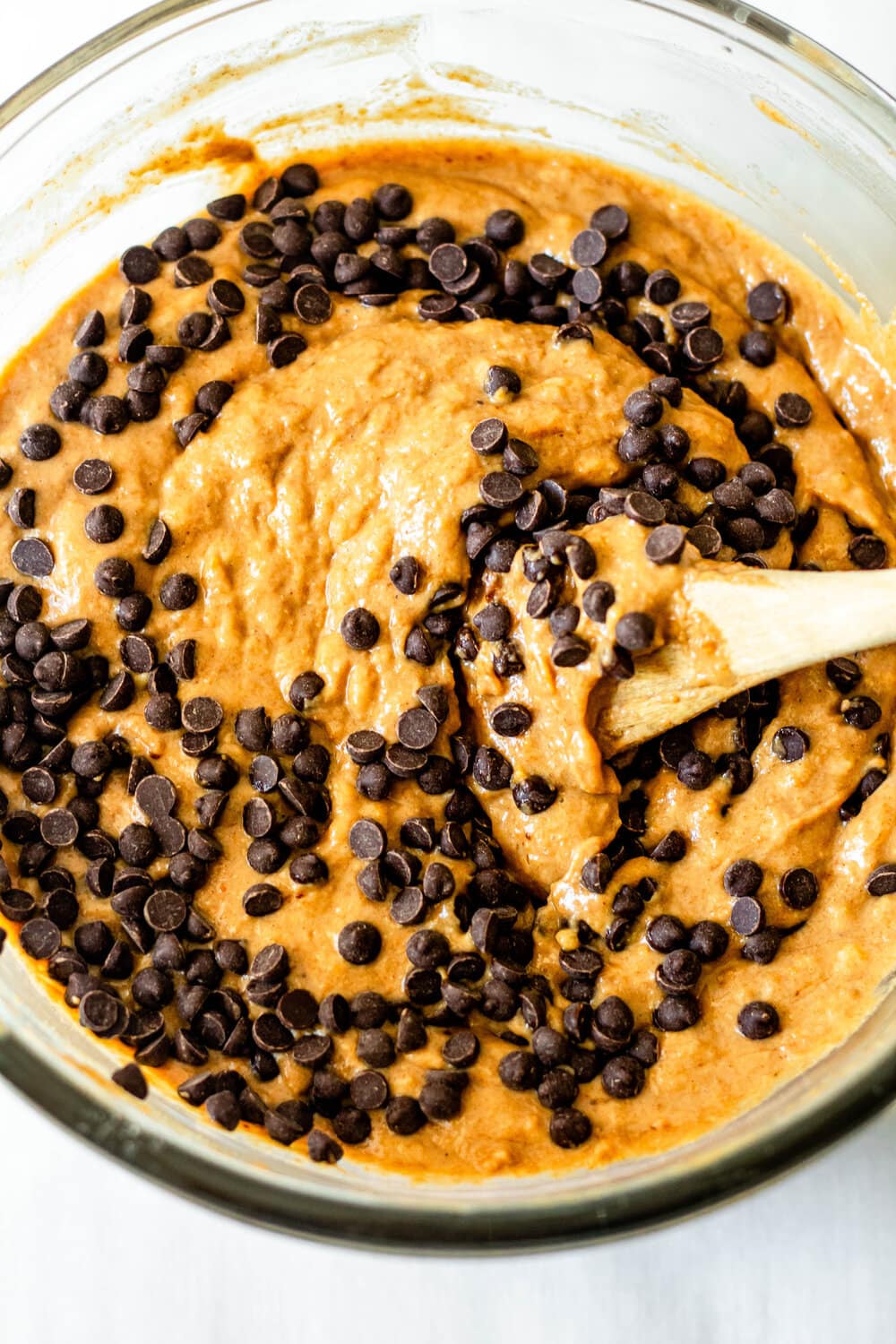 The best peanut butter to use for these muffins is one that is creamy and has minimal ingredients. You want to avoid choosing an almond butter that has extra sweeteners, preservatives, or added oils.
This is one of my favorite peanut butters to use and the only ingredient is peanuts!
tips to make sure your peanut butter banana muffins oat do not stick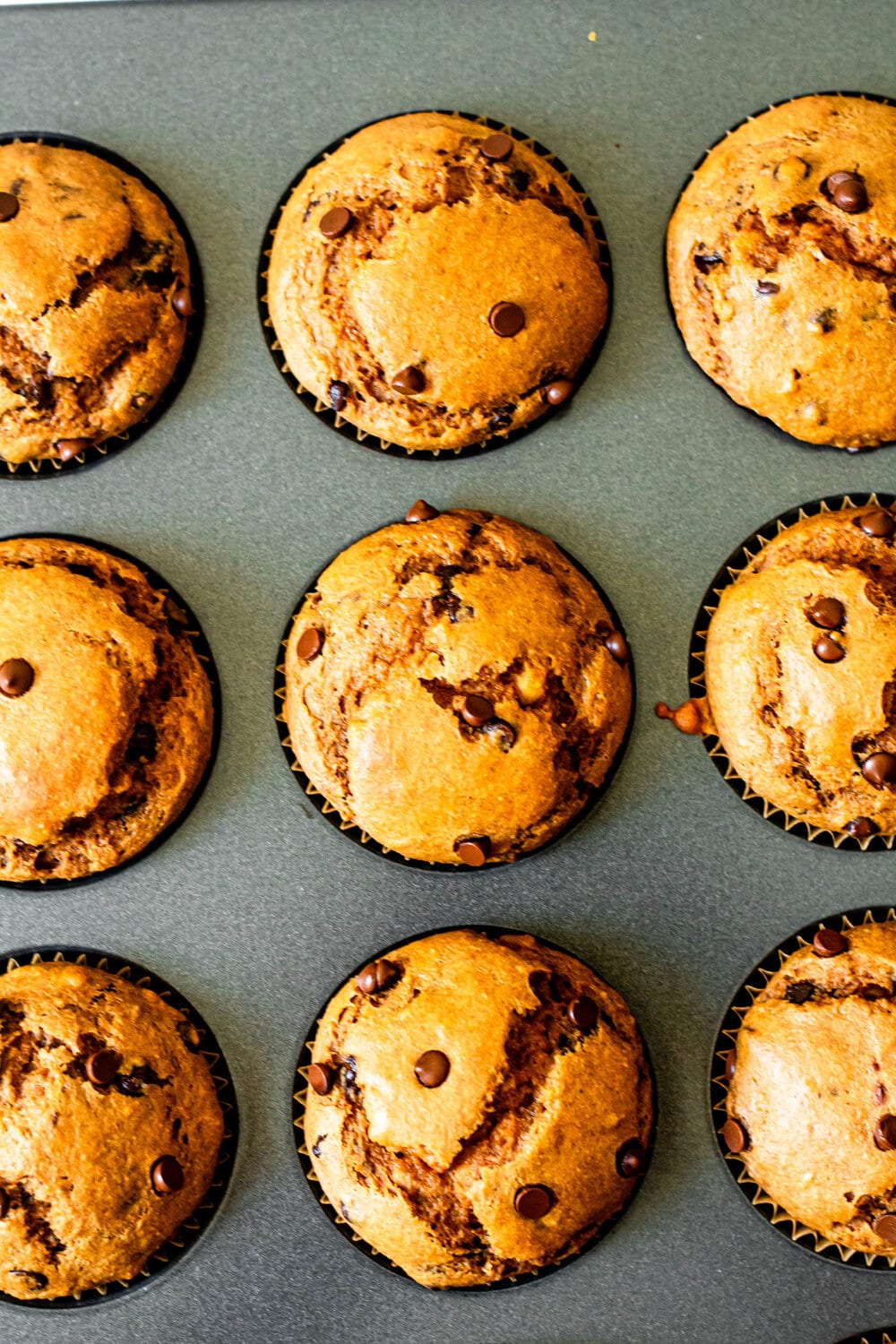 To make sure your peanut butter banana muffins don't stick, try greasing your muffin tin with a little melted coconut oil. If you don't want to use extra oil, you can also use muffin liners to ensure that the muffins come out clean and can be easily removed from the muffin tin.
how to store and freeze healthy peanut butter banana oat muffins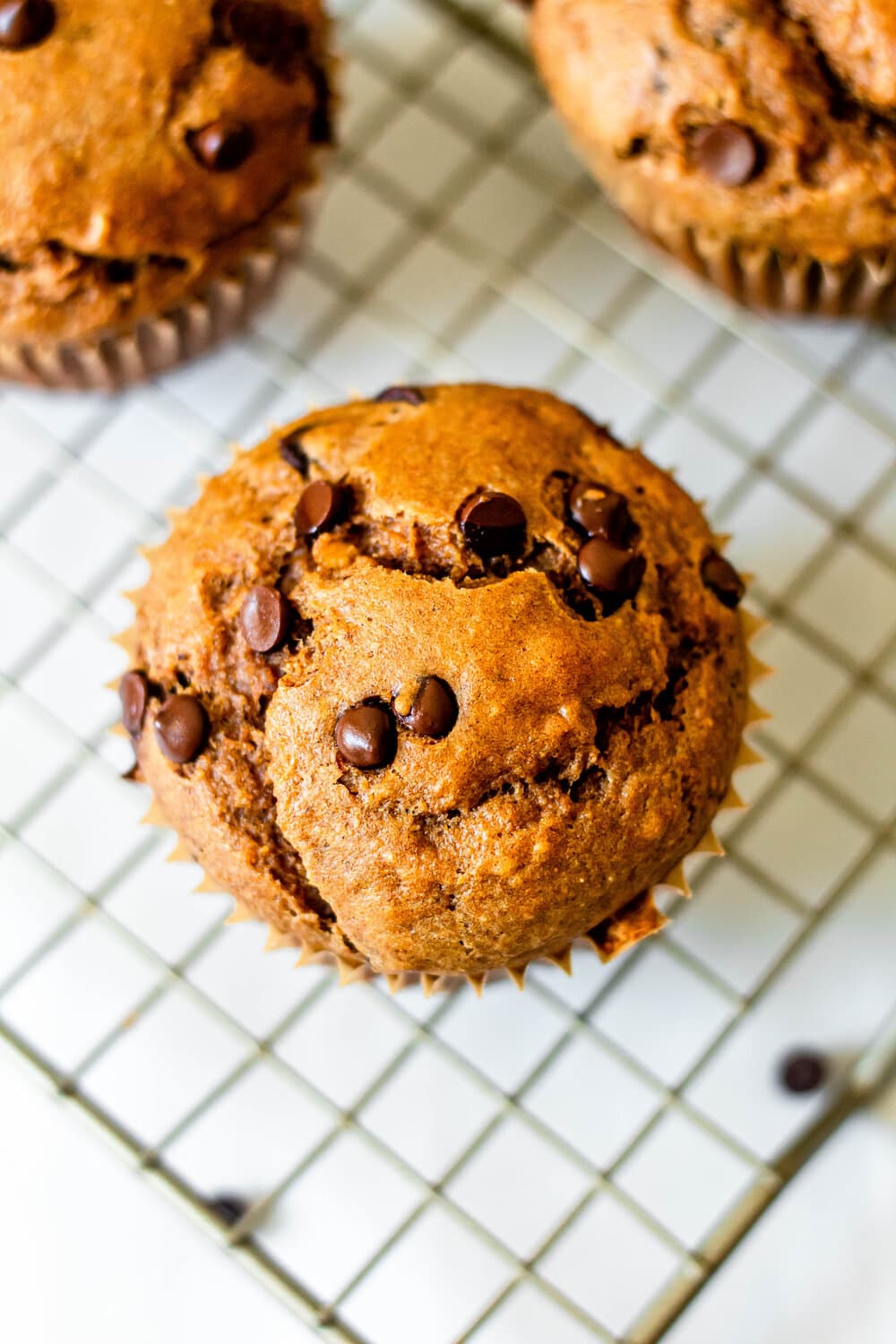 Because these muffins don't have any preservatives and are made from real food ingredients, you'll need to store them in the fridge for safe keeping. If you don't think you'll be able to eat all of the muffins within 2-3 days, you can freeze them!
One of my favorite things about these muffins is that they freeze and reheat really well.
This is my go-to method for freezing these muffins:
let the muffins come to a complete cool on a wire baking rack

once cool, place them in a freezer safe storage bag or container and label

place them in the freezer for a few hours until frozen solid
how to reheat peanut butter banana oat muffins
When you're ready to reheat and eat a muffin you can do it one of two ways. My preferred method is to wrap one or two muffins in foil and let them reheat in a 350 degree oven for 10-12 minutes until they are warmed through. They'll taste just like a fresh batch straight out of the oven!
If you're short on time, you can also pop a muffin straight from the freezer into the microwave for 30 seconds to heat through!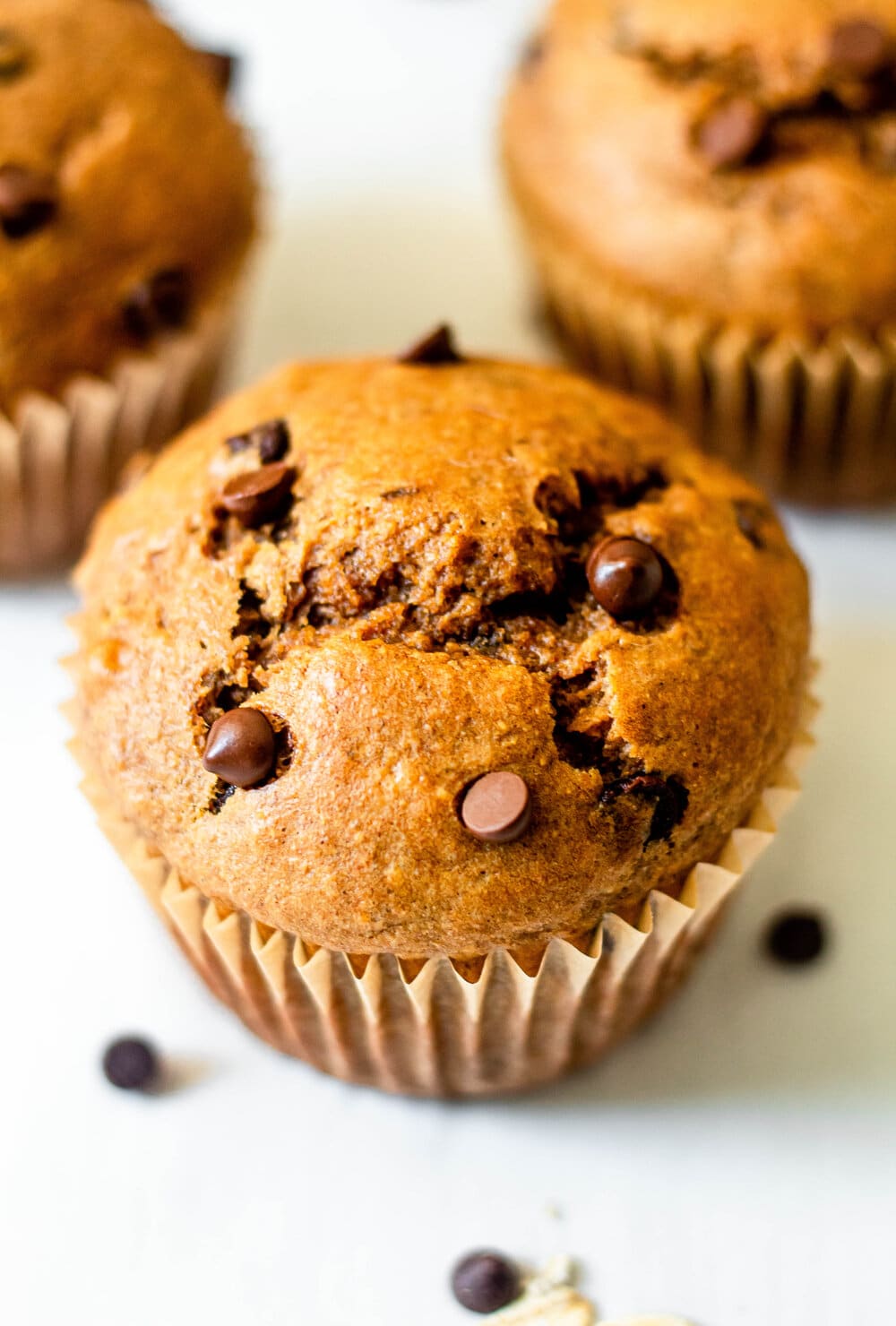 if you love this healthy peanut butter banana oat muffin recipe, here are few other delicious recipes you have to try!
LOOKING FOR MORE FREE RECIPES?
Subscribe to my newsletter and follow along on Facebook, Pinterest, and Instagram for all of the latest updates.
---
Healthy Peanut Butter Banana Oat Muffins
Yields: 12 muffins
Cook Time: 20 minutes
Prep Time: 10 minutes
Ingredients:
Instructions:
Preheat oven to 350 degrees.

Add the mashed banana, eggs, Greek yogurt, peanut butter, milk, and vanilla extract to a large mixing bowl and stir until well combined. Next, fold in the oat flour, sugar, baking powder, baking soda, sea salt, and cinnamon until well mixed.

Fold the chocolate chips into the batter and stir until well combined.

Fill the wells of a greased or lined muffin tin with the batter until 2/3rds of the way full.

Bake the muffins at 350 degrees for 15 to 20 minutes or until a toothpick comes out clean and the tops of the muffins spring back when pressed.

Serve them warm for the most delicious results!
Recipe Notes
Look for a peanut butter with only one ingredient – peanuts.

If you're dairy-free, you can use a dairy-free Greek yogurt.

Make sure your bananas are brown and spotty before using them. The more ripe the banana the better the muffins will be.

I have not tried this recipe with almond flour or regular flour.
---