These healthy blueberry banana muffins are great in the morning for breakfast or afternoon treat. They're made with wholesome oat flour, which is naturally gluten free, mashed banana, greek yogurt, and coconut sugar for just a touch for sweetness.
Healthy Banana Blueberry Muffins
There's nothing like a good blueberry muffin and these delicious blueberry banana muffins are one of kind! Packed juicy blueberries, sweet mashed bananas, and lightly sweetened with coconut sugar.
I personally love that these muffins are sweet, but not too sweet, and that they have a bit of protein thanks to Greek yogurt. They are a great option for breakfast or a quick snack and I know you'll enjoy them!
Reader Favorite Blueberry Recipes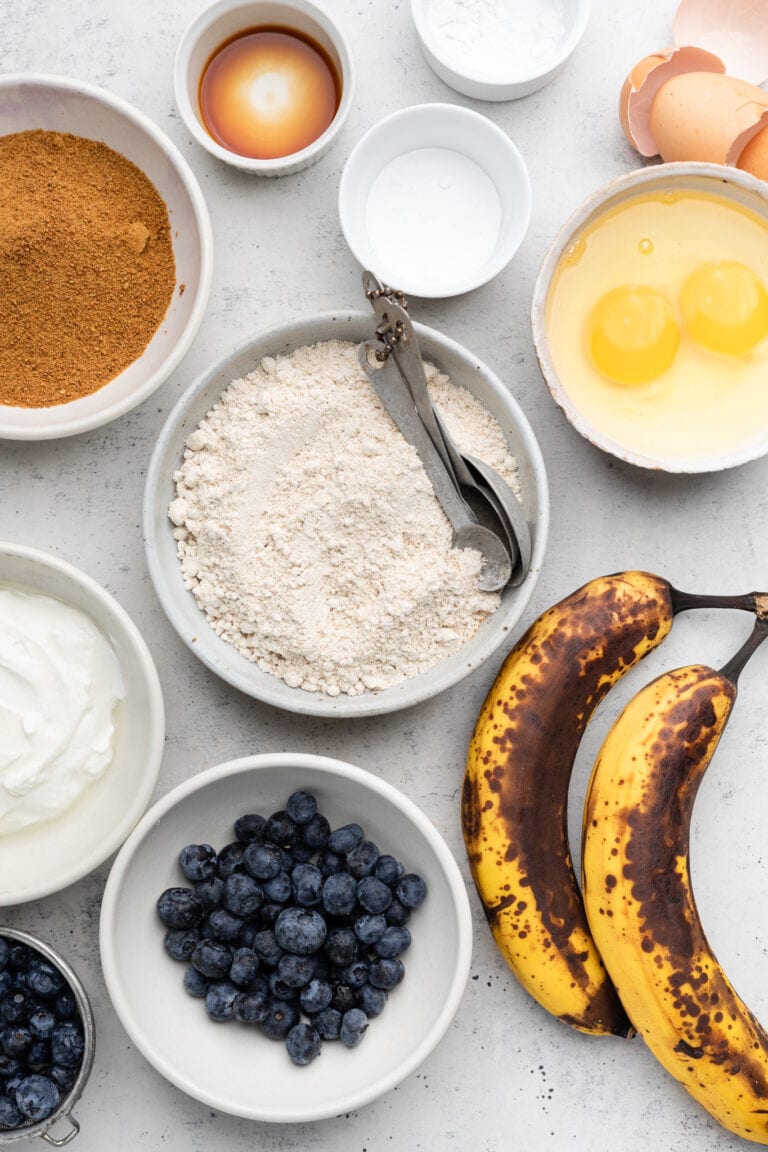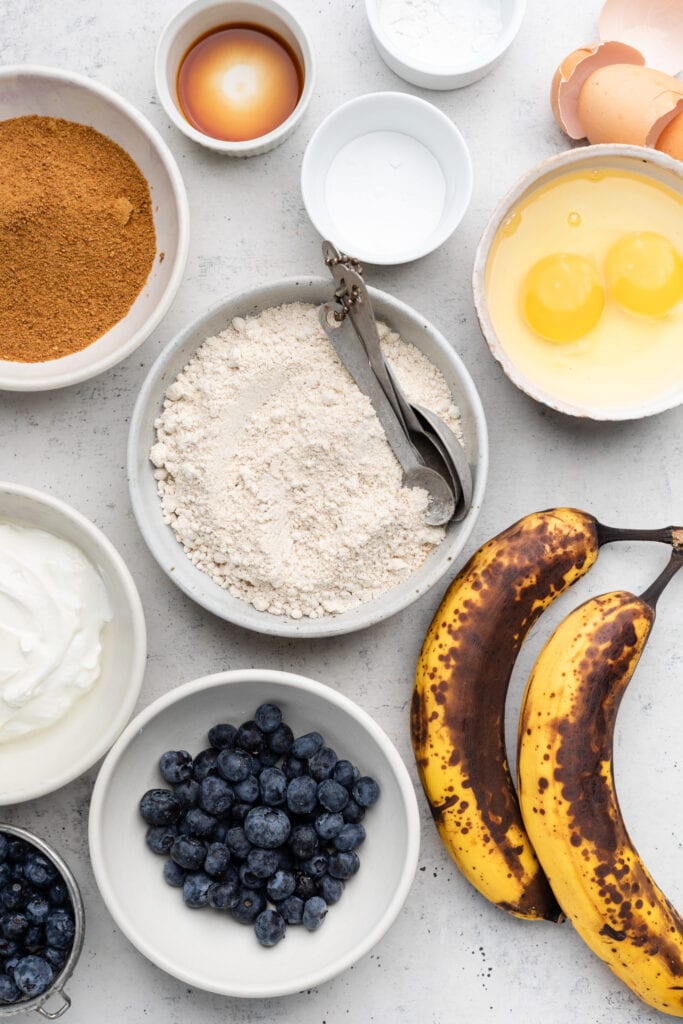 Ingredients You'll Need
Oat Flour: Oat flour is naturally gluten free and very easy to work with which makes it my flour of choice for these muffins. Plus, it's cheap and you can make it yourself.
Greek yogurt: The plain greek yogurt keeps these muffins tender and moist, while also packing a punch of protein. If you would like to keep these muffins dairy-free, you could also use a plain dairy-free almond or coconut milk greek yogurt.
Bananas: Pick ripe bananas with plenty of brown spots for the best results.
Coconut Sugar: These muffins only call for half a cup total of brown or coconut sugar. The bananas are naturally sweet and the chocolate chips also add sweetness as well so there's no need to use extra sugar.
Vanilla Extract: Another way flavor enhancer. Who doesn't love that yummy vanilla flavor?
Blueberries: I love using sweet fresh blueberries for this recipe but I include instructions on how to use frozen blueberries, below.
How to Make Homemade Oat Flour
If you cannot find oat flour near you, no worries! Thankfully, as long as you have gluten-free rolled oats in your pantry, you can make oat flour yourself.  All you need is a high powered blender or food processor.
To make oat flour, just add a few cups of gluten-free rolled oats to your food processor or blender. Pulse or blend until the oats completely break down and become the consistency of traditional flour.
You can also WATCH THIS QUICK VIDEO FOR A STEP-BY-STEP TUTORIAL on how to make oat flour and all of my best tips.
Helpful Tools to Make This Recipe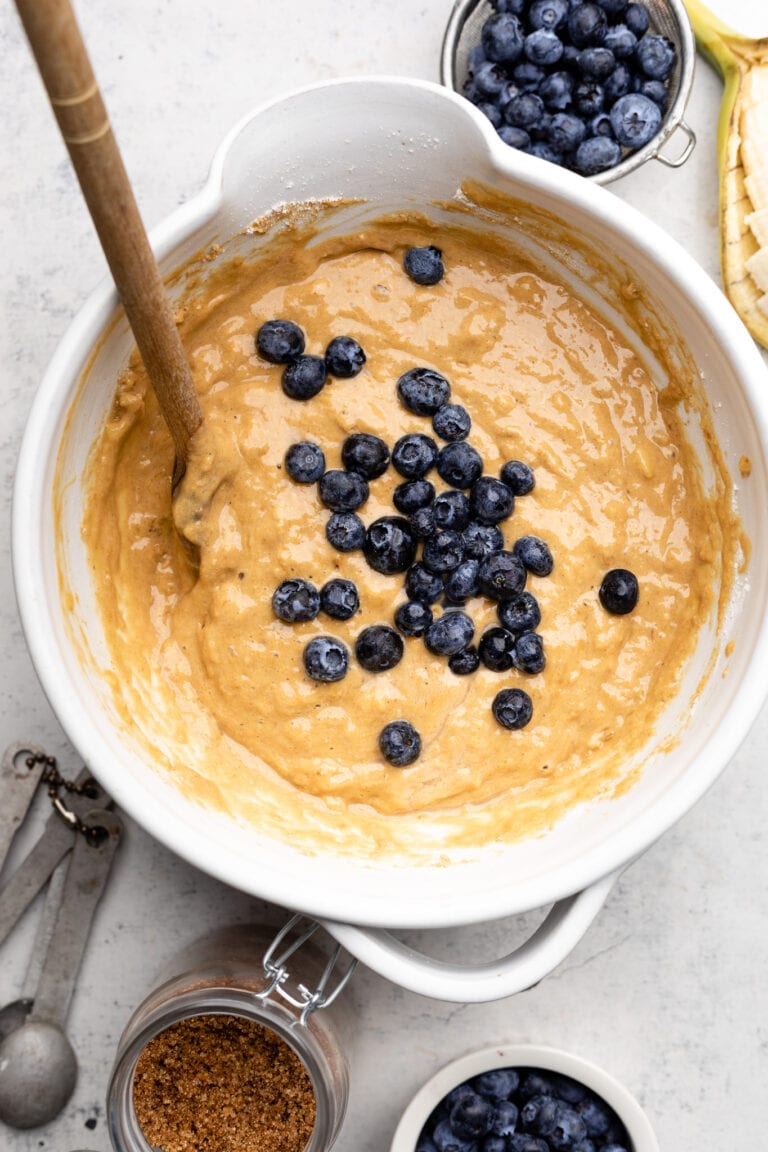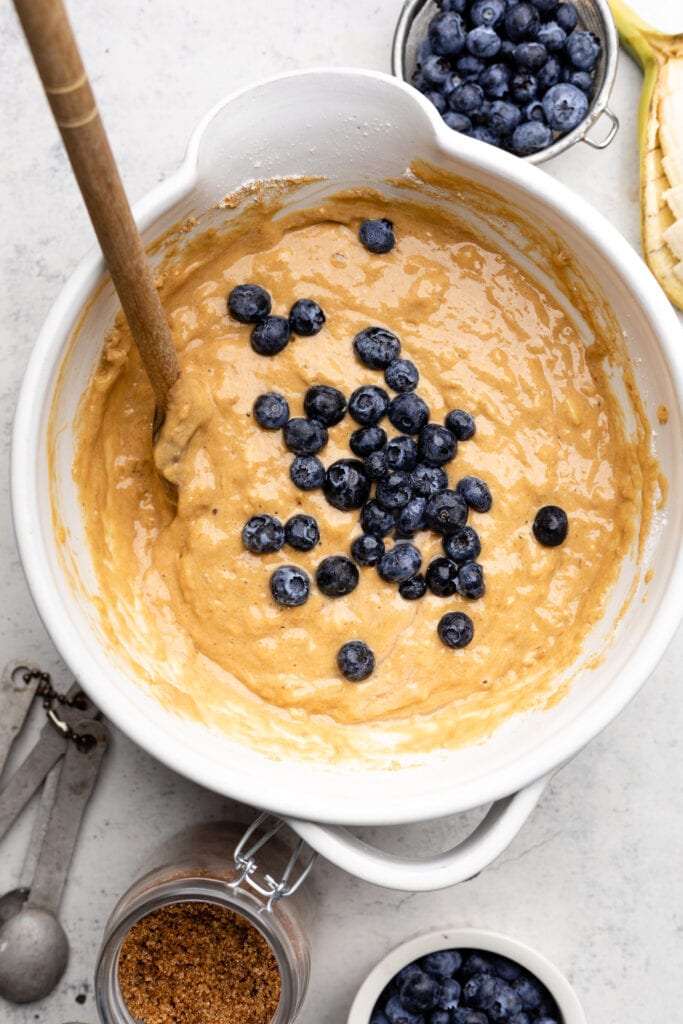 How to Make Blueberry and Banana Muffins

Step One: Start by preheating your oven to 350 degrees.
Step Two: Add the banana, Greek yogurt, eggs, and vanilla extract to a mixing bowl and stir until well combined.
Step Three: Add the coconut sugar to the wet ingredients and stir until well mixed.
Step Four: Next, add the oat flour, baking soda, baking powder, and cinnamon to the mixing bowl. Once combined, fold in the the blueberries.
Step Five: Transfer the batter to a greased or lined muffin tin. Fill each muffin well two-thirds of the way full.
Step Six: Bake the muffins at 350 degrees for 15 to 20 minutes or until a toothpick, placed in the center, comes out clean. Serve the muffins warm.
Can I Use Frozen Blueberries?
Yes! If you do not have fresh blueberries, feel free to use frozen. For the best results, don't thaw the berries before folding them into the batter.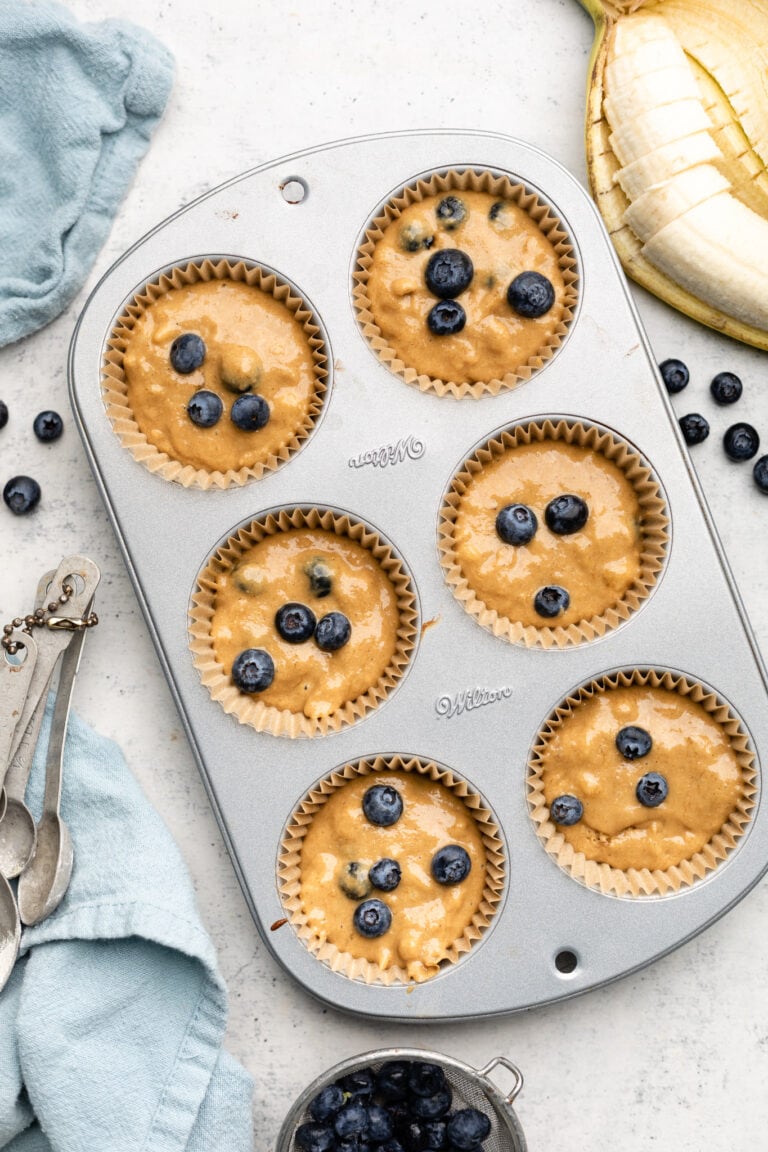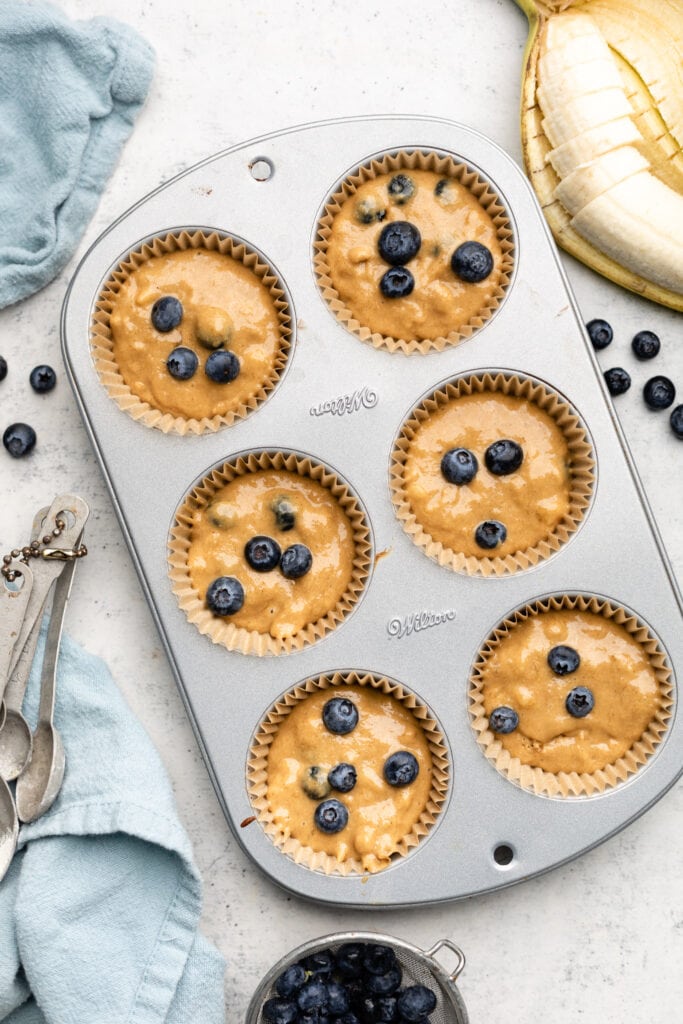 Do I Have to Use Oat Flour?
I have not tested these muffins with any other flour besides oat flour. Substituting coconut flour will not work and almond flour will also likely not work. If you would like to use another flour, besides oat, I recommend trying all-purpose flour or gluten-free 1-to-1 flour.
Can I Make These Muffins Dairy Free?
If you would like to keep these muffins dairy free, feel free to use your favorite non-dairy Greek yogurt and that will work just fine!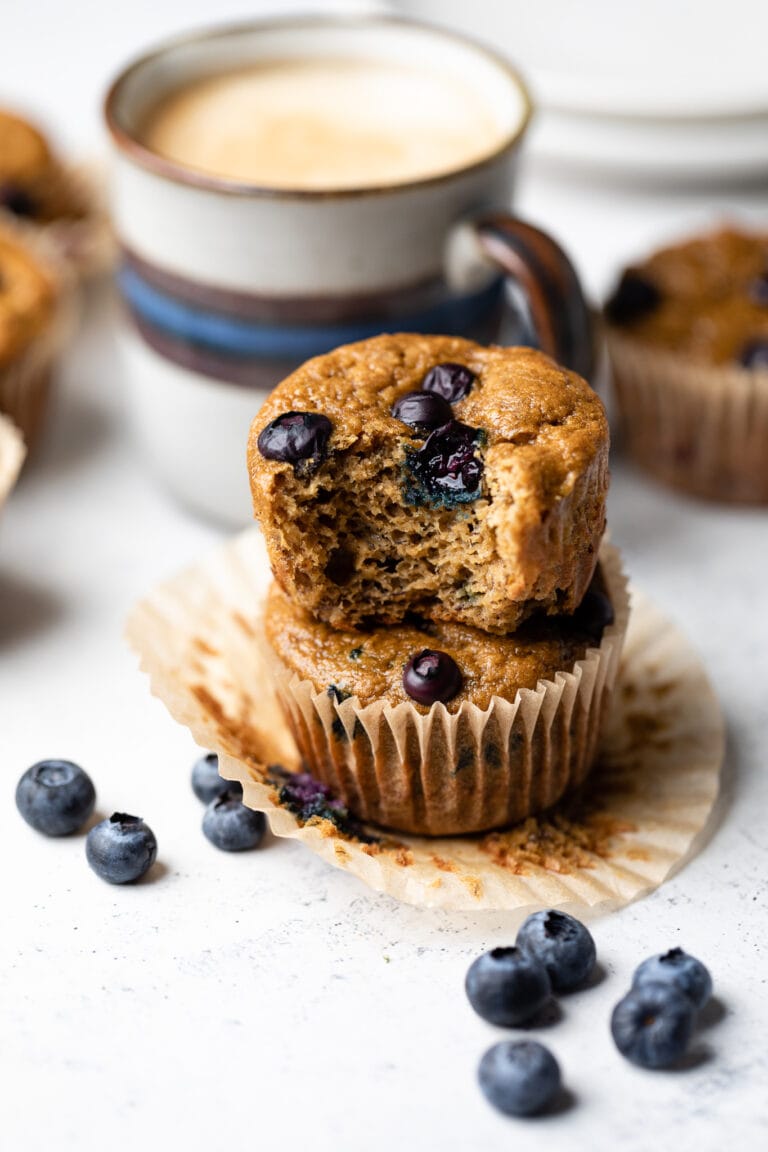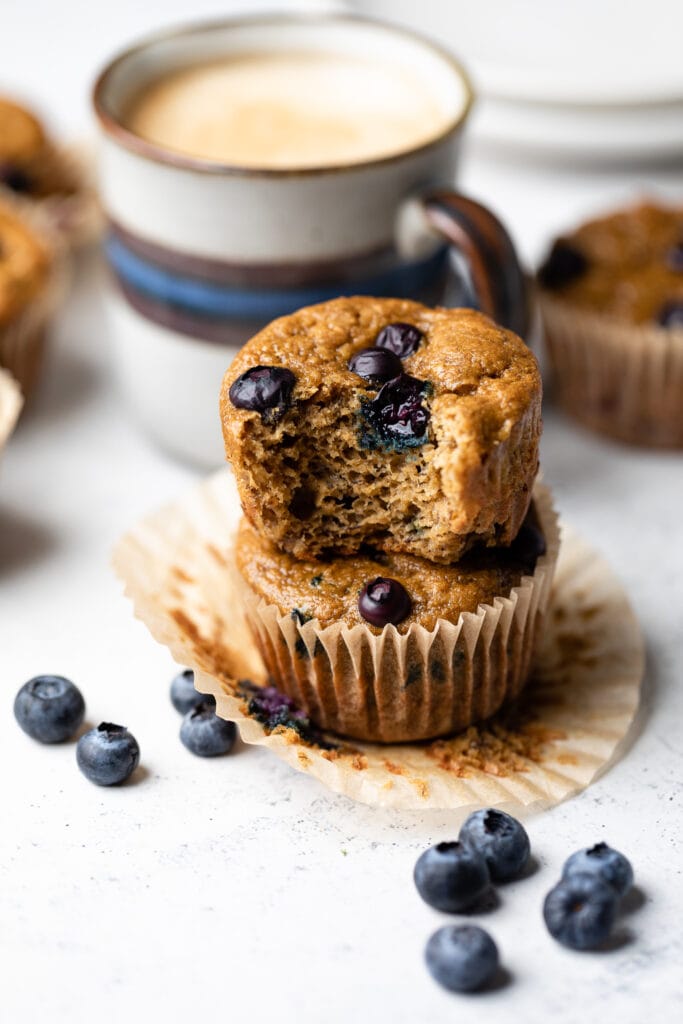 Tips and Tricks for the Best Muffins
These muffins are so easy to make, and you likely won't have any issues making them, but there are a few tips and tricks to ensure that they turn out perfectly every single time.
Be sure to line or grease your muffin tin. This will prevent the muffins from sticking.
If you are making homemade oat flour, be sure to pulse or blend the oats until they have turned into a very fine flour for the best results.
If you want each muffin to have a few blueberries on the top, press a few blueberries into the top before placing the muffins in the oven.
How to Freeze
I like to make a batch of these muffins Sunday afternoon and store them in the freezer for the week ahead. Because these muffins don't have any preservatives and are made from real food ingredients, you'll need to store them in the fridge for safe keeping. If you don't think you'll be able to eat all of the muffins within 2-3 days, you can freeze them!
How to Reheat
When you're ready to reheat and eat a muffin you can do it one of two ways:
My preferred method is to wrap one or two muffins in foil and let them reheat in a 350 degree oven for 10-12 minutes until they are warmed through. They'll taste just like a fresh batch straight out of the oven!
 If you're short on time, you can also pop a muffin straight from the freezer into the microwave for 30 seconds to heat through!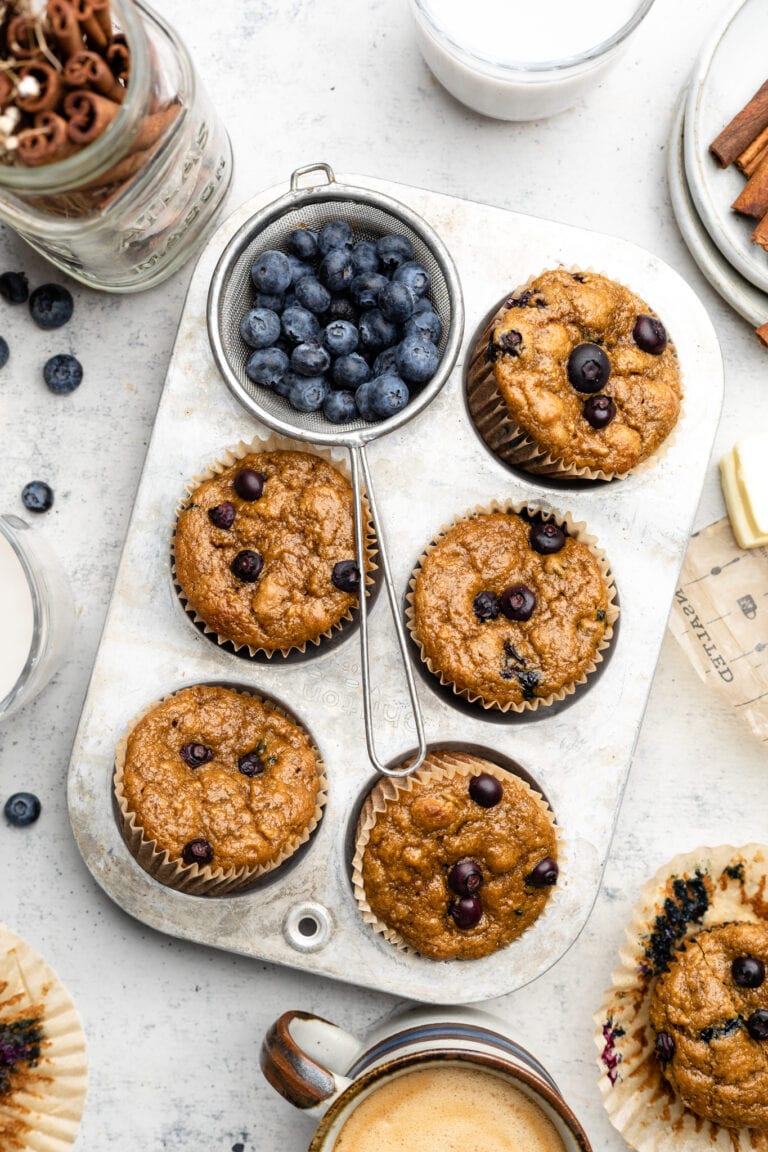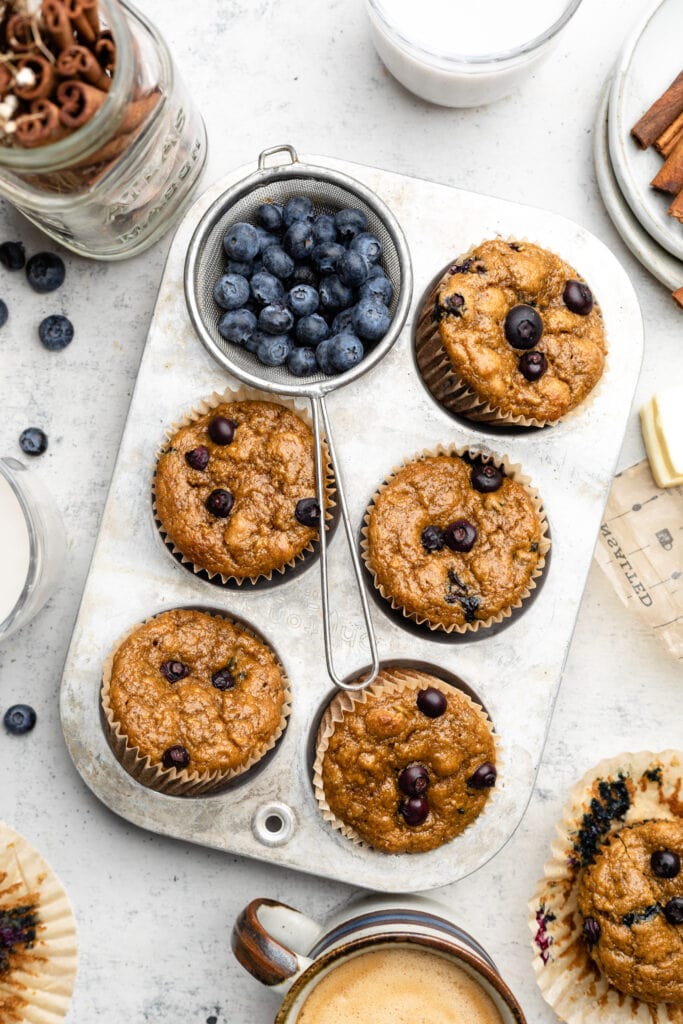 More Delicious Muffin Recipes You'll Love
I hope you give these Blueberry Banana a try! They are so easy to make and absolutely delicious!
If you do give this recipe a try, I want to know! Leave a comment with a star rating below. You can also snap a photo & tag @allthehealthythings / #allthehealthythings on INSTAGRAM. Your reviews help support All the Healthy Things and make it possible for me to continue to create the recipes you know and love.