This spin on Pepper Steak stir-fry is a quick and easy weeknight meal that I know you will love. Tender steak and crisp bell peppers and onions are quickly cooked over high heat and finished with a slightly sweet and flavorful sauce. Not only is this recipe delicious, it is also gluten-free, refined sugar-free, Paleo-friendly, and Whole30 compliant.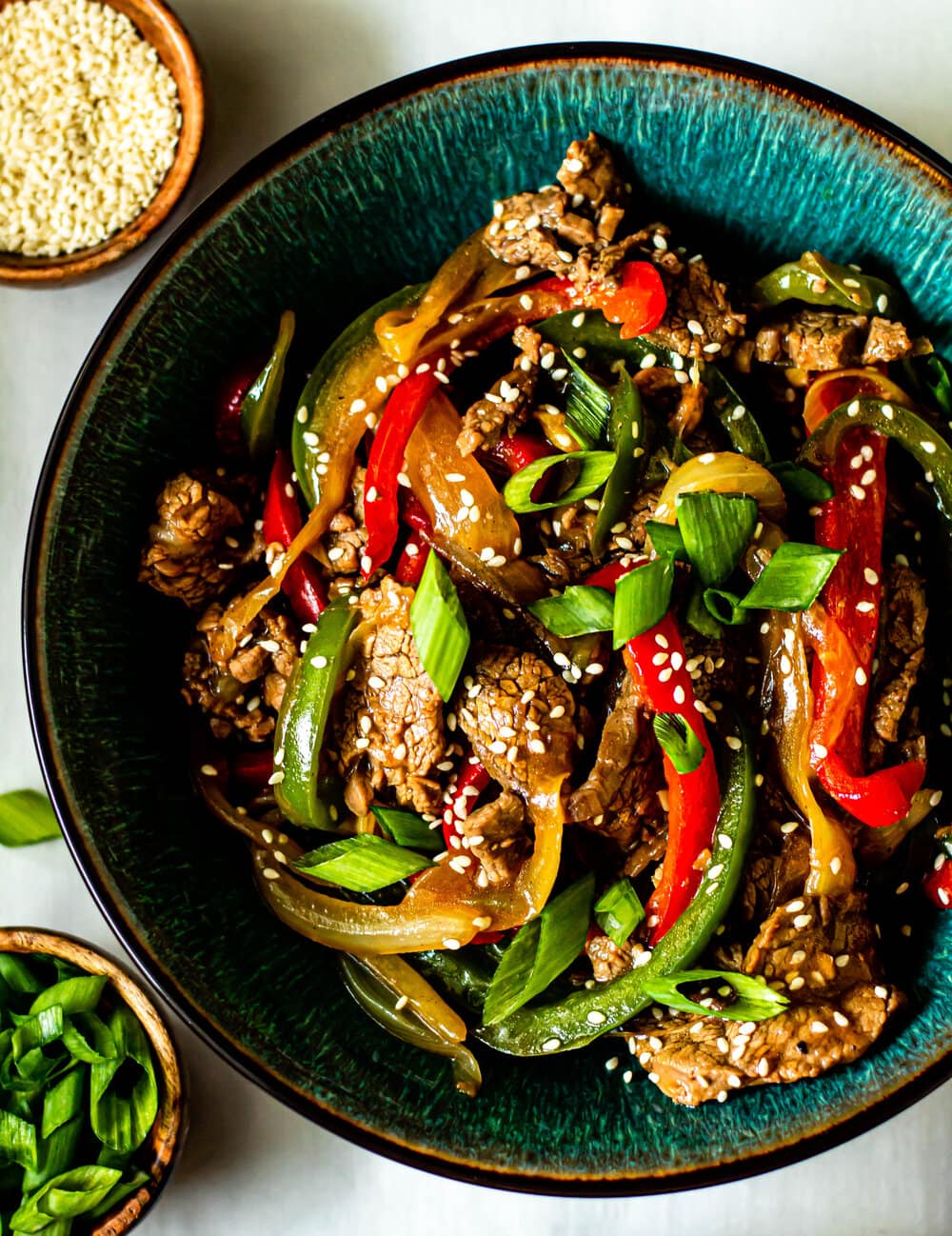 The Perfect Quick and Easy Weeknight Meal: Whole30 Pepper Steak Recipe
Can we all agree that quick and easy weeknight meals are the best? I mean, I love spending time in the kitchen baking and creating just as much as the next person, but after a long day, the last thing I want to do is spend hours making dinner.
That is why I love a quick and flavorful stir-fry that comes together in just minutes. This easy Pepper Steak stir-fry hits all of my criteria for a fast, flavorful, and simple meal. It's made with just a few simple easy to find ingredients that you likely have in your pantry and the total cook time is around ten minutes!
Not only does this recipe come together super fast, it is also a great dish to do a bit of prep for in advance. Just ten minutes the night before can make this already easy recipe an even easier one!
While ease and simplicity is great, none of that even matters if the recipe doesn't actually taste good. Thankfully, this Whole30 spin on Pepper Steak is just as tasty as it is easy. I know it will become a recipe that you regularly add to your weeknight dinner rotation.
The Best Cut of Beef to Use for Pepper Steak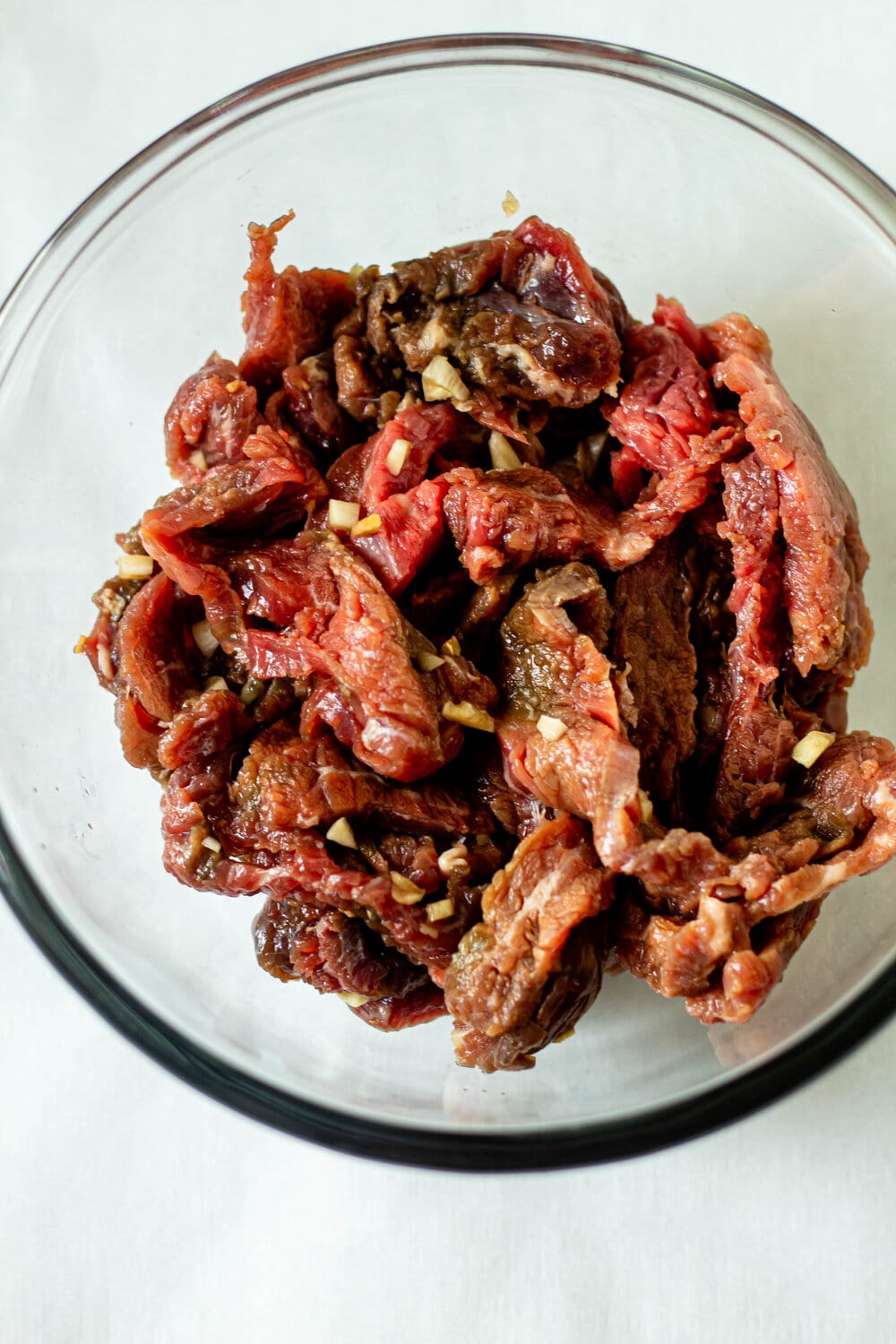 Because this recipe cooks quickly over high heat, it is important to pick a cut of beef that is naturally tender. The beef will not have time to braise and break down, so starting with a tender cut makes a huge difference.
For this recipe, I prefer to use flank steak or sirloin and cut into thin strips myself with a sharp knife. If you prefer, you may be able to find pre-sliced steak at your butcher counter that you can use for this stir-fry.
The Secret Ingredients for this Whole30 Pepper Steak Recipe – Coconut Aminos and Arrowroot Starch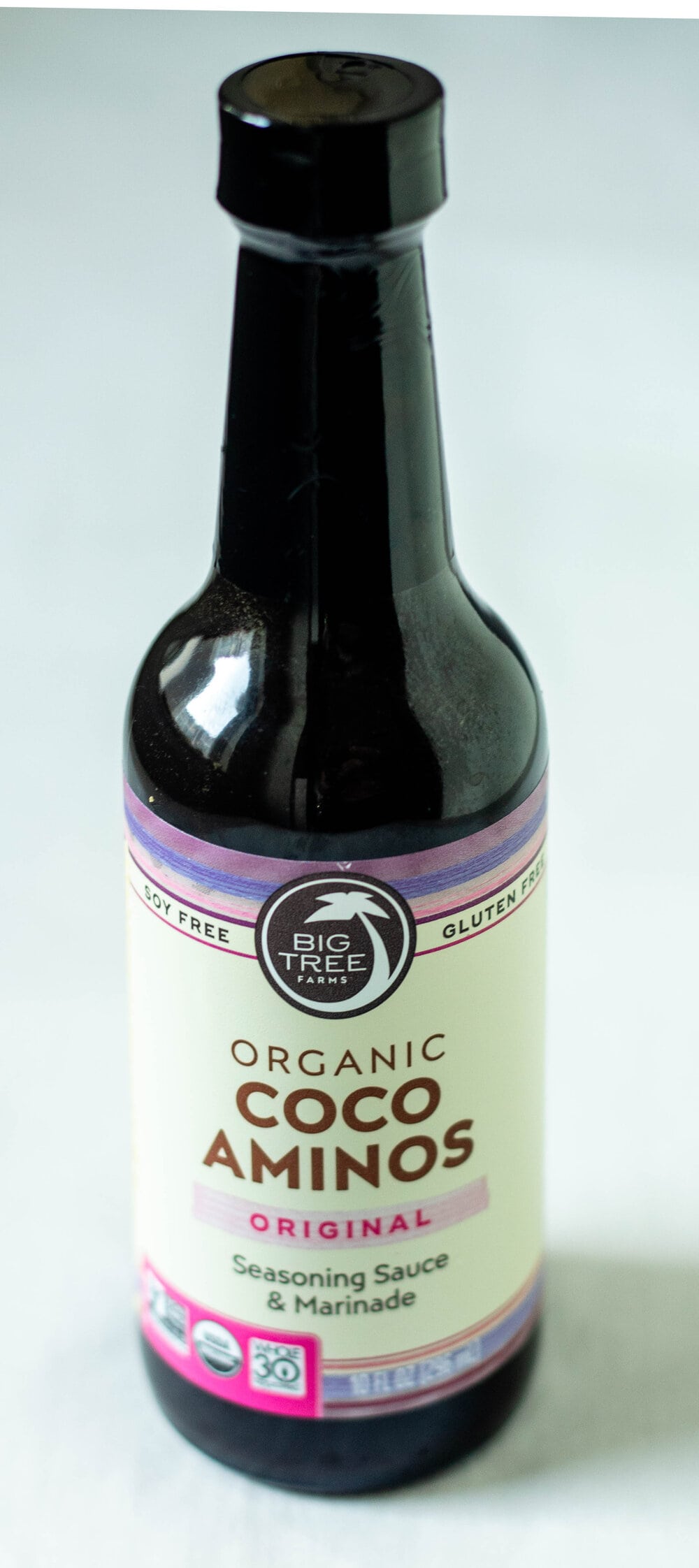 Traditional Pepper Steak uses soy sauce, sugar, and cornstarch to create a sweet and sticky sauce. Because soy and sugar are both ingredients that are off limits when doing a round of Whole30, this recipe uses coconut aminos to achieve a similar flavor instead.
Coconut aminos are made from the sap of the coconut palm tree and are commonly used as an alternative to soy sauce in Paleo and Whole30 compliant dishes. They also have a slightly sweet flavor to them which works well in this dish.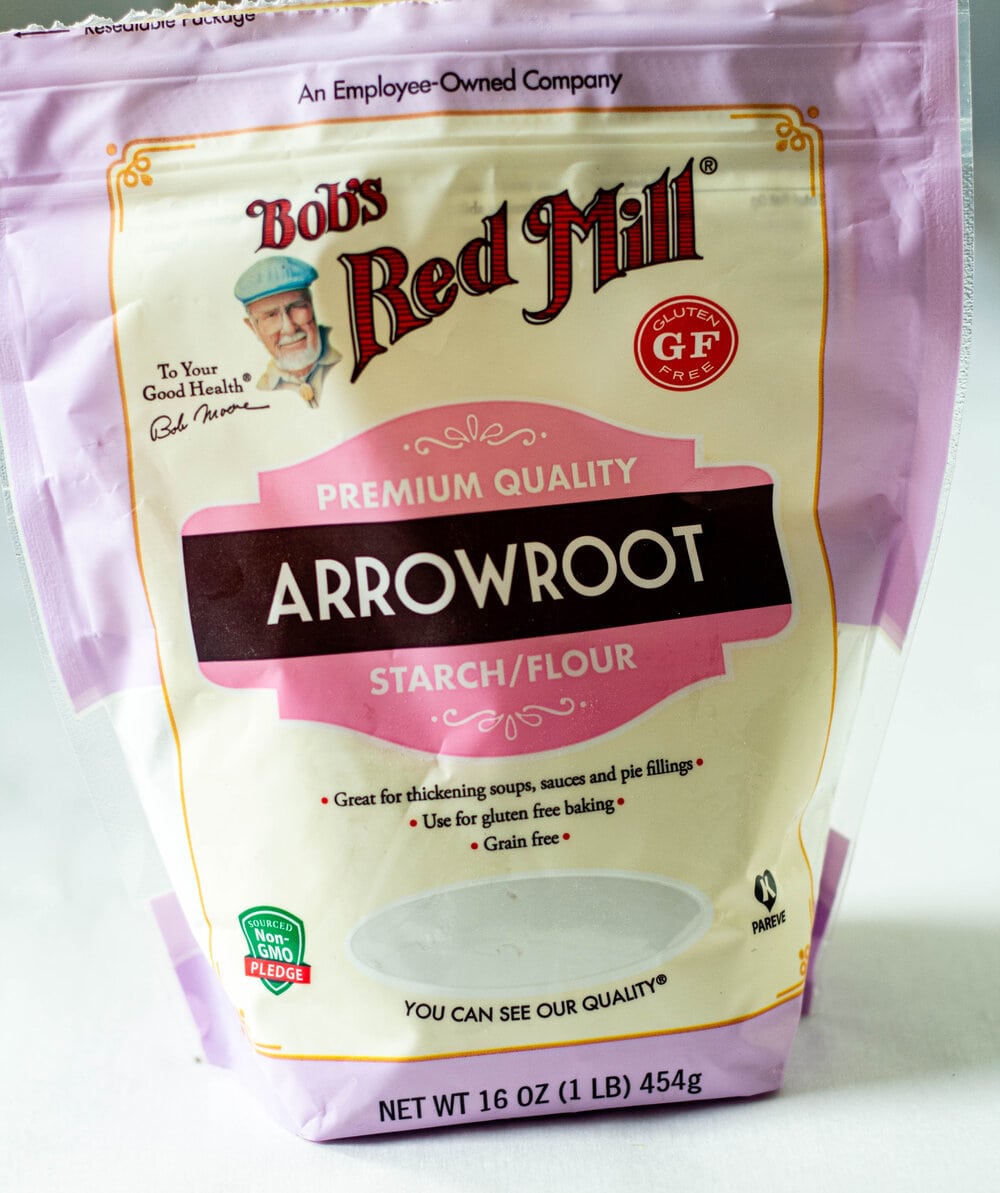 To achieve the same slightly thick texture of the sauce without cornstarch, this recipe uses arrowroot starch instead. Arrowroot starch can replace cornstarch 1 to 1 in most recipes and works to help the sauce stick to the beef and peppers.
How to Make Pepper Steak Stir-Fry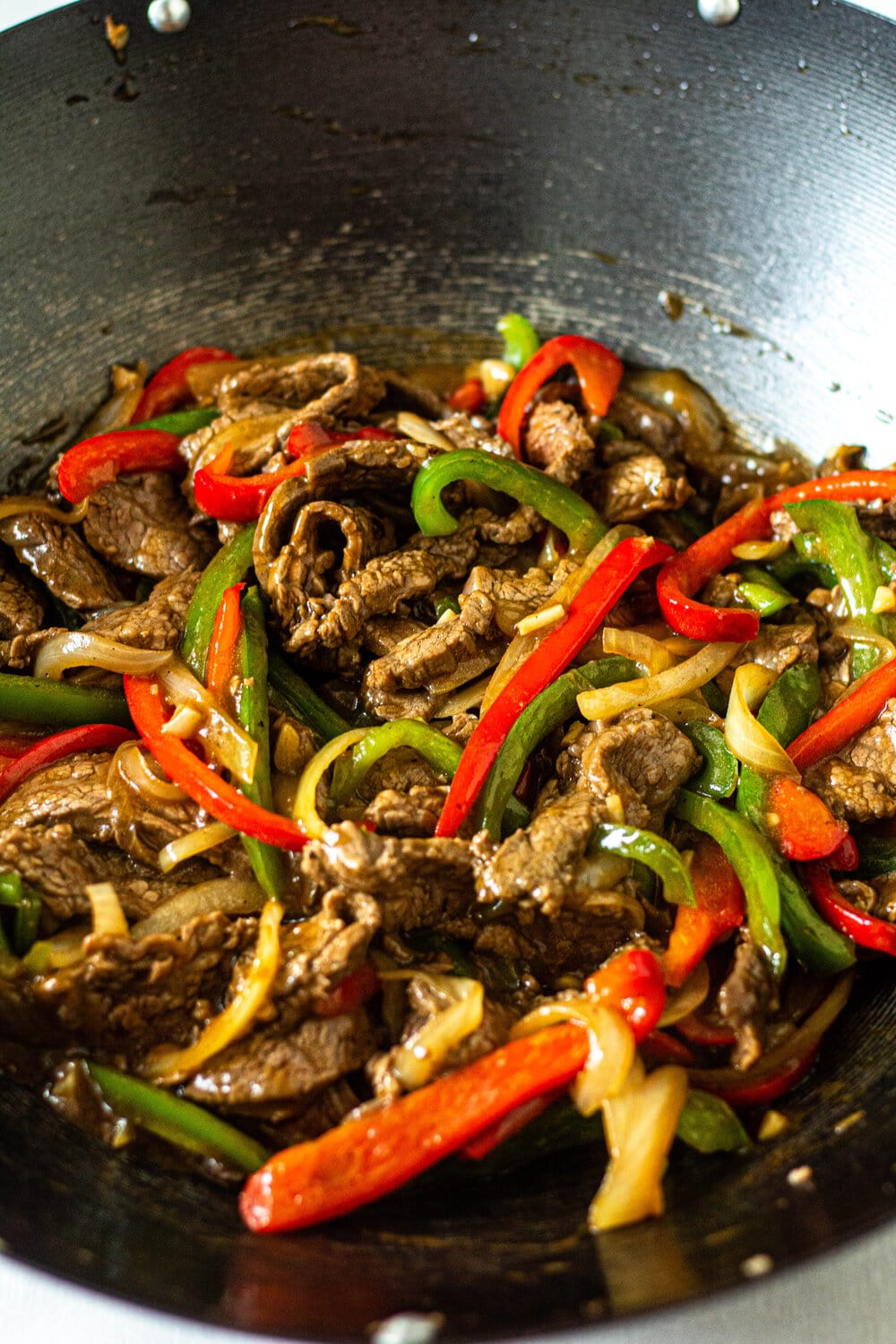 What I love about this recipe is how fast it comes together. The steak is sliced thinly which allows it to cook very quickly and the peppers and onions are in the skillet just long enough to become slightly tender but still crisp.
This quickness of this dish is what makes it a great weeknight meal, but it also means that it's important for you to have all of your ingredients prepped and ready before starting to cook. Once you start adding the ingredients to the skillet, things move fast!
Step 1: the first step in making this pepper steak stir-fry is to season and cook the steak. You'll start by combining the steak with a few aromatics like garlic and ginger and then brown the meat for a few minutes over medium-high heat before removing it from the skillet. If you have the time, you can marinate the steak overnight before cooking for even more flavor.
Step 2: After the steak cooks, the peppers and onions are added to the skillet to cook for a few minutes. I like to cook the veggies for four to six minutes or until they start to become tender but still crisp. I still like a bit of "bite" to my veggies but if you prefer your peppers and onions more tender feel free to cook them a bit longer.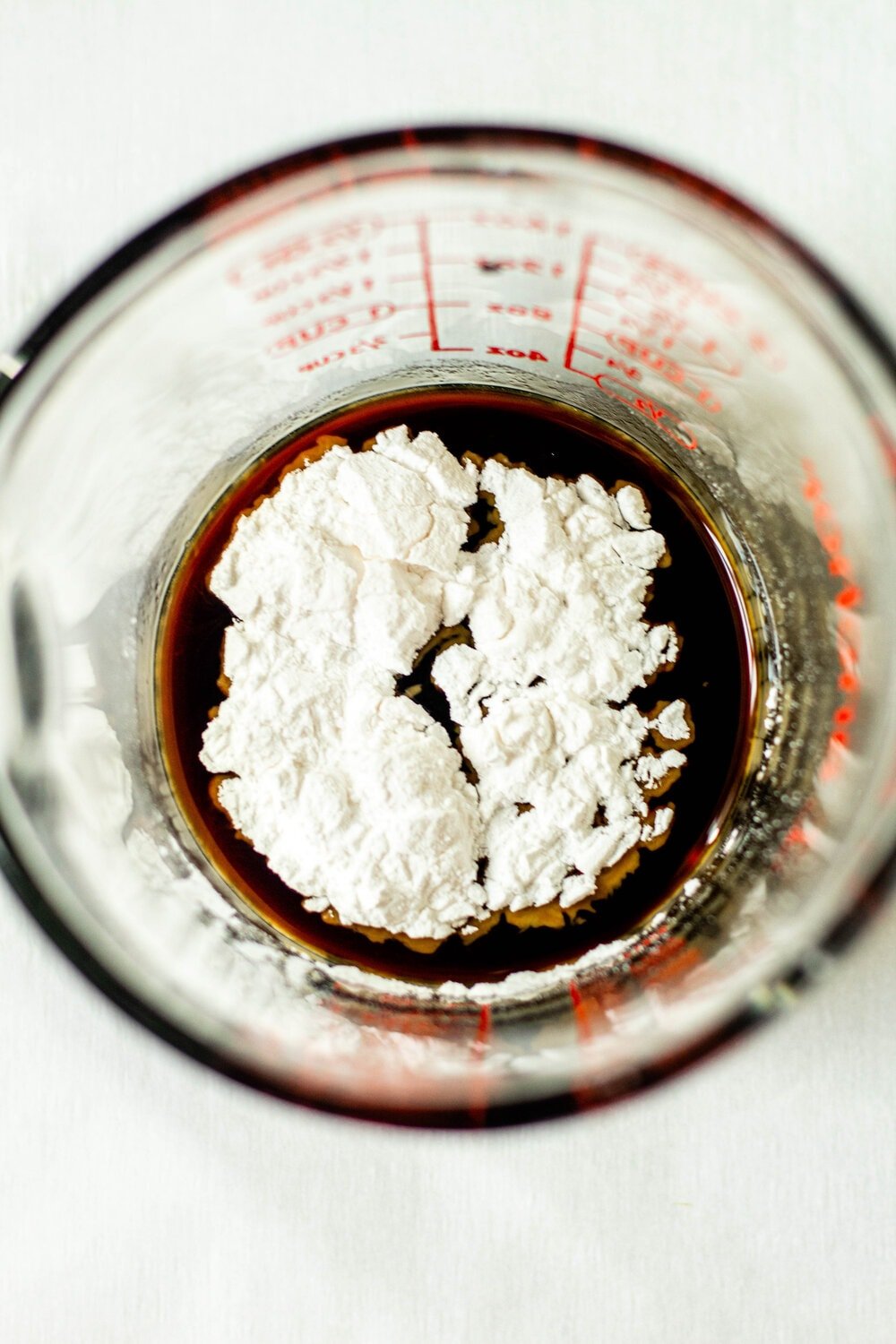 Step 3: Once the vegetables are cooked to your liking, it's time to finish the dish. Just add the steak back to the skillet with the vegetables and then pour the mixture of coconut aminos and arrowroot starch over everything. Give the stir-fry a good stir until the steak and veggies are well combined and coated in the sauce. Remove the skillet from the heat and then finish the stir-fry with sesame seeds and plenty of fresh scallions.
How to Prep The Veggies In Advance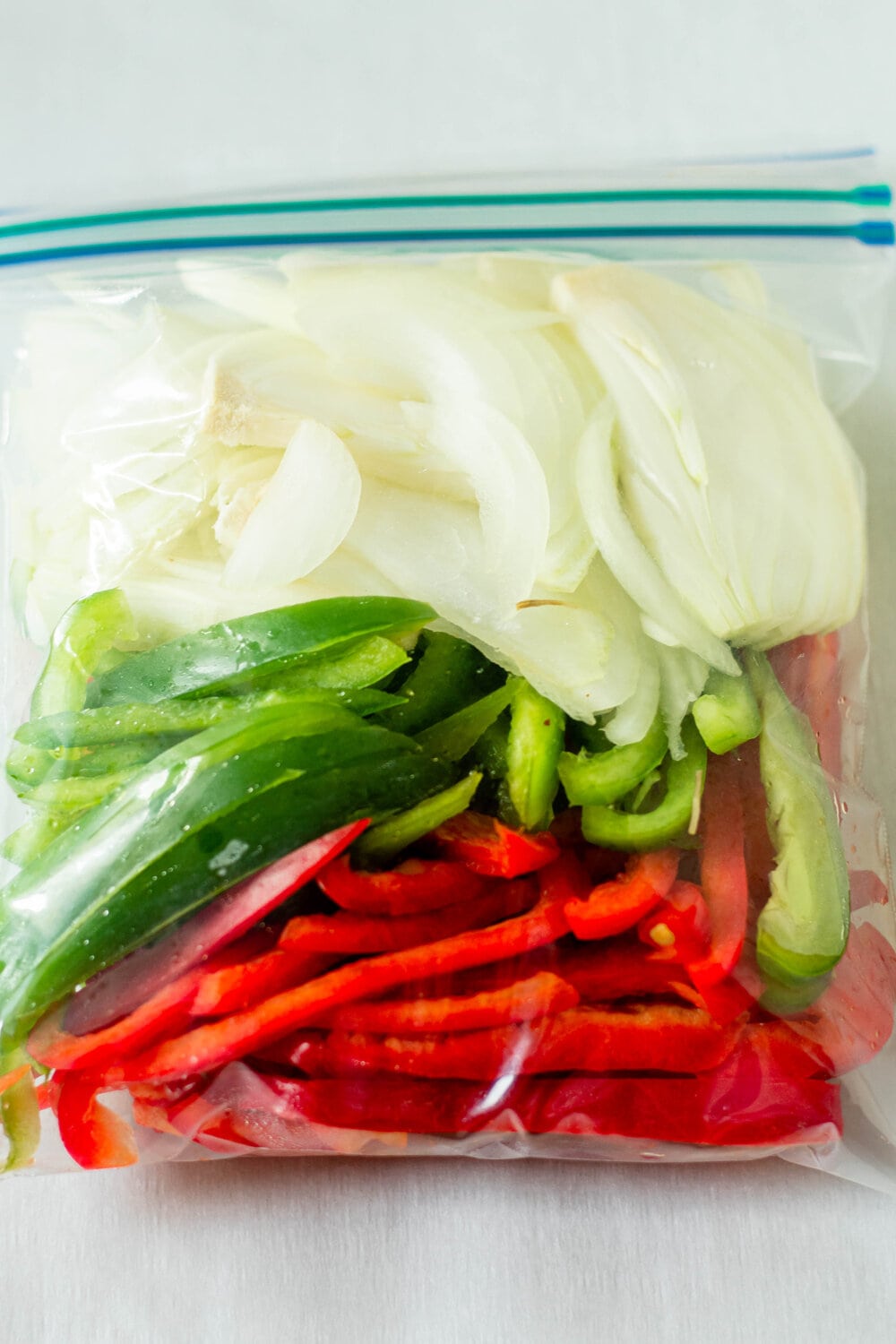 Preparing the veggies for this dish is incredibly simple and a great way to save a little extra time if you are making this recipe on a busy weeknight. To prep them in advance, just thinly slice the peppers and onions and then store them in a storage bag or bowl. When you are ready to make the stir-fry, you can empty the veggies directly into the pan.
How to Prep the Beef in Advance
As I mentioned earlier, I love to prep the steak for this recipe in advance and allow it to marinate overnight. If you are short on time, this is totally optional, but I think it gives the stir-fry even more flavor.
To marinate the steak, add it to a storage bag or small bowl then add coconut aminos, ginger, garlic, rice vinegar, sesame oil, and salt. Stir the beef until it is well coated in the marinade and then place it in the fridge overnight.
For the best results, I like to take the steak out of the fridge fifteen to twenty minutes before I'm ready to make the stir-fry. This gives the steak a chance to come to room temperature and cook more evenly when added to the pan.
What to Serve with Pepper Steak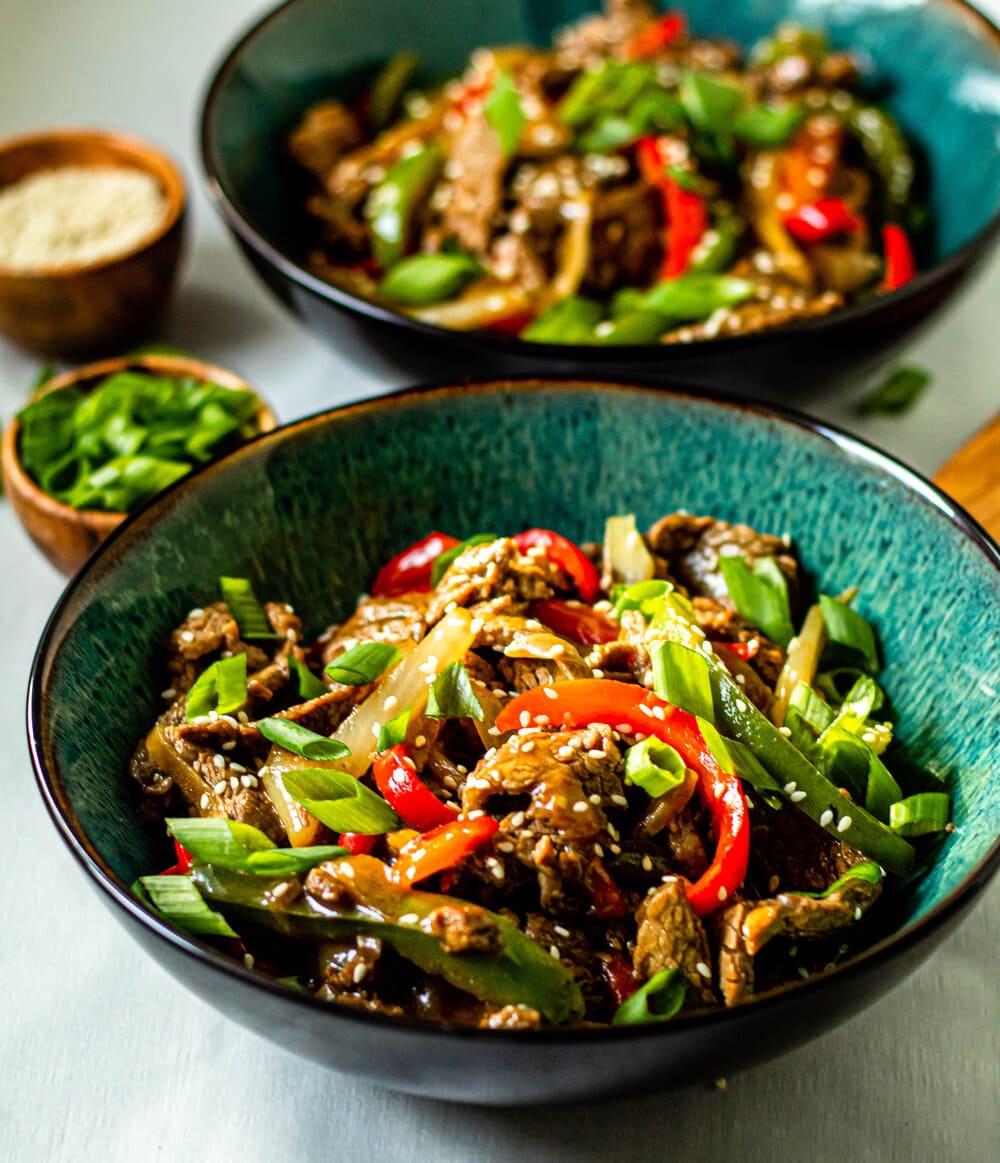 This pepper steak stir-fry is perfect all on its own with a side of steamed or stir-fried vegetables. I also love roasted broccoli with this dish. Of course the perfect pairing is cauliflower rice or regular white rice if you are not doing a round of Whole30.
IF YOU LOVE THIS HEALTHY PEPPER STEAK RECIPE, HERE ARE A FEW OTHER DELICIOUS RECIPES YOU HAVE TO TRY!
Spicy Vindaloo Meatballs with Rice
Easy Sausage and Pepper Skillet
Whole30 Sweet and Sour Chicken
LOOKING FOR MORE FREE RECIPES?
Subscribe to my newsletter and follow along on Facebook, Pinterest, and Instagram for all of the latest updates.
---
Whole30 Pepper Steak (Paleo + Gluten-Free)

Ashlea Adams | 12/16/19

prep time: 10 minutes
cook time: 10 minutes
total time: 10 minutes

Servings: 4

Ingredients:

1 tbsp avocado oil
1 pound flank or sirloin steak, thinly sliced
2 tsp salt (plus more to taste)
3 cloves garlic, minced
1 tbsp + 1/2 cup coconut aminos, divided

1 tbsp rice vinegar
1 tsp sesame oil
2 tsp ginger, minced
1 small to medium red bell pepper, seeded and thinly sliced
1 small to medium green bell pepper, seeded and thinly sliced
1/2 large yellow onion, thinly sliced
1 tbsp arrowroot starch
1 tbsp sesame seeds
scallions, for garnish

Instructions:

Add the steak, salt, garlic, 1 tbsp of coconut aminos, rice vinegar, sesame oil, and ginger to a small bowl. Stir until well combined.
Heat a large skillet or wok over medium-high heat. When the skillet is hot, add the avocado oil.
Next, add the steak to the hot skillet and quickly sear for 3-4 minutes until browned. Once cooked, remove the steak from the skillet.
Next, add the peppers and onions to the skillet and cook for 4-6 minutes until they are tender yet crisp, stirring often. While veggies cook, combine ½ cup of coconut aminos and 1 tbsp of arrowroot starch in a small bowl. Whisk together until well combined.
When the veggies are tender, add the steak back to the skillet. Next, pour the coconut aminos and arrowroot starch over the steak and veggies and toss until they are well coated. The sauce should thicken when heated.
Remove the skillet from the heat and finish the pepper steak with sesame seeds and plenty of scallions. Serve immediately and enjoy!

Recipe Notes:

If you have time, you can marinate your steak before cooking. Just follow the first step and then let your steak marinate for a few hours or overnight in the fridge. Remove the steak from the fridge 15-20 minutes before cooking for best results.
Feel free to add a variety of quick cooking veggies to this recipe if you would like. Mushrooms and zucchini would be great in this!
The Ingredients I Used to Make This Recipe: