Post contains affiliate links
These Sweet Potato and Chorizo Egg Muffins are the perfect quick and easy breakfast option. They are jam packed with flavor from smoky chorizo which is even more flavorful than traditional sausage. You will also get a nice healthy balance of protein, carbohydrates, and fat in these egg muffins thanks to the addition of roasted sweet potato!
If you are tired of the same old egg muffin recipe week after week, you have to give these Sweet Potato and Chorizo Egg Muffins a try. This hearty breakfast recipe does not compromise and these egg muffins make a great choice for your weekly meal prep as well!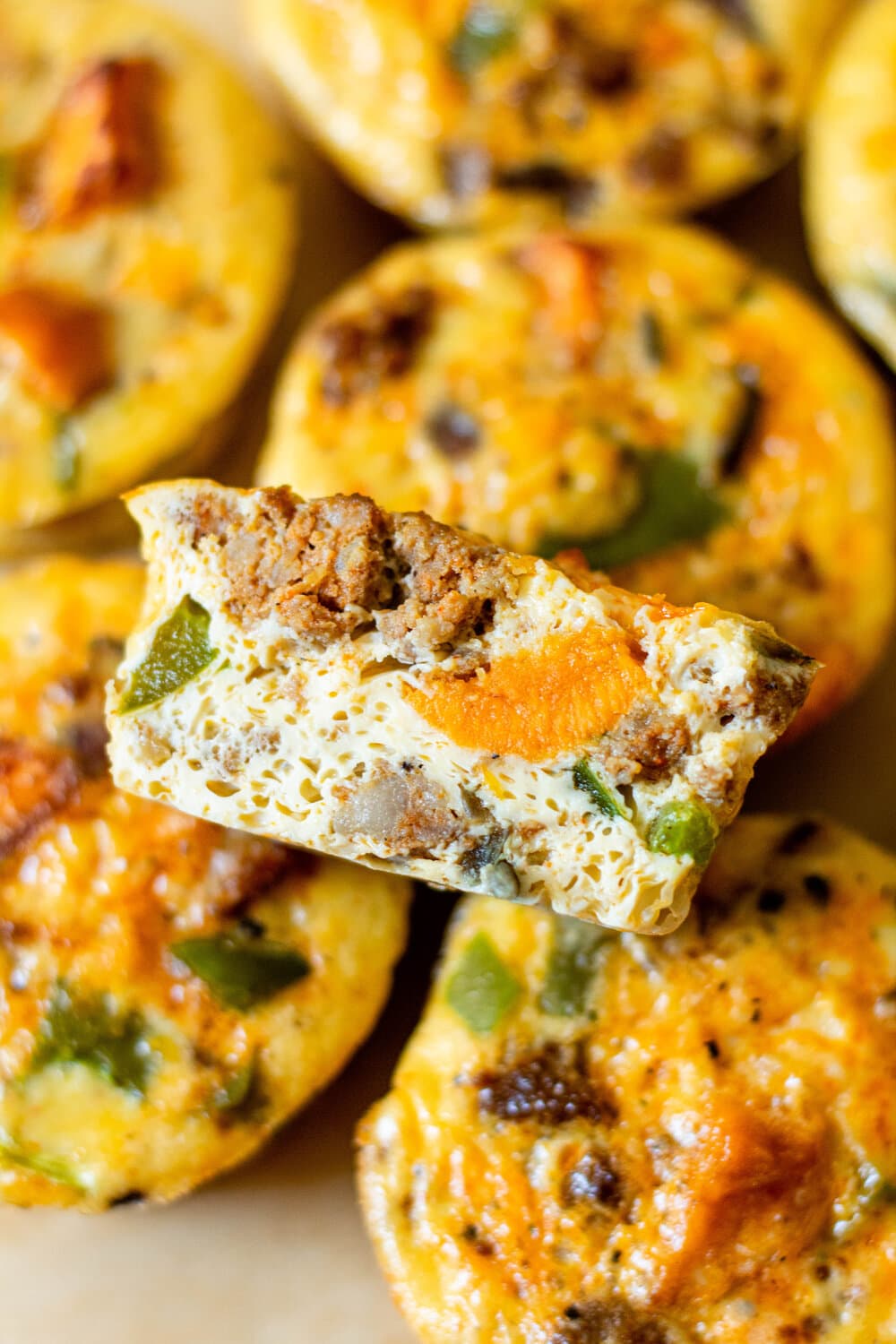 A Simple and Easy Make-Ahead Breakfast Option: Sweet Potato and Chorizo Egg Muffins
Baked egg muffins or egg casseroles are one my favorite things to meal prep. You can assemble a hearty batch of egg muffins in minimal time, and because they reheat so well, they are a great option when you need a quick option during full weeks.
These hearty and healthy Sweet Potato and Chorizo Egg Muffins are packed with delicious flavor thanks to the use of chorizo. Chorizo is full of spices and a much more flavorful addition than traditional pork sausage.
These egg muffins also include roasted sweet potato which pairs perfectly with the chorizo.
The combination of smoky chorizo and sweet potato is a combo that I know you will absolutely love!.
a few simple ingredients for easy sweet potato and chorizo egg muffins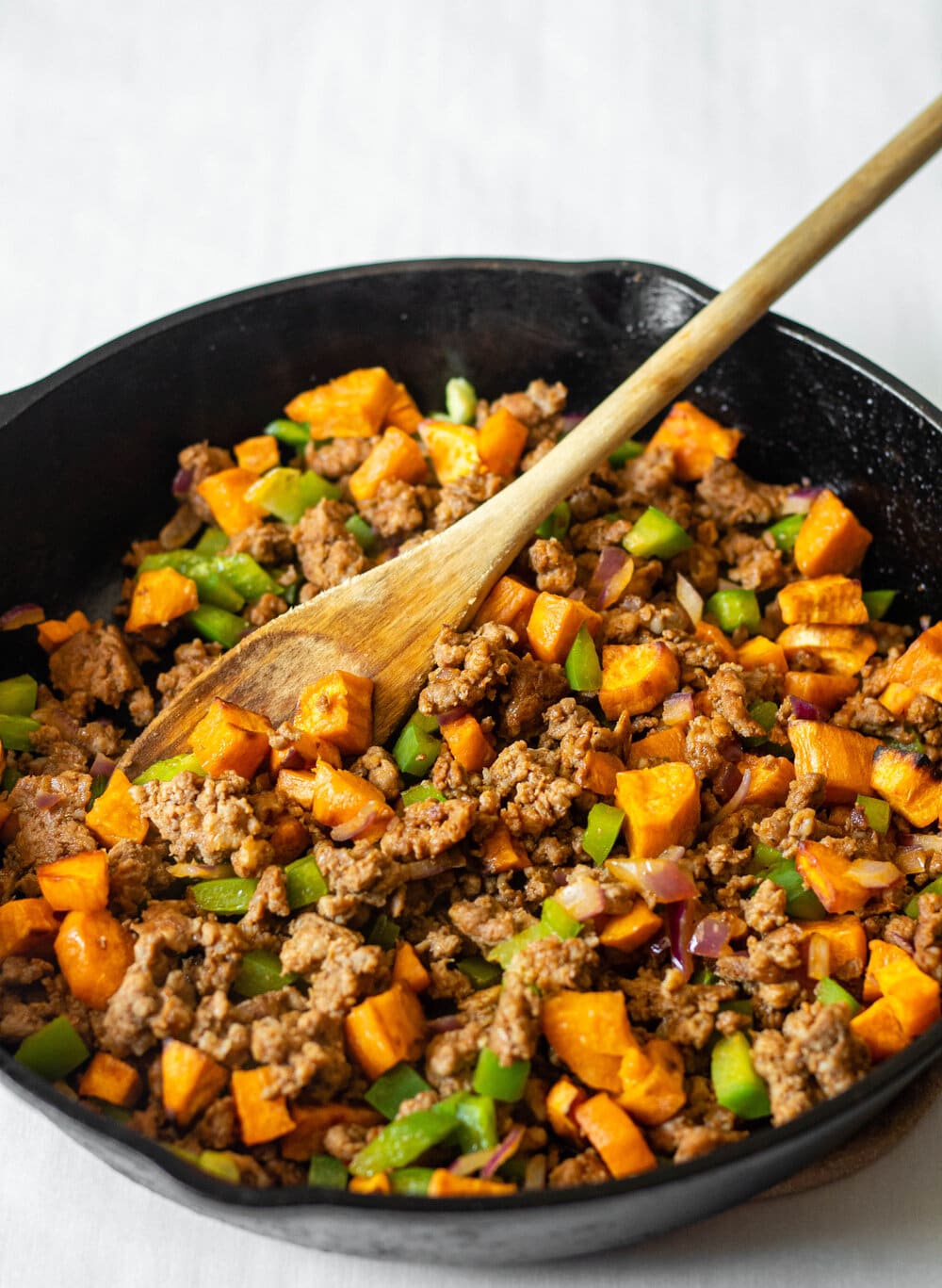 You really don't need much to make these hearty sweet potato and chorizo egg muffins. Just a few simple ingredients go a long way to add flavor to these baked egg muffins.
Of course, the most important ingredients are the eggs, sweet potato, and chorizo, but there are few other ingredients in these egg muffins that give them their distinct flavor.
To make these sweet potato and chorizo egg muffins here's what you need:
eggs

full fat coconut milk

garlic powder

hot sauce (this is optional but it really adds delicious flavor)

diced and roasted sweet potatoes (read this post for my go-to method for roasting sweet potatoes)

diced onion

green bell pepper
tips for making sweet potato and chorizo egg muffins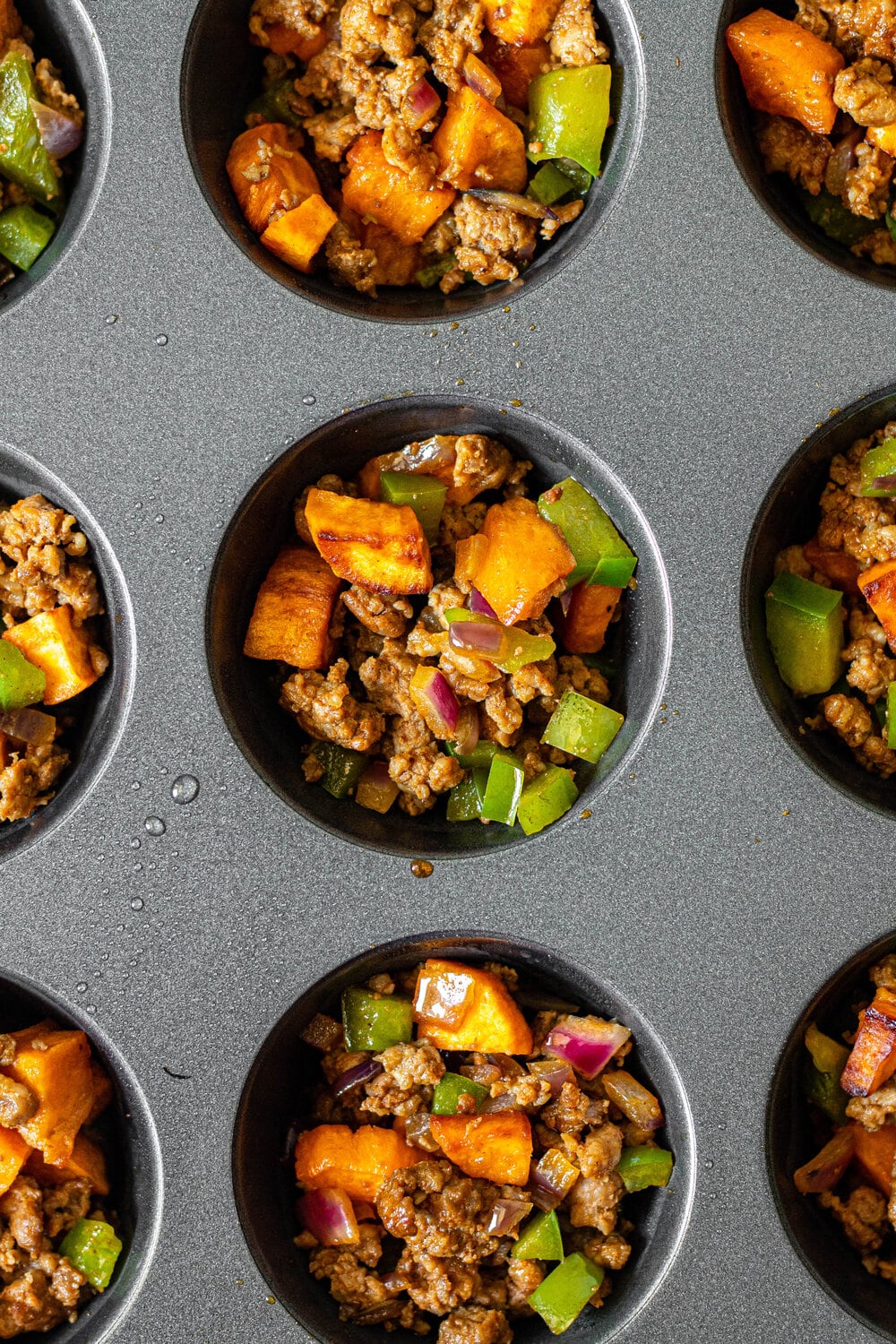 These sweet potato and egg muffins are really simple to make, but I do have a few tips for making sure that you get the best egg muffins every single time.
Egg muffin making tips:
Be sure to grease your muffin tin well before adding the anything to them to ensure that the egg muffins do not stick

Want to avoid greasing your pan all together? use muffin liners to make things even easier!

Do not over fill your muffin tin! Try not to fill the muffin wells to the very tippy top so they do not overflow.
make ahead tips for sweet potato and chorizo egg muffins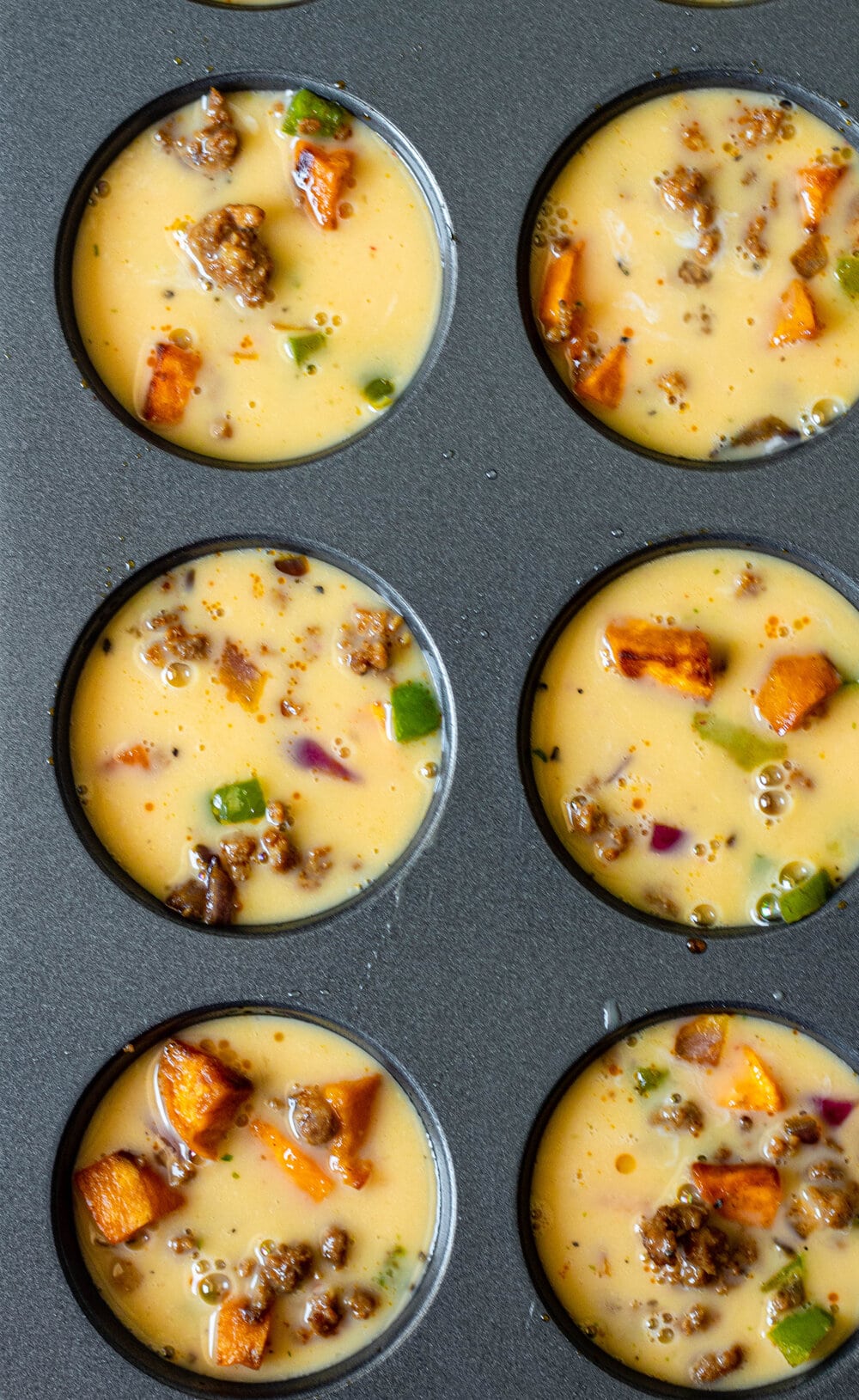 If you are making these to meal prep for the week, I suggest storing them in a air-tight container for up to 3 days. I have not had the best experience with freezing and reheating egg muffins.
If you want to do some prep work in advance to make things even easier, here are my best tips and tricks:
Roast the sweet potatoes a day or two in advance so that you can easily assemble your sweet potato and chorizo mixture.

Pre-dice the peppers and onions.

Make the chorizo and sweet potato mixture in advance, let cool, and then freeze. When you are ready to bake your egg muffins, let the egg mixture thaw and then assemble your muffins for baking.
what to serve with sweet potato and chorizo egg muffins
These egg muffins are pretty hearty on their own, however, if you want to add a little extra something on the side to really round out the meal, here are my favorite sides: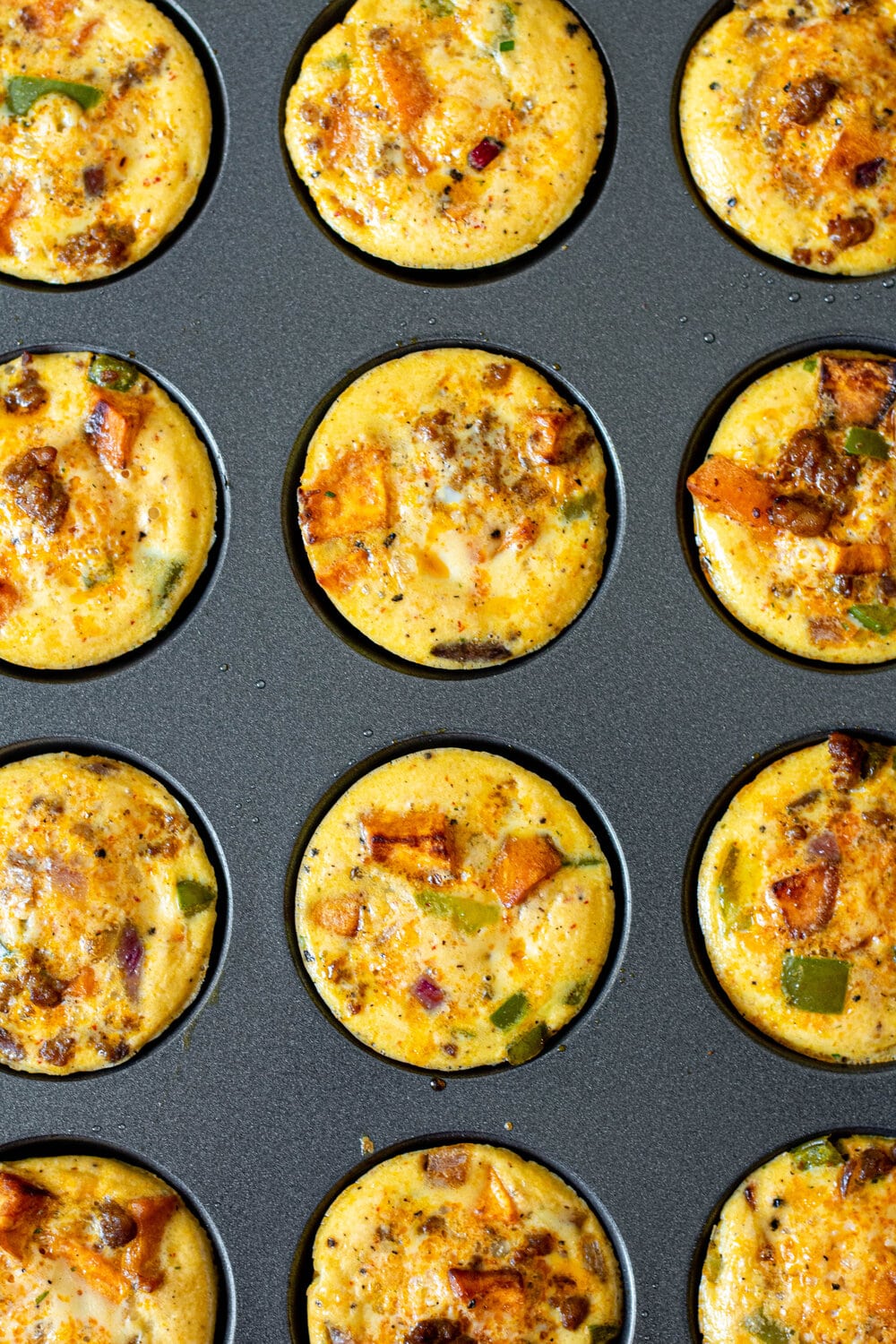 IF YOU LOVE THIS SWEET POTATO AND CHORIZO RECIPE, HERE ARE FEW OTHER DELICIOUS RECIPES YOU HAVE TO TRY!
LOOKING FOR MORE FREE RECIPES?
Subscribe to my newsletter and follow along on Facebook, Pinterest, and Instagram for all of the latest updates.
---
Sweet Potato and Chorizo Egg Muffins
Serves: 3-4
Prep Time: 10 minutes
Cook Time: 25 minutes
Ingredients:
8 eggs

1/2 cup full-fat coconut milk

1 tsp salt

1/2 tsp garlic powder

1 tbsp hot sauce (optional)

1/2 pound chorizo (if you don't have chorizo, you can sub regular sausage)

1/4 cup diced, roast sweet potatoes

1/4 cup finely diced onion

1/4 cup diced green bell pepper
Method:
Heat a skillet over medium heat and then add the chorizo and break it up as it browns.

When the sausage has browned, add the diced peppers and onions to the skillet. Cook for 3-4 minutes until they begin to become tender. Add the cooked sweet potatoes and remove the skillet from the heat.

Whisk the eggs, coconut milk, hot sauce, salt, pepper, and garlic in a large mixing bowl until well combined. Grease your muffin tin with a little oil to prevent any sticking. Divide the sausage mixture evenly among the lined muffin cups.⠀

Pour the whisked eggs over the sausage mixture. Bake the egg muffins at 350 degrees for 25-30 minutes until the egg is set and no longer runny.