This post is sponsored by Green Valley Creamery. All opinions are my own. Thank you for supporting All the Healthy Things.
These days, you can never have too many quick, easy, and healthy breakfast options to choose from. If you're anything like most people, breakfast is not only the most important meal of the day, but also one of the most challenging. That is why I am so excited to share how to build the perfect yogurt bowl, in partnership with Green Valley Creamery yogurt, today!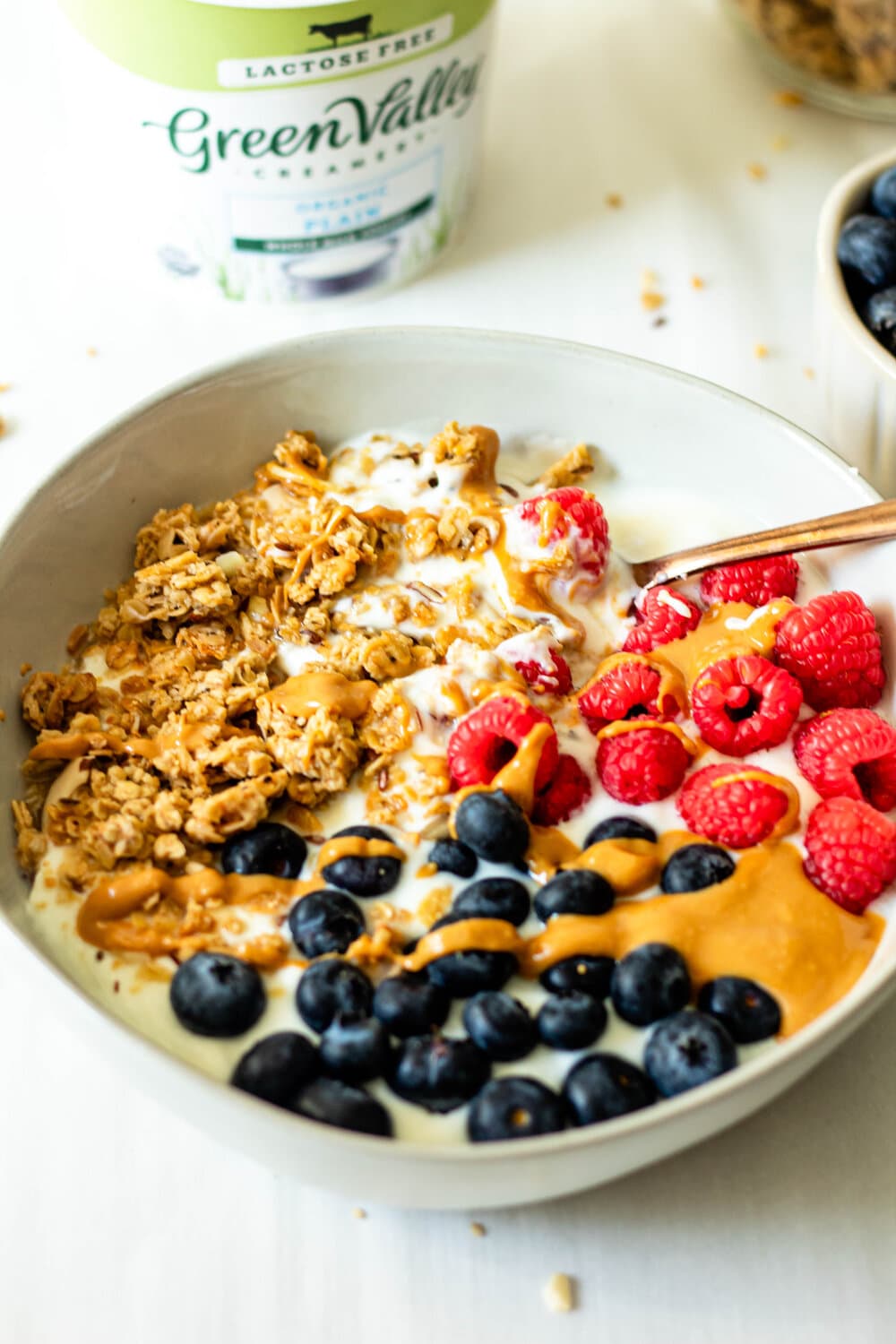 the perfect breakfast: a hearty yogurt bowl with fresh fruit
If you are looking for a quick, and easy breakfast option that you can put together in a pinch, then yogurt bowls are a great option. They are an excellent way to get a healthy balance of protein, carbohydrates, and healthy fat all in one delicious bowl.
Not only are yogurt bowls delicious, they are customizable. You can build your perfect yogurt bowl to fit your unique tastebuds and preferences!
the best yogurt to use for the perfect yogurt bowl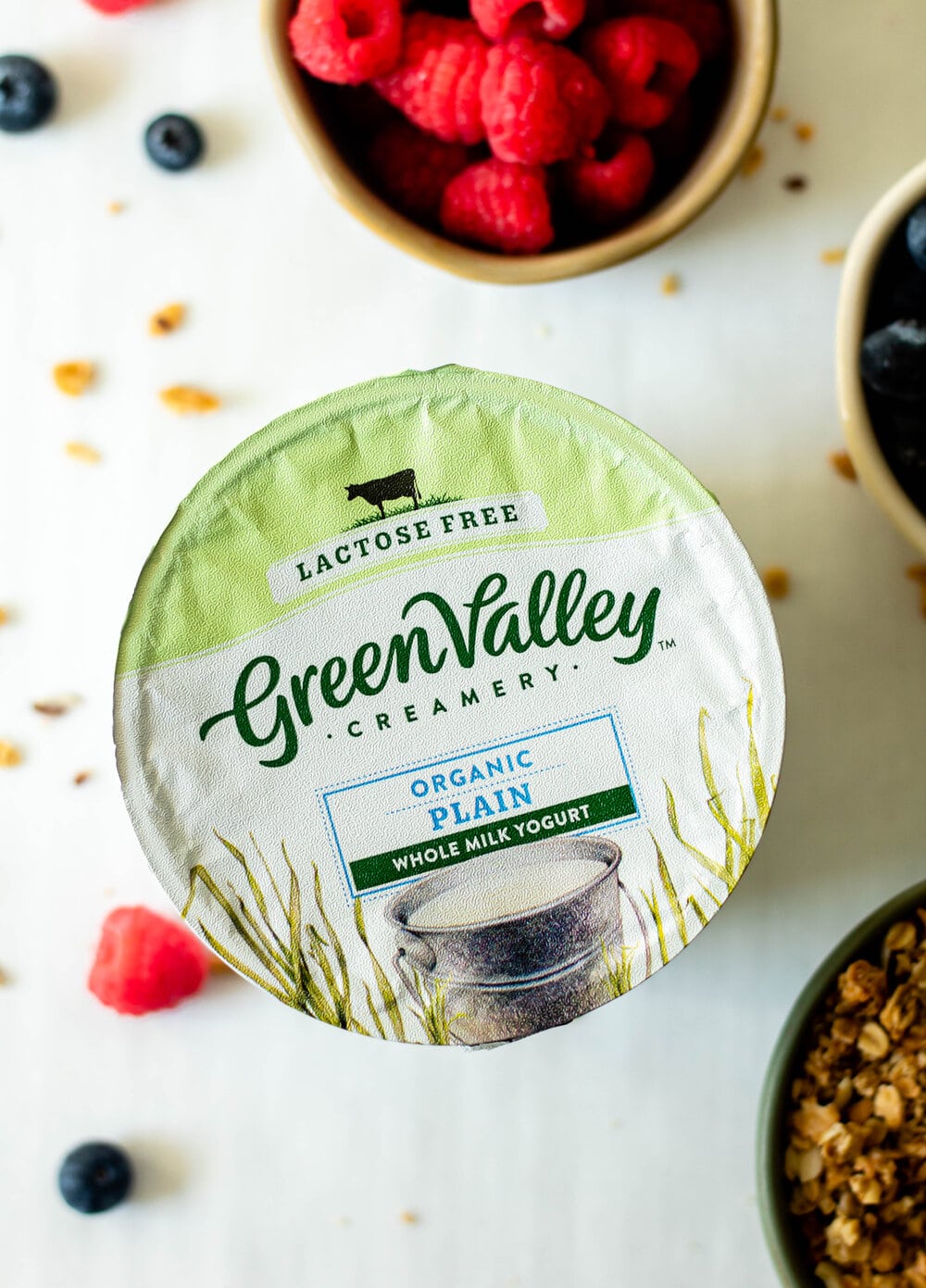 The base of any good yogurt bowl is of course, the yogurt. When choosing your yogurt, it is best yogurt to pick a yogurt that is a plain and unsweetened, like Green Valley Creamery organic plain whole milk yogurt.
Using a plain, unsweetened yogurt gives you the ability to sweeten your yogurt to your liking and select whatever toppings you prefer.
Green Valley Creamery's yogurt is also lactose-free, which means that if you are lactose intolerant or have struggled with dairy in the past, Green Valley's yogurt could be a great option for you.
If you have been missing out on the delicious and tangy flavor of yogurt and you are ready to enjoy yogurt bowls for breakfast again, Green Valley could be a great option!
the best fruit to use for the perfect yogurt bowl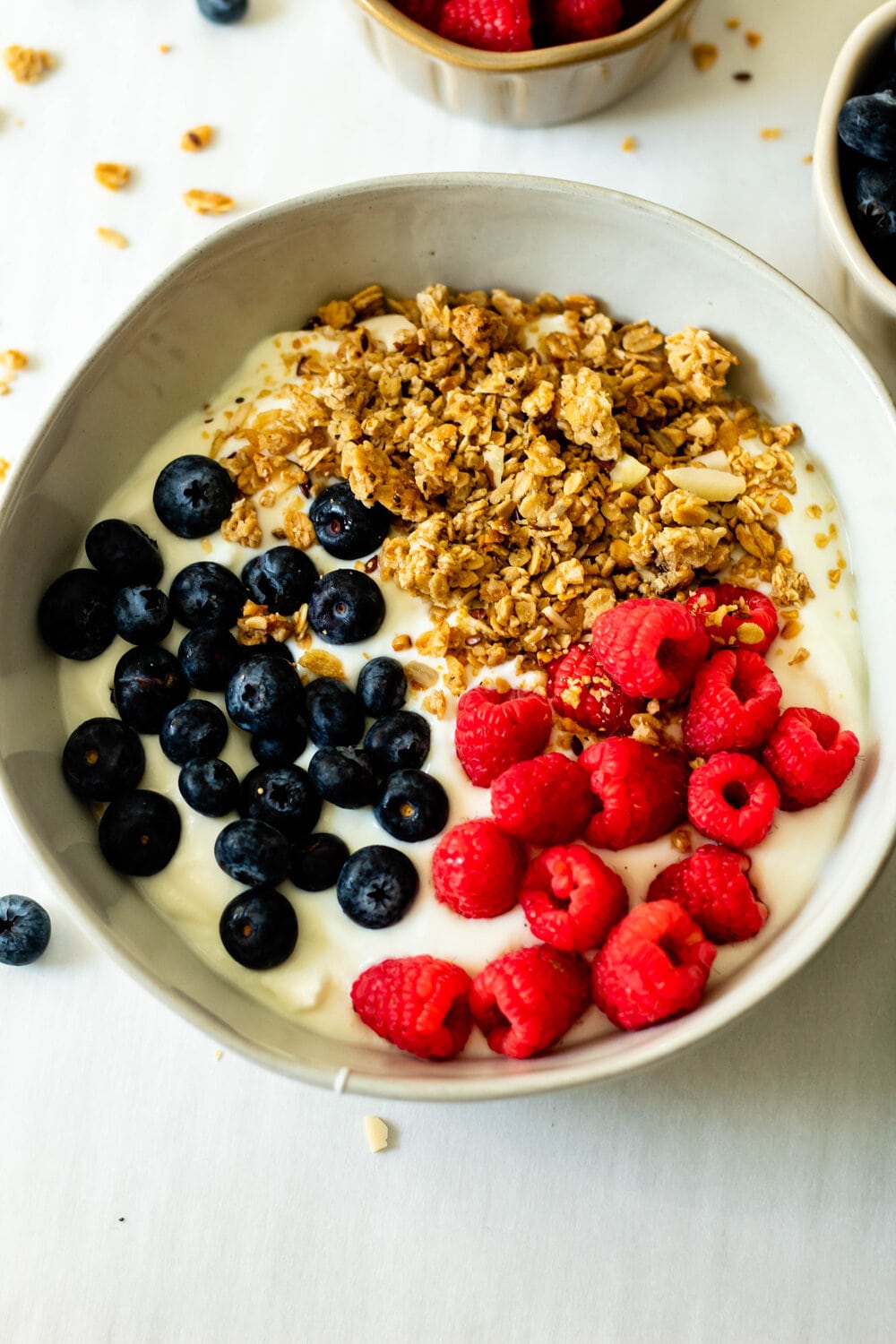 One of the best parts of any yogurt bowl is the fresh fruit. Blueberries and raspberries are a delicious combination that you can enjoy year round, but here are a few other fruit options to use when building your bowl.
Fruit options for the perfect yogurt bowl:
peaches

strawberries

sliced bananas

apple slices

blackberries
Don't have fresh fruit? You could your favorite dried fruit instead!
the best toppings for the perfect yogurt bowl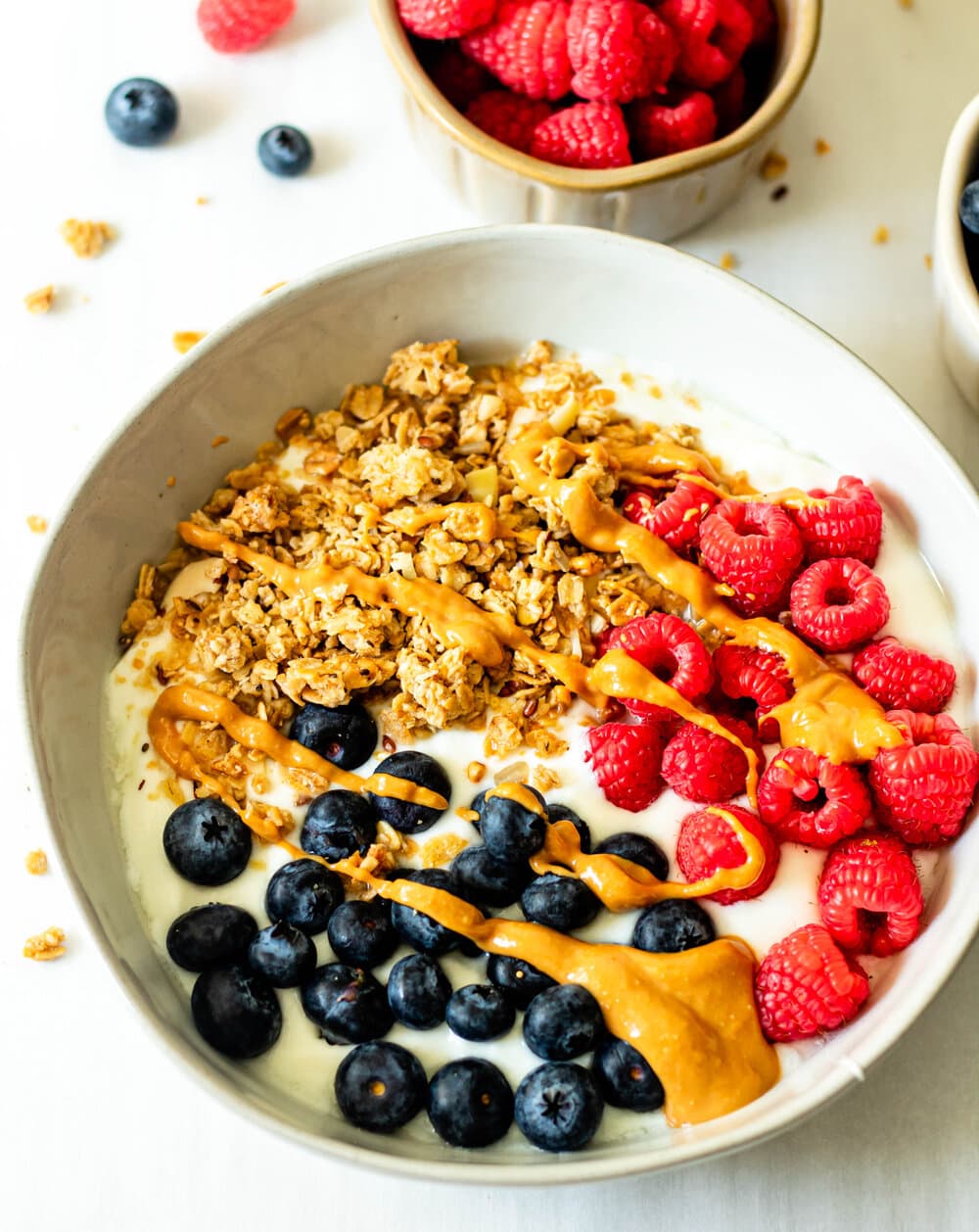 The last step in building the perfect yogurt bowl are the toppings! There is more to the toppings on a yogurt bowl than just the fruit. To really make a hearty yogurt bowl, finish things off with a few things to add more flavor and crunch to your yogurt bowl.
Easy topping options for the perfect yogurt bowl:
your favorite crunchy granola

chia seeds

pumpkin seeds

creamy nut butter

honey or maple syrup for a little sweetness

hemp hearts

flax seeds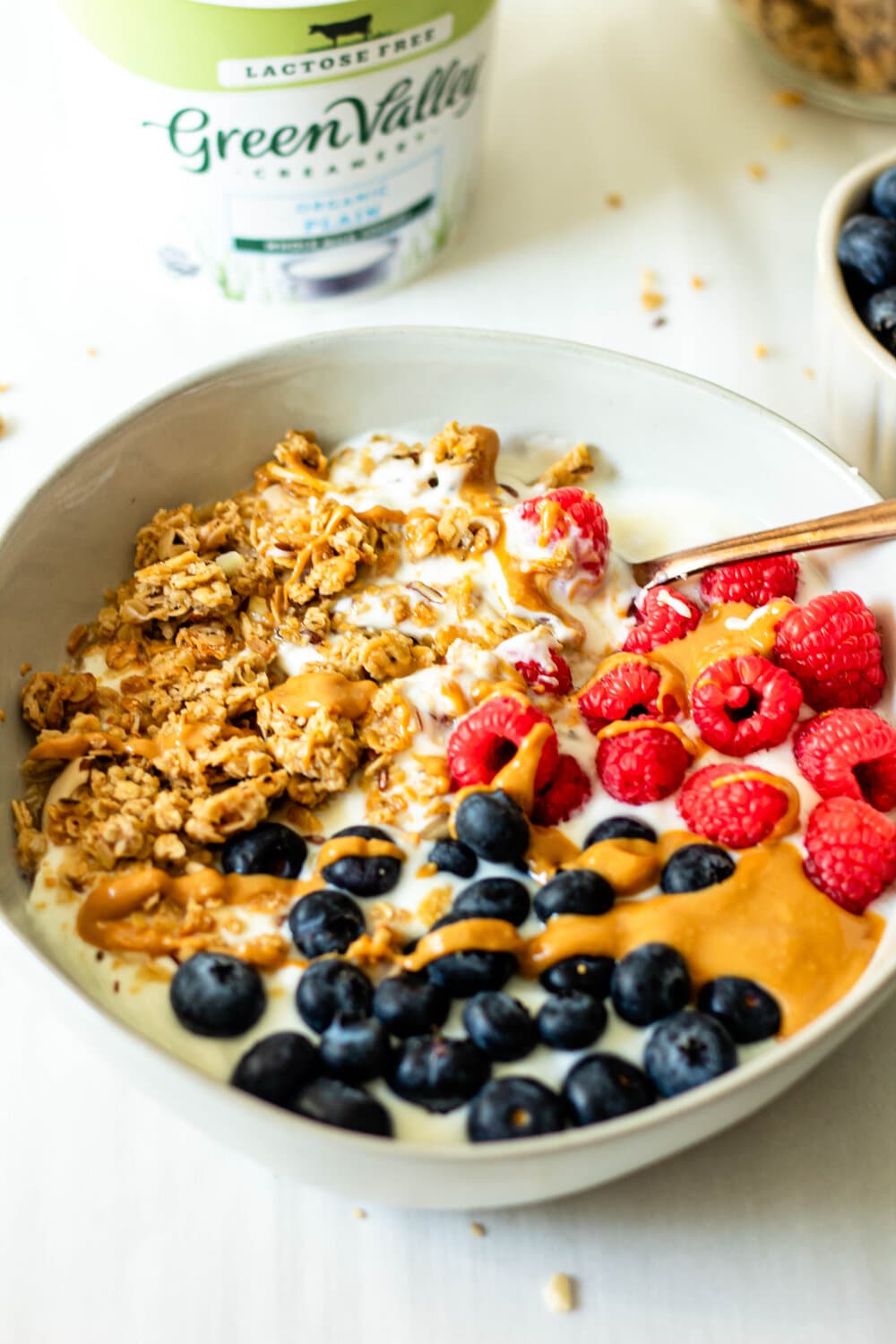 IF YOU LOVE THIS yogurt bowl idea, HERE ARE FEW OTHER delicious breakfast recipes YOU HAVE TO TRY!
LOOKING FOR MORE FREE RECIPES?
Subscribe to my newsletter and follow along on Facebook, Pinterest, and Instagram for all of the latest updates.
---