These oven roasted sweet potato fries with lemon herb tahini dipping sauce is the perfect combination of sweet and savory. This is a fun twist on the classic french fry and ketchup combination that you won't be able to resist.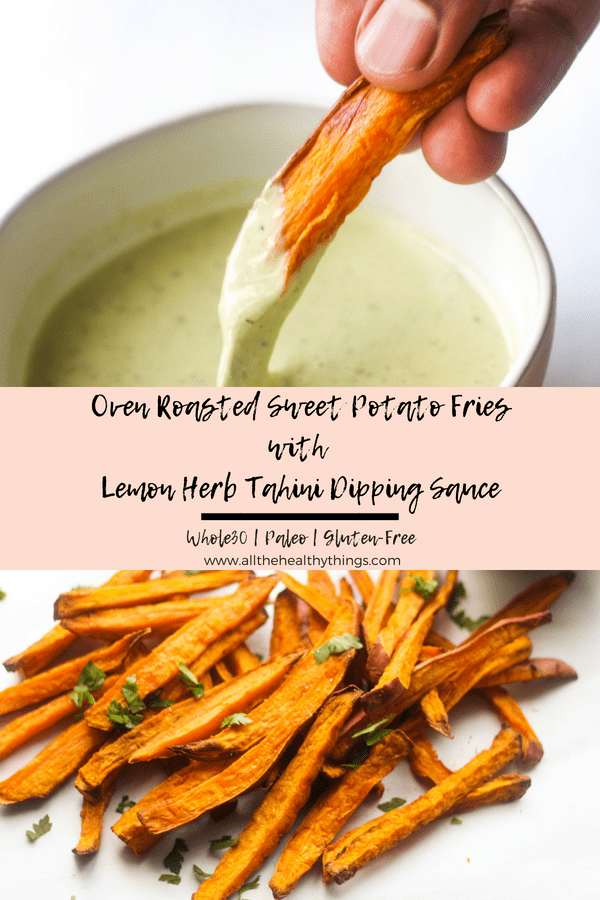 Is there any better combination than french fries and a dipping sauce?! I think not.
Whether you're a classic french fries and ketchup kind of person or you prefer to dip your potatoes in ranch or barbecue sauce, we can all agree that there is just something special about the whole french fry and dipping sauce combination.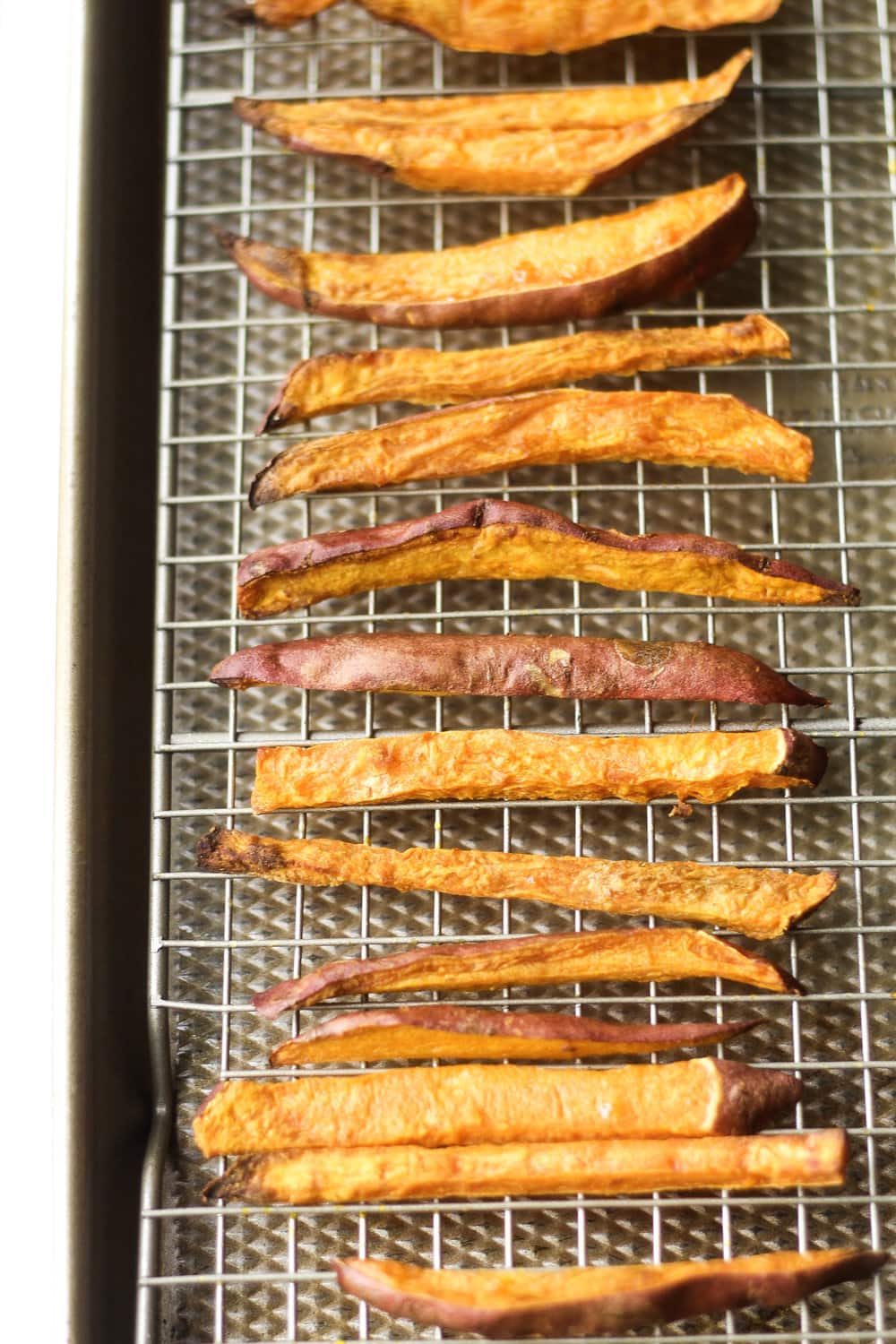 This recipe is a twist on everyone's favorite combination and it's so good. So good.
If you're a lover of sweet potato fries, then you'll love this easy and healthy method of preparing them. There's no deep frying involved here my friend. Just a little bit of olive or avocado oil and a hot oven.
These sweet potato fries and the dipping sauce are also Paleo, Whole30 compliant, gluten-free, and the perfect appetizer or side dish to go along with your meal.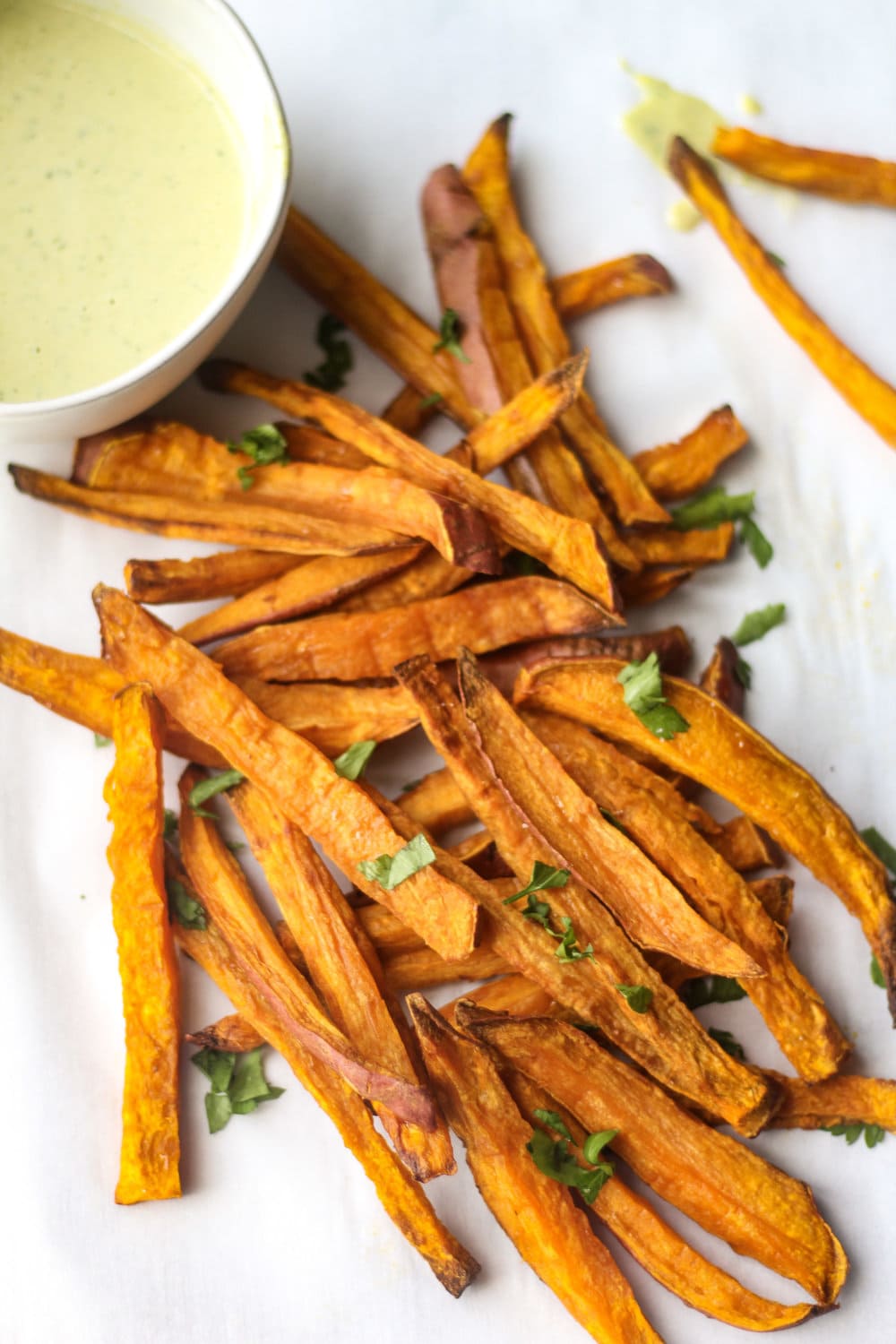 Sweet potatoes don't contain the same starch level as regular spuds, so they don't get as crispy as fries that are made from traditional russet potatoes. Despite that, these sweet potato fries are still absolutely delicious and cooking them on a baking rack helps to get them a little more crispy without a ton of oil.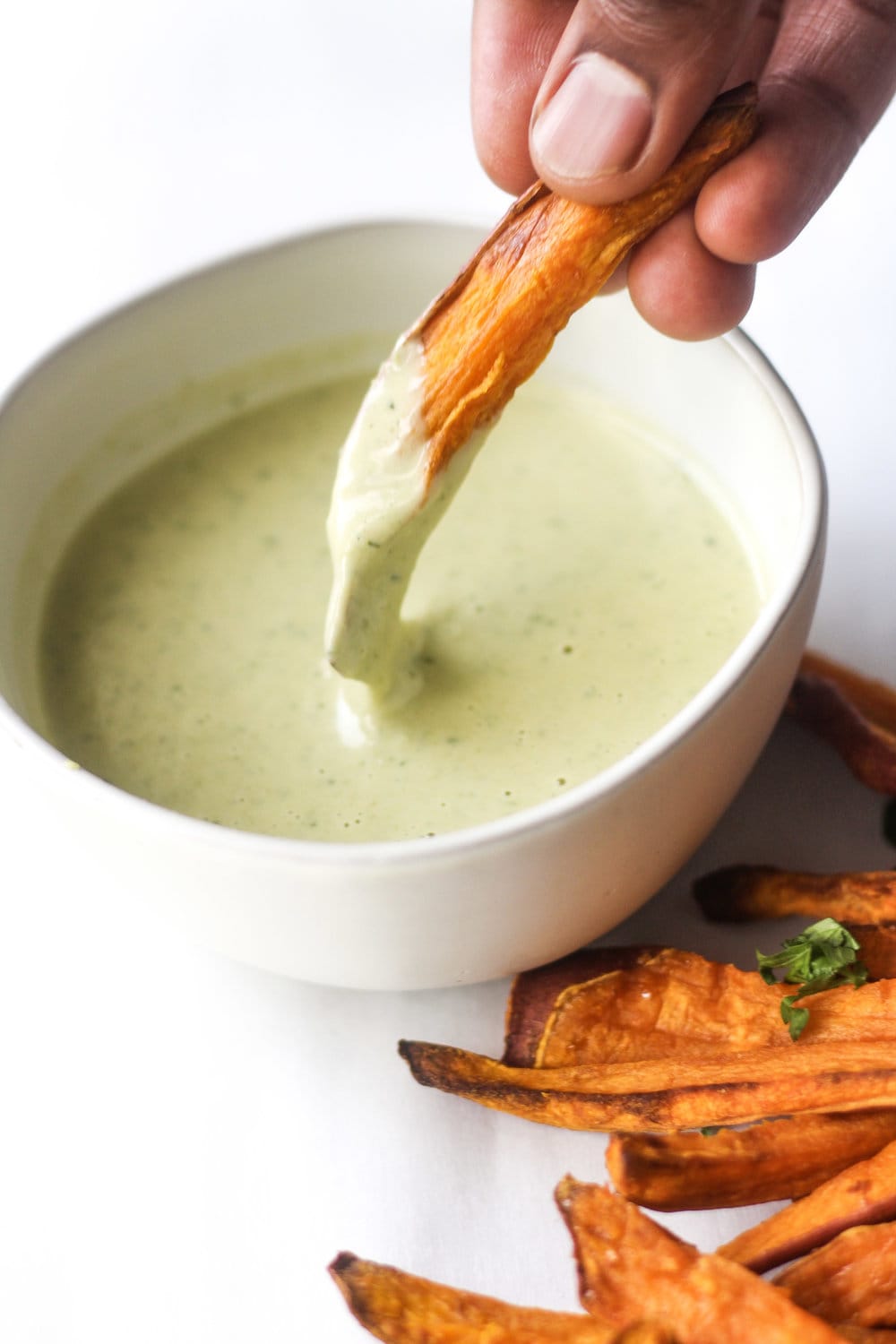 These oven roasted sweet potato fries are delicious, but the icing on the cake is the lemon herb tahini dipping sauce that goes along with them.
This tahini sauce is garlicky, full of fresh herbs, and the perfect pairing for the sweetness of the fries. Lemon herb tahini may seem like an unconventional pairing that you might not expect, but just trust me on this one. It's so good.
Plus, the dipping sauce also doubles as the perfect salad dressing or as a dip for veggies, chicken, or beef. Feel free to drizzle it over your favorite salads or roasted veggies for even more flavor.
---
Oven Roasted Sweet Potato Fries with Lemon Herb Tahini Dipping Sauce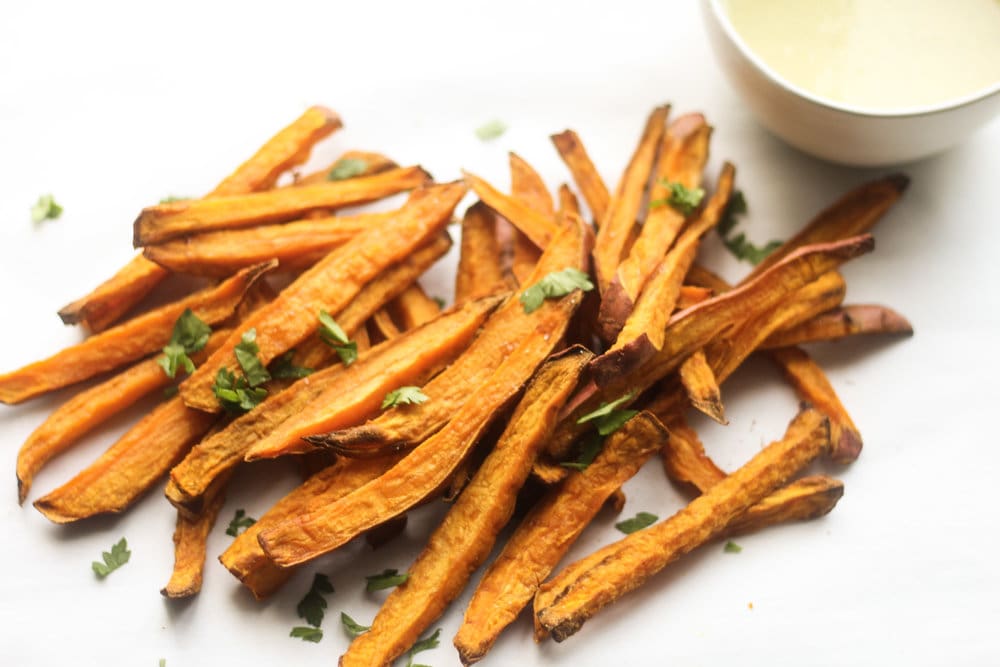 Sweet Potato Fries:
2 large garnet sweet potatoes
1/2 – 1 tbsp avocado or olive oil
sea salt
fresh parsley for garnish
Method:
Preheat the oven to 425 degrees.
Cut the sweet potatoes into evenly sized fries. There's no need to peel the potatoes, but if you're not a fan of sweet potato skin, feel free to give the potatoes a peel before cutting them.
Toss the sweet potatoes in oil and then place them on a baking rack that has been placed on a baking sheet. Be sure not to overcrowd the pan, you want there to room in between each potato.
Bake for 25-30 minutes until the potatoes are tender, and the edges have begun to crisp.
Remove the pies from the pan and toss with sea salt and fresh parsley for garnish.
Lemon Herb Tahini Ingredients:
2 tbsp chopped fresh parsley
1 tbsp chopped fresh dill
6 fresh mint leaves
1 1/2 tbsp chopped fresh chives
2 cloves garlic
1/2c water
1/4c lemon juice
2/3c tahini
1 tsp salt
Method:
Place the water, herbs, and garlic into a blender. Blend on high until the herbs are finely chopped, then pour the liquid into a bowl.
Stir in the tahini, lemon juice, and salt until well combined. Add more water if the dressing is too thick. Give it a taste and add more salt or lemon juice as needed.