Roasted green beans with crispy shallots, roasted pecans, dried cherries, and feta cheese. It's like a delicious flavor explosion in your mouth. If you're tired of the classic green bean casserole and looking to do something a bit different with your green beans this year, try this simple and flavorful side dish to change things up a bit.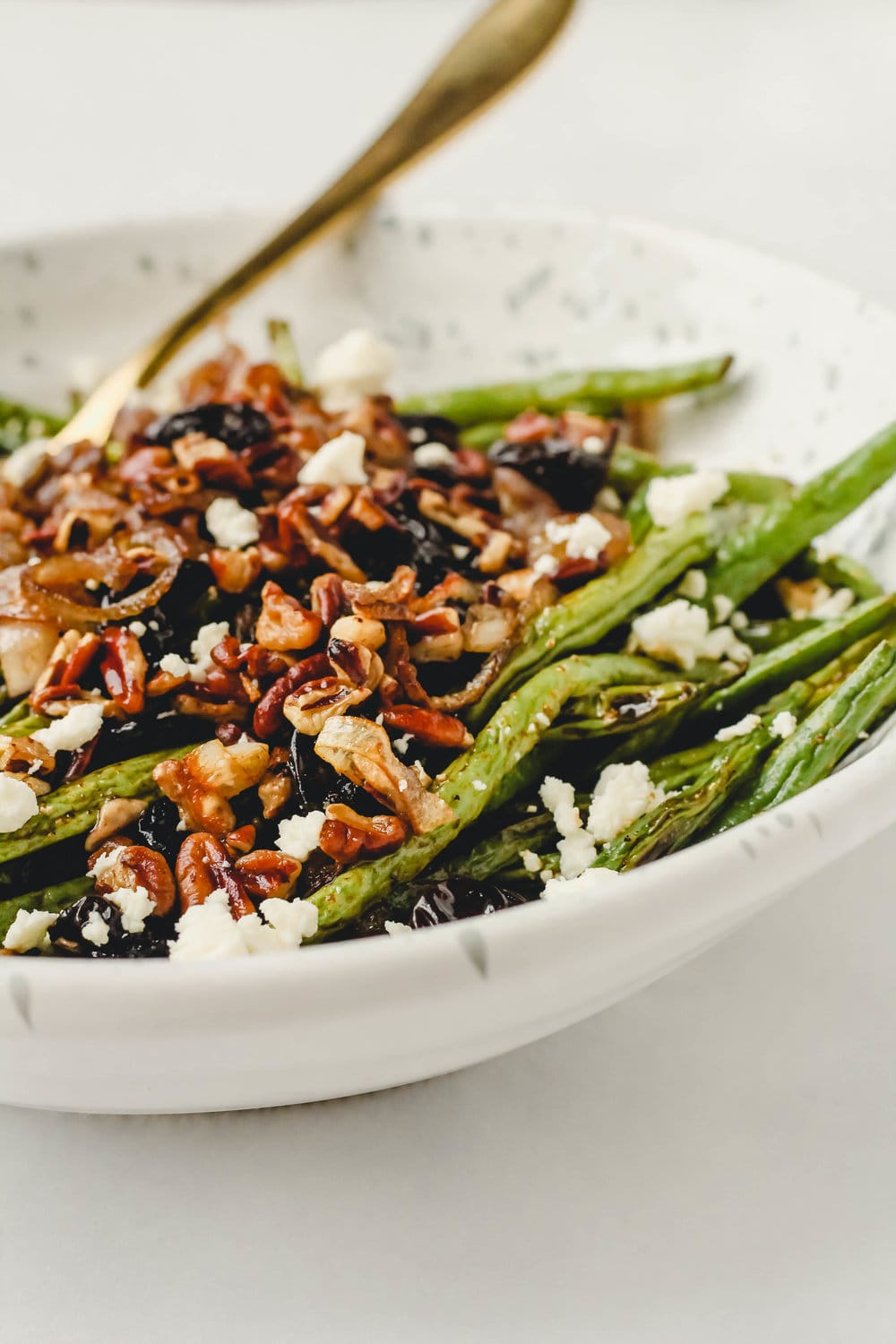 HELLO, ROASTED GREEN BEANS.
Crispy yet tender roasted green beans, crispy shallots, crunchy toasted pecans, sweet dried cherries, and salty feta cheese. If there was a side dish I could eat every single day, it would probably be this one. I mean roasted veggies are good on their own, but there's something about adding roasted nuts, dried fruit, and crispy fried shallots that takes thing to a whole different level. And then, feta cheese? I mean, could it get any better?
One of my favorite holiday recipes is green bean casserole because crispy fried onions, DUH. I love that this recipe is bit lighter, but you still get that crispy fried onion deliciousness with your green beans. The best combination. And I know what you may be thinking, what about the casserole creaminess?! I'm right there with ya. Creamy and tangy feta cheese kind of ties everything together to give you those little bites of creamy cheesy heaven.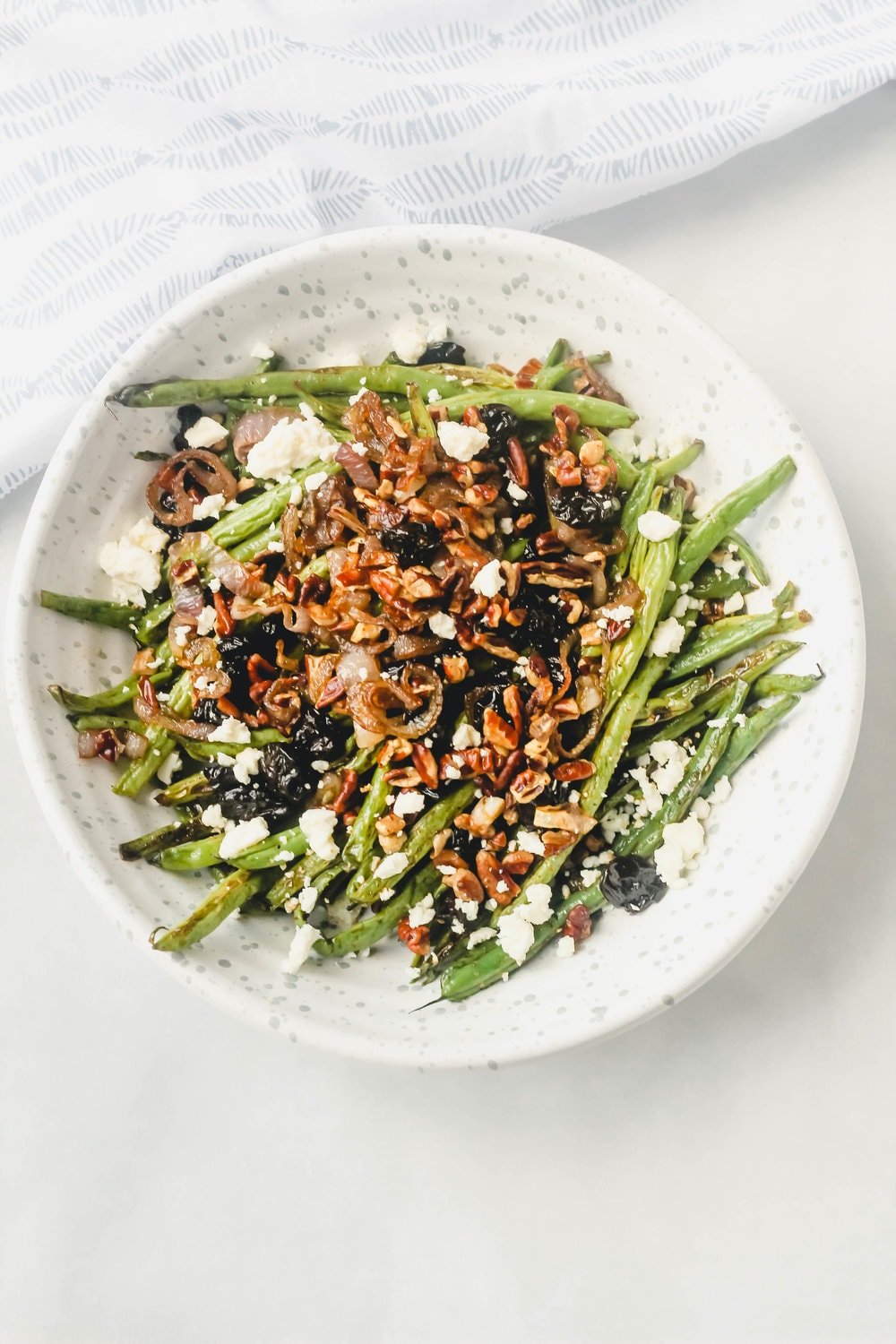 This recipe is perfect for the holidays, but it's also a simple side dish for any day of the week. You can also make it Whole30 compliant by using unsweetened dried cherries and leaving the feta cheese for another time. I promise, even without the cheese, this dish is still full of flavor.
The base of this recipe is obviously the fresh roasted green beans. Whatever you do, don't overcook your green beans. You want them to be tender, but they should still have a slight crunch to them. Roasting the green beans at 425 on a sheet pan for twelve to fifteen minutes should give you the perfect combination of tenderness and crunch. Also, don't worry if they get a little char on them. That makes them even better in my very humble personal opinion.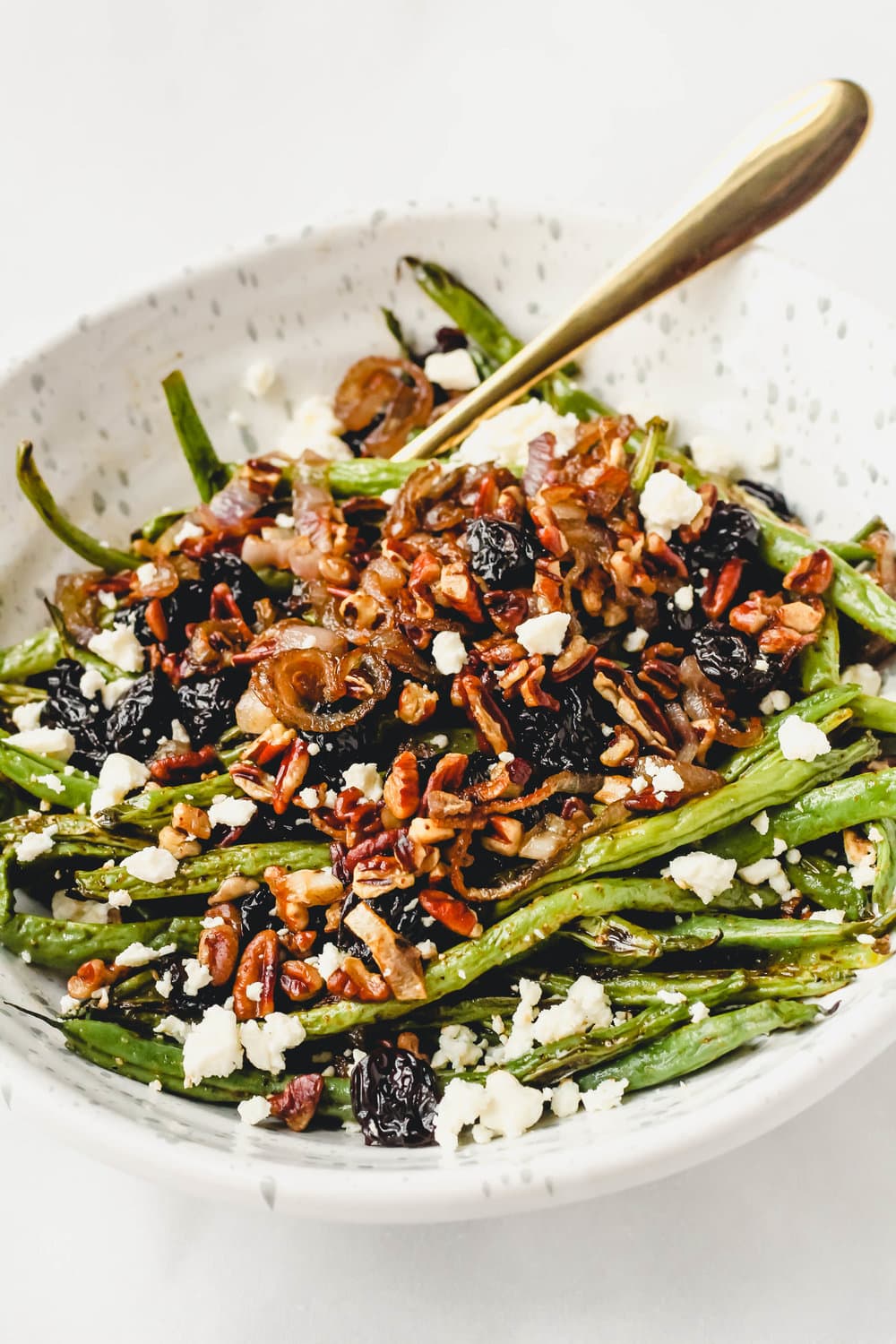 Next, it's all about those toppings. Crispy shallots, fried in ghee, crunchy roasted pecans, dried cherries, and cool feta. The toppings really take these green beans to the next level and pack this dish with tons of flavor without having to worry about making a cream of mushroom sauce. Classic casseroles are delicious, but sometimes you just need to try something new and this recipe is a great place to start.
Finally, you just pour all of the toppings over the green beans and boom! You're done. A simple and easy side dish that is packed with flavor. Bonus – it will look absolutely beautiful in your serving dish on your holiday table. WIN WIN!
---
Roasted Green Beans with Crispy Shallots and Feta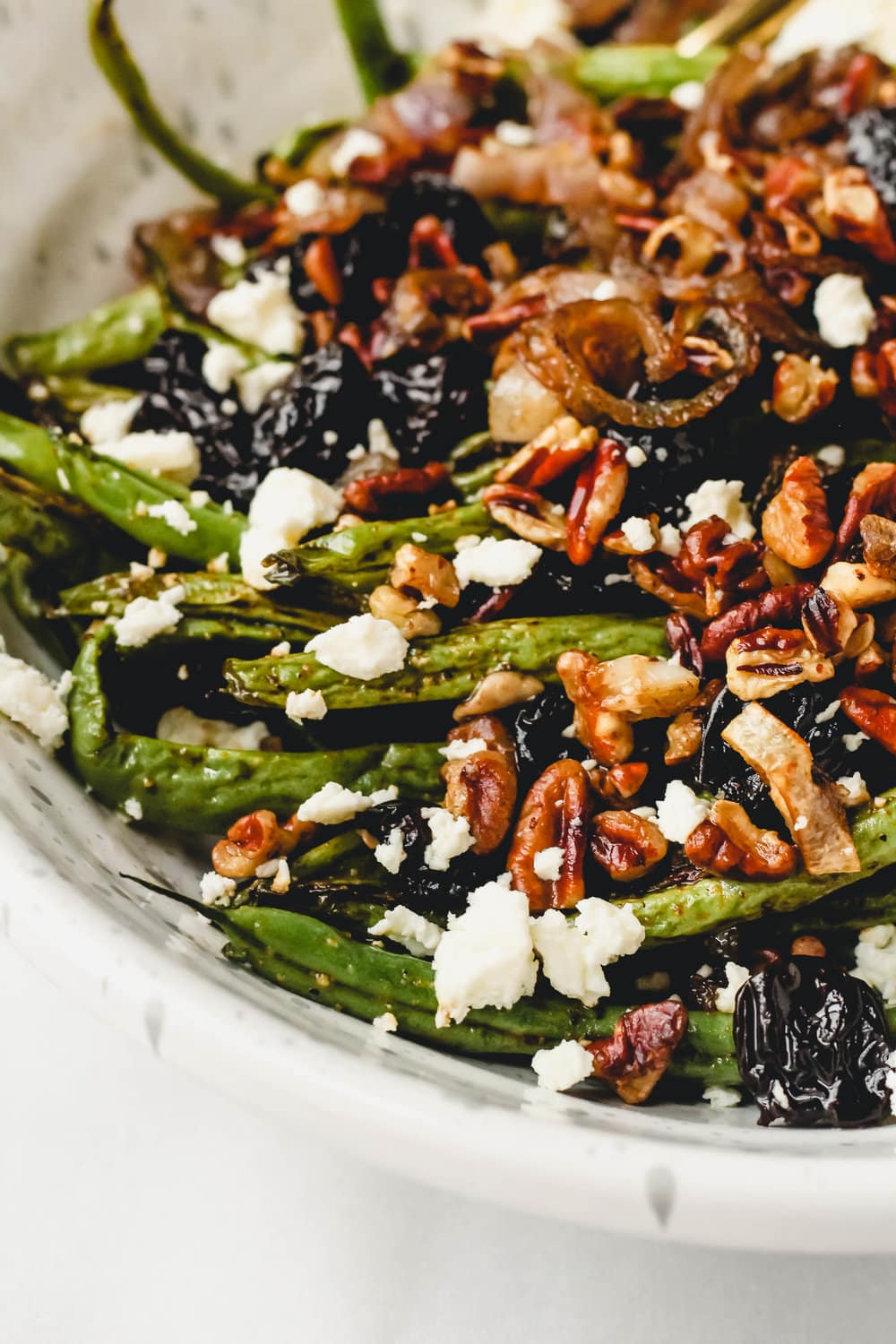 Ingredients:
1/2 tablespoon avocado or olive

1 pound fresh green beans, cleaned

1/2 tsp garlic powder

1/2 tsp sea salt

pinch of black pepper

1 tablespoon ghee

1 shallot, thinly sliced

1/4 cup chopped roasted pecans

1/4 cup dried cherries

1-2 tbsp feta cheese, crumbled
Method:
Preheat your oven to 425 degrees. Toss the green beans in the oil, garlic powder, salt, and pepper. Roast them at 425 degrees for 12-15 minutes until the green beans are slightly browned and tender, but still have a slight crunch. When the green beans are done, place in a serving dish and set to the side.

While the green beans are cooking, heat 1 tablespoon of ghee or butter over medium heat in a small skillet. When the ghee is hot, add in the sliced shallots and fry until golden brown and translucent, around one to two minutes. When the shallots are done, remove them from the skillet and let them drain on a paper towel.

When all of the shallots have finished cooking and been removed from the skillet, add the chopped pecans and dried cherries to the remaining ghee in the skillet and cook for 1-2 minutes until everything is warmed through.

Finally, pour the ghee, pecan, and dried cherry mixture over the roasted green beans. Then top with the crispy shallots and crumbled feta. Serve immediately.