This post contains affiliate links
This healthier sweet potato casserole is the perfect tasty side dish. Creamy mashed sweet potatoes, sweetened with a touch of maple syrup, meet the perfect pecan streusel topping that adds just the right amount of texture and crunch. The best part is that this casserole is naturally gluten-free, made with real food ingredients, and I provide a dairy and nut-free option as well. I know you'll love it!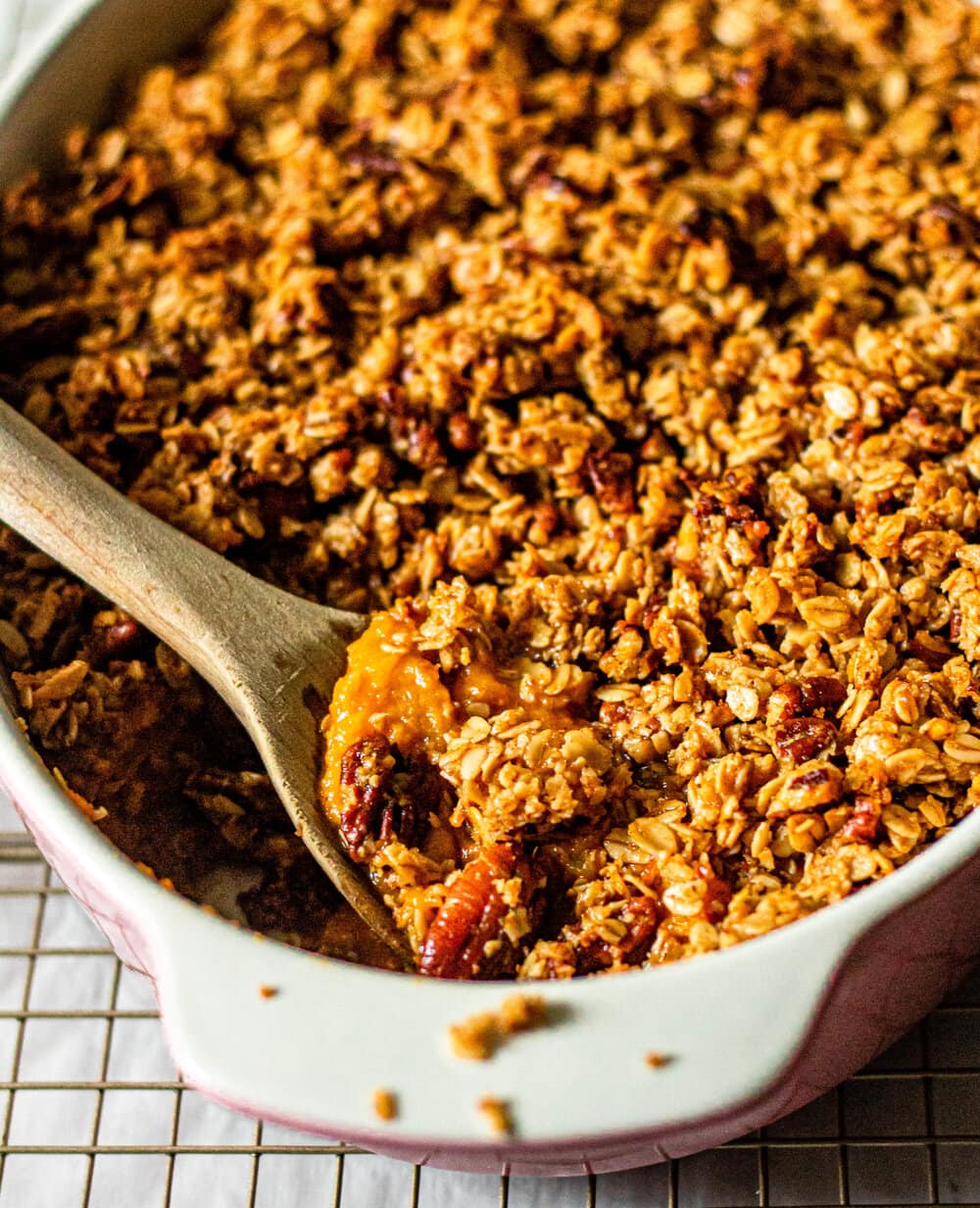 Gluten-Free Sweet Potato Casserole
Who doesn't love sweet potato casserole? It is one of my sister's favorite holiday sides (or any time of year for that matter) and I don't know many people who aren't a huge fan of this classic dish.
Sweet potato casserole gives you all of the delicious flavor of sweet potato pie with a yummy streusel topping for a little texture and crunch.
This healthier sweet potato casserole, is a slight spin on the classic. It is sweetened with a touch of maple syrup and brown sugar, and uses coconut milk instead of extra sugary sweetened condensed milk to keep things nice and creamy while still dairy free.
The streusel topping uses real butter (I mean it is the holidays, y'all!) but if you need to avoid dairy, coconut oil also works just fine.
Keep reading to learn everything you need to know about making this healthier sweet potato casserole!
How to Cook Sweet Potatoes on the Stove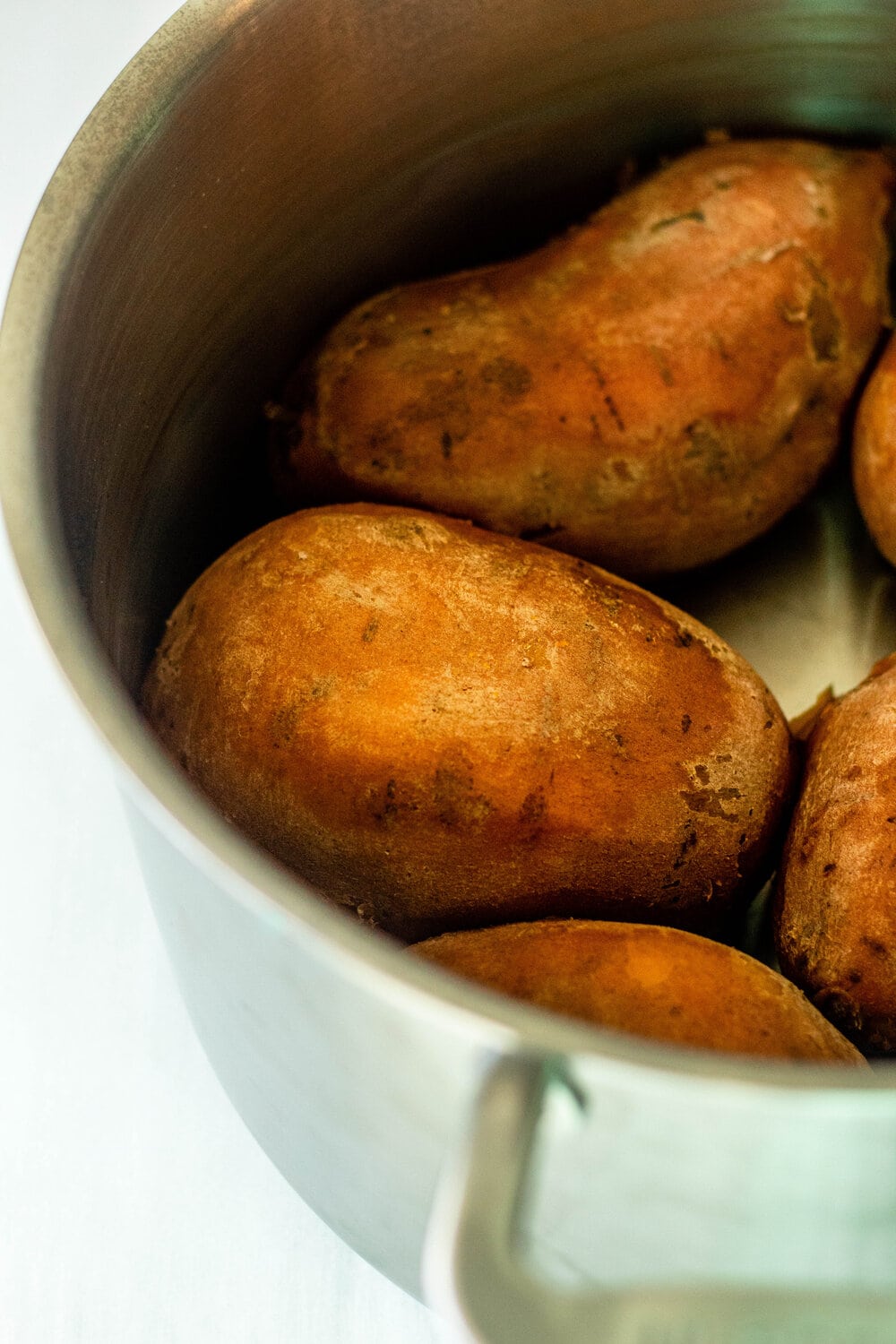 There are a couple of different ways to cook your sweet potatoes so that you can mash them for this recipe. My mom and grandma always boil their sweet potatoes on the stove before making their casseroles which is one of a couple easy options for making your sweet potato mash.
To cook your potatoes on the stove top, just add whole sweet potatoes (skin on) to a large stock pot with plenty of water and boil until fork tender. Once the potatoes are cooked through, remove them from the water and allow them to cool before peeling and mashing.
Cooking your sweet potatoes on the stove top is a great option, especially if you want to start prepping for this casserole in advance. You can cook the sweet potatoes and then allow them to cool in the fridge overnight before peeling and mashing the next day.
Other Methods for Cooking Sweet Potatoes
Baked In Foil
Another easy option is to wrap up each individual sweet potato in aluminum foil and bake at 425 degrees until tender. This usually takes forty-five minutes to an hour depending on the size of the sweet potato.
Baking your sweet potatoes is a great hands off way of prepping them that also frees up some space on your stove top.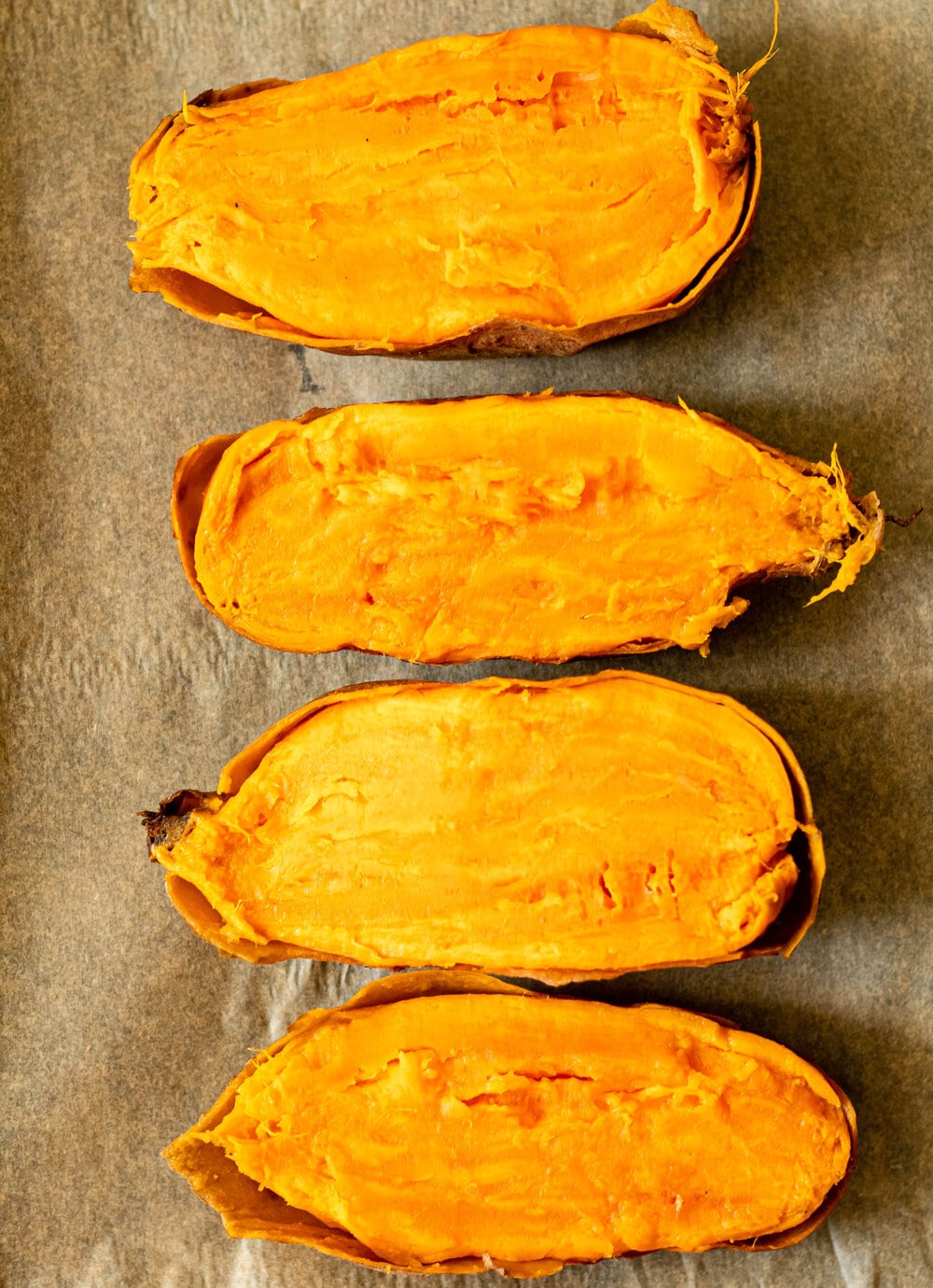 Split and Roasted
If you need an easy and quick option for making your sweet potatoes, splitting them down the middle and then roasting them on a sheet of parchment paper, cut side down, is my favorite way of doing it.
Splitting the sweet potatoes before roasting helps to really cut down on the cooking time while also freeing up that precious stove top space. I also think that roasting them in this way helps to develop the flavor of the sweet potatoes which is always a plus!
Creamy, Dairy-Free, and Healthy Mashed Sweet Potatoes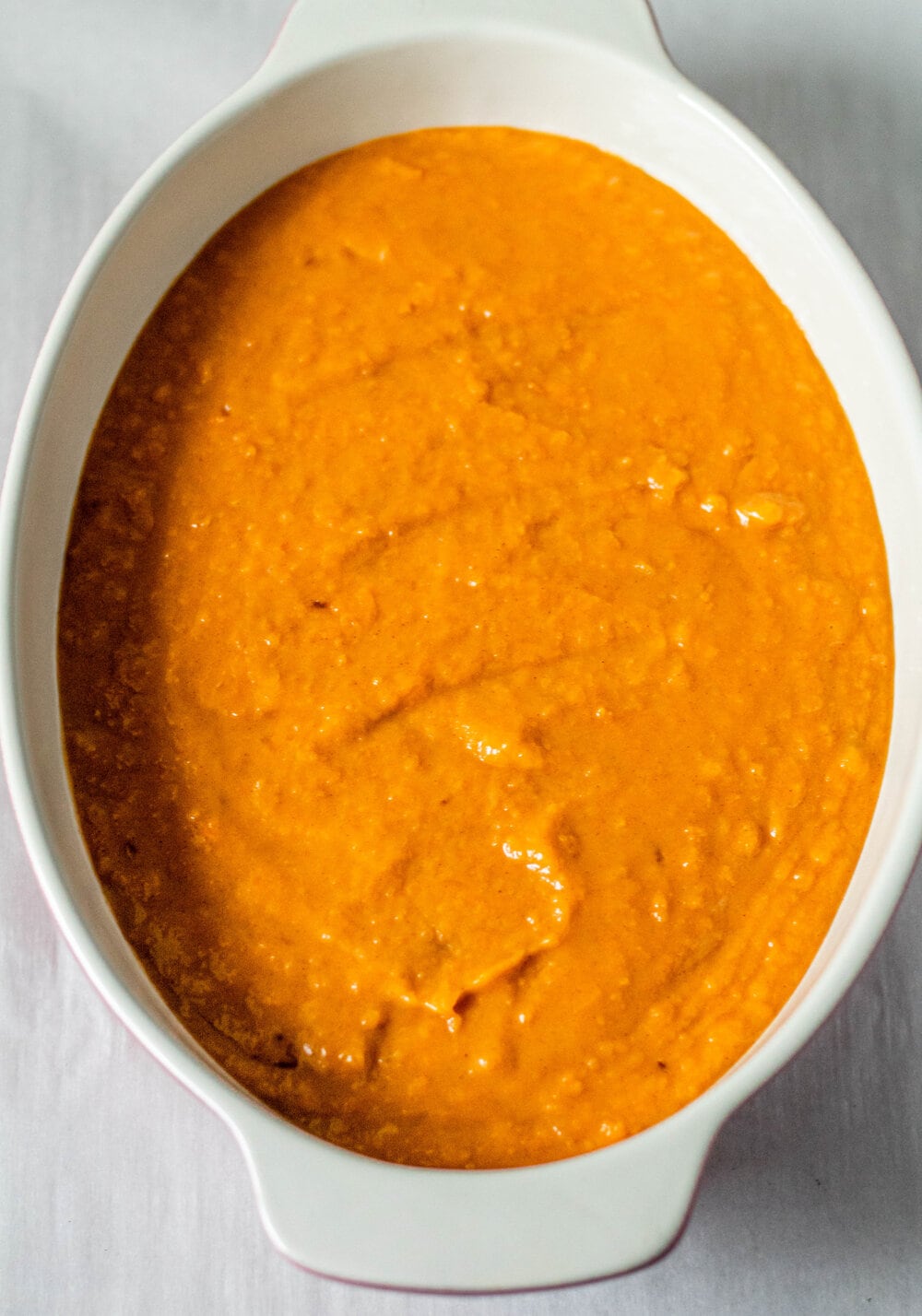 To keep the sweet potato mash dairy-free, this recipe calls for full fat coconut milk. The flavor of the coconut milk works incredibly well with the sweet potatoes while also making things nice and creamy without the use of any dairy.
I often get lots of questions about using coconut milk and how it will impact the flavor of a dish. People are usually concerned that it will give their food an overpowering coconut flavor.
I have found, more often than not, that coconut milk just adds a delicious creamy texture without adding much, if any, coconut flavor at all. The flavor of the sweet potatoes and cinnamon really shine through in this casserole and I can promise you won't be thinking about coconut.
The Pecan Streusel Ingredients
Gluten-Free Old Fashioned Rolled Oats: these are the base of the streusel topping. Be sure to get the old fashioned rolled oats and not quick oats for this recipe.
Chopped Pecans: self-explanatory, right? The flavor of pecans and sweet potatoes work so well together. Pecans are the perfect addition to this streusel topping. I like to buy pecan halves (getting them in bulk saves money) and then chop them in my food processor or blender.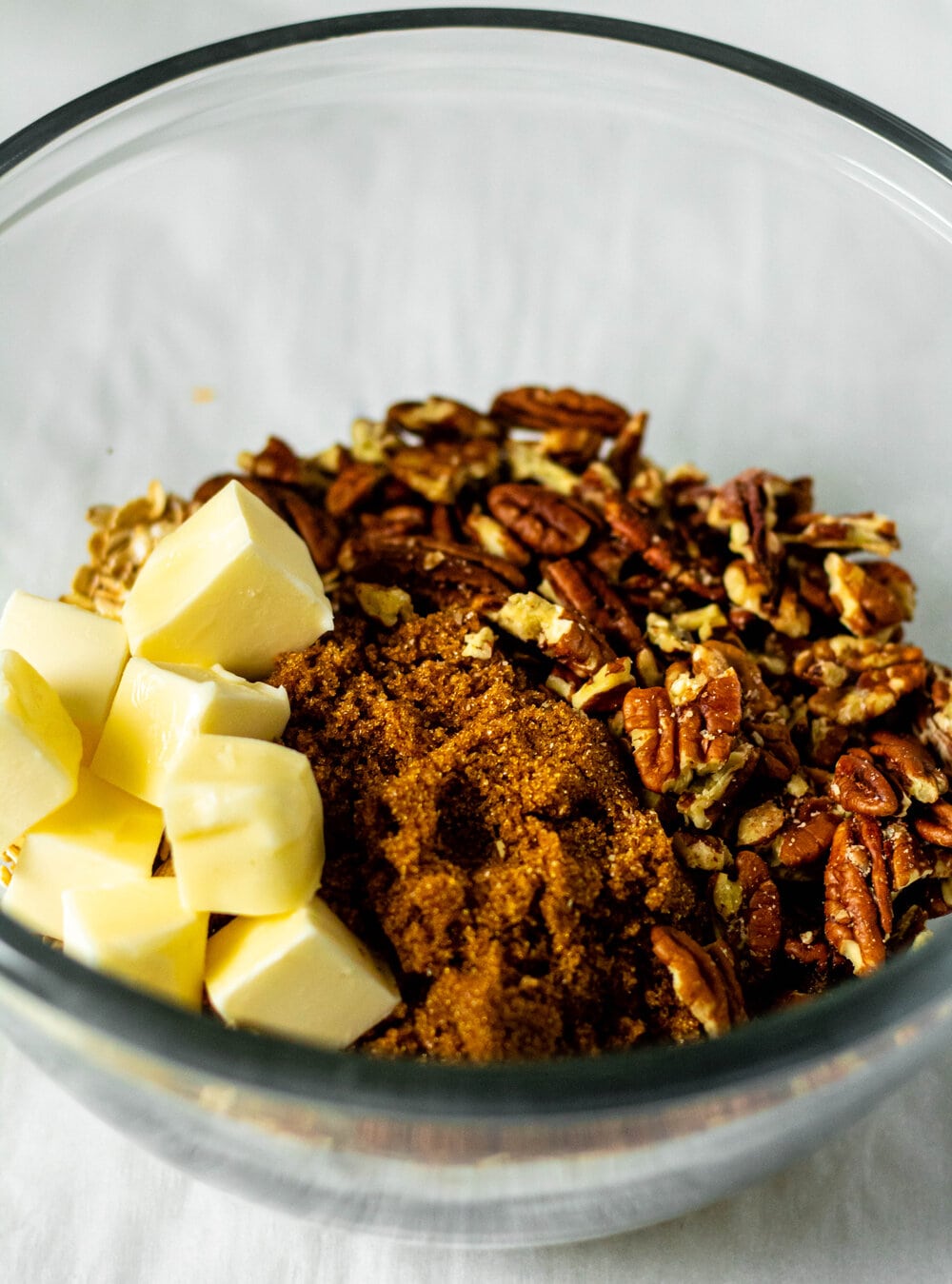 Dark Brown Sugar: I love the flavor of dark brown sugar in this topping. If you prefer, you could substitute the brown sugar with coconut sugar in this recipe!
Butter or Coconut Oil: butter is my choice in this topping, but if you need to keep things dairy-free, coconut oil will also work just fine! Just make sure that the coconut oil is room temperature and semi-solid, not melted.
Nut-Free Oatmeal Topping Option: If you need to keep this sweet potato casserole nut free, feel free to leave out the pecans altogether! If the streusel topping seems a little too sticky without the pecans, just add in another ½ cup of oats to the mix.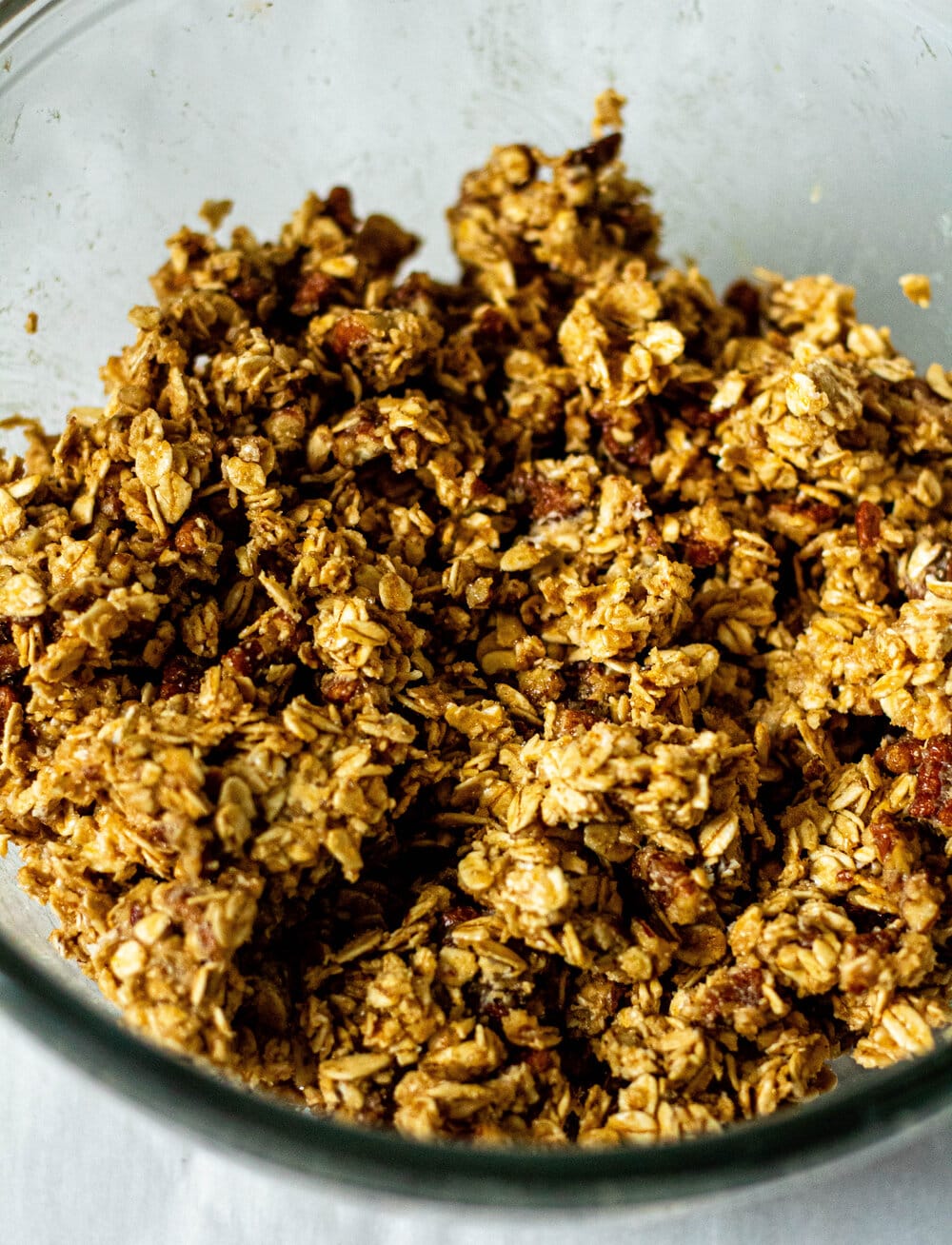 Is Sweet Potato Casserole a Dessert?
You could certainly serve this sweet potato casserole as a dessert, but my family traditionally serves it as a side dish. That being said, this casserole definitely tastes like a crustless sweet potato pie to me, and I've been known to sneak a few bites after dinner is over. Anyone else?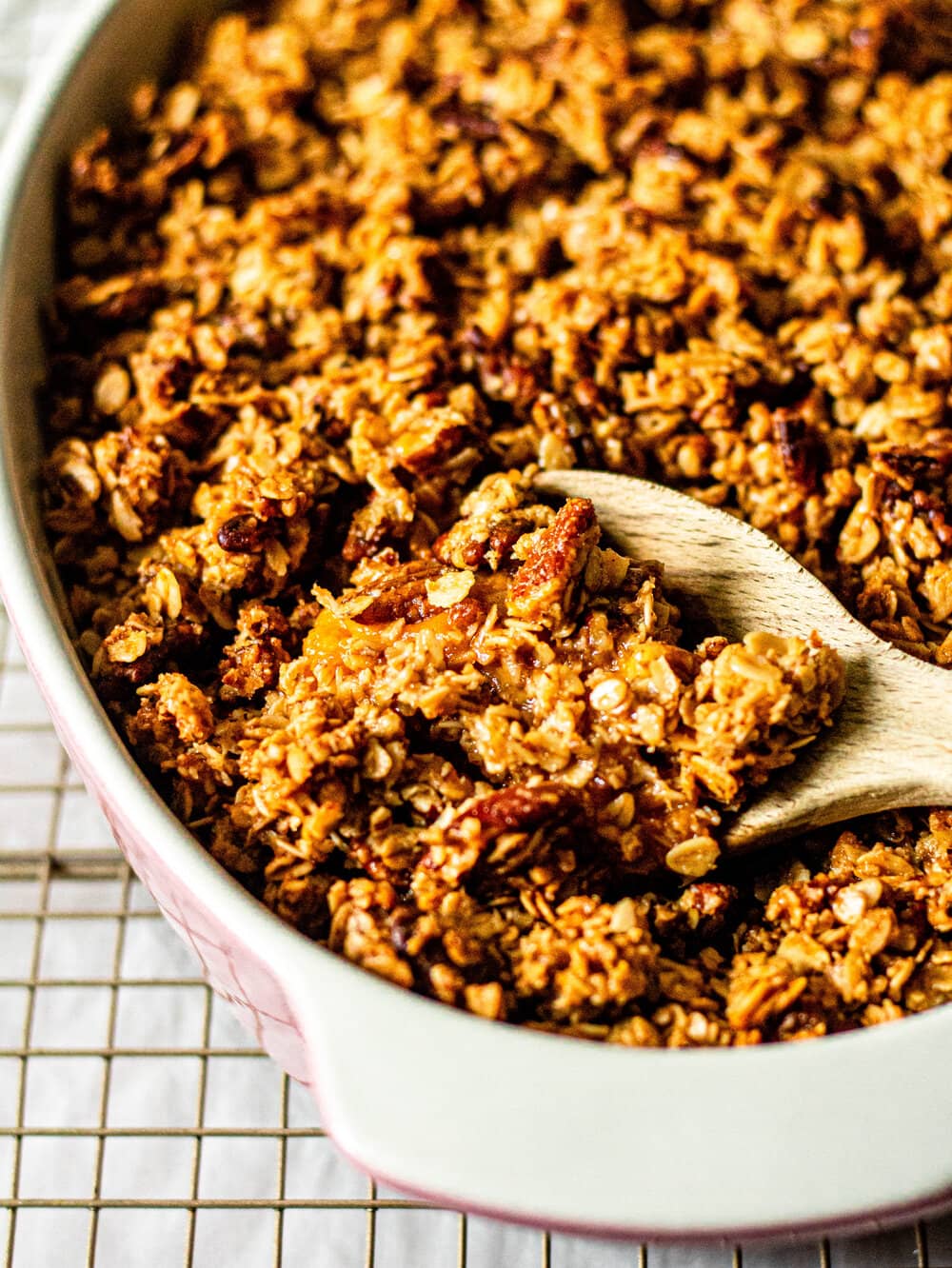 IF YOU LOVE THIS SWEET POTATO CASSEROLE RECIPE, HERE ARE FEW OTHER DELICIOUS RECIPES YOU HAVE TO TRY!
LOOKING FOR MORE FREE RECIPES?
Subscribe to my newsletter and follow along on Facebook, Pinterest, and Instagram for all of the latest updates.
---
The Best Ever Sweet Potato Casserole with Pecan Streusel Oat Topping (Gluten-Free, Nut-Free Option, Dairy-Free Option)

Ashlea Adams | November 21, 2019

prep time: 45 minutes
cook time: 45 minutes
total time: 1.5 hours

Servings: 6-8

Ingredients:

3 cups mashed sweet potato (roughly 3 large sweet potatoes)

1 cup full fat coconut milk

½ cup maple syrup

1 tbsp ghee or butter (melted)

1 tsp vanilla extract

2 tsp cinnamon

1 tsp ground ginger

2 eggs, whisked

For the Pecan Streusel Oat Topping

1 ½ cups gluten free rolled oats

1 cup chopped pecans

⅓ cup dark brown sugar

½ cup butter or coconut oil

¼ tsp salt

Instructions:

Preheat oven to 375 degrees.

In a large mixing bowl combine the mashed sweet potatoes, coconut milk, maple syrup, ghee, vanilla extract, cinnamon, ground ginger, and eggs. Stir until smooth and creamy and then transfer to a casserole dish.

Next, make the pecan streusel topping. Combine the oats, pecans, dark brown sugar, and salt in bowl. Use your hands to work the butter or coconut oil into the oat mixture until the butter is fully incorporated and you have a crumb like streusel topping.

Top the mashed sweet potato mixture with the streusel topping. Bake the casserole at 375 degrees for 40-45 minutes, until golden brown and bubbly.

Let cool for 10-15 minutes before serving and enjoy!
What I Used to Make This Recipe:
Ingredients