This post contains affiliate links.
These Healthy, No Bake Snickerdoodle Energy Balls are the perfect snack or healthier treat. They are made with just a few simple ingredients and have that delicious cinnamon-y flavor that makes snickerdoodle cookies so tasty. They are gluten-free, dairy-free, refined sugar-free as well as vegetarian and vegan. The perfect healthier for you option when you need that snickerdoodle fix!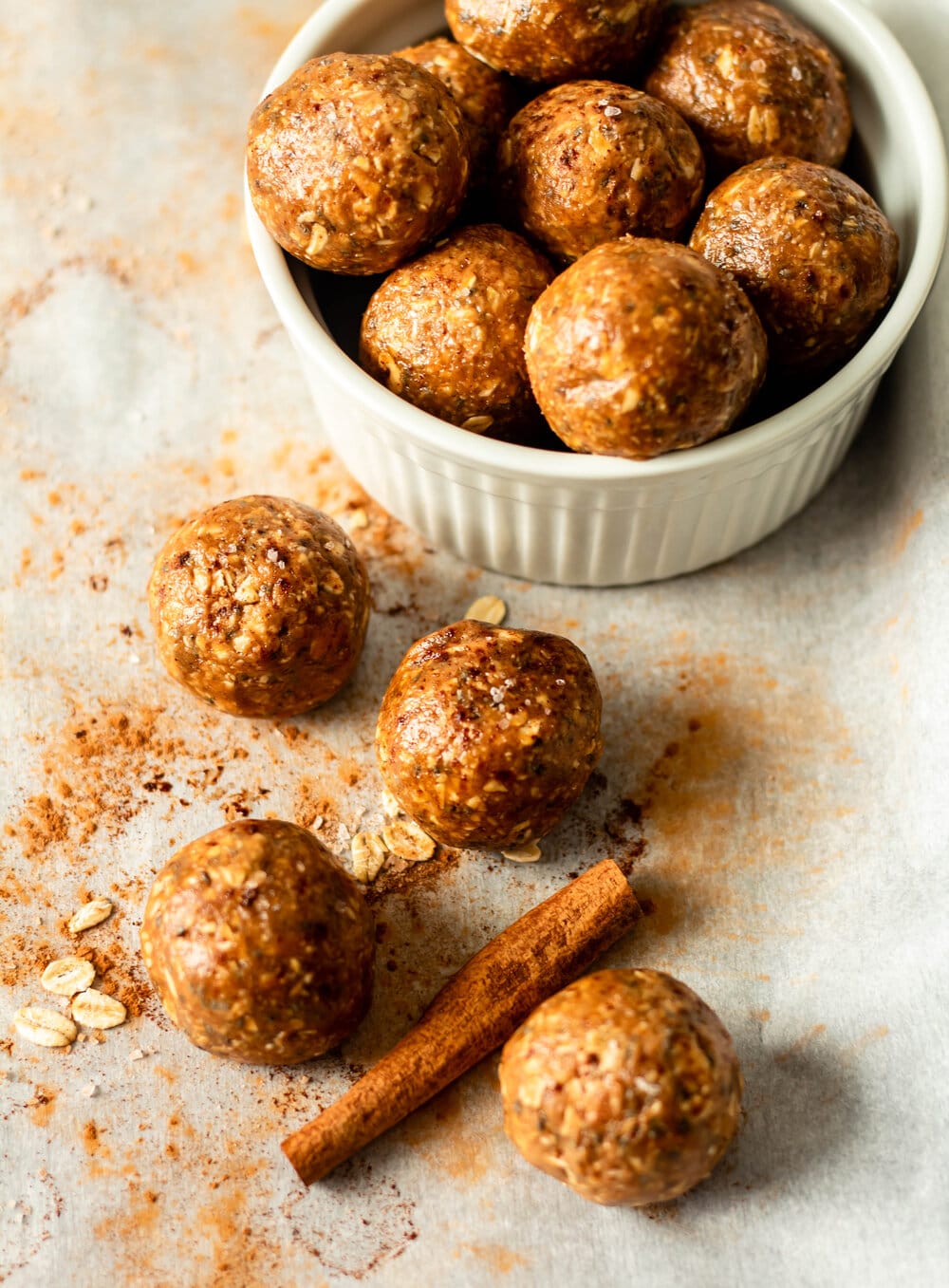 Healthy Snickerdoodle Cookie Dough
I don't know about you, but I almost love cookie dough as much (if not more than) actual cookies. I'm not sure what it is, but there is just something so yummy about cookie dough before it goes in the oven.
These healthy, no bake snickerdoodle energy balls give you all of the flavor of snickerdoodle cookies in bite size cookie dough balls that you can feel good about eating. They are egg-free as well as gluten-free and made without any refined sugar to make them a bit healthier for you than traditional cookie dough.
Not only are these bites delicious, they are also incredibly easy to make. The dough is made entirely in a food processor and consistent of just a few simple ingredients. I know you will love these!
The Best Nut Butter to Use for these Energy Balls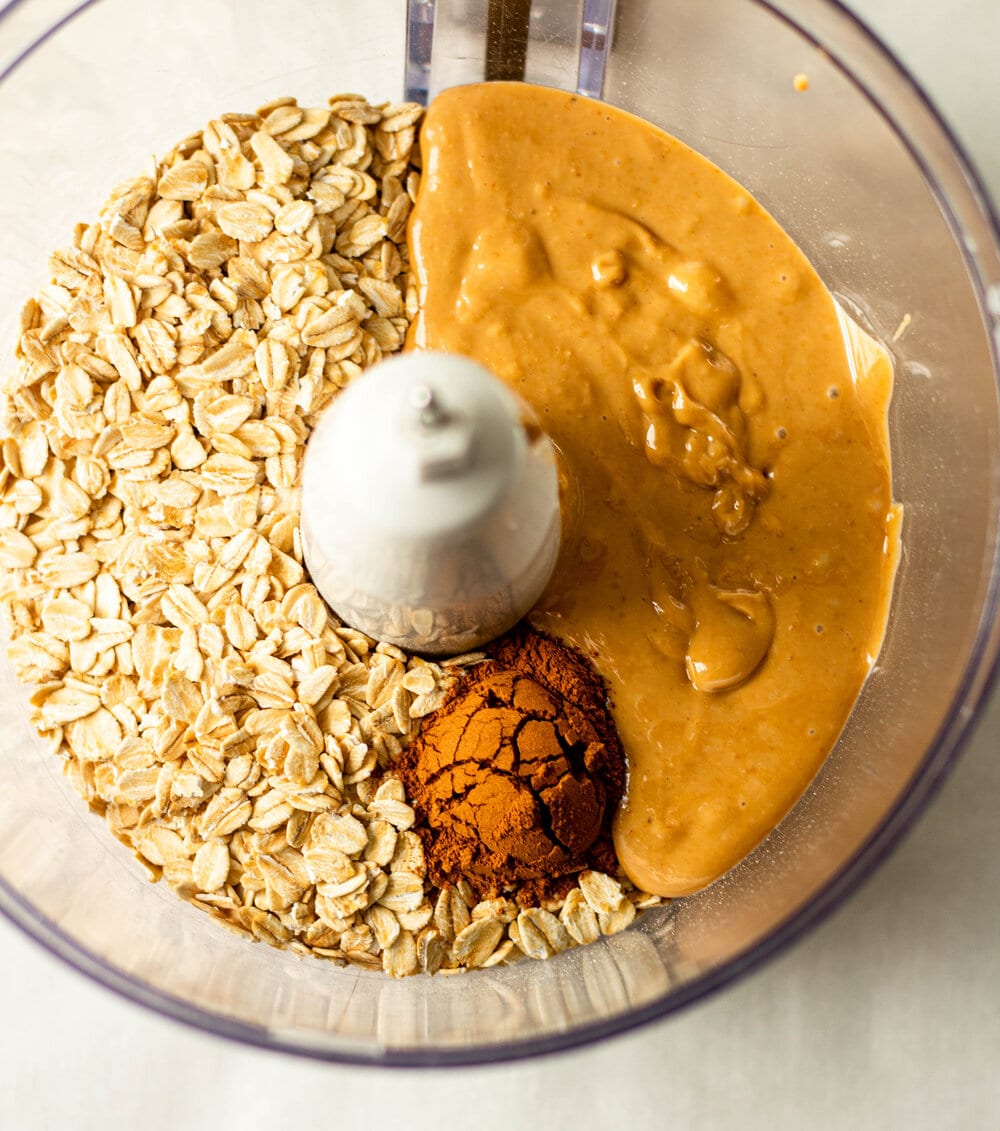 When it comes to energy balls, I usually tell people that any nut butter will work, but for this snickerdoodle version, the best nut butter to use is cashew butter.
Cashew butter has a mild flavor that almost tastes like cookie dough on its own. When you add the vanilla extract and cinnamon, the cashew butter really gives these energy balls that snickerdoodle flavor.
When buying cashew butter make sure to get one that is made with minimal ingredients (just cashews or cashews and oil is best) and that doesn't have any added sugar. My favorite cashew butter to use for this recipe is my homemade Vanilla Maple Cashew Butter. Homemade cashew butter is incredibly easy to make and the flavor works so well in this recipe.
How to Make These No Bake Snickerdoodle Balls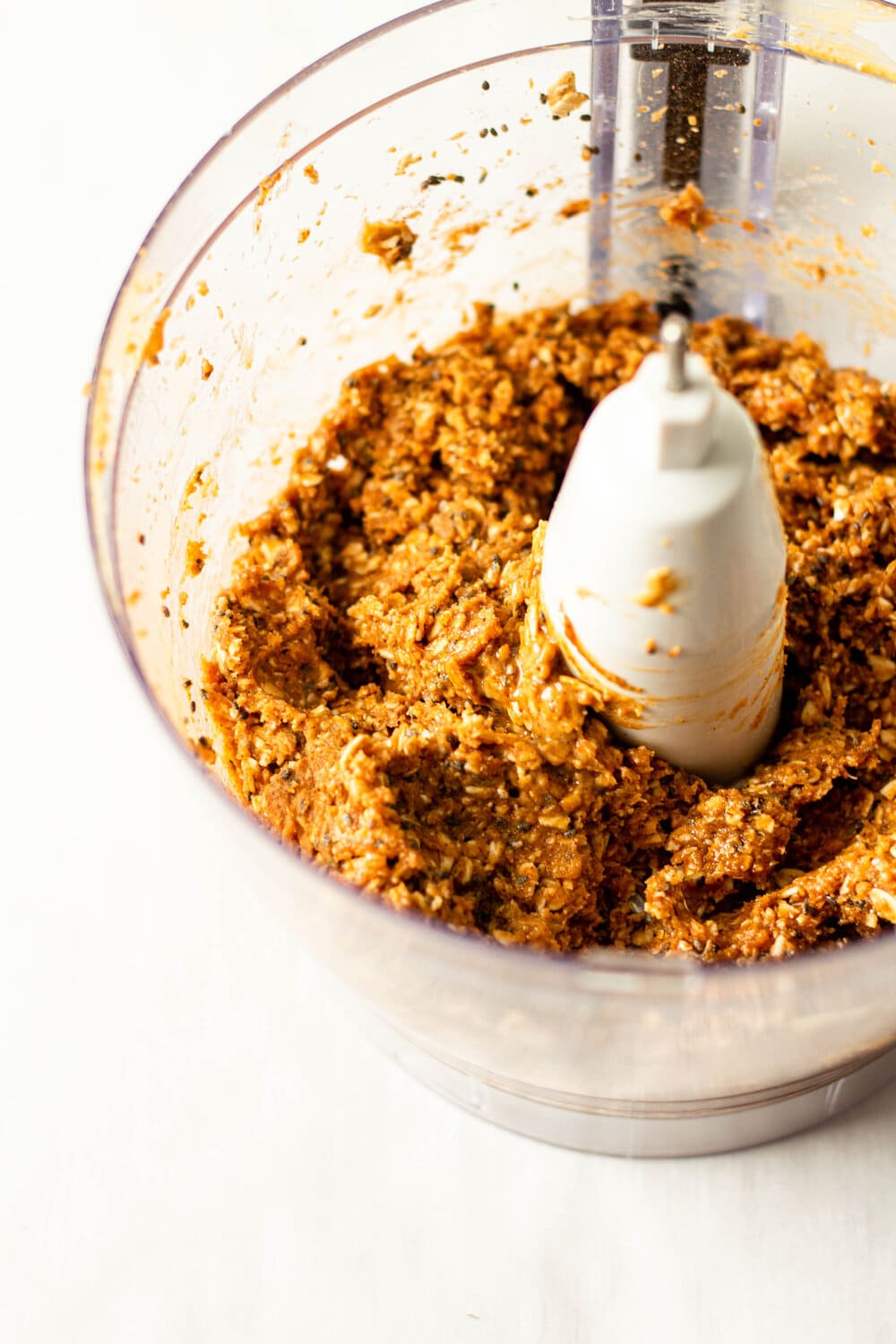 Making these snickerdoodle energy balls is incredibly easy. All you need is a food processor, cookie dough scoop, and your ingredients to whip these up.
To make the balls, start by adding all of your ingredients to a food processor. To make this recipe you'll need:
Next, pulse the ingredients in a food processor until they are all well combined and have formed a slightly sticky dough.
Once the snickerdoodle "dough" has been formed, use a cookie dough scoop to form the energy balls. I like to use a tablespoon sized cookie dough scoop or a tablespoon measure to make the perfect bite-sized energy balls.
Options to Take These Snickerdoodle Balls to the Next Level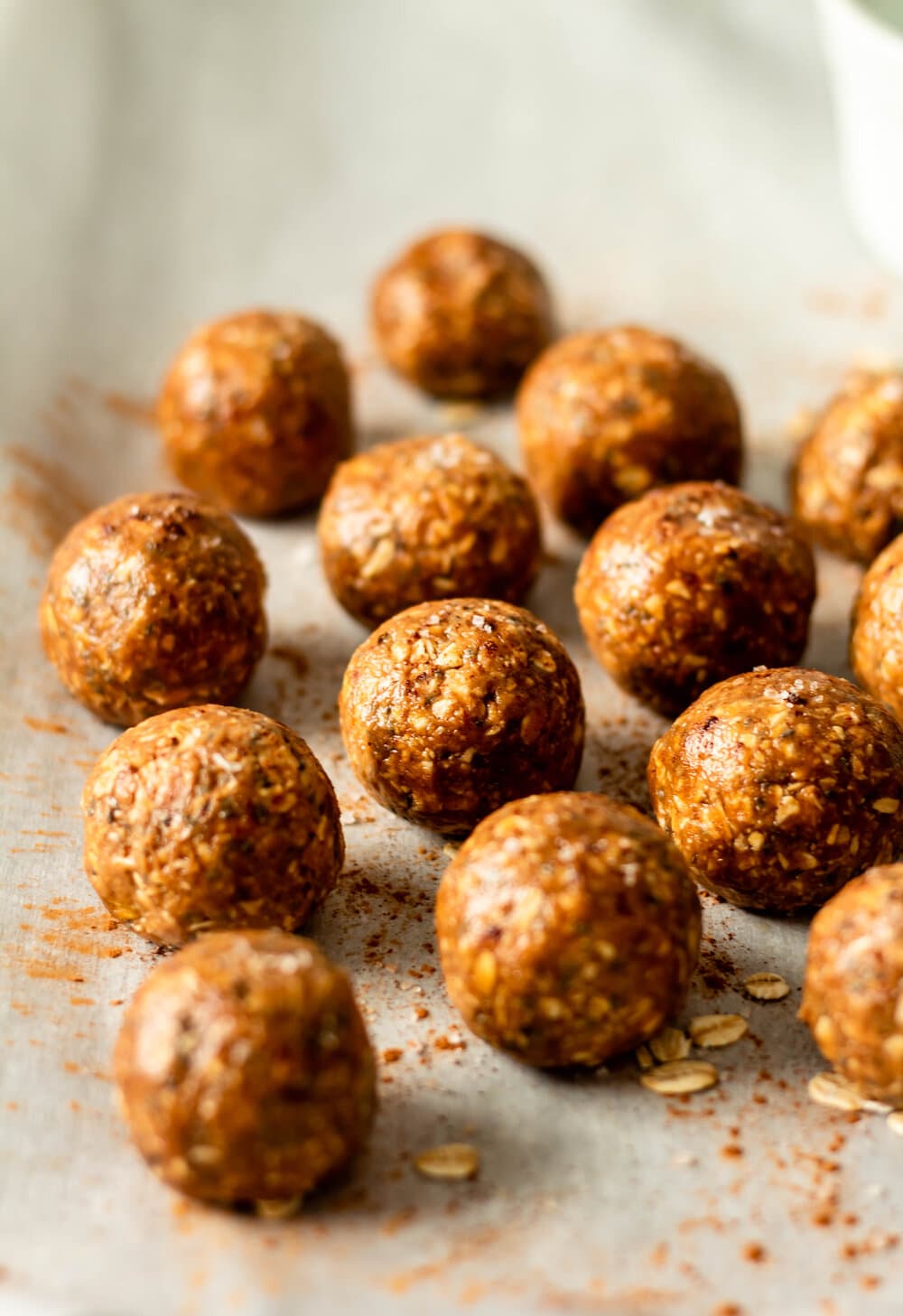 These snickerdoodle balls taste great as is, but there are a few things that you can do that will really make them even better.
Sprinkle extra cinnamon on top! This is my favorite way to really bring out the snickerdoodle flavor in these energy balls. Right after rolling the balls, give them a generous dusting of extra cinnamon.

Add some sea salt! I am a huge fan of adding just a little bit of salt to my sweet treats. Just a pinch of sea salt on top of these balls really helps to add an extra depth of flavor that I know you'll love.

Roll them in sugar! If you want your energy balls just a touch more sweet, you can roll them in a combination of coconut sugar and cinnamon for that classic snickerdoodle touch.
How to Store Your Energy Balls
My preferred method of storing these energy balls is in the freezer. While they do freeze solid, I find that they don't freeze too hard and that you can't pop one out of the freezer and immediately enjoy a quick bite.
I like to make a double batch of this recipe and then store the bites in a reusable plastic container or storage bag. If you prefer, you could store the energy balls in the refrigerator instead.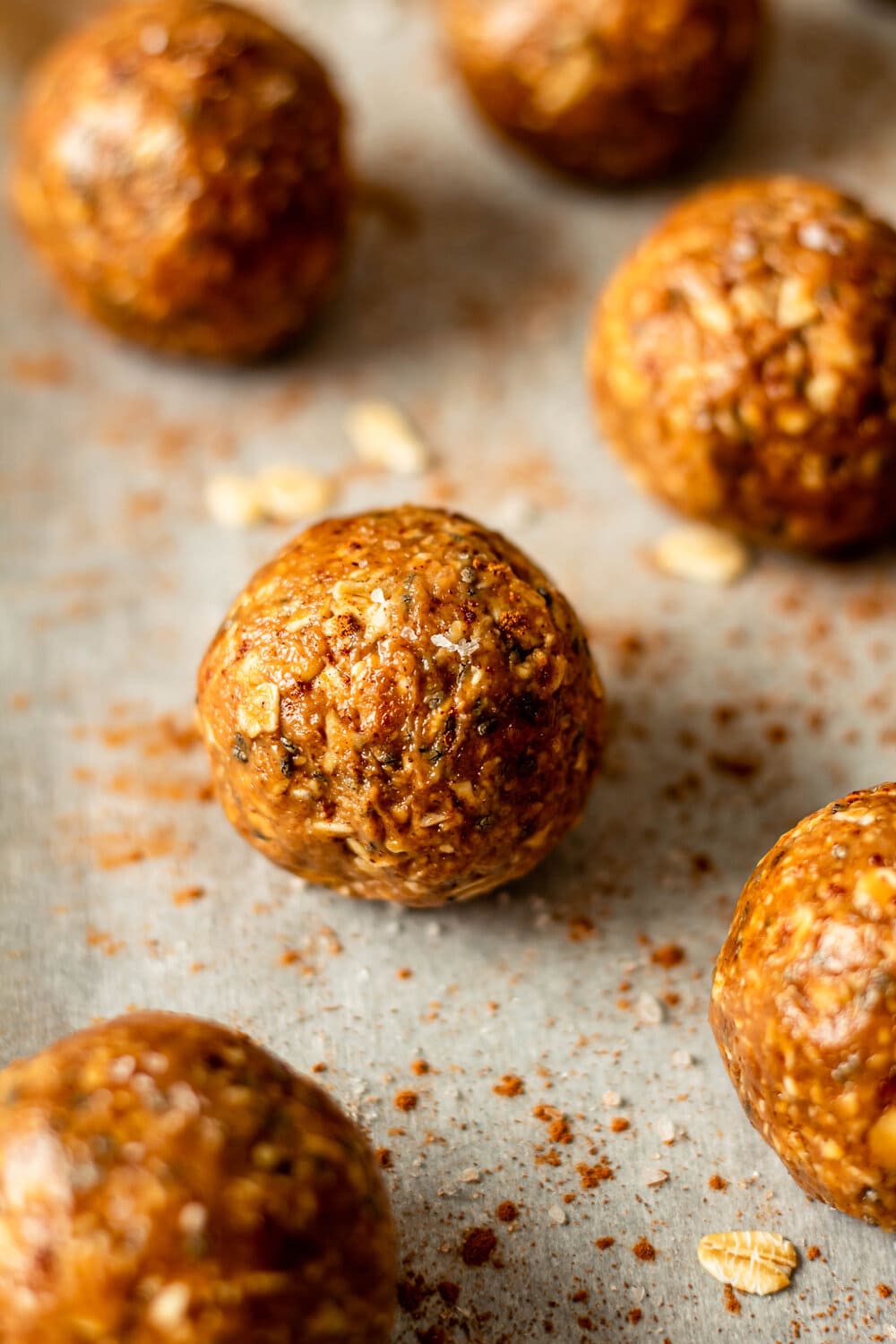 IF YOU LOVE THIS HEALTHY, NO BAKE SNICKERDOODLE ENERGY BALL RECIPE, HERE ARE A FEW OTHER DELICIOUS RECIPES YOU HAVE TO TRY!
LOOKING FOR MORE FREE RECIPES?
Subscribe to my newsletter and follow along on Facebook, Pinterest, and Instagram for all of the latest updates.
---
Healthy, No Bake Snickerdoodle Energy Balls (Gluten-Free, Dairy-Free)

Ashlea Carver | December 2, 2019

prep time: 5 minutes
cook time: 10 minutes
total time: 15 minutes

*Servings: approximately 12*

Ingredients:

1 cup cashew butter
1 tsp vanilla extract
½ cup maple syrup
1 cup gluten-free rolled oats
3 tbsp chia seeds
1 tbsp cinnamon (plus more for sprinkling)
½ tbsp coconut sugar (optional)
sea salt (optional)

Instructions:

Add all of the ingredients to a food processor.
Pulse the food processor until all of the ingredients are well combined and a dough has formed. Scrape down sides of the food processor if needed.
Use a cookie dough scoop or tablespoon to scoop out the dough. Then, use your hands to roll the dough into balls.
Sprinkle the energy balls with extra cinnamon and a pinch of sea salt. You can also sprinkle them with a bit of coconut sugar if you would like. Enjoy!

Nutrition Facts:

Serving: 1 ball
Protein: 3.9g
Carbohydrate: 17.2g
Fat: 9.7g
Calories: 163