Ahhhhhh, chia seed pudding. I'm not really a sweets for breakfast kind of girl (team savory all the way), but if there is one sweet-ish recipe that I can pretty much always eat for breakfast, it's chia seed pudding. It just never gets old to me. It's also such a perfect meal prep recipe so it's a win-win!
Full disclosure: there was a time, once long long ago (ok, like two years ago) that I thought chia seed pudding was just plain weird. You know those recipes you see online that only food bloggers would make and eat but the actual normal public wouldn't touch with a ten foot pole? Yea…that was what I thought of all the chia seed pudding recipes I saw online.
But, after seeing my ten thousandth chia seed recipe in a cookbook one Saturday morning, I finally decided to give it a try and see for myself. I was convinced I would hate it. I was pleasantly surprised by how wrong I was. It was absolutely delicious. Now, chia seed pudding is one of the tools in my quick healthy breakfast arsenal that I rely upon heavily. And when I say heavily, I mean it.
At least a couple of times a month, I prep a big batch of chia seed pudding to eat throughout the week. Even though I work from home and have the flexibility of being able to cook whenever I need to, I don't want to spend all of my time in the kitchen. Having a healthy option that I can grab and quickly put together makes my life so much easier and I'm willing to bet it could help you, too!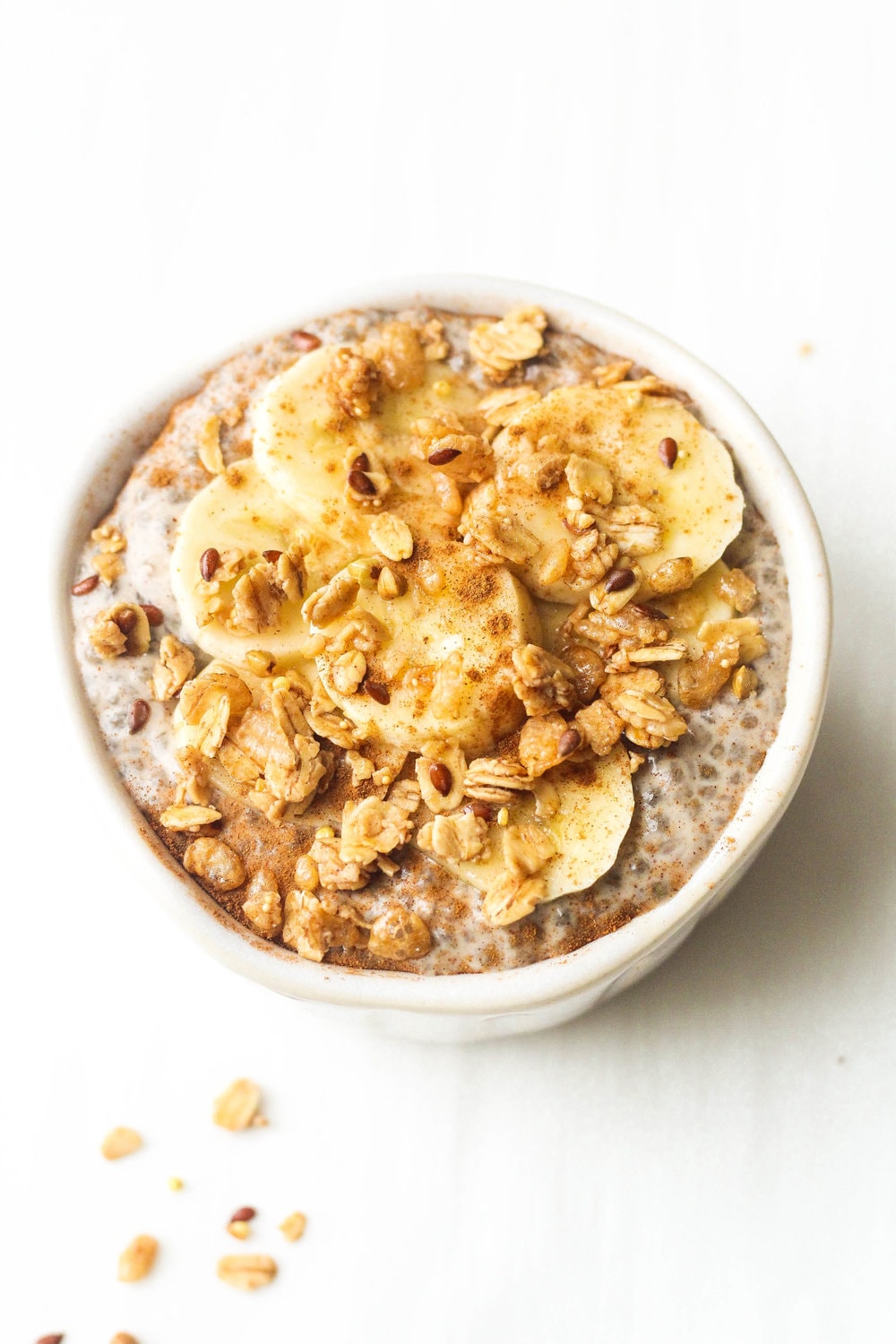 Here are a couple of reasons why I love chia seed pudding so much:
It's quick! It will literally take you all of five minutes to prep this recipe and any other chia seed pudding recipes.

The prep is the hardest part! Once all of the ingredients are combined, all you have to do is let it hang out in the fridge overnight. What is better than waking up to a breakfast that's fully ready to eat and didn't require you to spend tons of time in the kitchen?

It's customizable! You can add your favorite fruit, granola, or nut butter to your pudding to make it even more hearty and delicious. Fresh fruit is a personal favorite!
This banana bread chia seed pudding tastes just like banana bread! The banana, cinnamon, and creamy almond butter all combine to create this delicious pudding and, honestly, it may be my favorite version yet.
This recipe makes a double batch of chia seed pudding which is perfect for meal prep because you can eat off it all week. If you want to make a smaller amount, just halve the recipe! You can also add more honey or maple syrup if you want your pudding to be sweeter, but I think the natural sweetness of the banana plus the added sweetener are plenty. Just play around with the ratios and make it work for ya!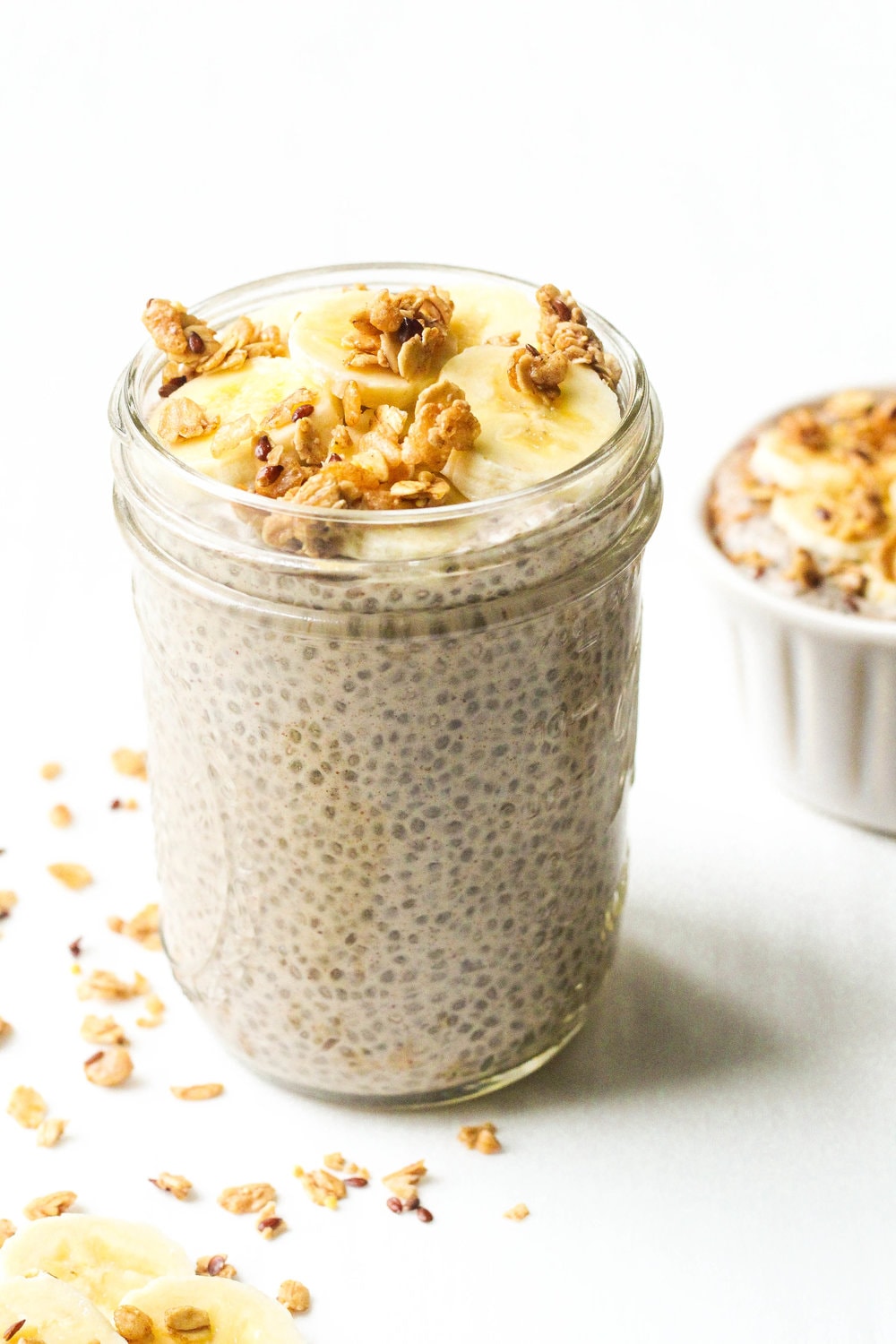 Craving More? Check out these delicious recipes:
Gluten Free Banana Nut Muffins
---
Banana Bread Chia Seed Pudding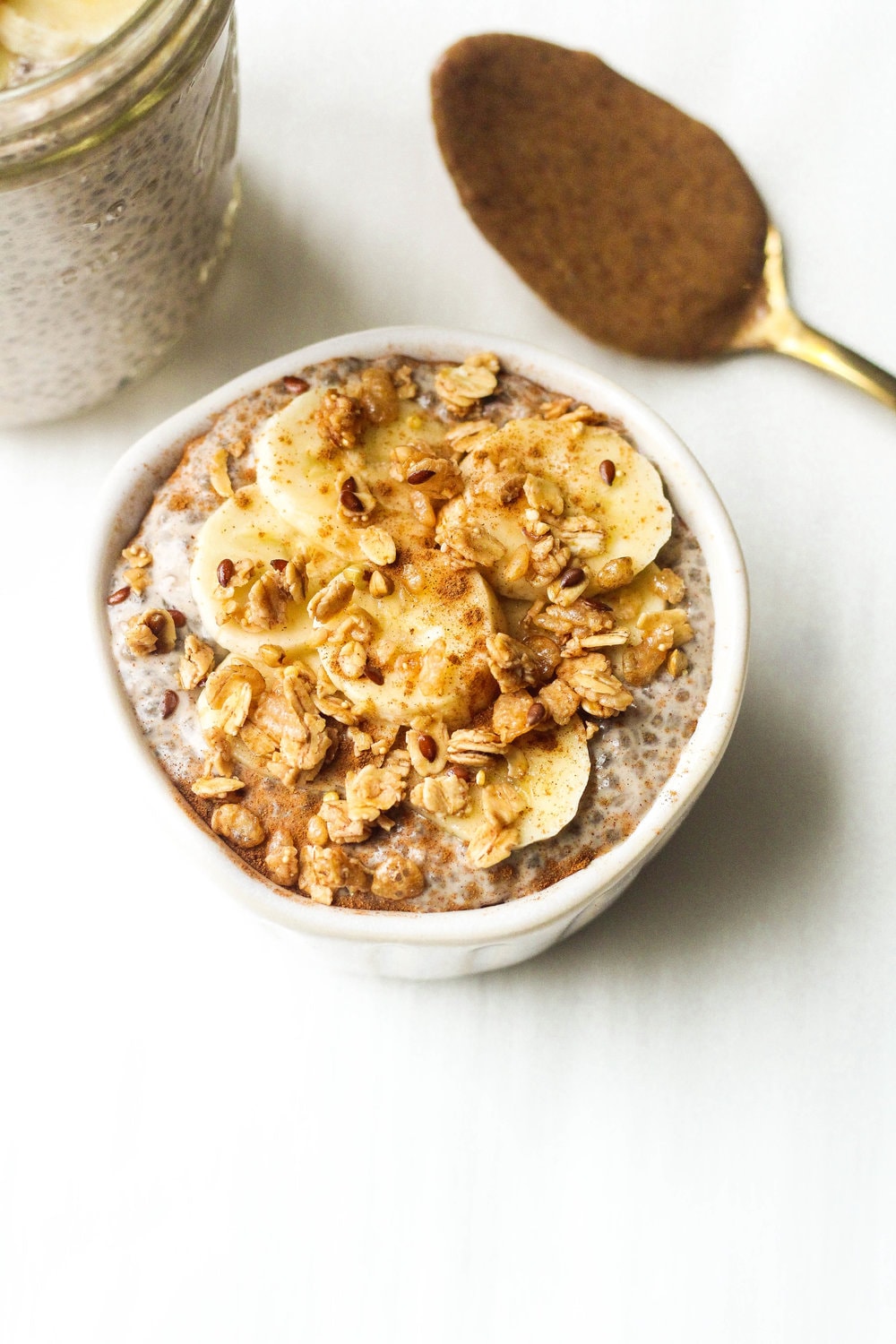 Ingredients:
Method:
Add all of the ingredients, except the chia seeds, to a high powered blender and blend until smooth and creamy.

In a mixing bowl, combine the banana and milk mixture with the chia seeds. Whisk until well combined.

Pour the chia seed mixture into a storage container (I love using these jars) and place it in the refrigerator. After ten minutes, give it another stir to make sure everything is evenly combined.

Leave the chia pudding in the fridge overnight. In the morning give it a good stir and then top it with sliced bananas, your favorite granola, and even a little nut butter if that's your thing. Enjoy!