This post contains affiliate links
This Whole30 Zuppa Toscana is a healthier copycat version of everyone's favorite Olive Garden soup. Dairy-free, Paleo, and made with only real-food ingredients, this hearty soup is full of flavor and so simple to make. It's perfect for a quick dinner and reheats well for an even easier lunch. This creamy and cozy Whole30 Zuppa Toscana Soup is sure to be your new favorite!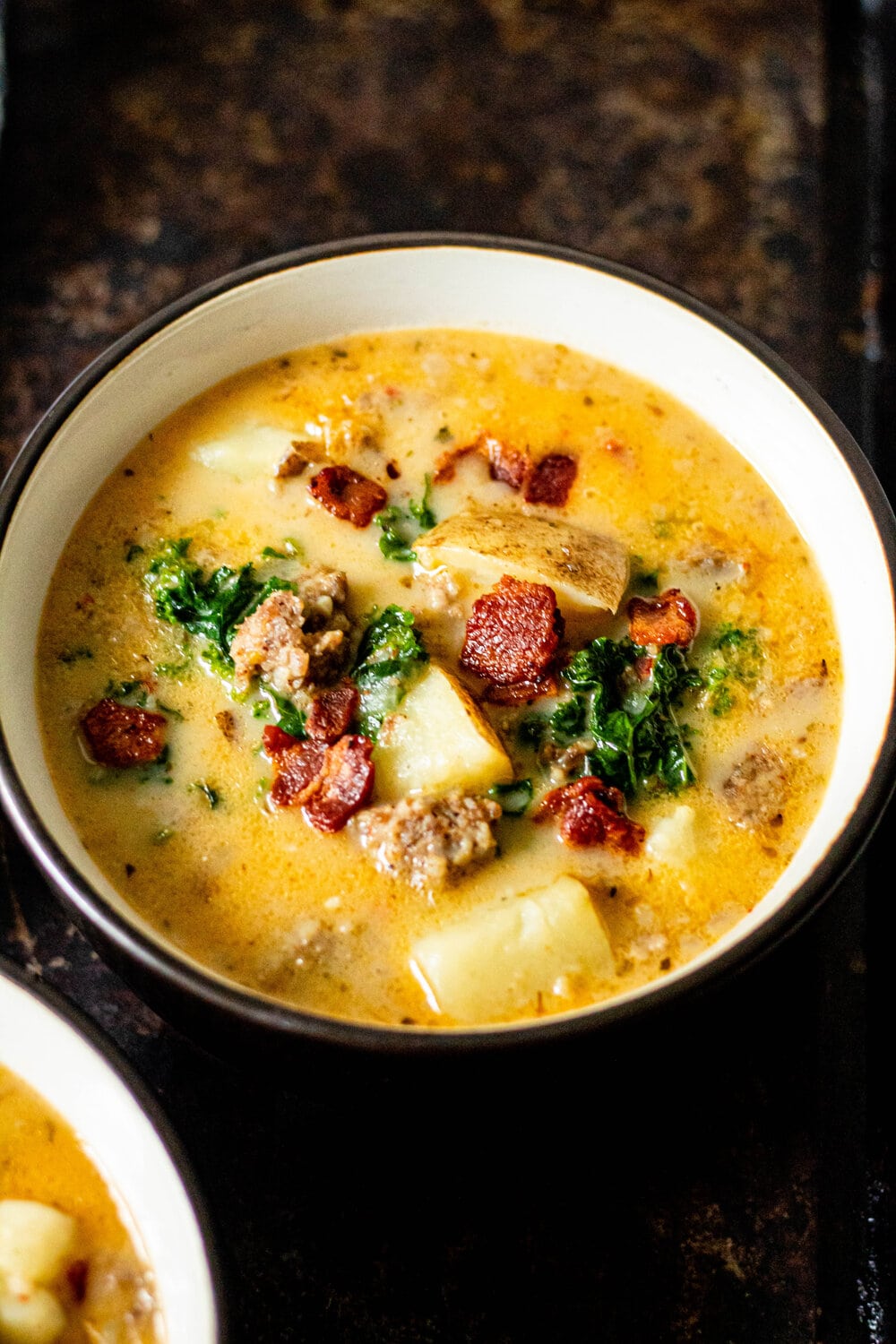 A Healthier Paleo Copycat of Olive Garden's Zuppa Toscana Soup
Who didn't love Olive Garden's Zuppa Toscana Soup growing up? True story – I used to love Olive Garden as a kid. Their soup, salad, and breadsticks combo was my absolute favorite along with their chicken alfredo. Oh my gosh, I just could not get enough.
This Whole30 Zuppa Toscana is a healthier Paleo copycat of my old favorite. It's packed with flavor from Italian sausage, crisp bacon, and plenty of fresh garlic. Even though it's dairy-free, this soup is still creamy thanks to full-fat coconut milk and a special secret ingredient that I love to use as a thickener when making Whole30 versions of classic comfort food.
I'm also sharing my best tips to make a lower carb version of this soup while still keeping it hearty and so delicious. Keep reading to learn how to make this yummy Whole30 version of Zuppa Toscana Soup!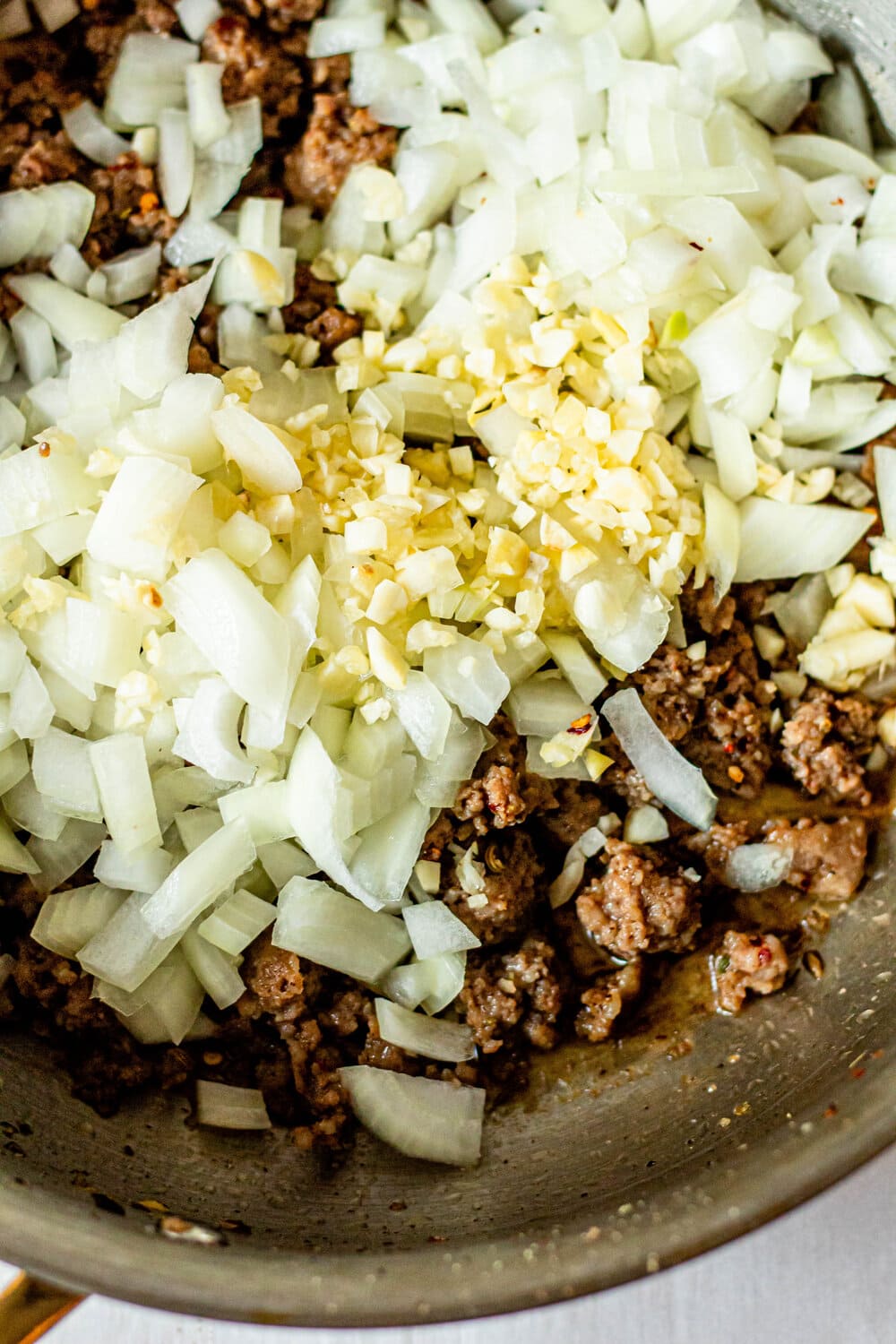 What to Look For When Buying Whole30 Italian Sausage
If you are doing a round of Whole30 and need to ensure that this soup is strictly Whole30 compliant, it is important to read your labels.
Carefully read the labels on the Italian sausage, bacon, and chicken broth before you purchase them. Sugar is usually a common ingredient in bacon and Italian sausage so you want to make sure to double check before grabbing these items.
Unsure about the Whole30 program rules and what ingredients to avoid? You can read more here.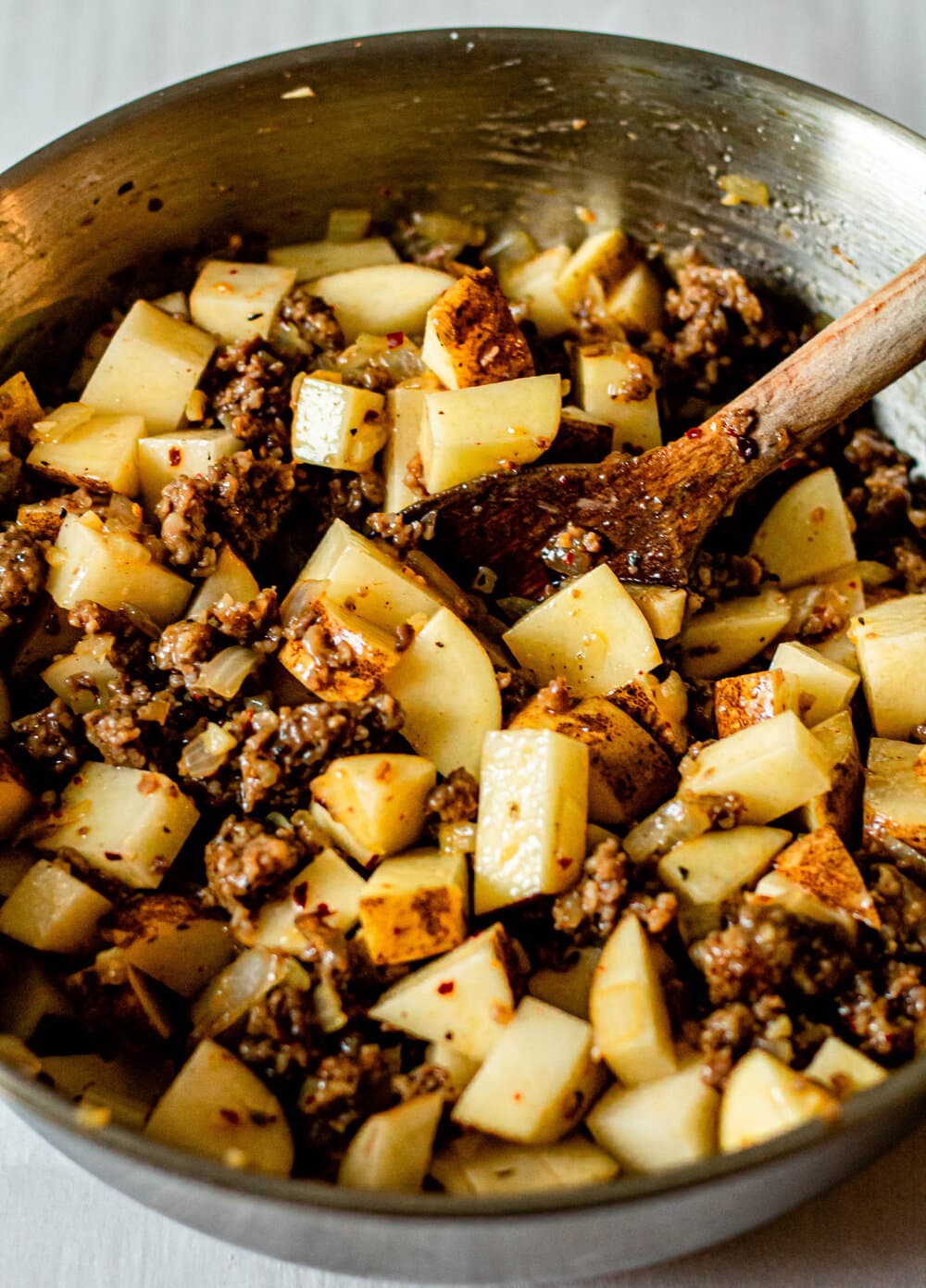 How to Make This Dairy Free Soup Creamy
Zuppa Toscana Without the Cream
You might be surprised to know that this dairy free soup is still creamy without the use of heavy cream. While heavy cream is traditionally used in classic zuppa toscana, this version uses one of my favorite ingredients, full-fat coconut milk keep the soup Whole30, Paleo, and dairy-free.
If you have never used full-fat coconut milk before, it works as a great dairy-free substitute for heavy cream. You can typically find full-fat coconut milk in the Asian aisle of your local grocery store. It will be unrefrigerated and sold in a can.
You can buy both full-fat and light versions of canned coconut milk. For this recipe, be sure to grab the full-fat version. The full-fat variety is thicker, creamier and works perfectly in this soup.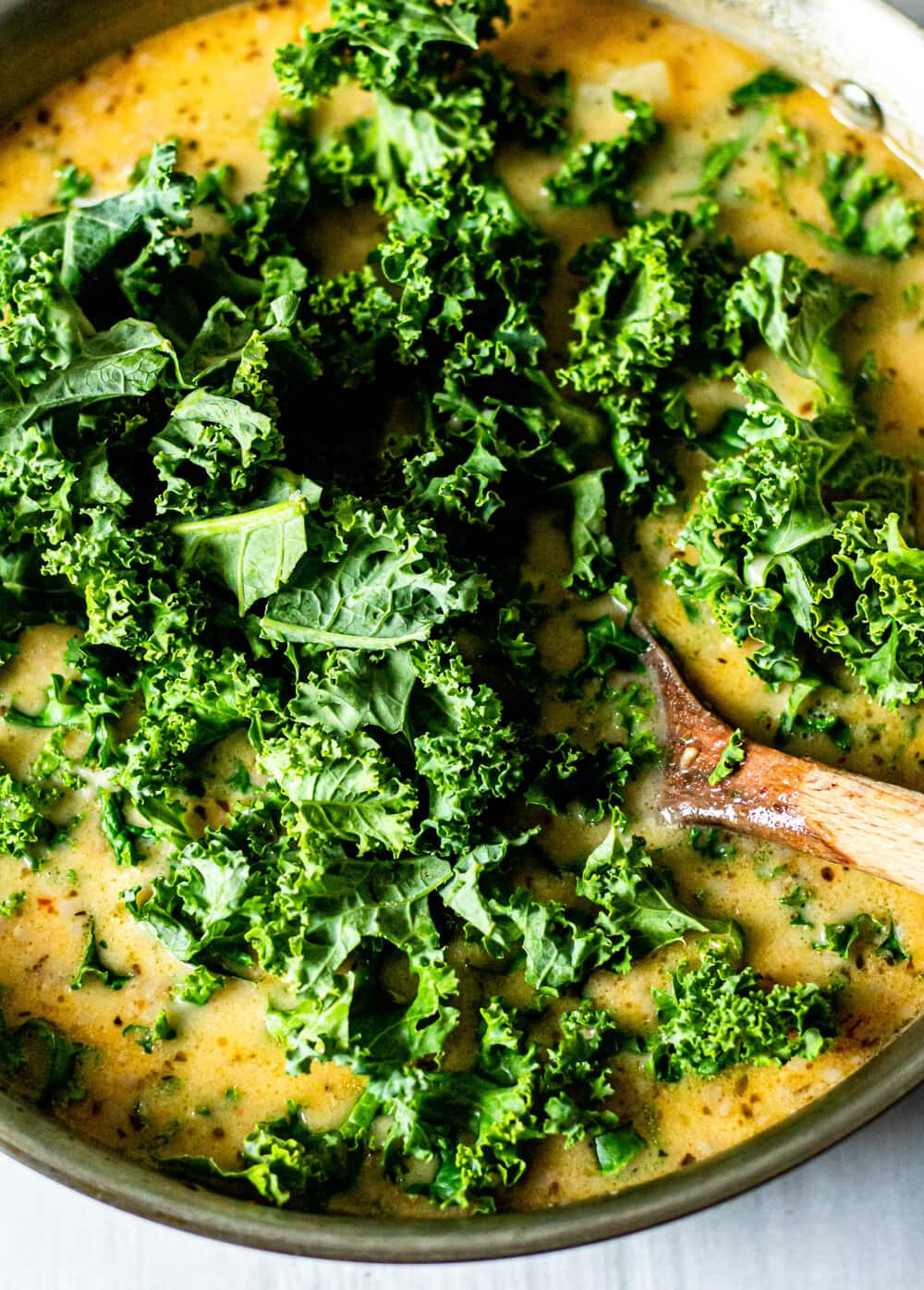 My Secret to Thickening This Soup – Arrowroot Starch
The other secret to creating a creamy dairy-free zuppa toscana is one of my favorite ingredients to work with when creating Paleo and Whole30 recipes – arrowroot starch.
Arrowroot starch is a Paleo and Whole30 compliant starch that can be used as a substitute for cornstarch or flour when you need to thicken soups and stews. This recipe calls for a few tablespoons of arrowroot starch to thicken the soup just a bit and make it nice and creamy.
If you prefer your zuppa toscana to be less thick and have thinner broth, you could use less arrowroot starch or leave it out altogether.
Need a lower carb option? Make this Zuppa Toscana with Cauliflower!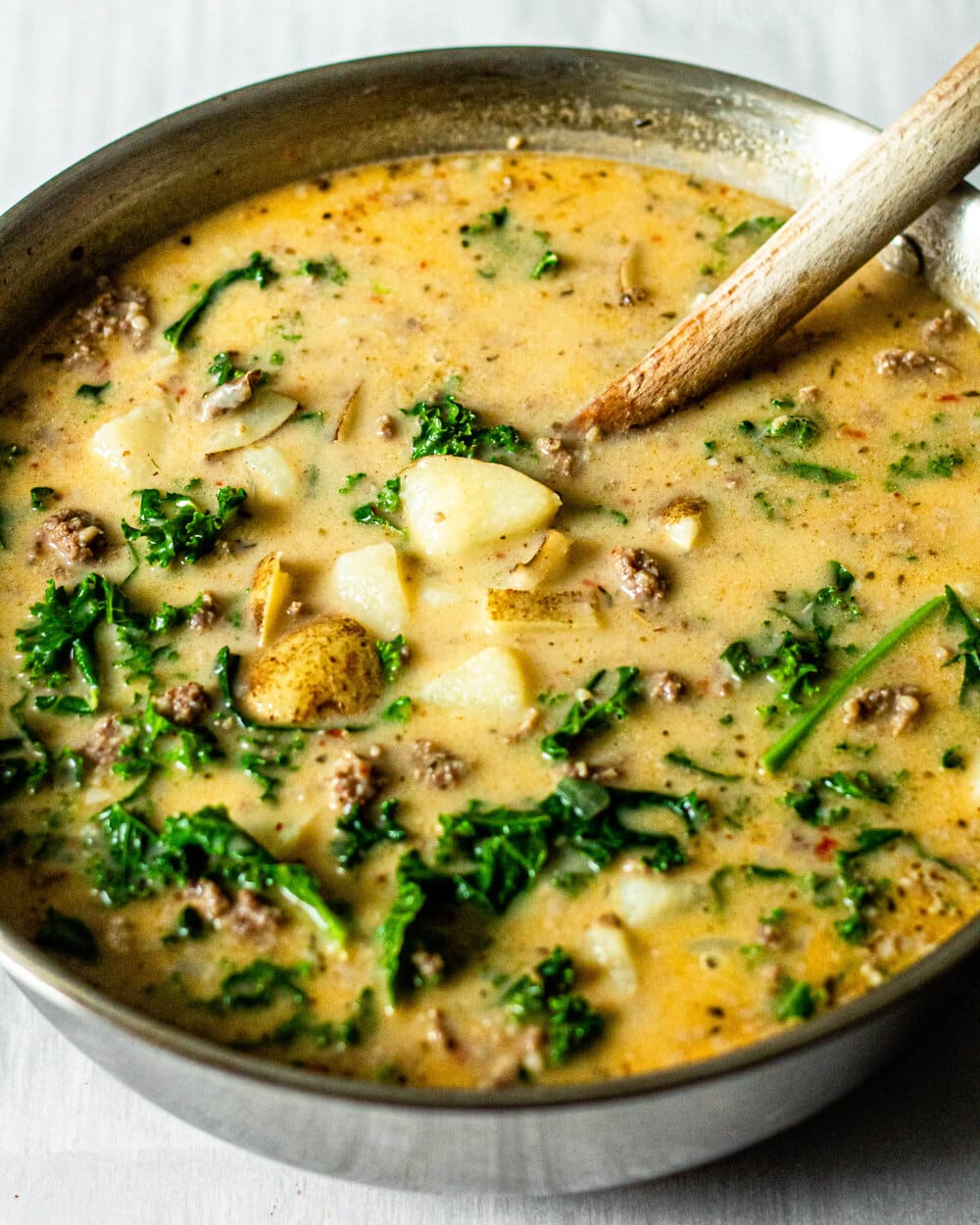 I love the hearty potatoes in this soup, but if you need a lower carb option you can also make this healthy zuppa toscana soup with cauliflower florets instead of diced potatoes.
Here are a couple of things to note when making this Zuppa Toscana with Cauliflower:
Depending on the size of the cauliflower florets they will likely need a bit less time to cook and become tender. Check the soup after 15-20 minutes of simmering to see if the cauliflower florets cooked through.

Cauliflower releases water as it cooks, which may make the soup a bit thinner. If you want the soup to be a bit thicker, you can make a slurry with a tablespoon of hot water and arrowroot starch and stir that into the soup to thicken.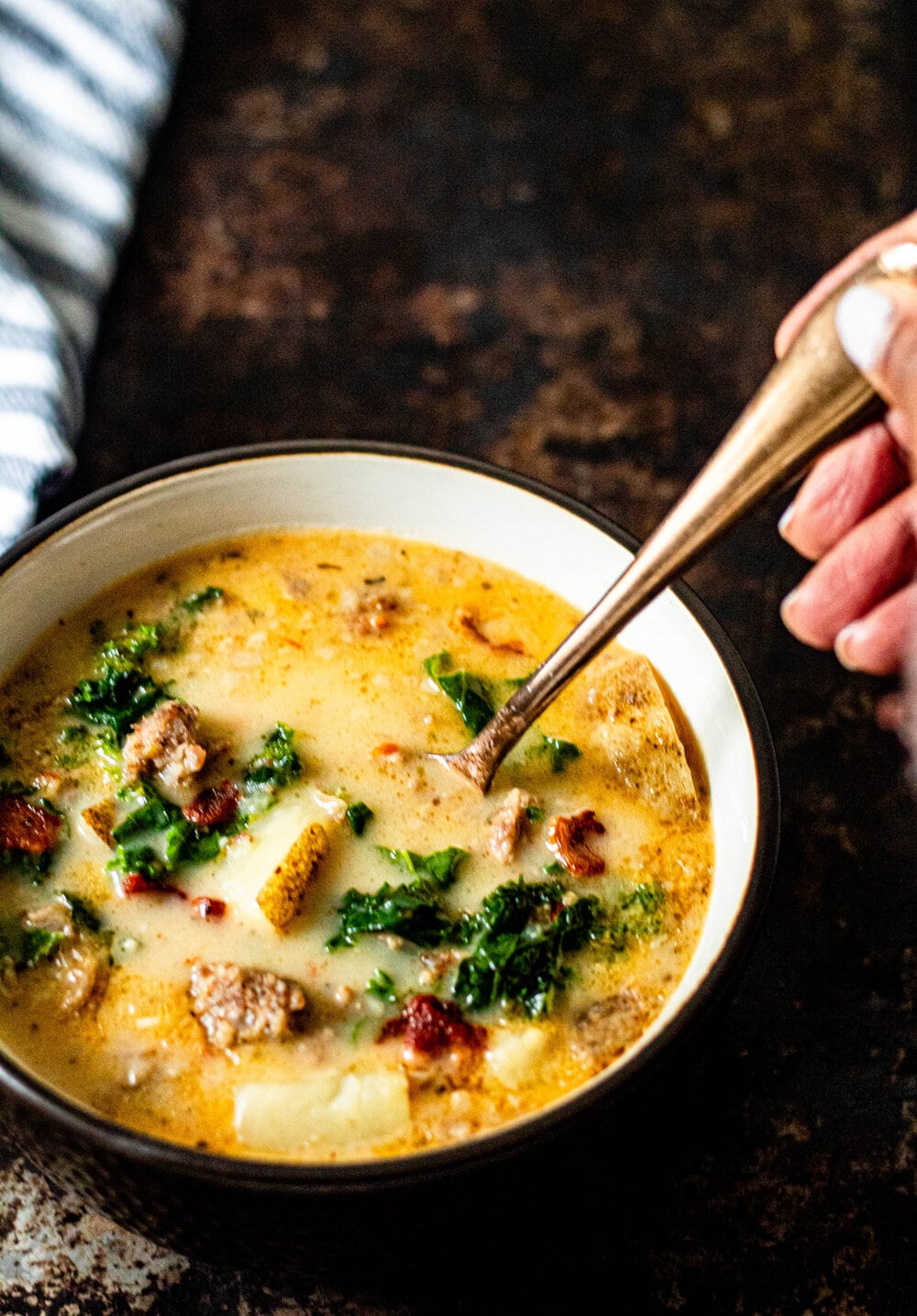 I hope you absolutely love this Whole30 Zuppa Toscana Soup. If you make it, can you do me a favor? Snap a picture and tag me on social media so that I can see and share! I love seeing what y'all are creating in your kitchens!
IF YOU LOVE THIS Whole30 Zuppa Toscana RECIPE, HERE ARE FEW OTHER DELICIOUS RECIPES YOU HAVE TO TRY!
Whole30 Loaded Mashed Potatoes
Whole30 Hawaiian Chicken Wings
LOOKING FOR MORE FREE RECIPES?
Subscribe to my newsletter and follow along on Facebook, Pinterest, and Instagram for all of the latest updates.
---
Whole30 Zuppa Toscana Soup (Dairy-Free, Paleo, + Low Carb Option)

Ashlea Adams | November 16, 2019

prep time: 15 minutes
cook time: 30 minutes
total time: 45 minutes

Servings: 6-8

Ingredients:

4 strips Whole30 compliant bacon, diced

1 pound Whole30 compliant Italian sausage

1 onion, diced

6 cloves garlic, minced

1/2 – 1 tsp red pepper flakes

2 tsp Italian seasoning

1 1/2 tsp salt (plus more to taste)

1/8 tsp cracked black pepper (plus more to taste)

3 tbsp arrowroot starch

4 cups diced russet potatoes

32 oz Whole30 compliant chicken broth

1 cup full-fat coconut milk

4 cups curly kale

Instructions:

Heat a large stockpot over medium heat. Once hot, add the diced bacon to a large stock pot and cook until crispy. Stirring occasionally.

When the bacon is crispy, remove it from the pot. Drain the bacon on paper towels and then set aside.

Remove all but two tablespoons of the bacon grease from the pot. Next add the Italian sausage to the pot. Brown the sausage and break it up as it cooks.

When the sausage is brown, add the diced onion, minced garlic, red pepper flakes, Italian seasoning, salt, and black pepper to the pot. Let everything cook for a few minutes until the onions start to become tender, roughly five minutes.

Next sprinkle the arrowroot starch over the meat mixture and stir until well combined. Then, add the diced potatoes and chicken broth and bring the soup to a boil. Reduce the heat and let the soup simmer for around 30 minutes, until the potatoes are tender.

When the potatoes are tender, add the coconut milk and kale to the pot. Simmer until the kale is wilted. Lastly, stir in the crisped bacon and then serve immediately. Enjoy!

Recipe Notes

My favorite Whole30 Italian Sausage is Pederson Farms. Just be sure to check the labels before purchasing.

I used a full teaspoon of red pepper flakes in this recipe and it definitely had a kick to it! If you don't care for spice, you can feel free to lower the amount of red pepper flakes or leave them out altogether.

Three tablespoons of arrowroot starch gave this soup the perfect amount of thickness in my opinion, but if you want a thicker soup, you can add a tablespoon more of arrowroot starch.

Be sure to use full-fat canned coconut milk for best results.
What I Used to Make This Recipe