These easy roasted brussel sprouts with balsamic, bacon, and cranberries were basically made for your Christmas dinner table. This is a gorgeous and festive side dish that is incredibly easy and full of flavor. It may become your new favorite way to eat brussel sprouts all year long.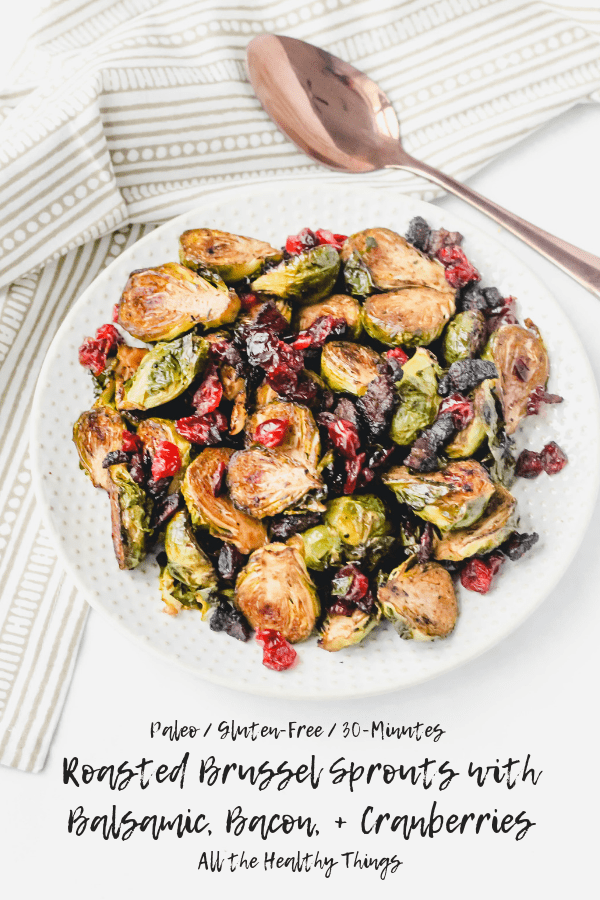 BRUSSEL SPROUTS. The millennial vegetable of choice. Little gems of goodness. Better when charred. Full of deliciousness. Bacon's best friend. I could keep going.
If you haven't tried roasted brussel sprouts yet, please tell me – what are you waiting for? I know what you're waiting for. This recipe. That's what you've been waiting for. And now, you've got it! There's no more excuses, my friend!
If you've tried roasted brussel sprouts in the past and they just haven't tickled your fancy then this recipe is for you my friend. Bacon, balsamic vinegar, and dried cranberries all come together to make the most perfect side dish. The beautiful red and green colors of this dish make it perfect for the holidays but, honestly, this recipe is perfect all year long.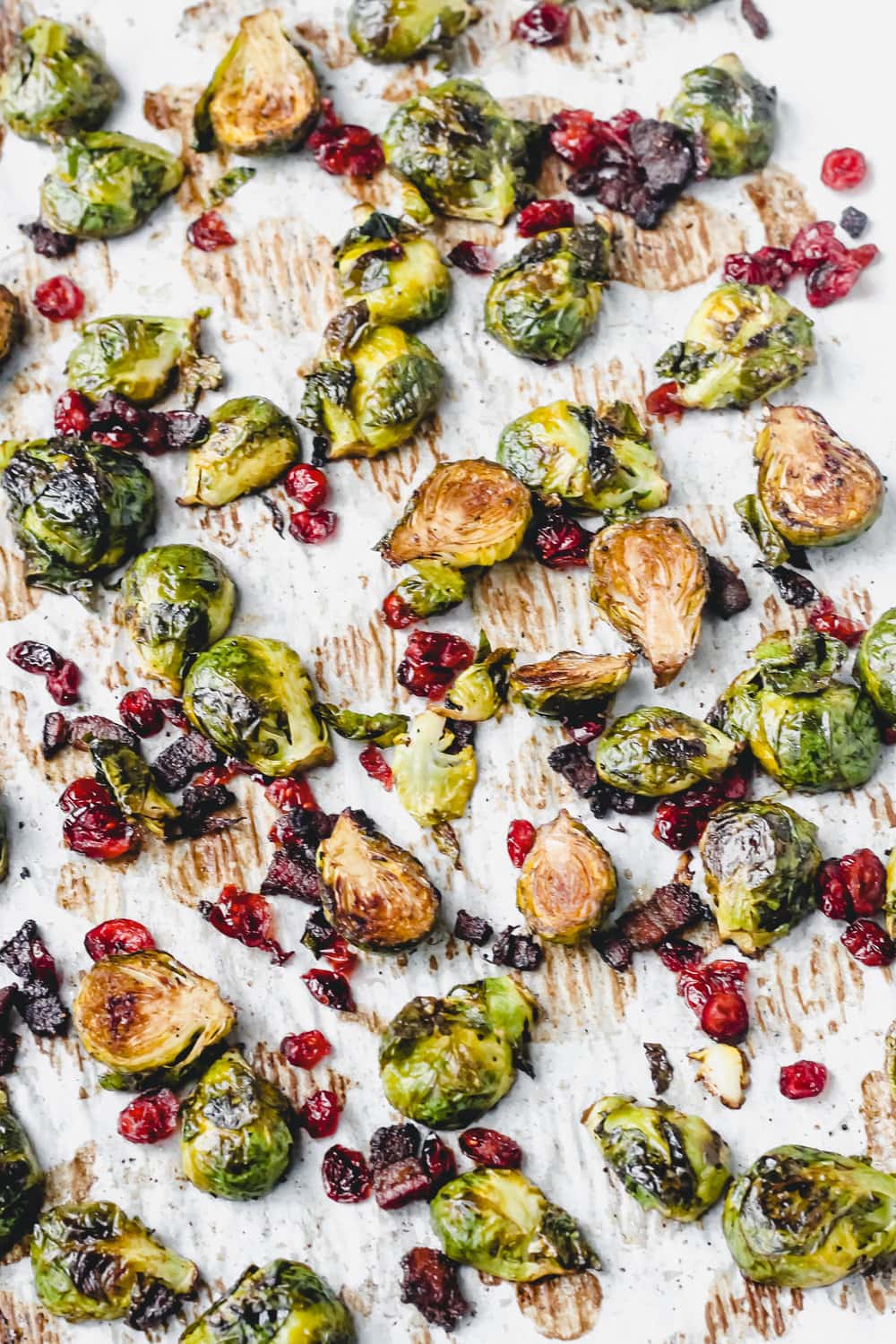 The reason this recipe works so well is because your stacking flavor on top of flavor on top of flavor. First you start with the tang of the balsamic vinegar, then the rich smokiness of the bacon, and finally you finish everything off with the tart sweetness of the cranberries. All of the flavors work perfectly together to create a delicious and balanced side dish that leaves you wanting more and more and more.
Not only is this recipe, it's also ridiculously easy, which may be the best part, after the bacon of course. Having simple recipes like this is especially helpful around the holidays when everything can feel more elaborate and complicated than necessary.
These brussel sprouts pretty much cook themselves. All you have to do is make sure you take them out of the oven in time. I have full confidence in your ability to do this, my friend.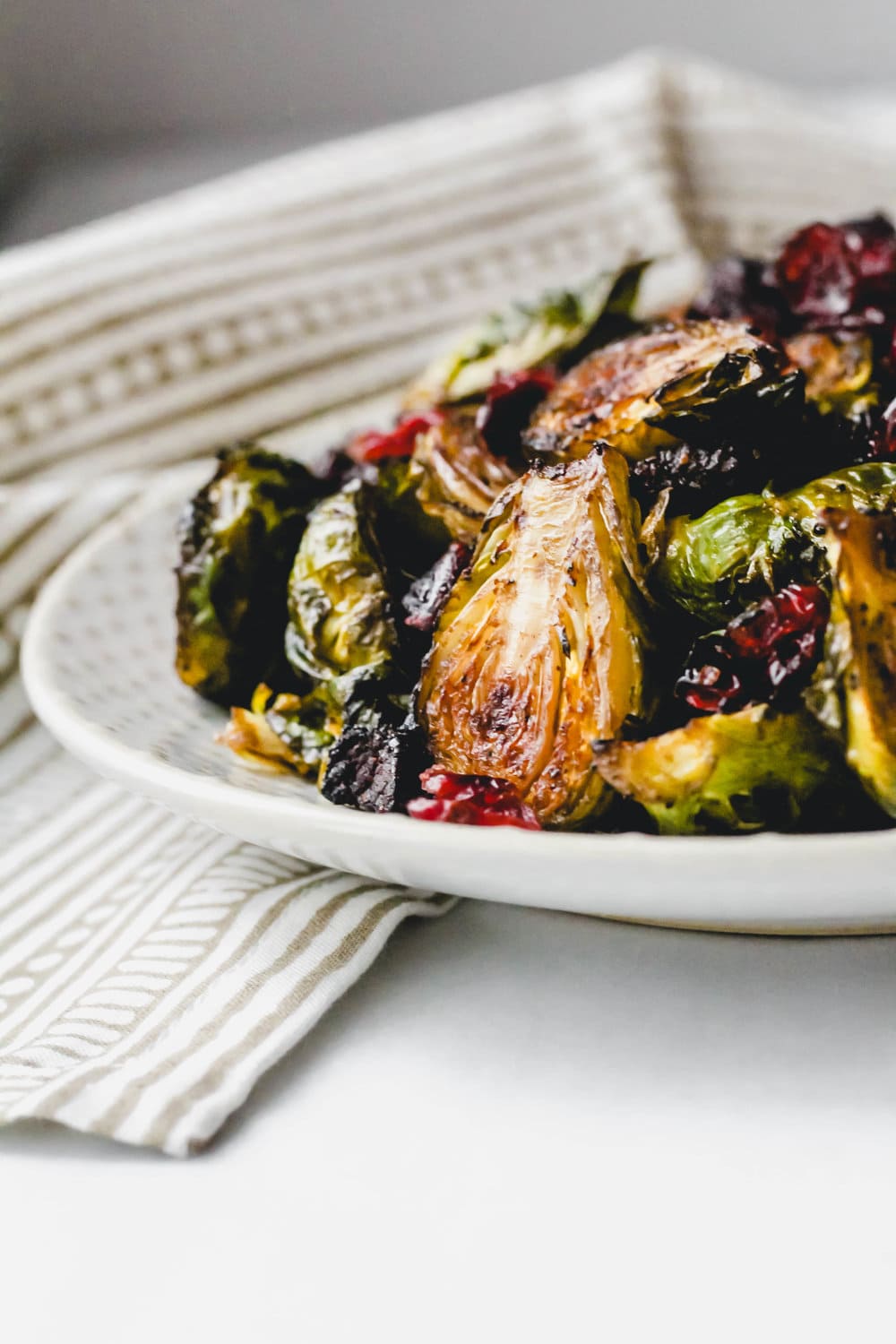 Ok. Let's recap. Roasted brussel sprouts with balsamic vinegar, glorious bacon, and dried cranberries. Perfectly balanced flavors. Simple and easy. A winning side dish. You'll want to eat the whole pan. Need I say more? I didn't think so.
Need to make this Whole30 compliant? Use a Whole30 compliant bacon like this brand!
---
Roasted Brussel Sprouts with Balsamic, Bacon, and Cranberries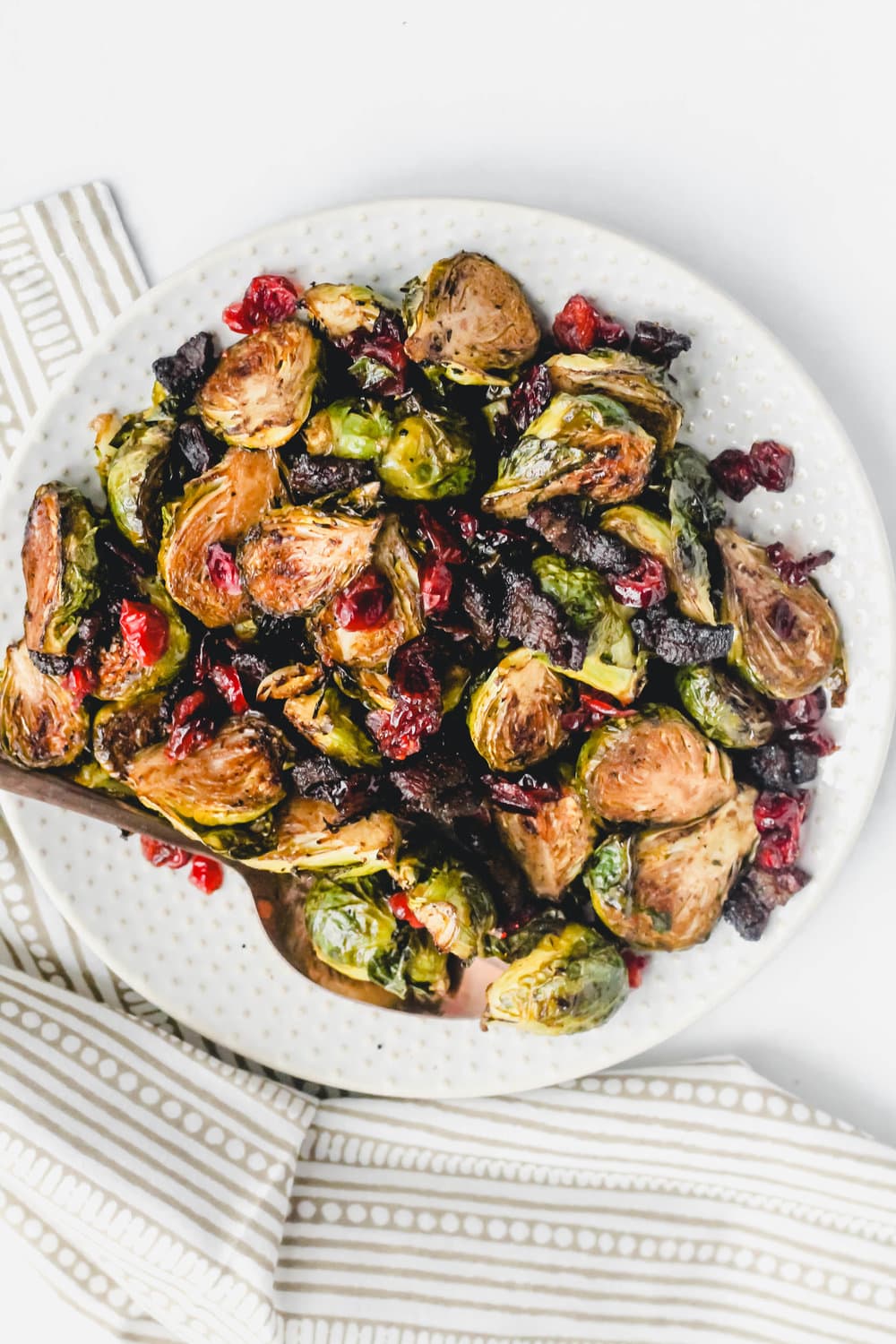 Ingredients:
1/2 pound brussel sprouts, cut into halves

2 tbsp avocado or olive oil

2 tbsp balsamic vinegar

1 slice bacon cut into smail strips

1/4 tsp salt (plus more to taste)

1/4 tsp black pepper

1/4 c dried cranberries
Method
Preheat your oven to 425 degrees and line a baking sheet with parchment paper.

Combine all of the ingredients in a mixing bowl except the cranberries and toss until the brussel sprouts are well coated in the vinegar and oil.

Pour out the bacon and brussel sprouts mixture onto the sheet pan. Place the brussel sprouts cut side down on the ban. Roast for 20-25 minutes, flipping halfway through. The brussel sprouts should be browned and tender yet still a little firm.

Once the brussel sprouts are done roasting, toss them with the dried cranberries and serve immediately.