There's nothing like a warm, gooey, chewy chocolate chip cookie, and this gluten-free version does not disappoint. These chocolatey cookies are sure to please everyone in your life, whether they follow a gluten-free diet or not. They are absolutely delicious and the perfect treat to bring to your next dinner party or potluck.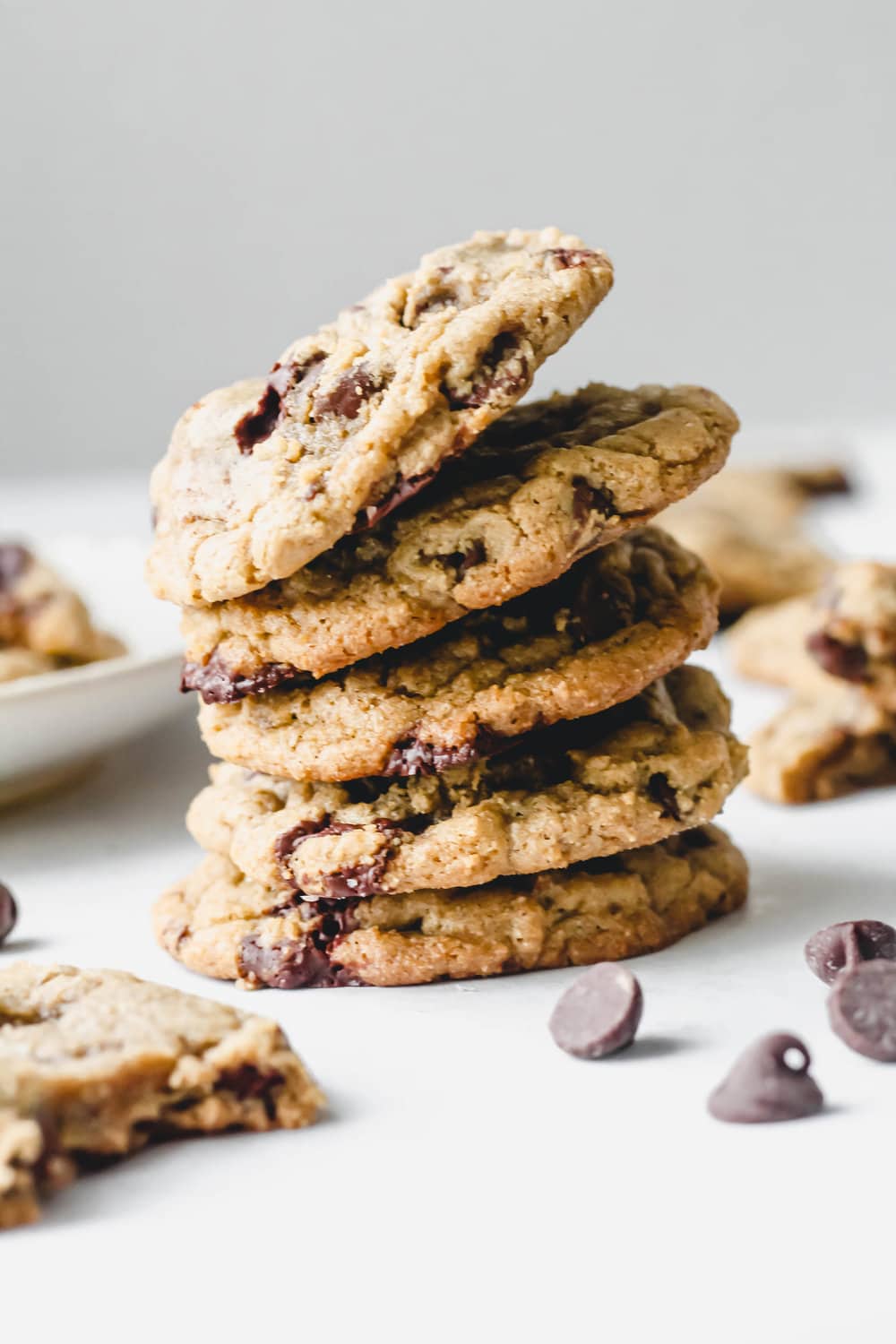 Where are my chocolate chip cookie lovers at?! I know you're raising your hand, and I know you're wishing you had some warm gooey chocolatey chippy goodness in your mouth right about now.
The fact is that there are few things better than a good chocolate chip cookie and if you're anything like my fiancé, you've spent the last two months testing and retesting to create the perfect chocolate chip cookie recipe. Little known fact about my husband to be, he's a little bit of a food science and baking nerd. I have to give him full credit for how dang delicious these chocolate chip cookies are. He's also getting full credit for how many chocolate chip cookies I've eaten in the last two months. Not mad about it.
Ok, let's get into these chocolate chip cookies.
First: Start with your mostly wet ingredients. Melted butter, eggs, vanilla, molasses, dark brown sugar, granulated sugar. The start of a delicious cookie dough. When you mix all of these ingredients together it's going to look like a thick rich caramel that you want to dive into face first. Trust me.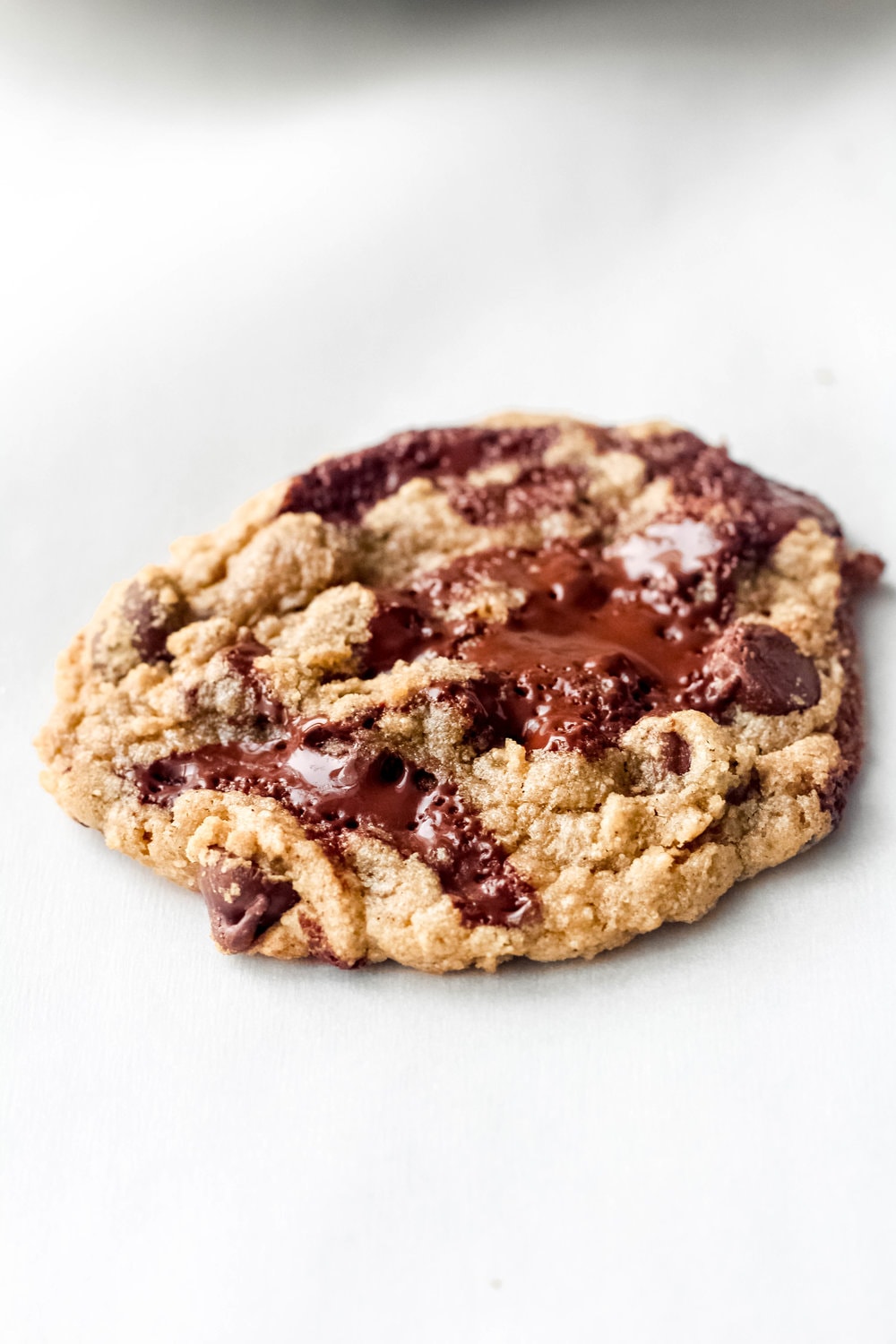 Second: Sift in your dry ingredients. Flour, baking powder, baking soda, and a little salt. Sifting the dry ingredients into your wet mix will give you optimal cookie deliciousness. I know you'll be tempted to skip this step. Do not skip this step.
Next, is adding copious amounts of chocolate to your batter. Trust me on this, don't just use chocolate chips. If you're looking for delicious pools of melted chocolate in your cookie, than a chopped chocolate bar is absolutely necessary. Try using a combination semi-sweet chocolate chips and a dark chocolate bar. You'll thank me later. Also, you'll probably want to skip the whole chopping the chocolate bar step. I repeat, do not skip this step.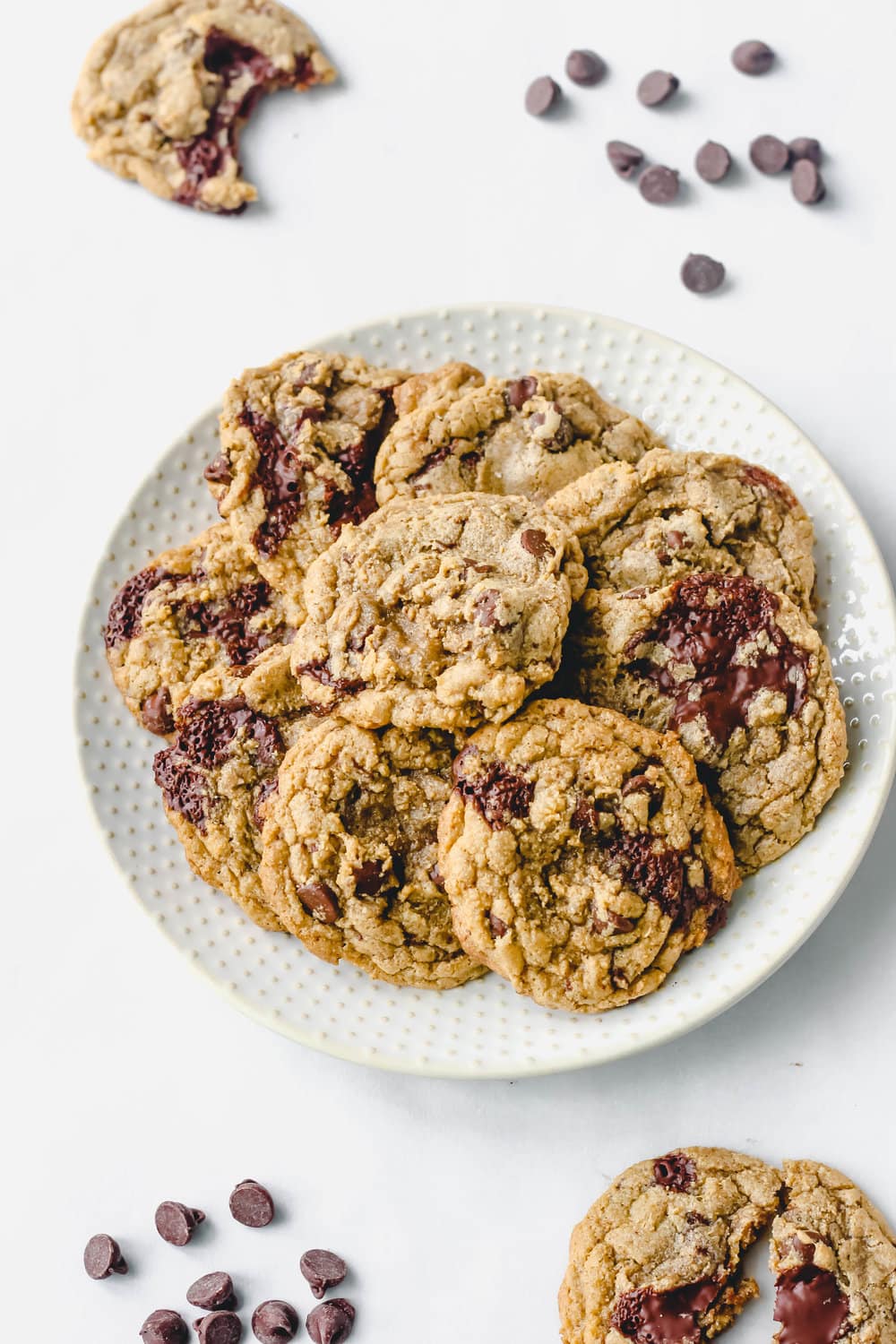 Finally, you're going to chill your dough for a little bit before you bake your cookies. Out of all the steps in this recipe, this is definitely not the step not you should skip (but seriously, don't skip any of the steps). Chilling the dough helps everything solidify and amplifies the flavor for the ultimate vanilla-y, chocolatey, gooey, cookie goodness.
Then you'll bake and eat, and your house will smell like chocolate chip deliciousness and you'll be one happy person. That's my promise to you.
This recipe makes about two dozen delicious cookies. If you don't want to make that many at one time, you can easily freeze your dough in a log (think old school cookie dough in a tube) and slice and bake when you're ready to eat!
---
The Ultimate Gluten Free Chocolate Chip Cookies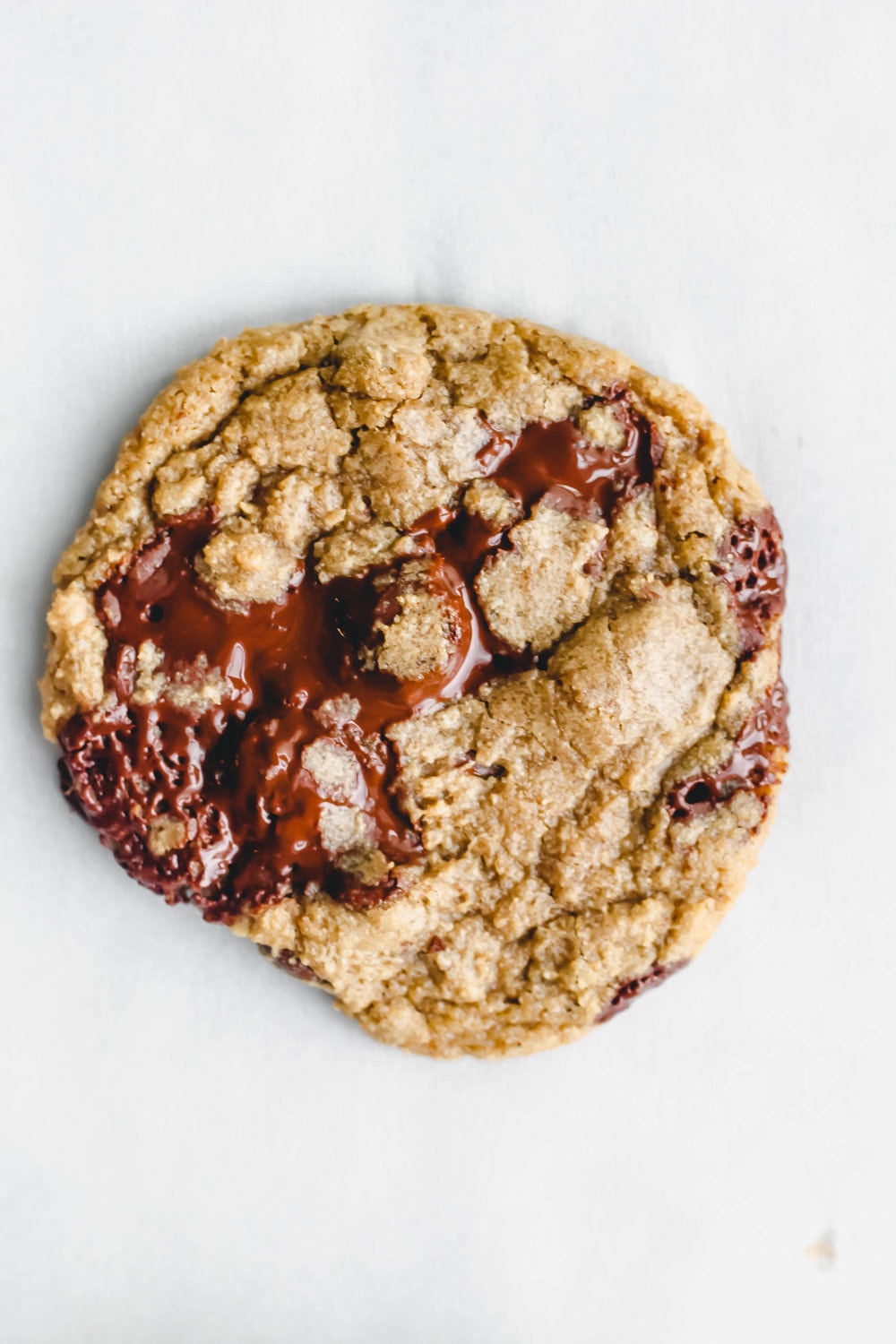 Ingredients
1 egg plus + 1 egg yolk, room temperature

1 stick of butter, melted

1/2 c granulated sugar

1/2 c dark brown sugar

1 tsp vanilla extract

1 tsp molasses

1 1/2 cup gluten free flour (this is my favorite brand) or all-purpose flour

1/4 tsp baking soda

1/2 tsp baking powder

1 tsp salt

1 1/2 c chocolate (semi-sweet chocolate chips + this chocolate bar is my favorite combo)
Method
Preheat the oven to 340 degrees and line a cookie sheet with parchment paper.

Add the egg, butter, sugars, vanilla, and molasses to a large mixing bowl and stir until well combined. It should resemble a thick caramel.

Sift in the flour, baking powder, baking soda, and salt into the sugar, egg, and butter mixture. Stir in the flour until a soft dough has formed.

Lastly, stir in the chocolate until evenly distributed. Cover the cookie dough with plastic wrap and place in the fridge for 30 minutes or up to overnight to chill.

When you're ready to bake, take the cookie dough out of the fridge and let it come to room temperature. When the dough is ready, use a cookie scoop or a tablespoon measure to drop the cookie dough onto the parchment lined baking sheet roughly 1 inch apart. Bake 8-10 minutes until they are set and the edges are starting to brown.

Let the cookies cool for one minute on the baking sheet and then transfer to a wire baking rack to finish cooling and then serve immediately. Store any left over cookies in a storage bag or cookie jar if they last that long!